Try a Brisbane Segway Tour and explore the town on a fast-track.
I remember the last time I tried Segway I  was on a different continent and some 15,000km away — exploring the city of Rome. The idea of a Segway tour in Rome germinated in my mind because I was short on time and Rome was massive. A quick Segway tour around the city felt like a perfect idea to get familiar with and explore all its highlights in no time. Though of course, the charm of walking around in Roman was unbeatable by any means, since I was short on time, what could be my best shot?
And this time again, as I landed in Brisbane with no more than three nights, the idea of opting for a quick Brisbane segway tour, on the very first night, made perfect sense.
I wanted to see all the popular places to visit in Brisbane and without wasting any time. This was because I wanted a quick introduction to the city to be able to soak in its beauty at my own pace in the days to come.
Brisbane Segway Tour
Though there are a few day tours available as well, I opted for a 2-hour and 15-minute night Segway tour in Brisbane with a tour company called Kangaroo Segway Tours because I wanted to see the skyline at night time from all angles.
The segway tour included highlights such as South Bank, Botanical Garden, boardwalk and Roma street parklands, with enough opportunities to actually hop off the Segway and click pictures.
The Brisbane Segway tour cost AUD 99 (certainly a bit more pricey than how much I paid for it in Rome) including a brief introductory session. In the introduction, we were taught how to ride a Segway because, of course, a certain degree of apprehension is required every time.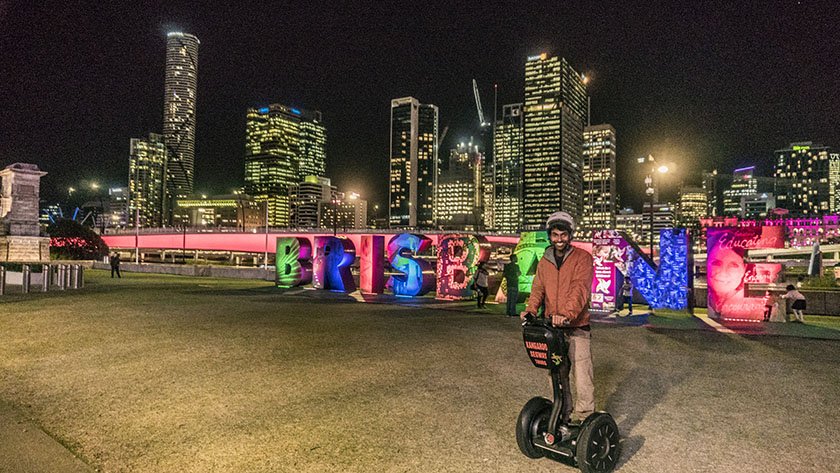 Lean slightly forward to advance. Lean on your heels to reverse. Pull back slightly to slow down. Rest the Segway against a stable structure to get on and off the platform — the instructions were simple and quick to learn. And since I had already done it before, it was even easier for me.
I Recommend A Night Segway Tour In Brisbane
Though I am sure a day tour has its own charm, I found the night Segway tour in Brisbane comparatively better and unimaginably pleasing, because if anything, Brisbane is a city to explore in night. Seeing the city light up as you make your way along the riverside is quite an experience.
And if it's a Friday night, as it happened to be the night I Segwayed in Brisbane, you'll hear music thumping from the bars along the waterfront and party boats passing by.
We also made our way to the famous Storey Bridge. On this night it was illuminated in Red and yellow. It varies depending on what is going on in current events. Typically each lighting display on the bridge is to commemorate a special day in history, raise awareness for charities and showcase upcoming events, etc.
Next was the Botanical Gardens and Roma Street Parklands, which were equally beautiful.
With the elegant Brisbane skyline being either on our left or the right for pretty much the entire time, the landscape, during our night Segway tour never felt disappointing — only 2+ hour tour during my first night in Brisbane, and I explored its beauty so thoroughly that even not many locals might have done.
Some Useful Tips
Helmets are provided before the tour and are moreover mandatory to wear at all times.
No thongs, flip-flops, open-toe sandals, or high heels are allowed while Segwaying.
The minimum age to ride a Segway is 12 years.
You must not weigh over 120kg.
You must be physically fit, not pregnant, and be able to easily and quickly step on and off the Segway without assistance.
I booked the tour with Kangaroo Segway Tours, which offers a number of Segway tours in Brisbane, and I can recommend them for a similar experience.