Looking for solo travel destinations for Indians? This blog is for you!
Solo travelling is certainly more mentally tormenting than travelling in a group. As solo travellers, we are more inclined to visit destinations we have already visited before or the ones that, at least, qualify on the list of "most solo travel-friendly destinations around the world".
For me, for example, if I am travelling to a new place, and I am travelling alone, a place tends to stifle my solo adventure spirit if I find a few backpacker hostels there. Because hostels not only help me save money on accommodation (as paying for a double-bed room without having someone to share the cost with, is a lost deal) but also assures that I will find a few fellow-travellers and double the fun.
Other factors that encourage me to travel solo to a new destination, include…
A good public transport system, because paying for the entire taxi is painful and drains out my budget as a solo traveller.
A friendly local community, with local people speaking a little English.
Plenty to do alone, on a budget.
A general feeling of safety (and this parameter, I am sure, becomes even more important for solo women travellers).
So if you're in the same boat, and are currently struggling with the idea of where to travel solo, this list of my personal top solo travel destinations that I've explored over the years will help you out:
Solo Travel Destinations For Indians: In India and Abroad
Himachal Pradesh, India
… for nature, adventure, & a local way of life!
The Himalayan state of Himachal Pradesh remains my favourite solo travel destination in India not because it has something for everyone (from adventure to peaceful hideouts to heavenly Airbnbs) but because of a rich solo travel scene. Go anywhere in Himachal and you will be surrounded by other travellers and backpackers, and the most prominent reason for it is a friendly locale.
Himachali people, by far, are the friendliest version of Indians, and the deeper you explore in Himachal, the more you realise it. The state is totally safe to travel to (with one of the lowest crime rates in India) easily accessible by buses and has enough hostels or budget guesthouses everywhere. By all means, Himachal Pradesh can be your first solo travel destination in India.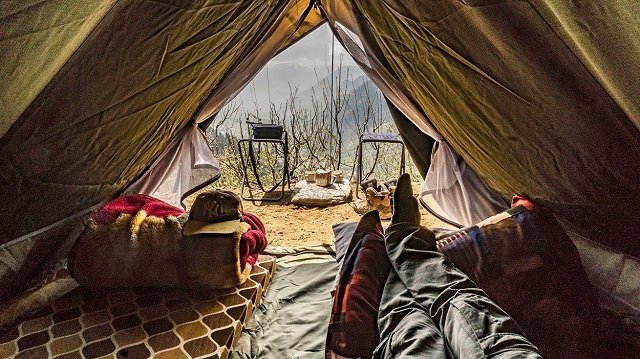 Adventure sports: Paragliding, mountaineering, river rafting, skiing, snowboarding, bouldering, rock climbing, zip-lining adventure and biking/motorbiking, among others.
Getting around: Although having your own car or a motorbike will make your travel so much easier and quicker in Himachal Pradesh, even if not, you will find public transport pretty much on every corner.
Stay: It is possible to find backpackers hostel and budget hostels in most places in Himachal. Another way to save money on accommodation is by camping in Himachal as you find enough clean flat spaces and perfect camping weather pretty much everywhere there. During my initial days of backpacking, when blogging didn't generate revenues, I would carry a tent and a sleeping bag with me and save 100% on accommodation, at least when travelling in the mountains.
For more on Himachal Pradesh, refer to my: Himachal Pradesh Travel Guide
Kerala, India
… for nature, food and local culture!
If you're into beaches and coastal life and open green spaces, then visit Kerala. This is by far the best version of south India (and coastal India, with beaches cleaner and quieter than Goa) and people just as friendlier as people in the mountains. Speaking of local people, what's better is that they understand the idea of personal space, unlike the people in the mountains who can be just too over-friendly for some tourists to handle.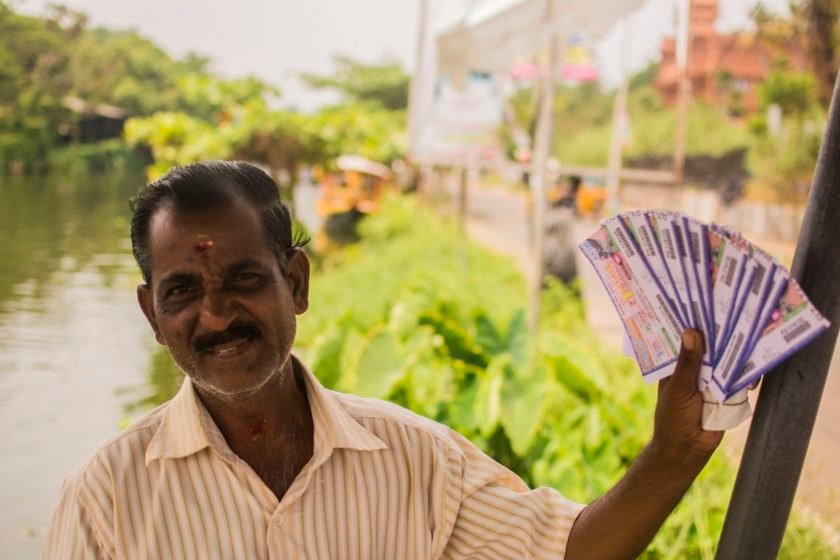 I had spent almost one-month solo backpacking (right from the North Malabar to all the way to Kanyakumari in Tamil Nadu) and never did I faced any problems. Though unlike in Himachal, backpackers hostels were rare to find and accommodation was comparatively expensive, everything else — from friendly locals to a good public transport system — was just perfect for me as a solo traveller. Kerala is moreover the most organised, with pretty much every local speaking a bit of English, making it easier to manage things on your own. I did long journeys on state buses, took an overnight train, explored small villages on a bicycle, and felt safe in the company of those I met along the way (& so will you, even as a solo woman traveller).
Stay: Where it is possible to find budget guesthouses in most of places, some tourist destinations like Alleppey and Munnar (also, read how to travel from Bangalore to Munnar or from Kochi to Munnar if you are going there) can be a little expensive for travelling solo.
Getting around: The best and most rewarding way to get around in Kerala is by train. And where there's no train, you will find enough public buses.
For more on Kerala, refer to my: Kerala Travel Guide
Meghalaya, India
… exploring tribal communities & culture and the best of nature!
Meghalaya is all about mesmerizing hills, dominating rain-forests, dramatic clouds and a lot of rain, and if you're one of those people who appreciate the idea of being under the blissful company of nature and nothing else, there cannot be a better place. Meghalaya, by far, is the most naturally beautiful place I've ever seen, in or outside of India.
I moreover found Meghalaya as one of the safest places in India for solo travelling. It is majorly populated by three indigenous tribes, who believe in a matrilineal society. Women are highly respected across Meghalaya and you will find them as teachers, politicians, drivers, police, and pretty much everywhere else. English is the official language in Meghalaya, making communication with locals fairly hassle-free.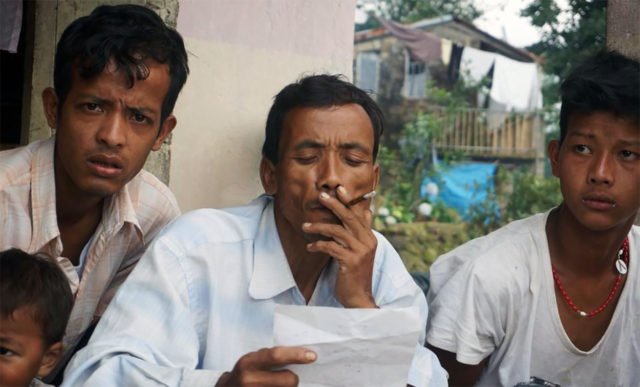 Speaking of the ease of travel, I would leave Meghalaya for experienced solo travellers only because travel infrastructure is limited, the regular tourist circuit isn't geared towards solo travel and it takes some 'jugaad' (think hitchhiking pillion on a motorbike) to get off the beaten path unless you're driving.
Travel Costs: Where it is possible to find some budget guesthouses in Shillong, most small towns have homestays only. And unlike the rest of India, Meghalaya (and the entire northeast region of India) is slightly expensive to travel in terms of transportation & stay. Food in Meghalaya, however, is cheap, particularly if you're a meat eater.
Is It safe to travel to Meghalaya? Unlike the rest of northeast India, Meghalaya shares no disputed border and is totally safe to travel.
For more on Meghalaya, refer to my: Meghalaya Travel Guide
Munich, Germany
for nightlife, beer gardens and a rich solo-travel scene!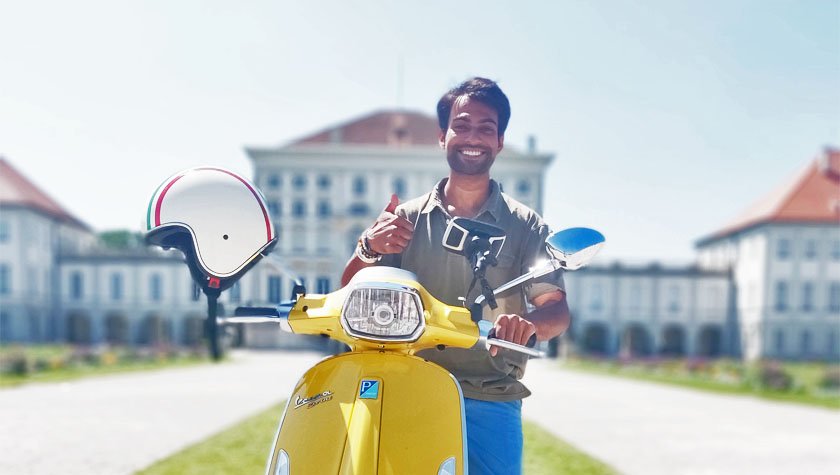 One thing I particularly loved about Munich is that beer is almost considered the food there, and with more than 60 beer gardens in the city in total, it's not tough to understand why. It's further worth appreciating the fact that in Munich (despite being in Germany) no one frown upon on you for holding a beer in one hand and drinking from the other while walking on the road or travelling in a metro. In short, Munich is vibrant, fun, laid-back and feels just too liberal to be true. The town moreover has an amazing nightlife for solo travellers.
And if you're not into beer or nightlife, there will be enough of other things to stay occupied: from a rich coffee culture to exploring historical sights to renting a cute Vespa and exploring the town in a romantic fashion. Munich (and the entire Bavaria region at large) is moreover considered one of the safest places in Germany to travel solo. As an Indian, the freedom and the level of safety Munich offers are quite appealing.
Stay: Though Munich remains the most expensive travel destination in Germany, a good number of hostels available there still makes it a little easy to travel solo.
Visa: Apply for a Schengen visa at VFS Germany in India.
Bangkok, Thailand
for budget solo travelling, nightlife, and befriending happy locals!
I travelled across Thailand for more than two weeks in 2016, exploring north to south, and it had been a whirlwind experience. While I enjoyed most of its cities and towns and islands, nothing can compare to my love for Bangkok. Bangkok happened to be my first-ever international solo destination, and I encourage every newbie solo traveller to visit Bangkok, particularly Indians.
Bangkok is friendly, cheap to travel, has amazing nightlife, and a great solo backpacking scene for anyone to come along and still not feel lonely. Though some people do complain that it is too noisy, I think my Indian disposition helped me blend in fairly easily. And then the fact that it is centrally located is always a plus. Take a 4-5 hours of bus ride in any direction, and you will either end up in the mountains or on a postcard-perfect beach. The flights from India to Bangkok are moreover one of the cheapest to any other international destination in the world.
Stay: As a solo traveller, you will be happy to know that Bangkok has some of the most pocket-friendly hostels in the world. When I was there in 2016, I found a dorm bed for just 120 Baht (or 240 Indian Rupees).
Costs: It is possible to survive in Bangkok for under 1000 Baht a day, or less than 2000 Indian Rupees.
Visa: For Indians, it is possible to visit Thailand on Visa on Arrival.
Also Read: My 3-Day Travel Itinerary For Bangkok.
Solo Travel Destinations For Indians 6: Queensland, Australia
for a premium solo travel experience!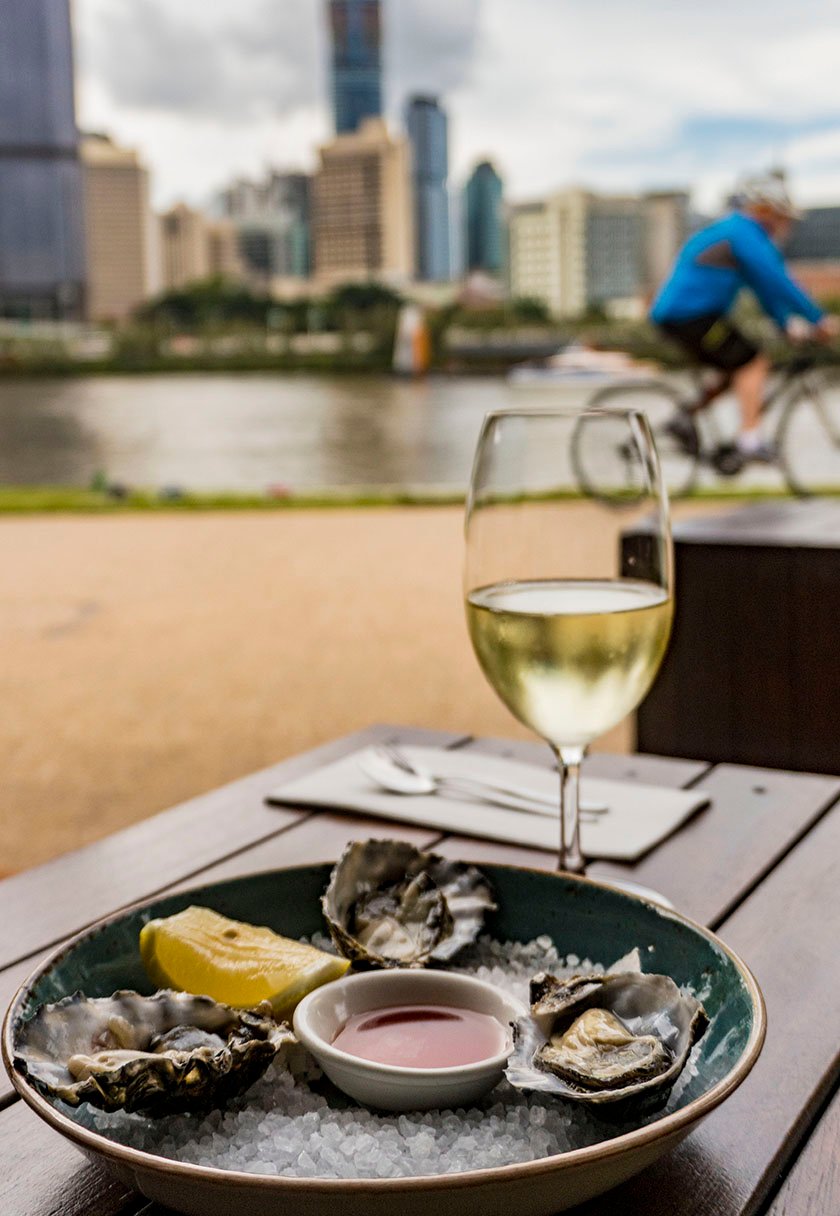 Before anything, I would like to warn that Queensland, or any other region in Australia, for that matter, is no place for a budget traveller. Yet, Queensland remains one of my top solo travel destinations around the world and it has to do a lot with what Australia, as a country, has to offer.
From being one of the safest to cleanest to most organised countries around the world, Australia is a great solo travel destination. I have visited Western Australia and Queensland during two separate trips to Australia (each lasting almost one month) and loved Queensland the most. Unlike other regions in Australia, if you visit Queensland, there are enough places to explore nearby. Just start from Cairns, exploring the Great Barrier Reef, to all the way to the backpacker hub of Brisbane and further down south to the party and surfing town of the Gold Coast. In Queensland, public transport is also comparatively good, and the weather is much better than any other region in Australia.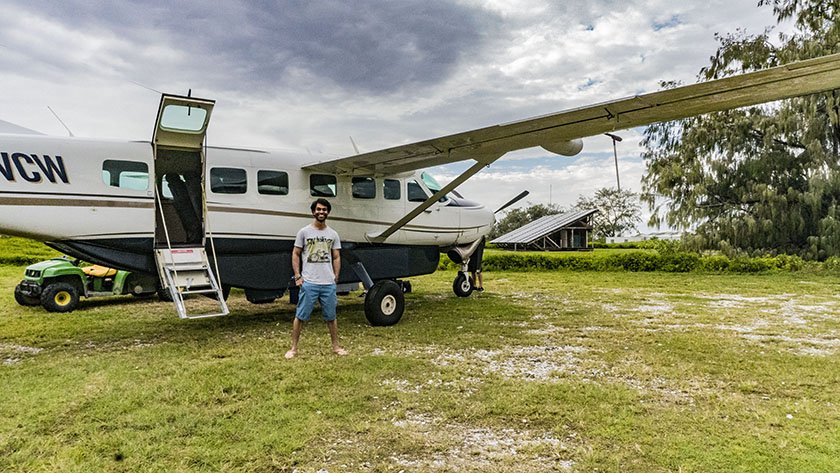 Getting Around: In Australia, it's always better to have your own car to make travelling easier, as gas is comparatively cheap and public transport, is not only fairly expensive but rare too.
Visa: As an Indian, you get a 3-month, 6-month o1-year travel visa for Australia. Read Tips For Australian Tourist Visa.
Solo Travel Destinations For Indians 7: Penang Island, Malaysia
for food, street art and a rich backpacking scene!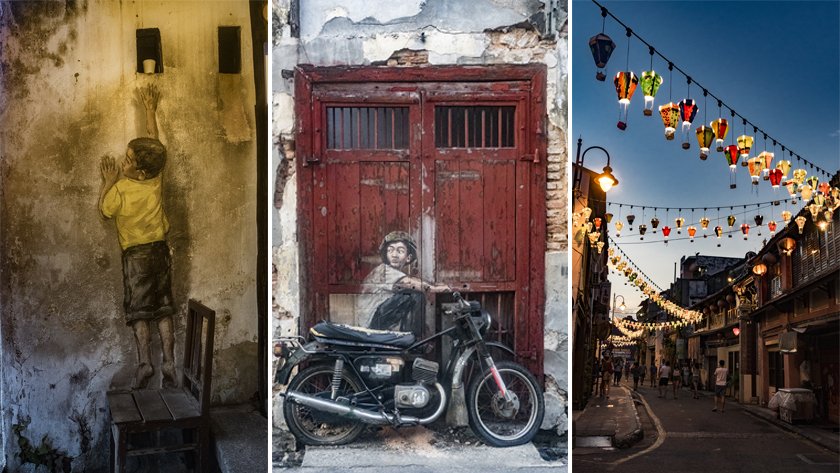 Penang Island remains one of my favourite solo travel destinations for Indians for quite a few reasons: it was budget-friendly, had an amazing nightlife, almost every second person there was an expat, local people were friendly, the food was great, beaches were clean… well I can go on! What's even better is the fact that we always have cheap flights between India and Malaysia, and a hassle-free visa on-arrival process.
When I visited Penang in 2017, my original plan was to stay for only a couple of nights, but in reality, I ended up overstaying for almost 10 days. Every day, I would walk around its postcard-perfect, graffiti-laden streets, befriend a few fellow-travellers in a cafe and go out with them at night. There is a kind of energy in Penang that holds you back.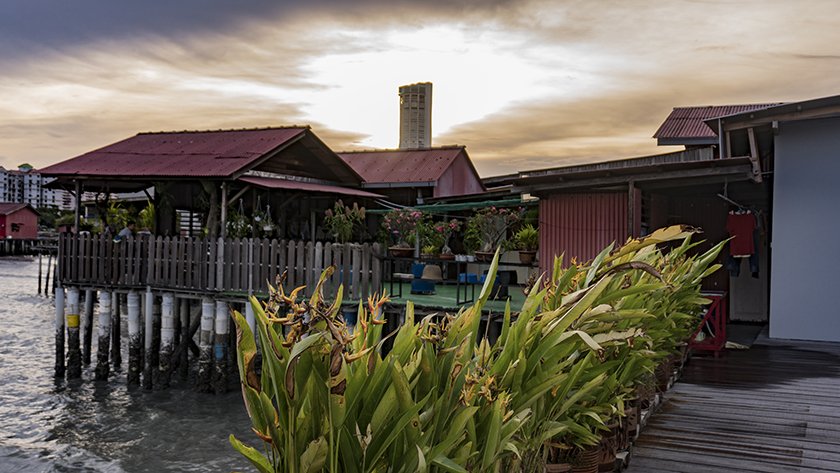 Getting Around: Penang is a small town, and it's convenient to get from one place to the other on a bus. Speaking of how to travel from Kuala Lumpur to Penang, taking a train is the best option.
Costs: It is possible to survive in Malaysia for under 200 RM, or about 2000 Indin Rupees.
Visa: For Indians, it is possible to visit Malaysia on Visa on Arrival.
Also Read: A 3-Day Travel Itinerary For Penang.
Solo Travel Destinations For Indians 8: Hong Kong
for hikes, beaches, shopping and exciting city life!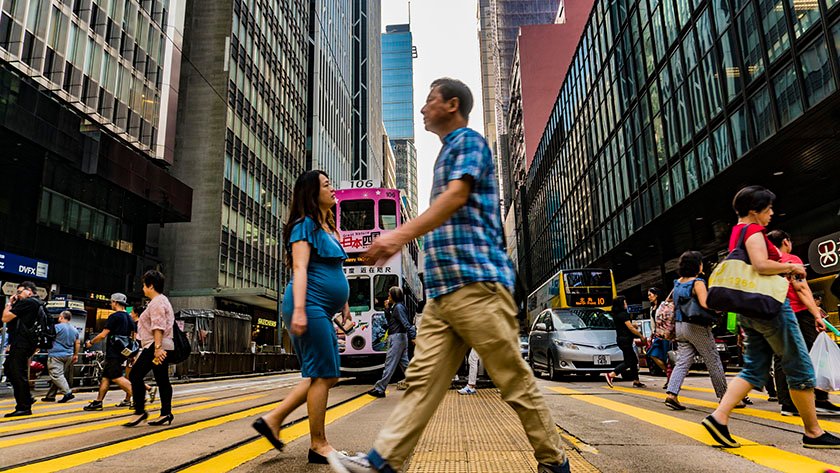 So earlier this year, I had the opportunity to do a nearly 10-day solo backpacking trip to Hong Kong and I totally loved it. Hong Kong has some kind of energy that makes you fall in love with it.
For some reason, I expected Hong Kong to be a bit more like Southeast Asia — undeniably adventurous and wild that a country can be — than it actually was. And that's why I developed such a liking towards it.
I mean it is always a better surprise to find a place, foreign to you, to be more organized (than you had initially thought it to be) than finding it crazy and wild. Though of course, Hong Kong can be fairly exciting too, everything there still follows a routine, an order. Buses in Hong Kong are clean and efficient. People speak fluent English. Food is always hygienic. The metro station, despite being always super-packed, never feels suffocating!
If you're an inexperienced solo-traveller looking for a very safe, organised Asian city, Hong Kong may just be the place you should be planning to.
Getting Around: Invest in an Octopus Card to save time and money on MTR, buses and ferries.
Visa: For Indians, it was visa-free entry in Hong Kong (if staying for less than 15 days) when I visited back in October 2018.
Further Reading: Hong Kong Travel Itinerary.
Solo Travel Destinations For Indians 9: Budapest, Hungary
For Europe on a budget; and a fun, vibrant and backpacking-friendly city!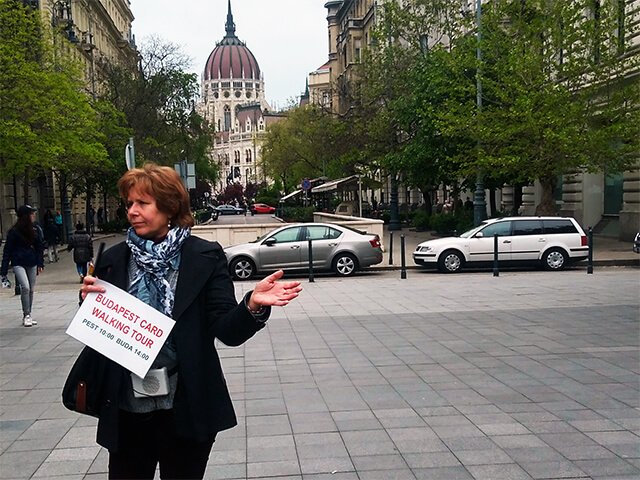 If you're bitten by the idea of Europe travel, but don't want to spend too much money, then don't look any further than Budapest. Budapest is one of the most vibrant and popular tourist destinations in Europe and one of the top solo travel destinations for Indians. The town is big enough in size, offering enough to see and do, even if you stay for a month. It has amazing nightlife, a rich cultural history, and a great solo backpacking scene. You will certainly find more solo travellers and expats in Budapest than anywhere in Eastern Europe.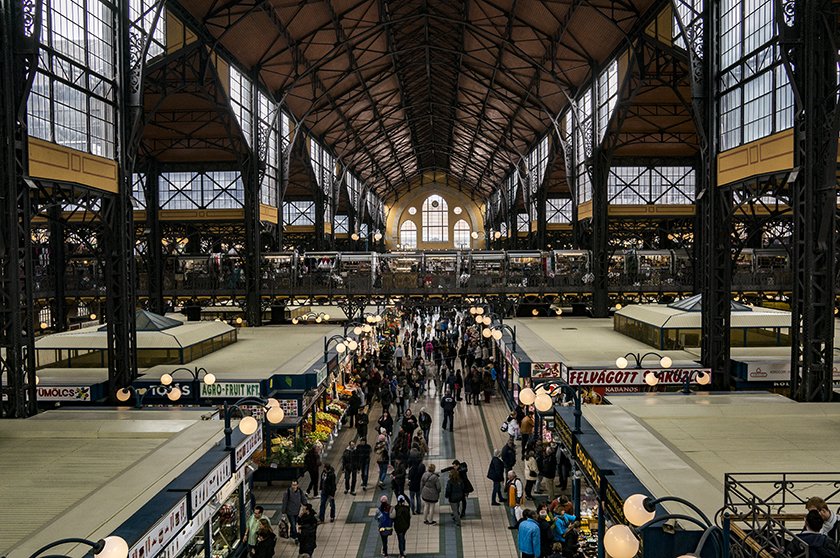 If you've enough time and want to cover a few more places than just Budapest, then visiting the nearby town that also makes for the popular Golden Triangle route of Budapest-Prague-Bratislava is a good idea.
Getting Around: Just like anywhere in Europe, public transport (from trams to buses to the metro) is the best and most economical way to get around. Buy single tickets or invest in a Budapest City Card if you think you're planning to visit a lot of tourist attractions in a limited time.
Costs: If you're not doing much, it is possible to survive in Budapest in less than 2500 Indian Rupees a day (almost 10,000 Hungarian Forints).
Visa: Apply for a Schengen visa at VFS Hungary in India.
Further Reading: What To See & Do In Budapest
Think I've missed a destination that can make for great solo travel destination for Indians? Spill the suggestions in the comments below!