During my recent all India Delhi to Bangalore motorcycle trip, I travelled from Coimbatore to Munnar to Kochi (not by bus, but a self-planned road trip).
Here's how the journey looked…
Bangalore to Coimbatore (spent a night in Coimbatore)
Coimbatore to Munnar (spent 2 nights in Munnar)
Munnar to Kochi (Spent 3 nights in Kochin).

As I reached Kochin and spoke to a few fellow backpackers about it, I realised that Kochi to Munnar is a comparatively more frequented route.
It makes sense to do so if you are already in Fort Kochin, and are travelling to Munnar by Bus. But if you are doing a road trip and you want to enjoy the journey the most, I suggest you reroute to Coimbatore to Munnar.
Kochi to Munnar Is Boring
As I said, for most people, the preferred route remains Kochi to Munnar, but IT IS BORING.
Throughout my Munnar to Kochi trip, I did not find a single tea estate. The entire ride to Kochin felt just another winding road in the mountains.
There was nothing exceptional or Munnarish about it.
If you are travelling from Kochi to Munnar, there are two routes you can take. Here's is how they both look in Google maps (the blue one is the one I took)…
Until about halfway of the journey (until Muvatupuzzha), you will be driving in traffic prone areas of Kerala — with a congested two-way road passing through crowded markets.
As you cross Muvatupuzzha, you start climbing up. The road here becomes less crowded and comparatively scenic (still not as scenic as Coimbatore to Munnar road though).
All in all, nothing special than an average twisting and turning mountain road with a dense jungle around.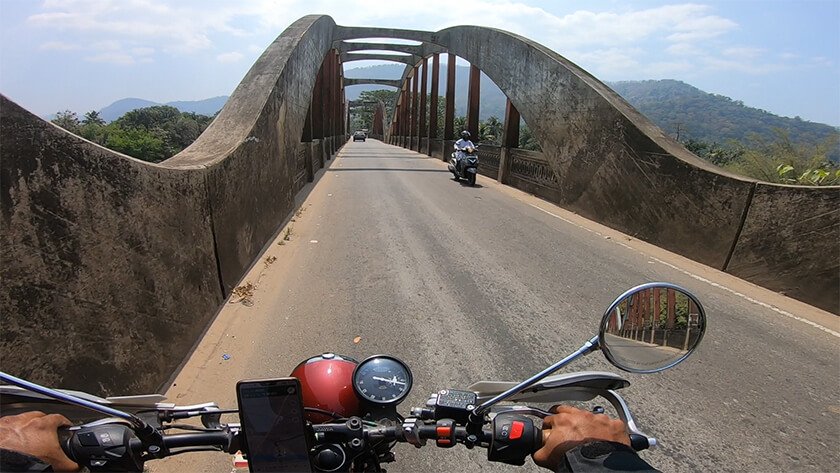 So, if you are planning to visit Munnar, and you have the flexibility to choose, choose Coimbatore to Munnar. The usual and often frequented Kochi to Munnar road holds no charm.
If you want to do a road trip from Kochin, I rather suggest you do Kochi to Alleppey. Watch this youtube video:
Also, read my Munnar travel blog. From my 2-day (very carefully planned) stay there I have created a list of top things, where to stay there and other useful tips.
If you are doing a few more places in Kerala, you may also be interested in reading my detailed Kerala Travel Guide.
Coimbatore To Munnar Is Beautiful
Speaking of the beauty of this route, however, let's start with this youtube video…
Again, there will be a couple of routes you can take for Coimbatore to Munnar but the one I am suggesting is more scenic. Here's is how it looks in the Google maps…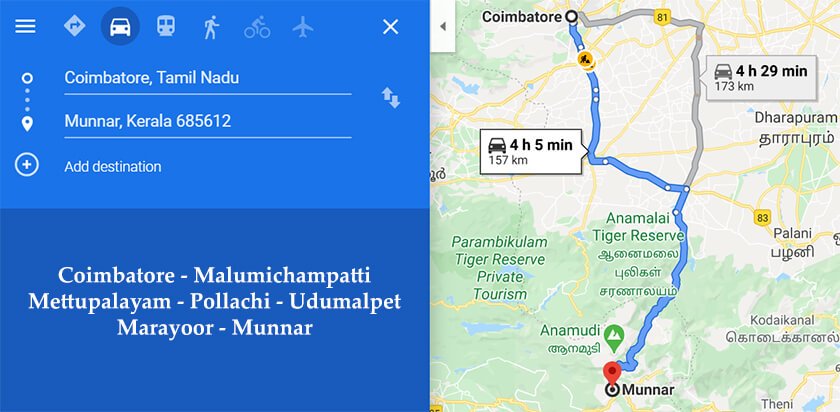 The first half of the journey will take you to the countryside winding roads, windmills, and a lot of green spaces in Tamil Nadu.
If you have not seen windmills before, you will be blown away with their magnificence.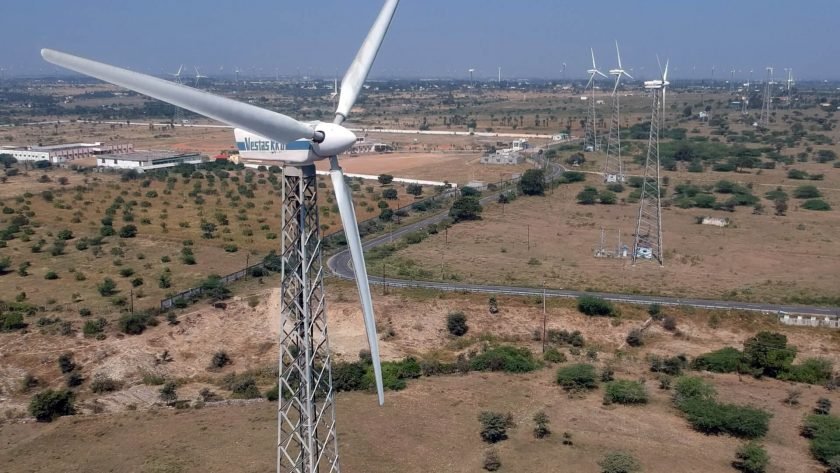 On this route, you will also explore the mini version of Namdroling and Bylakuppe — a Buddhist settlement that goes with the name of Dhondenling.
Other than that, you will also cross a section of Anamalai Tiger Reserve (on your Coimbatore to Munnar ride) that is home to the endangered Bengal tiger, Indian elephant and Indian leopard.
After a few km of a run in the Anamalai Tiger Reserve, you will exit Tamil Nadu border and enter into Kerala. In Kerala, the Anamalai tiger reserve is known as Chinnar Wildlife Sanctuary.
As you enter Kerala and cross Marayoor, the vast expanse of tea-estates start showing up. It is from here that you will start getting a feel of what Munnar is popular for, and that is tea gardens.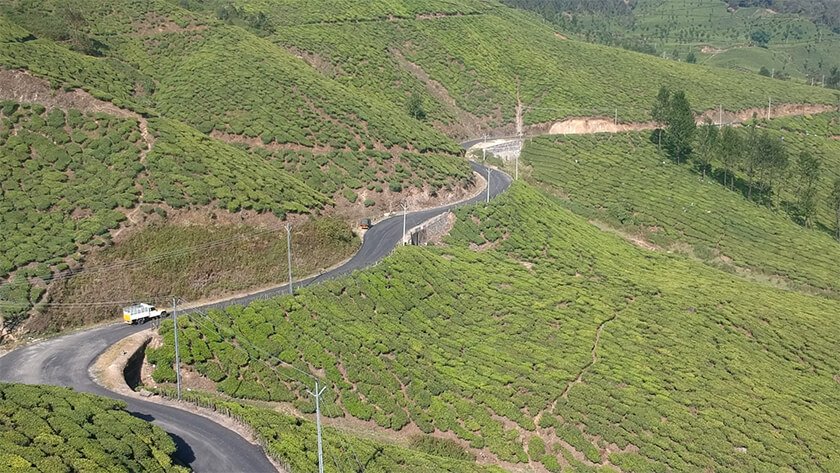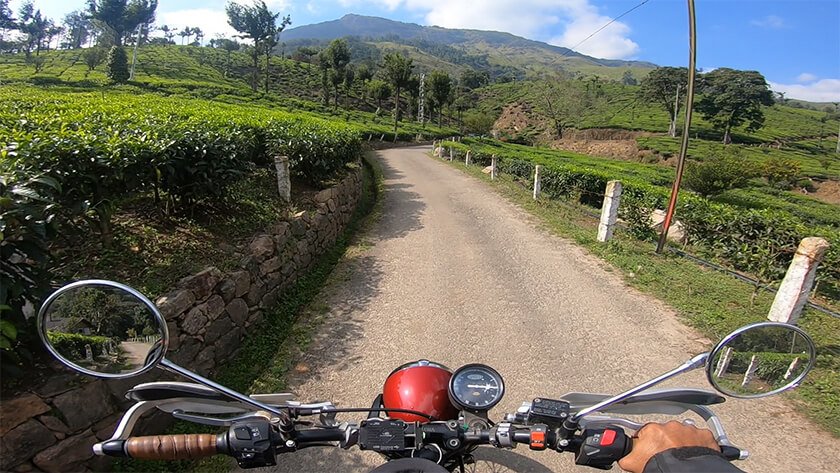 There will also be many tea gardens and local shops selling freshly picked tea leaves. It is possible to stop and visit one of the many tea estates you will see on your Coimbatore to Munnar journey.
Marayoor to Munnar is about one and a half hours drive but it often takes more. I took more than 3 hours because of frequent photo stops. I even enjoyed a scenic lunch on the way.
Read more about this route in my detailed Bangalore to Munnar blog.
Kochi To Munnar Bus
If the idea is to travel on a bus though, then travelling from Kochi to Munnar makes more sense as there are more available options.
If you are travelling from Fort Cochin to Munnar, there is one direct AC bus that takes about 500 Rupees and drops you to your destination in about 5 hours. This bus departs daily at 7:30 in the morning from the bus station in Fort Cochin.
Other than that, there are many – from AC to Non AC to ordinary – buses from the bus station in Ernakulum. There are buses leaving almost every hour, costing as low as 100 Rupees for an ordinary seat. A more comfortable ride in a push back sleeper costs around 200 Rupees.
Please note that the only reason I said Kochi to Munnar bus ride is better because of the availability of buses. The views will, of course, be better in a Coimbatore to Munnar bus ride, but on that route, the availability of buses is a big question.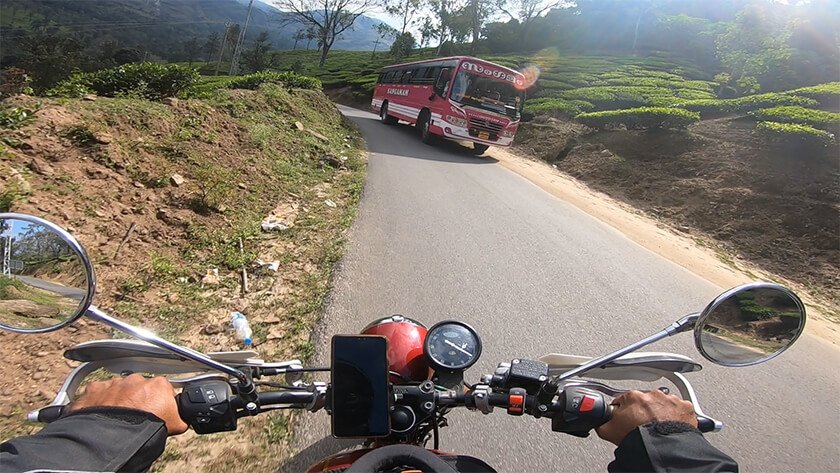 Coimbatore To Munnar Bus
If you will check Redbus or another online bus booking network, you will see that there are no direct connections between the two destinations. Though you can find many buses from Bangalore, from Coimbatore there are none.
Having said that, the ideal Coimbatore to Munnar bus route goes like this: Coimbatore > Pollachi (44 KM) > Udumalaipettai (29 KM) > Munnar (85 KM). The reason why I suggest this route is because these are more frequented routes with buses leaving every 15 minutes or half an hour.
Additionally, you can do Coimbatore > Udumalpet (70 KM) > Munnar (85 KM). This will save you one connection but the frequency of buses will be comparatively low.
The highlights in this route are Chinnar wildlife sanctuary and the beautiful tea estates of Munnar.
As I said above, this is a much scenic route than the Kochi to Munnar bus or drive. So certainly worth the effort.
Need more tips for Coimbatore to Munnar bus or a road trip? Want additional details on how to travel from Kochin? Write me a comment below.