I have been to Kerala many times — including my first backpacking trip in 2016 when I travelled there for a month and saw Theyyam (a popular dance form in the North Malabar region) — but never travelled to Munnar. It always felt like one of those popular destinations in India that have lost their original charm owing to Overtourism. But I was wrong.
During my recent all India Delhi to Bangalore road trip, I finally made it there.
I travelled from Bangalore to Munnar, spent two days there before further continuing my journey and making it to the streets of Fort Kochi.
Munnar
If you do not know, we are talking about one of the popular holiday destinations in India here. In fact so popular that you can watch it in Bollywood movies, many Kerala's postcards and in every Kerala travel blog out there.
It is located in Idukki district of Kerala, in the Western Ghats with an elevation of over 1500 metres above sea level. Having said that, if you are looking for pleasant weather in Kerala Munnar is your best bet.
It is also often referred to as mini Kashmir of South India — because of the weather and beauty,
Munnar is also a popular honeymoon destination.
It is well connected by both National highways and state highways in Kerala.
Speaking of the distances, Munnar is located less than 150km from Kochi on Kochi-Dhanushkodhi NH 49, less than 50 km from the town of Adimali, about 80 km from Udumalpettu and just a little over 150 km from Coimbatore.
Recently Munnar has become a popular tourist destination among the motorcycle community too.
As a motorcyclist myself, doing an all India road trip, I travelled from Bangalore to Munnar and that is how I ended up spending two nights there. And before I talk about what to see and do there, let's talk about how tourist does the place feels.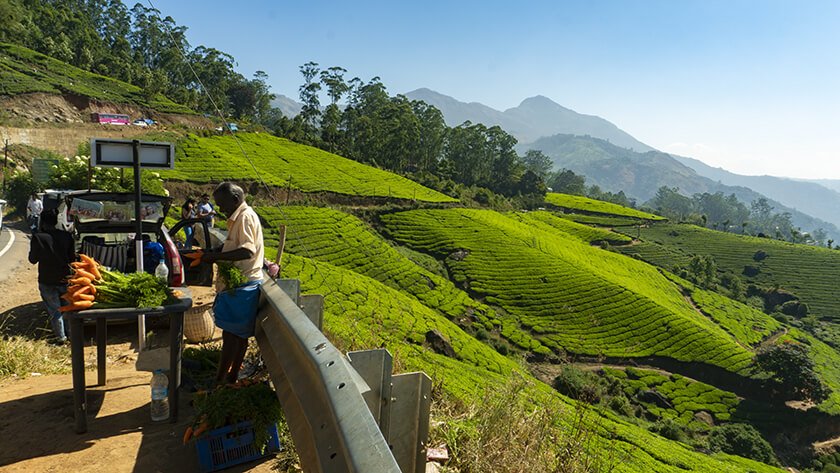 Is Munnar Too Crowded?
While it's true that you will find a lot of tourists there, finding a peaceful corner is not impossible.
If you only visit popular tourist places and cover highlighted experiences like a boat ride in Mattupetty Dam and clicking selfies at Pothamedu View Point, you may find Munnar crowded. But if you try to go a little offbeat like walking in a tea garden or finding your own sunset point, you won't find it so.
Having said that, Munnar is a crowded destination only for those who make it so.
And such is the case with almost all tourist destinations in India — whether it is the backwaters of Alleppey or someplace more offbeat in the Northeast.
The Best Way To Get There
I have written a blog post detailing how a road trip from Coimbatore to Munnar is the best way to get there. The entire route makes for a cliched journey what Munnar is popular for — a winding mountain road with a massive expanse of connected tea gardens.
So yea, if you have the flexibility of creating your itinerary and you are more into journeys than destinations do a Coimbatore to Munnar self-drive trip.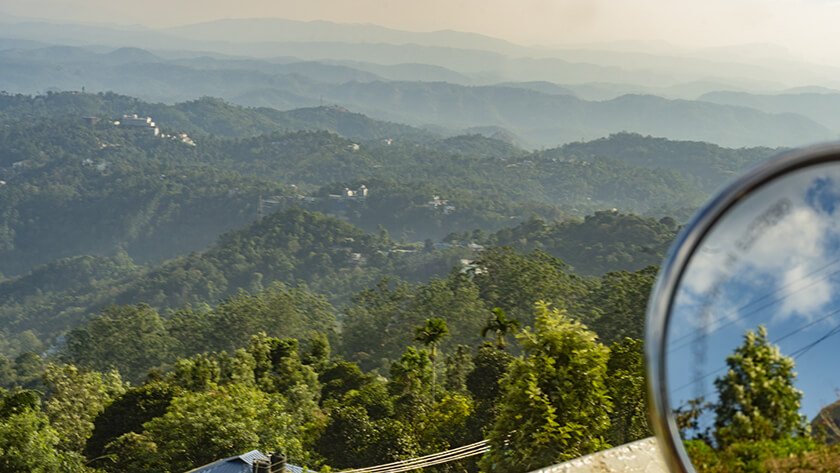 Munnar Tourist Places
Visit The Tea Estates
Of course, when you think of Munnar the first thing that comes to your mind is the vast expanse of tea estates. And visiting them is exactly what you should be doing while you are there.
You will find many beautiful tea estates or tea gardens in Munnar to explore. The hills will be adorned with their green colours so spotting one won't be tough either.
If you are wondering how many tea estates are there in Munnar then let me tell you that the number stays at an impressive 50+. Most of the plantations are, however, function under Tata Group but finding some privately owned tea state is not hard either.
Some of the major tea estates in Munnar include AVT tea, Michael's tea, Brooke Bond and Harrison Malayalam, among others.
Some of the tea estates also organise walking tours for tourists.
Many even have a boutique shop where you can buy freshly picked tea leaves as a souvenir.
Watch The Sunrise
Another thing you should be doing while you are there is enjoying the beautiful sunsets and sunrise. Because Kerala has hot tropical weather most people have the habit of waking up really early. Having said that, by the time sun peeks out of horizon life in Munnar comes to full action.
There will be locals working in tea gardens and already opening shops.
The best time for photography in Munnar is sunrise or sunset. This is when the sky turns into a beautiful shade of orange and blue, giving you hints of romance. Trust me, sunrises and sunsets are a thing to enjoy when you are there.
The best place to enjoy a sunrise in Munnar is Pothamedu View Point. If it is too far from the hotel, ask the reception guy for more options.
Lakkam Waterfalls
Though it is one of the crowded places, it still makes for one of the preferred Munnar tourist places for many. It is, moreover, the one and only major waterfall.
To enjoy it the best, try to get there early in the morning.
Get a bath if you fancy or just sit on the rocks nearby and enjoy the cool breeze that flows around in the area. Again, the place will be pretty crowded.
Eravikulum National Park
Another main attraction in Munnar is Eravikulam National Park. Home to twenty-six species of mammals, including Nilgiri tahr, Sambar deer, Golden Jackal and Leopard, this is a must-visit place for wildlife photographers.
You will also find over 130 species of birds and over 100 species of butterflies around.
Top View Station Point
As the name suggests, it is one of the highest points in Munnar where you can get some Instagram-perfect selfies. But since it's a popular place, it is always crowded.
So rather than going to the main point and clicking photos there, what you can alternatively do is find a not so popular (but giving equally beautiful views) spot around. Walk a little far from the main spot and I guarantee you will get many such places.
Else, go there really early, before sunrise, and you will find the place quite empty.
Walk Around
One of the best things to do in Munnar than chasing popular tourist places is walking around and enjoying the serenity around.
Slow down, walk around, and you will enjoy the place a lot more than ticking off a bucket list.
During my holiday in Munnar, I would wake up early morning and just walk around. People in the area are quite friendly and don't mind (especially if you are solo) even if you trespass in their tea garden without permission. So stop reading every guidebook and travel blog mentioning popular Munnar tourist places and explore the place on your own.
Other Munnar tourist places are:
Anamudi
Echo Point
Tea Museum
Hanging Bridge
Tata Tea Garden
Mattupetty Dam
Chokramudi Peak
Lockhart Gap View
C.S.I Christ Church
Munnar Rose Garden
KFDC Floriculture Centre
Kolukkumalai Tea Estate
Carmelagiri Elephant Park
Kolukkumalai Tea Plantation
Dream Land Fun and Adventure
Sri Subramaniya Swamy Temple
Thirumeny Cultural Centre Munnar
Cinnamon Gardens Spices Plantation
The Blossom International Park
Lockhart Plantation Museum
Kalladanthy Natural Cave
Attukad Waterfalls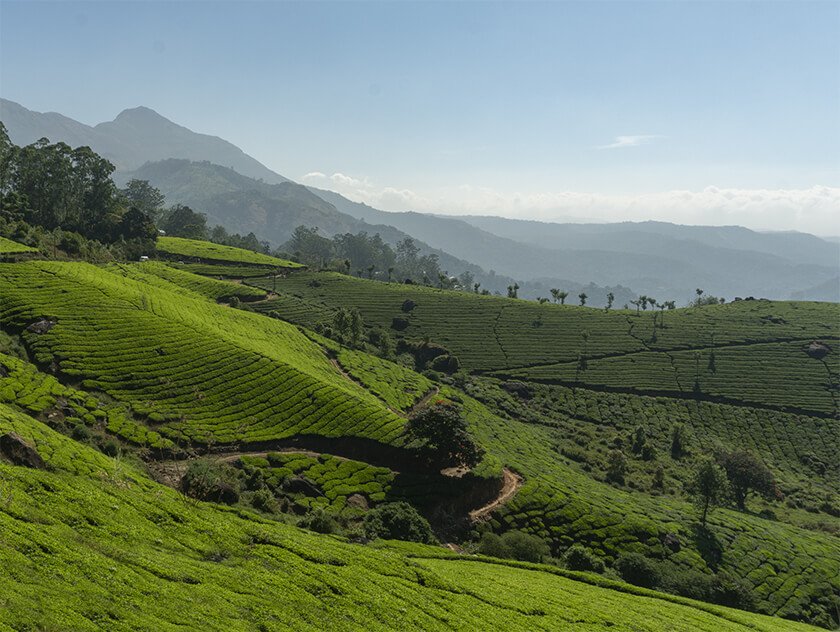 Best Time To Visit Munnar
Since Kerala has tropic weather, the heat makes it quite hard to enjoy outdoors pretty much throughout the year. If you hate to sweat and loathe hot weather, winter months of December to February will make for the best time to visit Munnar. This is when the temperature remains around 15 degrees during the day time, making it easy to walk around in open.
But with pleasant weather comes the peak tourist season too, making hotel prices in Munnar reach sky high.
If you are budget travelling in India and looking for cheap accommodation, travel during monsoon. Monsoon is the second beast season when the heat is not unbearable.
Best Hotels In Munnar
There are many cottages and resorts to choose from. Club Mahindra, Tea Country Resort, Stirling Resorts, Spice Jungle Resorts, Aranyaka Resort are a few popular names.
Other than these popular places, there are many 3-star and 4-star hotels in Munnar.
Rather than staying in the main town, I suggest you stay in a nearby town. If you don't know there are more than 20 towns in less than 15 km radius where you can find hostels and hotels at a much cheaper price with much better views.
I stayed at the Lost Hostel located at 14 km from Munnar main market. It was located in Chitirapuram (that also has many OYO and choose from). Compared to the main town, Chitirapuram is very peaceful and offbeat.
Other quiet locations near Munnar are Pallivasal, Thokkupara and Devikulum, and more.
A few of the most famous and best hotels in Munnar are:
Dew Drops
Elixir Hills
Bella Vista Resort
Deep Woods Resort
Nature Zone Resort
Hotel Star Emirates
Ayur County Resorts
The Fog Resort & Spa
Pavithram Homestay
Elysium Garden Hill Resorts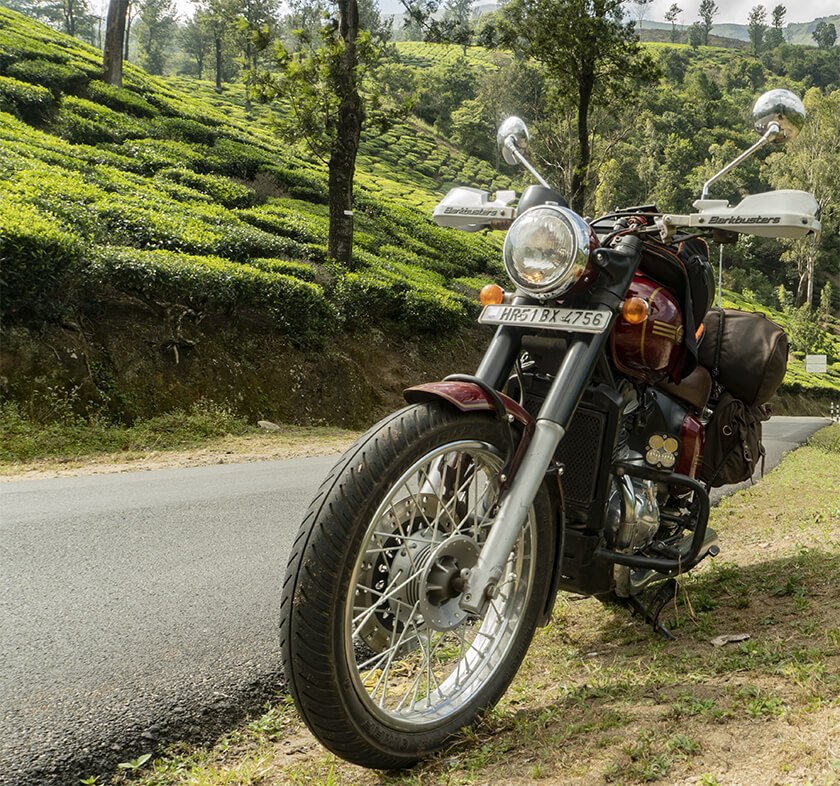 Bike Rental In Munnar
One of the best places to rent a bike in Munnar is Gokulam Bike Rental.
You will find the shop opposite the KSRTC bus stand, in the main market. Ask anyone about the bus station for easy navigation.
One of the guys I was sharing my hostel dorm with (in the Lost Hostel) had his Royal Enfield 350 rented from Gokulam Bike Rental on a great deal. They offer good customer service and give properly serviced bikes.
A few other places to rent a bike are Munnar Bike Rental, Shalom Bikes, Sangeetha Bikes and Scooter, and more.
How To Travel
Of course, if you are driving, the best and most scenic route is from Coimbatore to Munnar. This is where you will see the vast expanse of tea gardens. You will moreover pass through two national parks which will make your journey even interesting. The journey from Kochi, on the other side, is pretty boring and feels like just another winding road in the mountains.
If, however, you are travelling in a bus, then either travel from Bangalore or Kochi, because of easy availability of buses. You won't find any direct connections from Coimbatore.
If you are coming from a bit far, say Delhi or Kolkata, the most convenient way is to fly to Kochi. You can find flights from most airports in India to Kochi airport at a very good price. From Kochi, take a bus to Munnar. The entire journey should not take more than 6 or 7 thousand Rupees.
If, however, you want to travel in Budget, book a sleeper class to Kochi (that costs less than 1000 Rupees from Delhi) and then take an ordinary bus from there (that costs 100 Rupees). This way you can travel from Delhi to Munnar in less than 1500 Rupees.
How To Travel From Kochi
Since it is a boring drive, don't bother coming in a car, unless you hate buses. Having said that, taking a bus is the best way to travel from Kochi to Munnar.
There is one direct AC bus from Fort Kochi that takes about 500 Rupees and drops you to your destination in about 5 hours. This bus departs daily at 7:30 in the morning from the bus station in Fort Kochi.
Other than that, there are many – from AC to Non AC to ordinary – buses from the bus station in Ernakulum. There are buses leaving almost every hour, costing as low as 100 Rupees for an ordinary seat. A more comfortable ride in a push back sleeper costs around 200 Rupees.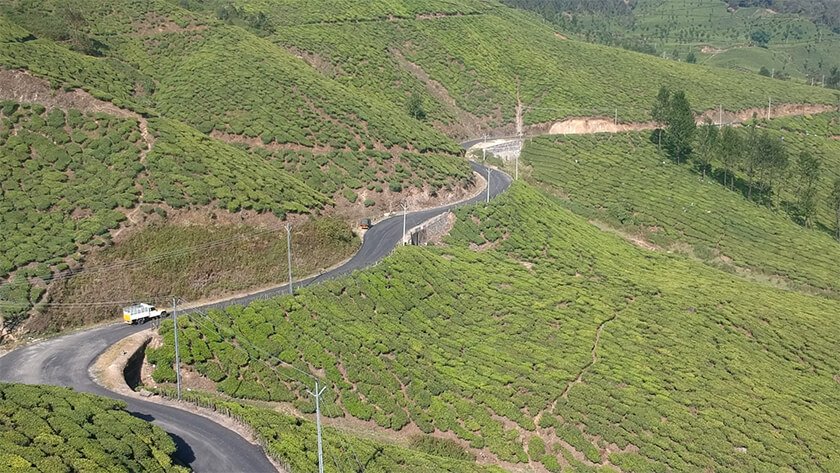 How To Travel From Bangalore
The best way to travel is, of course, by planning a self-drive trip that you can conveniently complete in a 12-hour day-drive. Alternatively, you can divide the journey, stay in Coimbatore for a night and do the journey in two days.
Read this detailed guide on how to travel from Bangalore to Munnar for more tips on planning a road trip
If you are taking a bus, however, be assured that there are about 10 different bus operators that you can choose. Most of these operators have overnight buses only that leave after 9 in the evening and reach the destination the following morning around 7 or 8 am.
The basis on what kind of bus you are travelling with, you pay somewhere between 900 to 2000 Rupees.
Nearest Airport To Munnar
The neared airport is in Kochi (or Ernakulum) known as Cochin International Airport. The best way to travel from Kochi airport to Munnar is in a taxi as it is not that far and a taxi doesn't cost more than 1500 Rupees. If you are looking for a budget option, however, you can also catch a bus.
Nearest Railway Station To Munnar
The nearest railway station is Alwaye (Aluva) or Angamaly, which are nearly 120 kms away. But you may not find many express trains coming from Delhi or Mumbai stopping there. So if you are coming from far, the Ernakulum Junction in Kochi is where you should get off. From there you can take a bus or a taxi.
If, however, you are coming to Aluva railway station, you can catch a bus from the nearby bus station or take a taxi to Munnar.
A taxi would cost around 2500 Indian Rupees from Aluva railway station. Taxis are available for hire from the pre-paid counter inside the station premises. You can also book an Uber outstation.
That's all in this Munnar travel blog. If you have more questions, write me in the comments below.