During my recent all India Delhi to Bangalore ride, I travelled from Bangalore to Munnar.
Until now, Alleppey backwaters was my favourite destination in Kerala. But this time, as I repeated a few more popular destinations in Kerala, and travelled from Bangalore to Munnar, I realised what I was missing.
Munnar is my new favourite in Kerala now. And this is because of many reasons.
Read this detailed Munnar travel blog to find out the reasons why I loved it became my favorite.
So yea, as I journeyed from Bangalore to Munnar I realised how this place is actually a highlight to not miss while travelling in Kerala. I am going to revisit it. And the next time I get there I am going to spend at least a week.
Here's a video of the ride from my Youtube channel:
Bangalore To Munnar Road Trip
For most people, the preferred route remains Kochi to Munnar, but let me tell you what: IT IS BORING.
During my Munnar to Kochi ride (I did Bangalore to Munnar to Kochi), I did not find a single tea estate throughout the route. The entire route to Koch felt just another winding road in the mountains. If I ever did this route again, I won't bother driving or riding. I will catch the bus.
So yea, if you are planning to visit Munnar, and you have the flexibility to choose the route, I suggest you do it Bangalore to Munnar and not Kochi to Munnar.
Here's a detailed travel blog on why Coimbatore to Munnar is better than Kochi To Munnar.
And the reason why I suggest you do it Bangalore to Munnar is because of Coimbatore to Munnar stretch.
Let's discuss it all in detail!
Day 1: Bangalore to Coimbatore
There are a few routes you can take but the one I am suggesting is more scenic. Here's is how it looks in Google maps…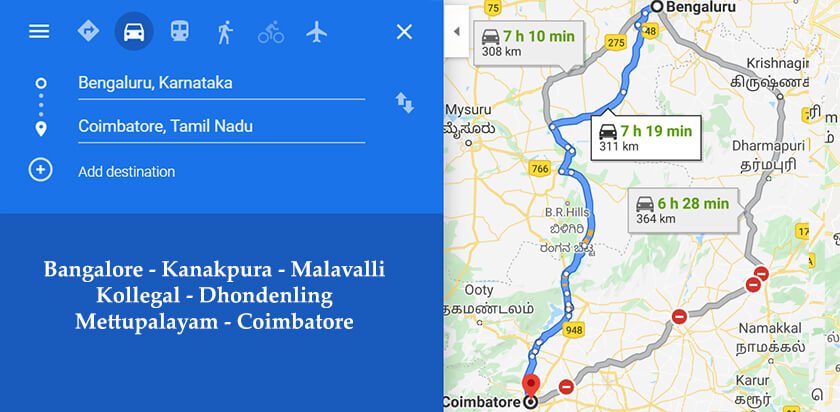 If you are going to Google navigate the route, the maps are going to suggest you Hosur-Erode NH44, because it is quicker (though longer).
I don't suggest the NH44 route unless you are in a hurry.
The route that I have shown in the map above is more scenic and avoids tolls.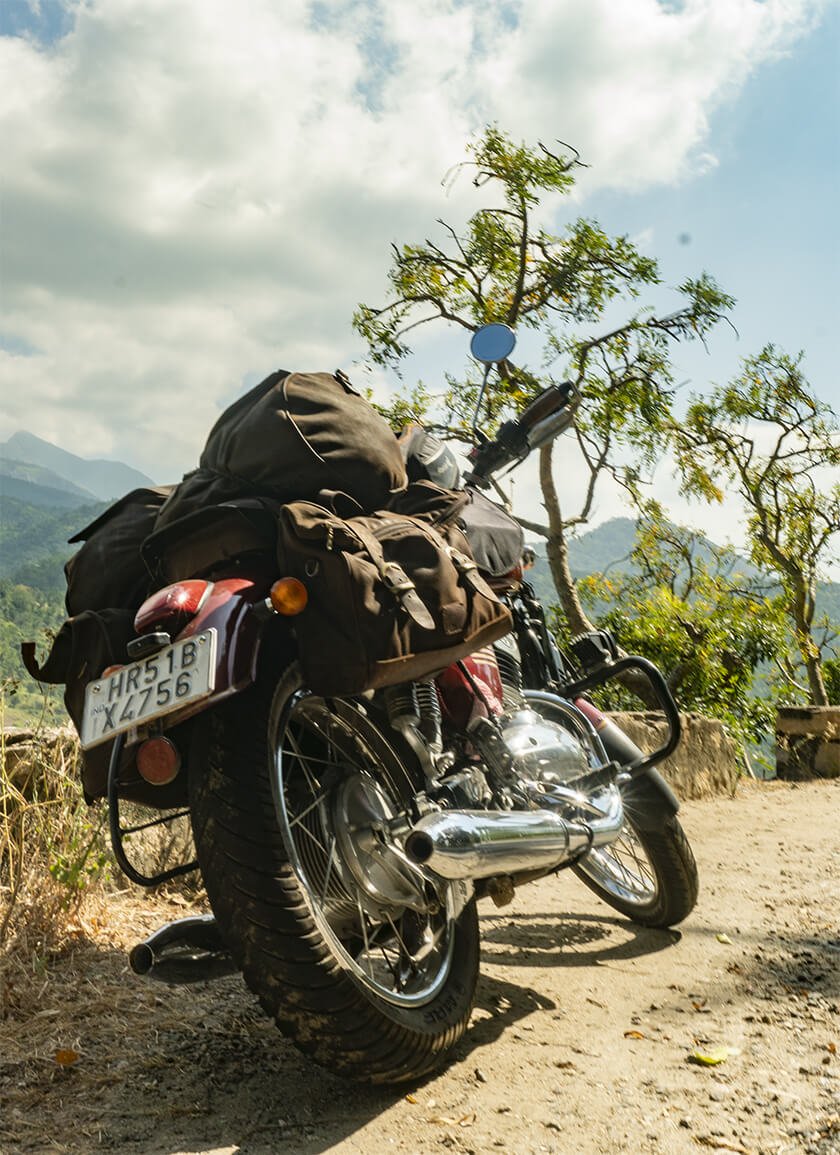 As you reach Khanakpara, the route becomes more or less a countryside drive.
Most of the road from here now on will be two way (though properly made) taking you to small villages, hills and many water bodies.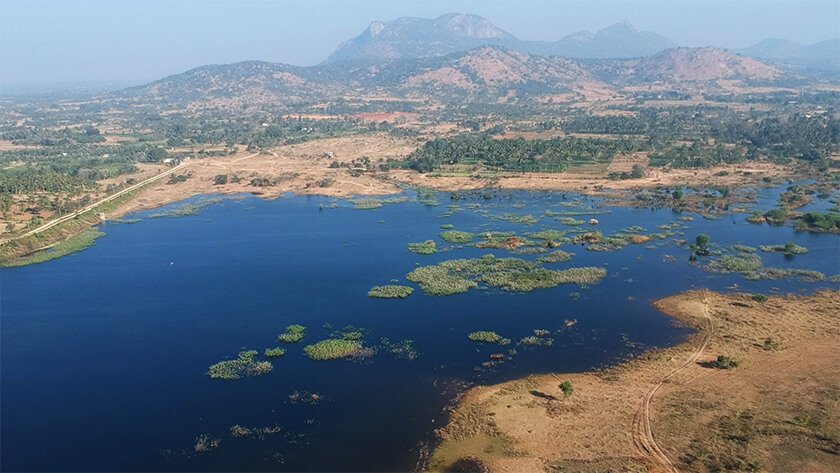 Until Malavalli, you will keep seeing hills at a distance. This is the boring part of the entire Bangalore to Munnar road trip, but nevertheless still very scenic.
Between Malavalli and Kollegal is when things start getting more interesting. At times the road bend and curve giving you the hints of BR Hills lying ahead.
BR Hills, or the Biligirirangana Hills, if you don't know, is a hill-station bordering Karnataka and Tamil Nadu. The entire BR Hills is a wildlife sanctuary and a declared tiger reserve. Many people also come here for a holiday, so you can imagine the beauty.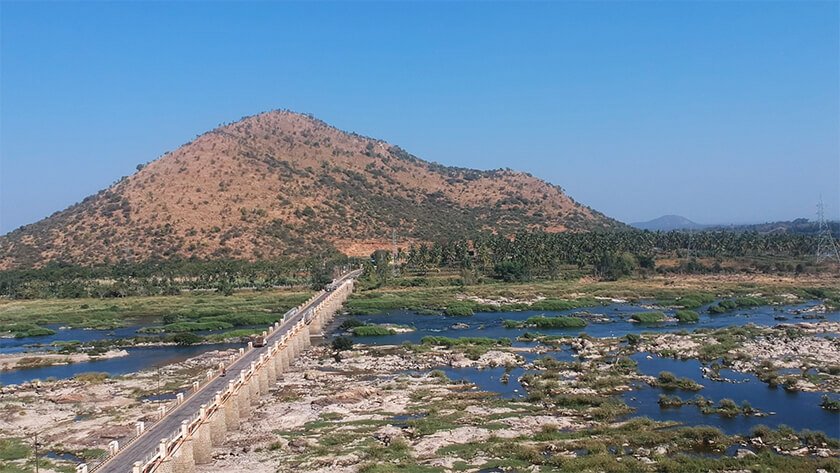 As soon as you leave Kollegal and near BR Hills, you see many signboards saying 'Wildlife. Drive Slow'. Do that, or you may be fined.
Around 50km from Kollegal, also lies the Buddhist settlement of Dhondenling. Call it the mini version of Bylakuppe and Namdroling Monastery in Karnataka.
It is worth exploring the monastery at Dhondenling, and roam around the small Buddhist settlement. You may notice a few houses (and a part of the monastery too) under construction. It is also possible to find a hotel and stay there.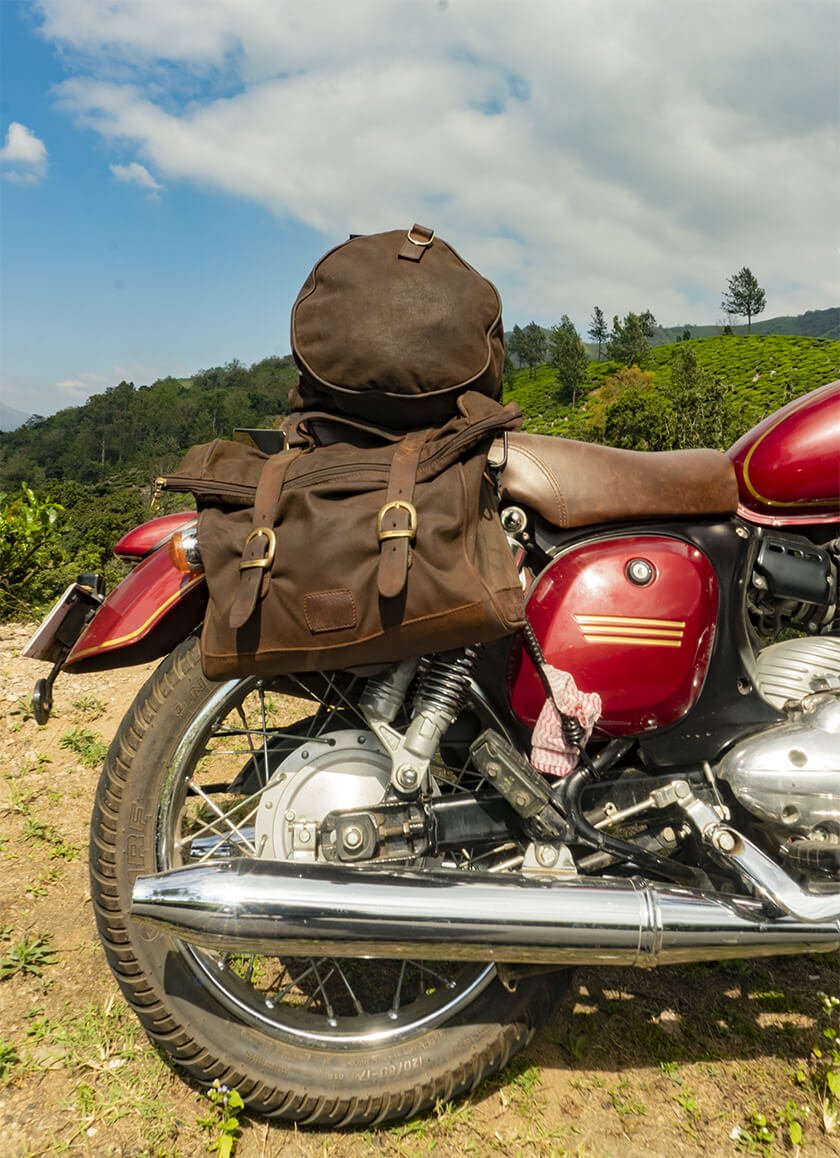 From Dhondenling until Hasanur (40 km) you will see more winding roads with frequent episodes of a mountain drive and a straight road. For photography lovers, there will be many picture-perfect spots. It is on this stretch that you will also cross from Karnataka into Tamil Nadu. The road on the Karnataka side may seem better made.
It will take around an hour to complete the 40 km Dhondenling to Hasanur.
Hasanur to Coimbatore is again a boring ride, but only about 2 hours (or 100 km) at max.
Day 2: Coimbatore to Munnar
This is the most interesting bit of the original Bangalore to Munnar ride.
Again, there will be a couple of routes to take but the one I suggest is more scenic. Here's is how it looks in the Google maps…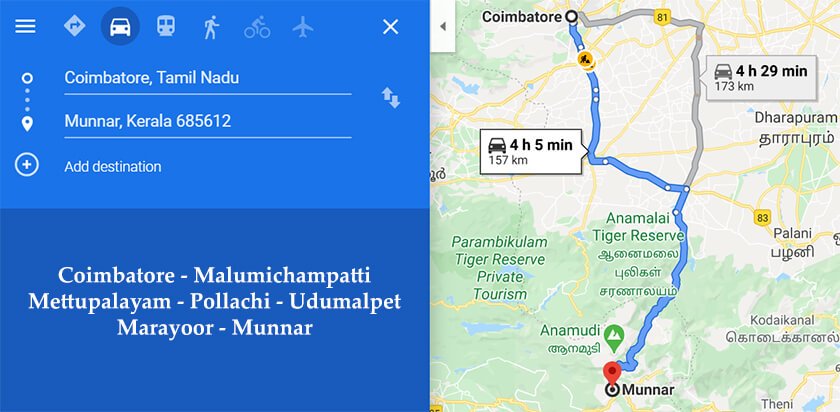 If you are going to Google navigate the route, the maps are going to suggest you Palladam-Udumalpet NH88, because it is quicker during day time traffic (though longer).
I don't suggest the NH88 route unless you are in a hurry.
The route that I have shown in the map above is more scenic and avoids tolls. It takes you through beautiful countryside in Tamil Nadu.
The first half an hour, until you reach Malumichampatti, in Tamil Nadu, is the only boring stretch of the journey. From Malumichampatti onwards, you are going to see countryside winding road, windmills, and a lot of green spaces.
At times you will witness at least 50 windmills on one side and about 100 if you do a panorama.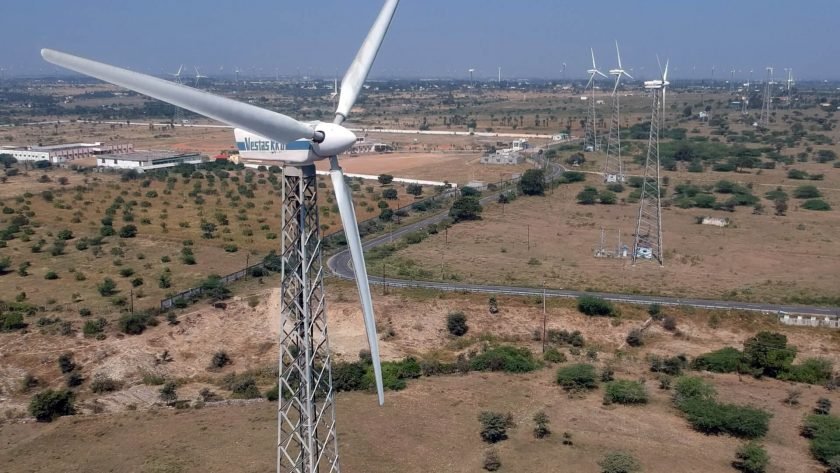 If you have a drone, you are going to love bringing it here just like I did (have you seen the video I shared above?).
From Malumichampatti to Udumalpet you will keep seeing windmills and open fields. This stretch of the entire Bangalore to Munnar drive will moreover give you a good introduction into village life in Tamil Nadu.
It should not take more than two hours to cover the 70 km Malumichampatti to Udumalpet distance, even if you took a few stops.
In about 30 km from Udumalpet, the hills of Anamalai tiger reserve and the most beautiful part of your Bangalore to Munnar journey begins.
Anamalai Tiger Reserve, if you do not know, is home to the endangered Bengal tiger, Indian elephant and Indian leopard. Other than that it shelters Asiatic wild dog, Nilgiri and lion-tailed macaque. The tiger reserve, together with the several other contiguous protected forest and grassland habitats occupy an area of about 3,253 km.
The beginning of the hills in Anamalai Tiger Reserve will moreover make you exit Tamil Nadu and entier Kerala. In Kerala, the Anamalai tiger reserve is known as Chinnar Wildlife Sanctuary.
As you enter Kerala and cross Marayoor, the vast expanse of tea-estates start showing up. It is from here that you will start getting a feel of what Munnar is popular for, and that is tea gardens.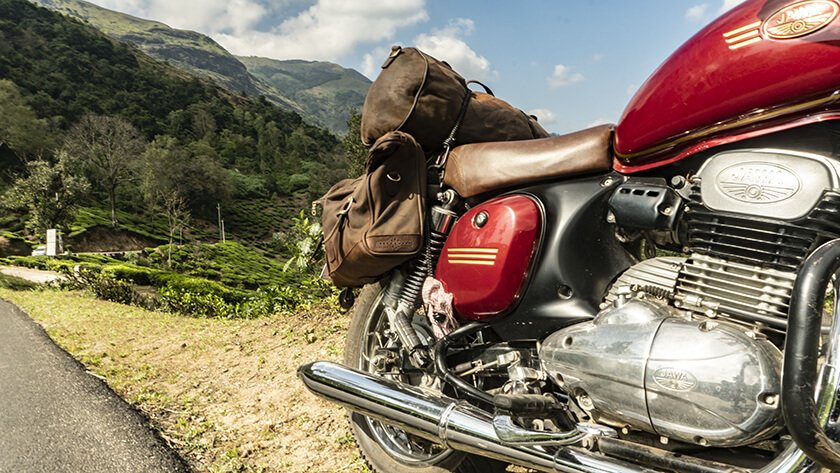 You will come across many tea gardens and shops selling freshly picked tea leaves. It is possible to stop and visit one of the tea estates on the way.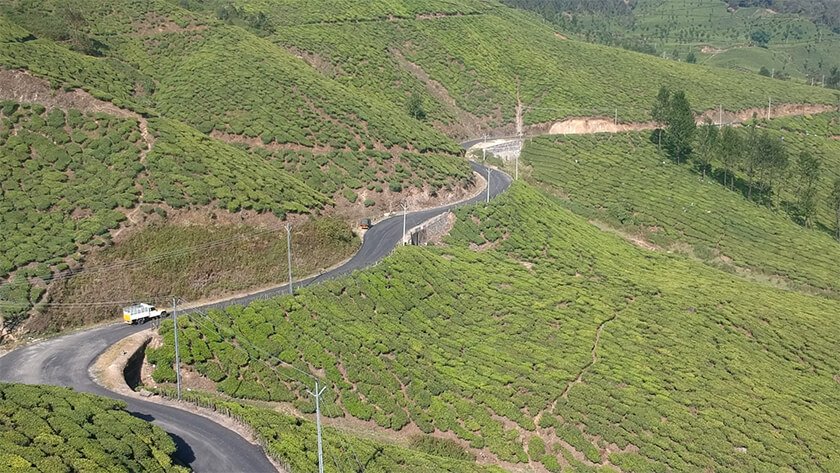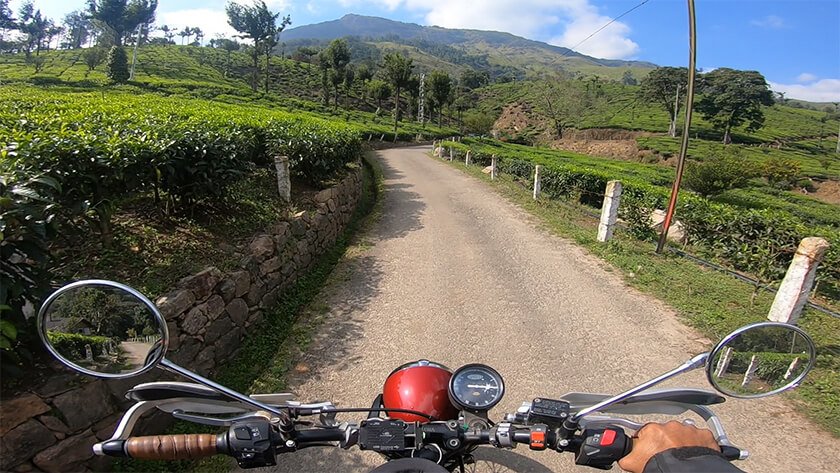 From Marayoor to Munnar is about one and a half hours drive but it will take at least two hours (generally more) because you will be forced to stop owing to the beauty of the place.
Bangalore To Munnar By Bus
Consider this route just as popular as how Delhi to Manali route is for north Indians. Having said that, there is no dearth of buses here.
A Bangalore to Munnar bus journey is a convenient one as it ends at the final destination. Catch a bus from Bangalore and voila! No need for any changes in the middle.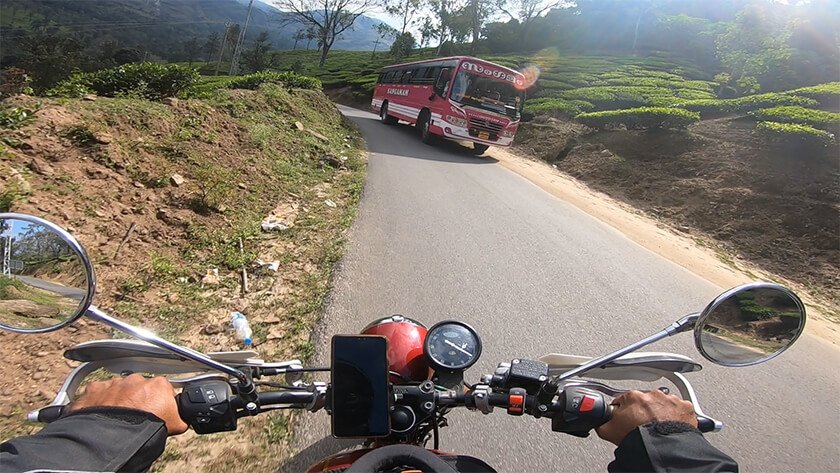 The only downside of the journey is, however, it takes the highways and covers the boring bits. The total distance of a Bangalore to Munnar bus trip remains less than 500 km and takes about 11 to 12 hours in total.
There are nearly 10 different bus operators that you can choose from on Redbus and other similar apps. Most of these operators have overnight buses only. Most buses leave after 9 in the evening and reach Munnar the following morning around 7 or 8 am.
The basis on what kind of bus you are travelling with – AC or non-AC etc – you pay somewhere between 900 to 2000 Rupees. I have travelled with KSRTC buses only so I recommend them for a Bangalore to Munnar bus trip. There are other private companies too like The Royal Travels, Greenline Travels, KPN and others.
KPN remains a popular choice for many people as they have both AC and non-AC sleepers. Their non-AC sleepers buses are the cheapest option. If, however, you want to travel in extreme luxury with push back seats, leg support, Air Conditioning and other similar luxury perks, choose The Royal Travels. They charge about 1900 Rupees each side but they are worth the price.
Other amenities for vulnerable situations like emergency contact number, fire extinguisher, emergency exits are also given in most buses.
Best Time To Travel Bangalore To Munnar
Since South India has tropical weather with unbearable heat and sweat, the best time to travel Bangalore to Munnar remains during the winter months.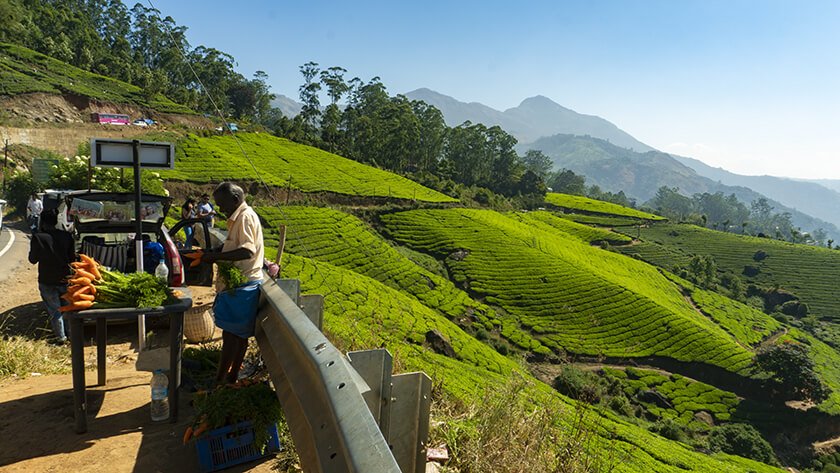 I happened to travel in the first week of February and it was still too hot everywhere except for in Munnar. The entire journey (especially around Coimbatore) was hot and humid.
During winter, Munnar remains a little cold at around 15 degrees but very pleasant during the morning. In the day time, you won't need to wear anything other than a Tshirt. In the evening, a light jacket often suffices.
So yea, speaking of the best time to travel Bangalore to Munnar it is winter months of December, January and February. Other than these three months, monsoon is a good time to travel too as it is off-season and not too sunny.
If, however, you are one of those people who always want budget accommodation in India, I suggest you travel between March and June or September and October.