Since Basel is tucked away on the northern edge of the country and doesn't fall on the regular Geneva-Bern-Lucerne-Zurich route, it is often avoided by tourists. But speaking of my first impression of Basel, as I happened to explore it during a 3-day blog trip with Basel Tourism, I found it undoubtedly charming and a must-visit destination. in Switzerland.
Being Switzerland's third-largest town, Basel offers something for everyone. It has over 40 museums, about a dozen art galleries, world-class architecture, quirky bars, polished restaurants, its own trademarked beer, a lively riverside, traffic-free streets, Switzerland's best town hall… well, I can go on. But honestly speaking I loved Basel not for the attractions it offers, but because of its old town European charm. Its many medieval winding streets that ooze both history and culture, offer a treat for the eyes. There couldn't be a better place to conclude my 2-month long backpacking trip across Europe.
Places To Visit In Basel
Understanding The Geography
Before I arrived in Basel, I had no idea that this part of Switzerland is straddling the borders of three countries, with little to indicate when you are moving between France, Germany or Switzerland — something that makes it easier for tourists to visit three countries, even if they didn't want to (as was the case with me). During my 3 days in the city, I ended up in Germany twice, and in France, a few more times than I can actually remember.
Other than the main Basel train station, a part of which is situated in Switzerland, and apart, in France, its own airport 'Basel-Mulhouse' lies within the French boundaries but is connected to Switzerland by a land corridor.
Public transport in Basel is fairly efficient. If you're arriving at Basel-Mulhouse airport, bus number 50 departs every 10 to 20 minutes to the railway station, for a fare of 5CHF per person. An interesting thing to note about Basel, moreover, is that you're exempted to buy any tickets in its public transport network of buses and trams if you have a hotel booking in the town. All hotels/hostels in Basel offer you a free mobility ticket (throughout your period of stay) for promoting the use of public transport — what a wonderful way of encouraging eco-tourism!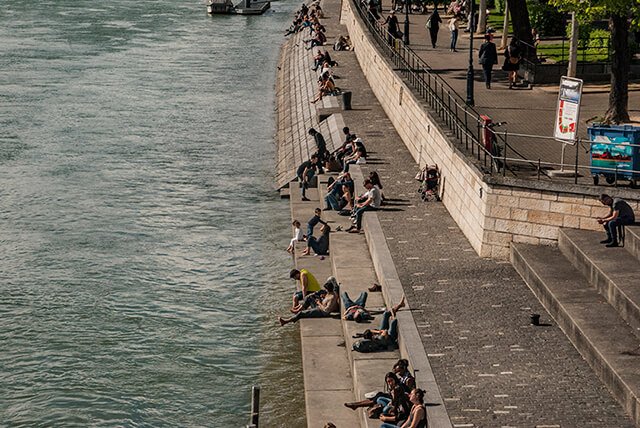 Explore The Old Town
Thanks to its compact size, the ideal way to discover Basel is on foot. On every corner, you'll find buildings dating back their foundation to the 15th or 16th century, with a mix of modern buildings designed by world-renowned architects. The old town of Basel is an atmospheric web of cobbled streets and old buildings with red sandstone architecture and coloured roof tiles.
The five walking tours around Basel's historic centre, each marked with blue symbols, on a free brochure provided by Basel Tourism, is a good way to explore the city and get under its skin. Just visit the Tourist Information Center in the city center, grab their free brochure called "A journey back into history", and explore your favorite trail.
But if you're short on time, and can't afford to explore much, head straight to the most interesting square in the old town called Marktplatz, and in Marktplatz, the popular Rathaus — a beautifully renovated Renaissance palace that has been the town hall for centuries. Right across the town hall lies the market square full of street food vendors, flower shops, and the many happy tourists making their buys.
Explore Rehbergerweg And Its Vineyards On Foot
Take tram no 6 towards the direction of Riehen Grenze until the stop «Fondation Beyeler» and explore a 6-km long trail, designed by the artist Tobias Rehberger, that links two countries, two communities and two cultural institutions – and tells countless stories along with its 24 stops.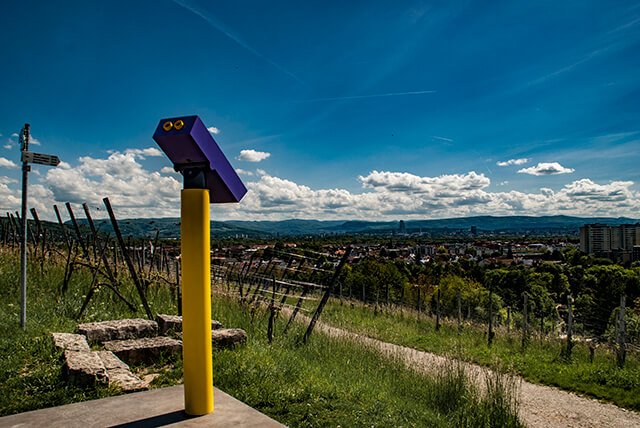 The trail takes you through 24 different sculptures or pieces of art, as you make your way from Switzerland to Germany, and back, overlooking the city of Basel and surrounding vineyards. A free brochure can be found at the Tourism Information center in the Basel City Center.
Drink Like Locals

Ueli beer has been slaking the thirst of Baslers for more than 40 years, and its two brewery restaurants, located at Rheingasse have several varieties on tap.
The one I'd personally explored and favoured was Restaurant Fischerstube, which offers freshly brewed beer. You can even take a look at their in-house brewery from a glass window. I ordered Sauteed sliced beef liver "sour" with Rösti, and a mountain of cheese, and a couple of Ueli Beers. The beers were the best part of the dinner.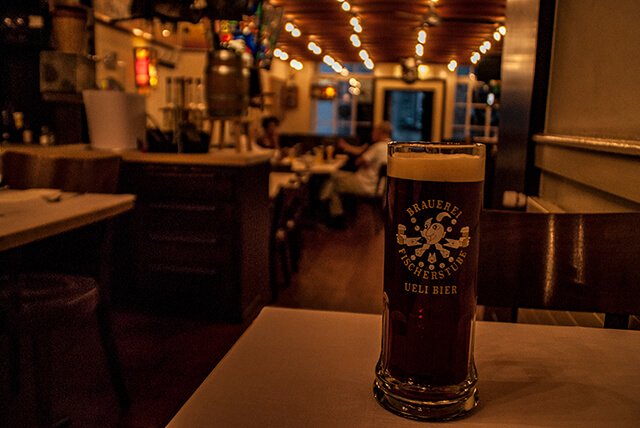 For a bit of touristic stuff, and an unforgettable view of the city, head to the panoramic Bar Rouge, situated in the 105-meter-high Messeturm.
Dine Like Locals
For lunch look no further than Markthalle. A cool place where India Mexico and all the countries in between are selling the best of their culinary delights. Situated inside the big domed hall close to the station, Markthalle was once Basel's wholesale veg market, which later turned into a shopping center, before finally becoming a Singaporean-style food court.
For dinner, check Lily's Stomach Supply, Brauerei Fischerstube, Union Restaurant and Restaurant Kohlmann's, as recommended to me, for a local experience. Go to Restaurant Kohlmann's if you fancy a cosy place, filled with the smells of fire, wood and freshly baked goodies.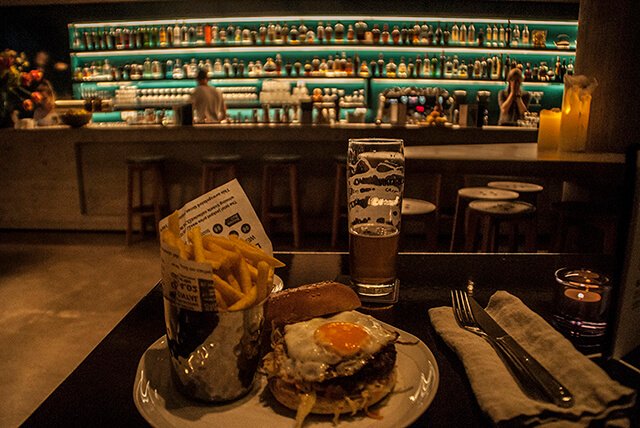 If you're a backpacker, however, in search of a lively bar, crazy cocktails, and some burgers and french fries as the in-house special, then head to Nomad Eatery. This lively restaurant is a meeting place from early till late – for a convivial dinner, a healthy business lunch or a hearty brunch. Come here for an urban ambience as well as occasional events.
Where To Stay In Basel
'Youth Hostel' is where I stayed in Basel. And I will definitely recommend the place, for keeping the Swiss standard. The rooms were tidy, the staff was affable, and the showers — eco-friendly and smart. Its easy accessibility from the train station SBB made it an even better place to stay.
Other recommended articles on Switzerland: A Day In Zurich | Day Trip To Mount Titlis
Disclaimer: I wrote this post for BaselTourism, under the #VisitBasel campaign. Though my tour in the city was hosted by BaselTourism, all the recommendations and ideas are solely personal. I only recommend what I personally experience and find worth sharing.