Wondering what to do in Gold Coast? Here are 9 top tourist things to see and experiences to try…
The Gold Coast region in the Queensland region of Australia turned out to be my personal favourite among all the places I've been to in the country so far. Though it's true that I still have a significantly larger portion of Australia to discover, out of whatever little of it I've seen so far, the Gold Coast remains a particular highlight, and there are many reasons for it.
Gold Coast is the epitome of the Australian dream: from exploring picturesque surfing beaches to experiencing laid-back cafes to trying adventure sports of different kinds. In just a 60km of stretch, you get to do so much that you otherwise don't in most of the other tourist places in the world. I remember how before getting there, I underestimated it as just another upcoming beach town in Australia, laden with nothing beyond surfing experiences and a laid-back life, but I was wrong. Gold Coast has much more to see and does than one can imagine.
Also Read: A 5-Day Action-Packed Travel Itinerary For Gold Coast and this travel blog on places to visit in Brisbane if you are there too.
So if you're planning a trip to Australia and are looking for something beyond just the usual Sydney-Melbourne trail here are my suggestions on what to do in Gold Coast.
What To Do In Gold Coast
Beaches That Are Out Of The World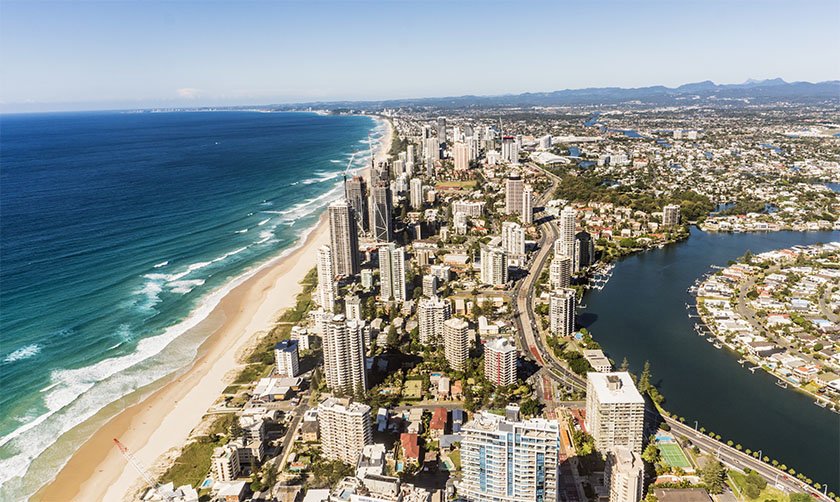 If white-sand beaches and turquoise water is something why you're planning to visit Australia in the first place, then the Gold Coast is going to be a real treat for you. It (which stretches for 57km) allows you to choose from 20 different beaches all of which are perfect for surfing and swimming throughout the year. Though the Surfers Paradise is the most well-known of them all and you will be hearing quite a few recommendations for it during your stay in the Gold Coast, I will advise checking out the Snappers Rock and Coolangatta if you want something quiet.
Learning Surfing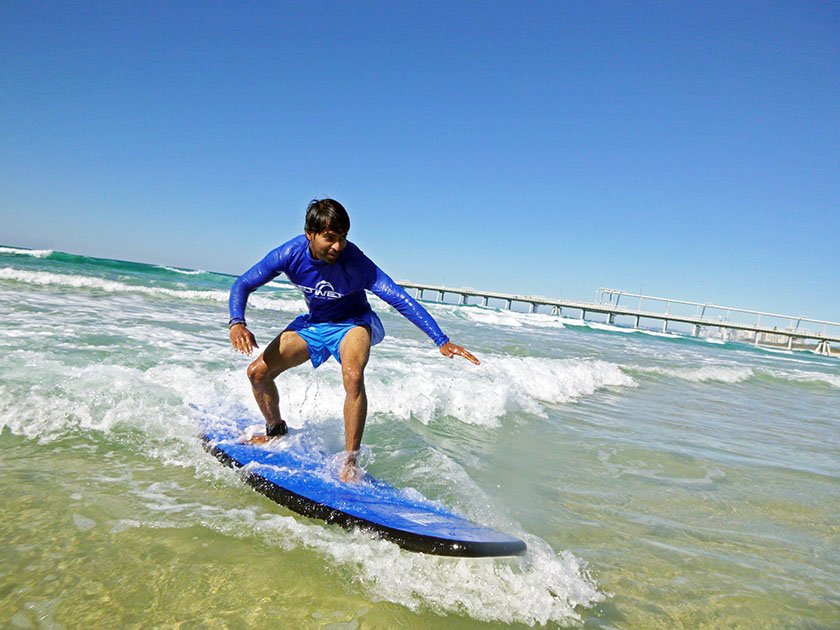 Australia is known for surfing, and the Gold Coast offers a number of surfing schools to choose from. With lessons starting for as low as 55 dollars (with a stand-up guarantee in just a few hours) or a surfboard hire for just 20 dollars for a day, the Gold Coast is a real surfers paradise, not just that it has a place with that name. So yea, if you are wondering what to do in Gold Coast, learn surfing.
Tip: For learning surfing, I can recommend a tour company called 'Get Wet Surf ' located at the Main Beach in Surfers Paradise. Sign-up for a 2-hour introductory surfing lesson to learn the basics and then hire a surfboard and master the art by yourself. Surfing is a totally fun and very safe adventure activity to learn.
Vibrant Markets
From arts and crafts to open farmers and food markets, you have got enough choices to choose from when on the Gold Coast. Hosted in the Hinterland, along with the beaches and the suburbs, you're sure to pass at least one as you're wandering around.
A few must-see markets as I personally explored and found worth appreciating are: Broadbeach Markets on the first and third Sunday of every month for interesting arts and crafts; Surfers Paradise Beachfront Markets, every Wednesday, Friday and Sunday, which, in fact, is also one of the biggest on the Gold Coast; and last but not the last, the NighQuarter a weekend night market for food, local arts, and craft and live performances.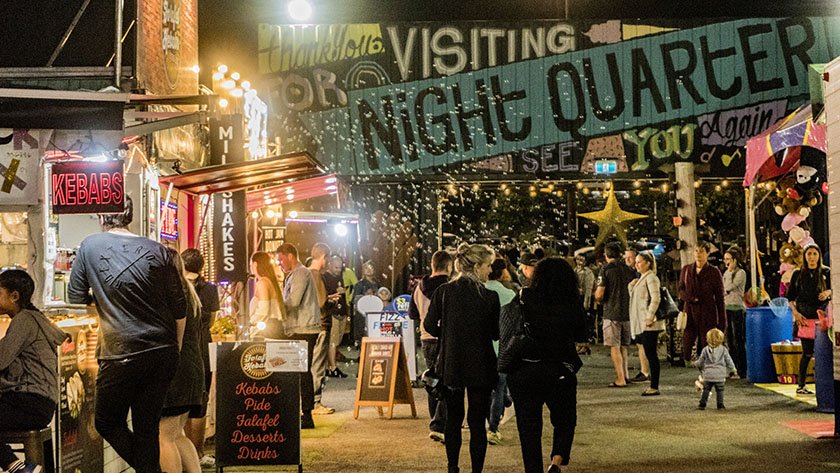 They all are a real treat for avid street photographers.
Theme Parks
Though theme parks are one of the reasons why many tourists (particularly the Indian and Chinese tourists) visit the Gold Coast in first place, they still make for a good excuse for you to be planning a holiday on Gold Coast – particularly if you've kids. Visit the largest theme park of Dreamland, which, from Kangaroo feeding to adult-thrill rides to a Madagascar movie-themed park for kids, has something for everyone. Other than this, you have water parks as well as the movie world based on Warner Bros movie themes.
So stop thinking about what to do in Gold Coast, and visit a theme park.
National Parks & Wildlife Centuries
One thing many visitors do not expect from the Gold Coast as its a beach town is having a few national parks too with rich wildlife to spot. Currumbin wildlife century, for example, is a lovely place that can make your holiday on the Gold Coast much more memorable, because for anyone one of the prime experiences to be travelling to Australia, no matter what part of the country they travel to, is spotting a Kangaroo and Koala – at Currumbin wildlife century, however, you get to feed one and hug the other and click many pictures during the process.
If not satisfied, you can also try holding a python, as another thing I suggest you do in Gold Coast.
Other than Currumbin wildlife century another highlight is the Springbrook National Park and all is wilderness to find hidden waterfalls, lookouts, and wildlife. Just like the Currumbin wildlife century, the Springbrook National Park can also be visited on a half-day trip, but if you have a little more time in hand, consider renting a cottage or a cabin in the park to get a real taste of living out in the rainforest jungle.
Nightlife
If the idea of holidaying in Australia was enjoying the nightlife then look no further than Surfers Paradise. Considered as the heart of the city, at Surfers Paradise, you will find bars, nightclubs, pubs, and a vibrant young crowd to befriend with. Check out the Island Rooftop 'the bar with a view' for some quirky cocktails and live performances. At Surfers Paradise, there's either a nightclub or a pub or a bar at every corner.
Great Food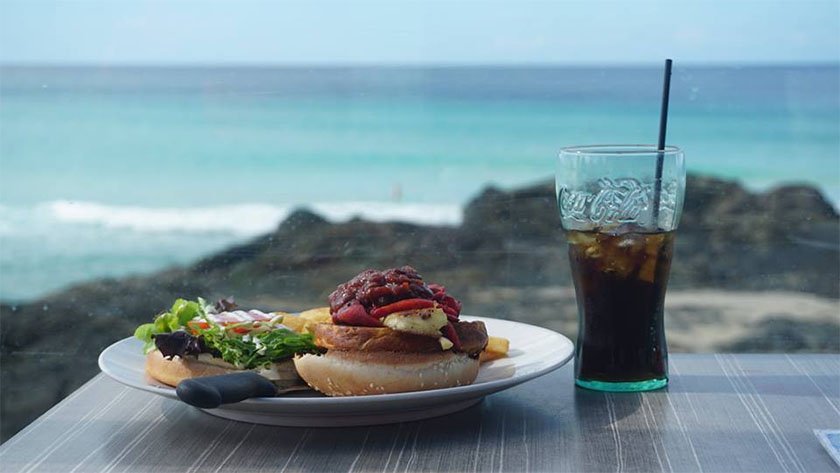 Eating food also gets a place in our list of top things to do in Gold Coast. There are literally hundreds of restaurants, cafes, clubs, and bars with a dish and a price point for everyone. One moment you will be barefoot in your swimming shorts sitting on plastic chairs in an outdoor cafe, while at the next minute, you will be in a fine dining hotel with your bow tie, listening to live jazz music. During my 8-day stay in the town, I ate at a variety of places for breakfast, lunch, and dinner with most of the places being casual and family-friendly.
But out of the lot, if I were to recommend a few places to eat in Gold Coast, they will be:
Bazaar, at QT Hotel for dinner, Cafe D'bar at Snapper Rocks for the morning breakfast, NighQuarter for an open food-market experience (every weekend) and Greenhouse Canteen and Bar for Vegan lovers.
Snorkeling In The Great Barrier Reef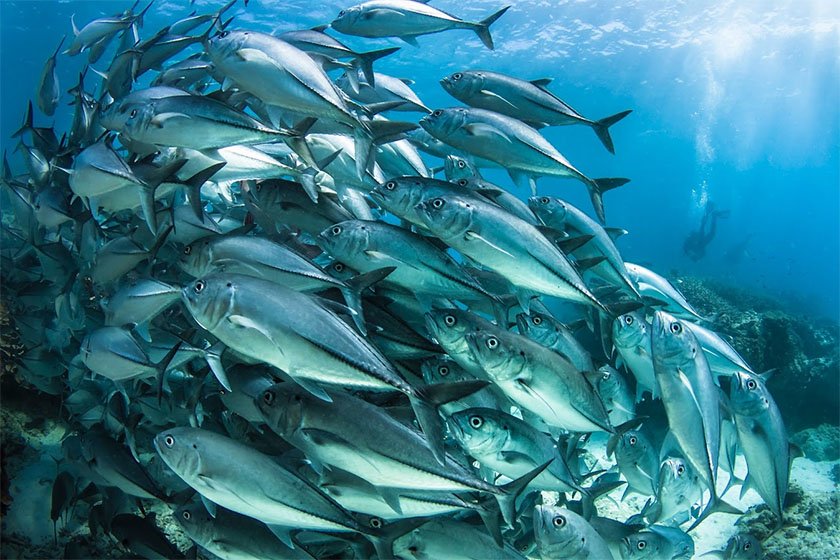 No trip to Australia (particularly the ones done around the eastern coast of the country) is complete without experiencing the rich coral life underwater at the Great Barrier Reef. From the Gold Coast, one can try a few different day trips to the island on its north and experience diving or snorkeling in the Great Barrier Reef. I did a day trip to Lady Elliot Island from the Gold Coast which included a total of 3-hour scenic flight to and from the island and a couple of snorkeling sessions in the Gret Barrier Reef.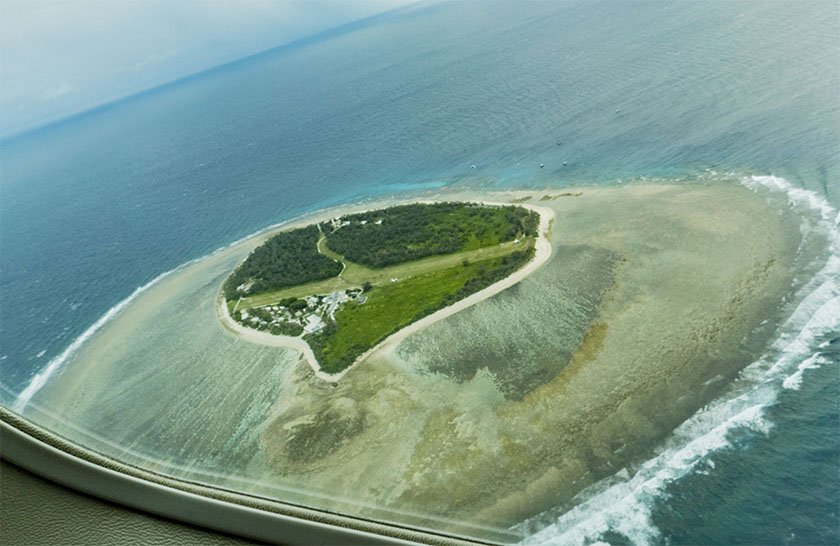 Home to a few different types of turtles and manta rays Ladt Elliot island is a must-visit if you're a swimmer.  
Crazy & Fun Activities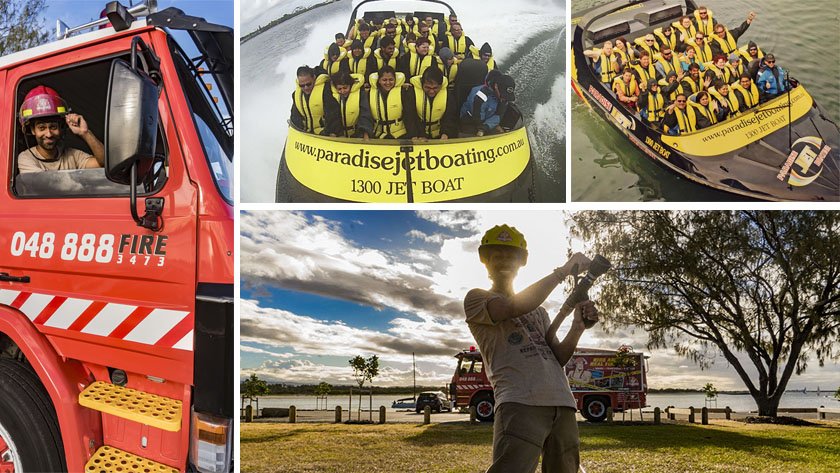 A fire truck ride, an adrenaline jetboating tour, a jetpack ride… if it sounds crazy and bizarre enough it can be done on the Gold Coast. If you're a big group (say more than 10 people) a fire truck ride with some Bollywood music (as we had it) or a group jet boating tour can give you a memory of a lifetime.
Hot Air Ballooning
One of the memorable things to do on Gold Coast is Hot Air Ballooning. As you take off and rise about 2000 feet above the ground, you get to behold the sweeping views of the majestic Gold Coast Hinterland with regular intervals of temporary mist. The entire experience of a 45-minute hot air balloon ride feels no less magical.
Though a hot air ballooning ride is recommended to anyone (particularly to those who have never tried it before) it can be a pretty romantic experience for honeymooners traveling to the Gold Coast. Speaking of the costs, it is about 300 dollars per person.
---
If you are planning a trip to the Gold Coast, I will suggest booking a flight with Flyscoot Airlines for their competitive air-fares. Though a low-cost airline, for those who appreciate a little more comfort they have a premium economy and business class too. They run from Hyderabad, Bangalore, Amritsar and a few other destinations in India.
---
Disclaimer: I was invited by Queensland Tourism and Scoot Airlines for a 5-day trip to the Gold Coast. Though the trip was hosted by them, all recommendations and suggestions are solely my own. I only recommend what I personally try and find worth appreciating. Also, in addition to a 5-day trip with Queensland Tourism, I overstayed 3-more nights to experience the town at my own pace and do justice to this what to do in the Gold Coast list.