Visiting Gold Coast in Queensland? Don't miss a day trip to Lady Elliot Island — the most picturesque highlight!
As I carefully trod on what appeared as a million broken shells and conches, with my shorts carefully rolled up, I experienced a soft touch of the residual waves of the Coral Sea caress my feet and playfully slip the sand from underneath my soles. I looked at the chirpy turquoise blue waters before me and suddenly realised why this place is considered as a mecca for snorkels and divers. I was not even 10 steps away from the beach and the beautiful coral life had already started and stretched for as far as I could see. A few dozen colourful, tiny fishes had moreover approached me before suddenly disappearing into nothingness as if almost inviting me to their beautiful world underwater!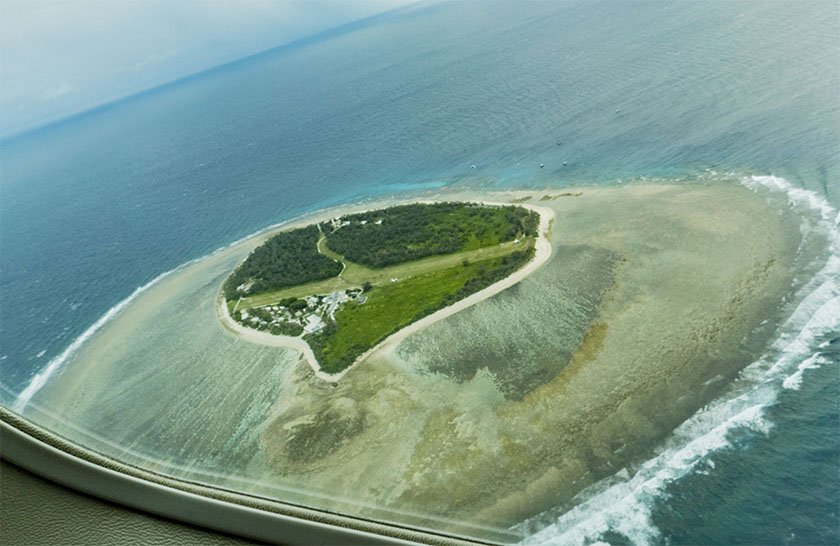 I remember when an invitation from the Queensland Tourism landed in my inbox, asking me if I would be interested in exploring the Gold Coast region during a few days of an action-packed journey, the first thing that came in my mind, before even checking out the itinerary, was snorkeling in the Great Barrier Reef. I mean for any scuba diver, snorkeling, or even better, diving in the Great Barrier Reef is like tasting the holy grail — and I was no different. Then a quick read of the itinerary and my anticipation turned into a sweet reality. On the last day of our 5-day trip in and around the Gold Coast, we were flying to this lovely unheard-of island called the Lady Elliot Island.
The 1.5-Hour Flight To The Lady Elliot Island: The First Highlight
And then the last day happened, and I found myself sitting groggily (with bloodshot eyes, thanks for a few extra drinks the previous jazz-night in the hotel!) at the hotel reception waiting to be picked up around quarter to 6. The hotel transfer to Lady Elliot's private flight terminal in the Gold Coast was a total blackout, but as soon as we got into our charter plane and took-off, things became interestingly unavoidable.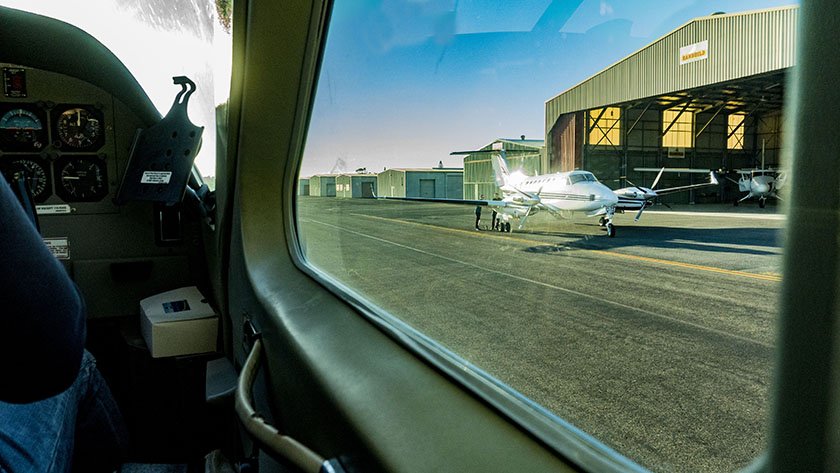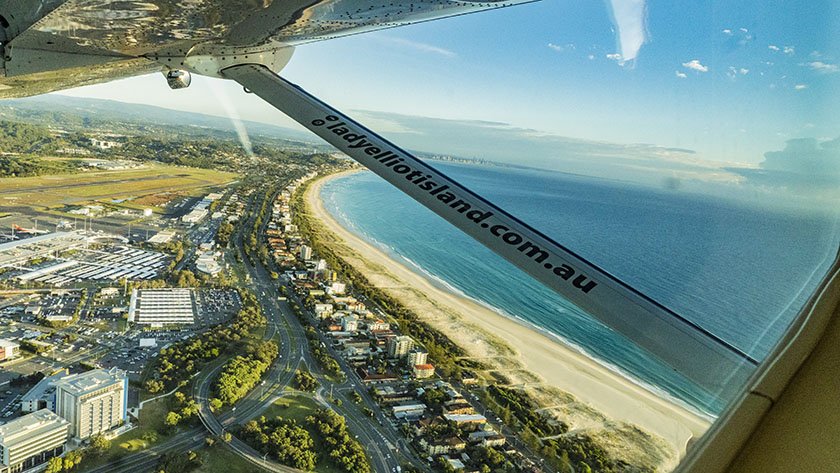 The surreal ariel views of the entire Gold Coast, North and South Stradbroke Islands, Moreton Island and Fraser Island as we slowly made our way to the Lady Elliot Island kept hold me. We flew over white sand beaches, beautiful suburbs, periodic cliffs and of course, an eternal turquoise sea. And since it was a small chartered plane and didn't fly much higher (like big planes do) spotting life on land was easier.
Located about 450km north of the Gold Coast the flight to the Lady Elliot Island takes almost 100 minutes from the Gold Coast, and 80 minutes from Redcliffe in Brisbane.
Snorkeling With A Turtle: A Dream Come True
Located at the southernmost tip of the Great Barrier Reef, the Lady Elliot Island is known (among those who know about it!) for its unspoiled coral life. Its remote location on the edge of the continental shelf gives it the clearest water on the reef and also some of the best marine life.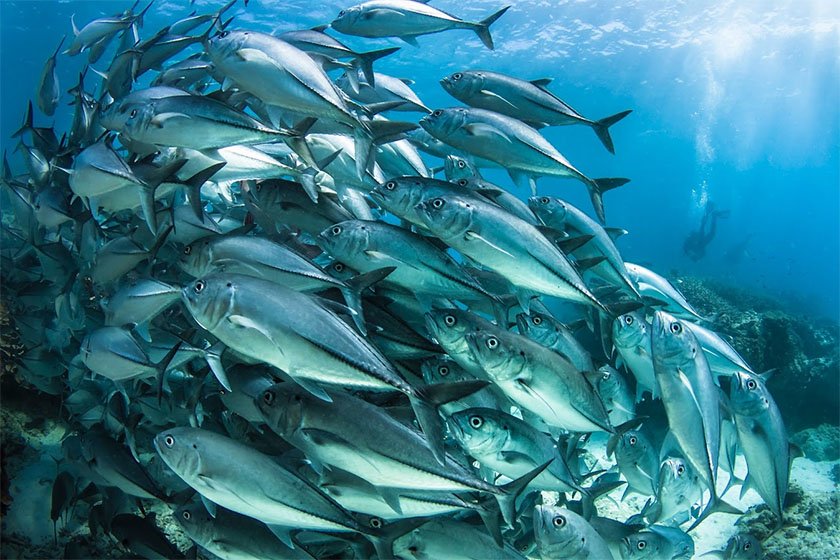 The Lady Elliot Island is moreover particularly popular for its manta rays — in fact, there are consistently more resident manta rays here than virtually anywhere else on the planet. But during our visit to the island, and two equal 30-minute snorkeling episodes we, unfortunately, could not spot any.
On a brighter note, however, we got to swim with a turtle — and that too, for not just once but thrice. As unreal as it may sound, the experience of floating with the turtle and even going underwater with it for a few brief seconds (as I held my breath) was an experience of a lifetime.
It appeared that the turtle was not at all afraid or bothered to be swimming right beside me — after all, I was in his world, and he was the king!
If you end up visiting the Lady Elliot Island between February through to April, you can even experience turtle hatching.
Other than turtles, we explored a beautifully diverse coral of the Great Barrier Reef with fishes of all colour and sizes and shapes appearing suddenly before gracefully disappearing into the vast sea. The visibility was also as good as 20+ meters away.
Day Trip To The Lady Elliot Island: The Itinerary We Followed
Upon arrival at the Lady Elliot Island (after a 15 min hotel to Lady Elliot Island's private flight terminal in the Gold Coast and a 100min flight) our guide took us on a brief orientation tour of the island before escorting us to the Day Guest facilities to collect our snorkel equipment.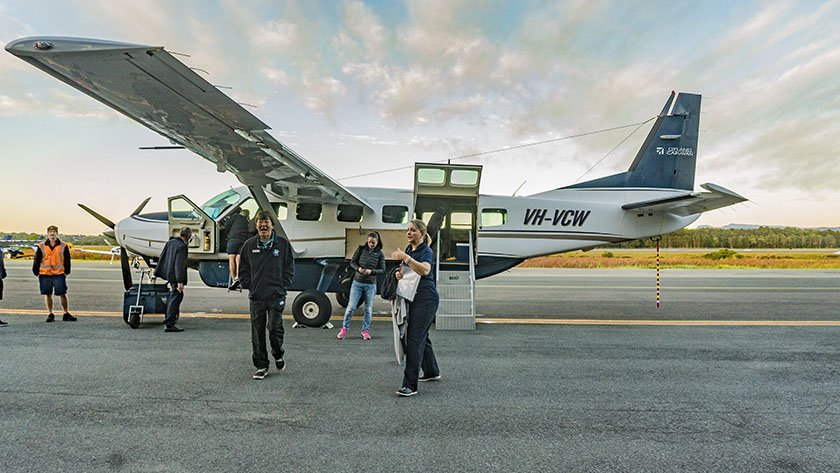 Please note that all snorkeling equipment (for day trippers as well as those who are staying at the island) is included in the price so no need to carry anything with you but just your daily essentials and a swimsuit. Even sunscreen and flip-flops are provided so wear shoes if you want to and forget about them getting wet.
Once done, we had a 20-minute boat ride to the snorkeling spot, in the glass-bottom boat, making the journey interesting to another level. As we finished the snorkeling-tour and got back to the island (which took a total of 2 hours) we had time to either explore more of the island, relax on a beach, play volleyball or snorkel at another destination. We chose to snorkel (for another half an hour) — following which was a hot and cold buffet lunch waiting for us.
Post lunch, we had a guided stroll across the Lady Elliot Island's nursery — the very reason for any vegetation on the island and a brief fish feeding session.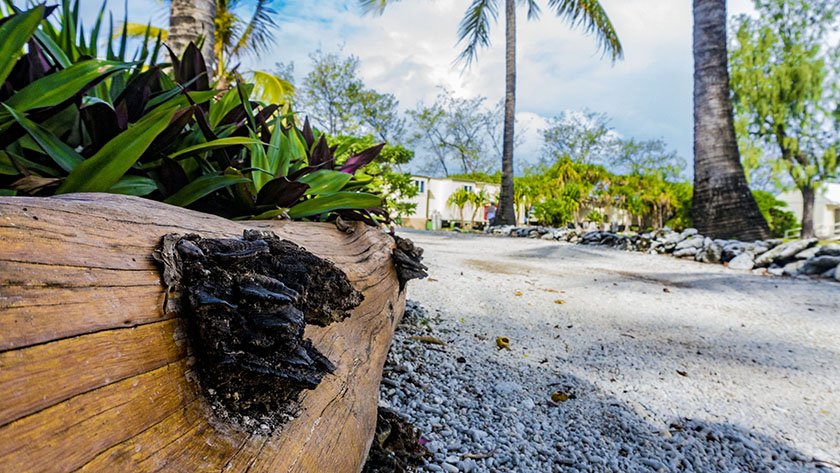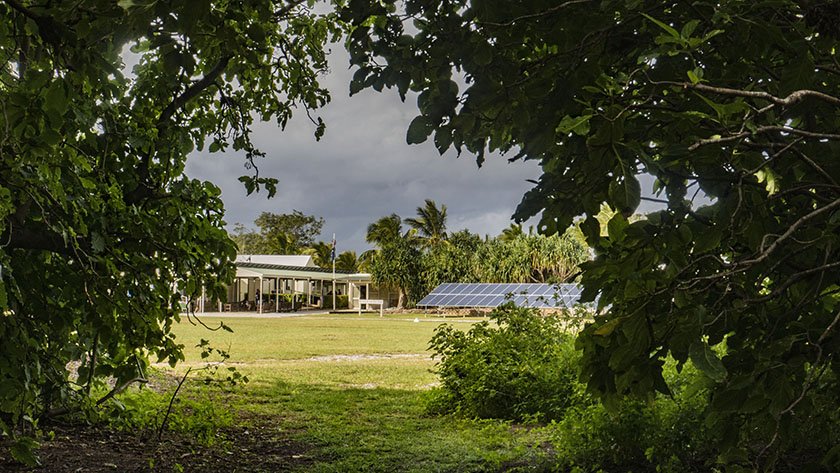 The entire tour started around 8.45 in the morning (after our arrival at the Lady Elliot Island) and finished at 2.30 in the afternoon (before catching our flight back to the mainland).
Useful Tips For Your Day Trip To The Lady Elliot Island
All day trips and long holidays at the Lady Elliot Island can be booked directly from their website (ladyelliot.co.au).
For day trips, you get your in-flight breakfast, a buffet lunch and tea-snack after the finish of the tour, so no need to bring any packed lunch.
The 800AUD per person price (from the Gold Coast) for day trips may sound a little bit too much, but given the experiences (which includes two 100 min flights and other things) I personally found it all a total worth. A trip to the Lady Elliot Island, despite a hefty price, is certainly going to be a highlight during your holiday in the Gold Coast.
You also don't need to carry thing extra than your swimsuit and a towel. All necessary snorkeling gear as well as sunscreen and reef walking shoes are included in the price and provided happily.
You can start your tour from one destination (say from the Gold Coast) while in return, choose to be dropped off to the different destination (eg Brisbane) if informed in advance.
Scared Of Water? Don't Want To Snorkel? I'll Still Advise You To Go For The Tour!
Though snorkelling is certainly the best part of the entire day trip to the Lady Elliot Island, if you're scared of waters, it's still worth a visit. And there are two reasons for it. Actually, there are three:
One reason is the scenic flight to the island, which is a great treat for all the views it has to offer.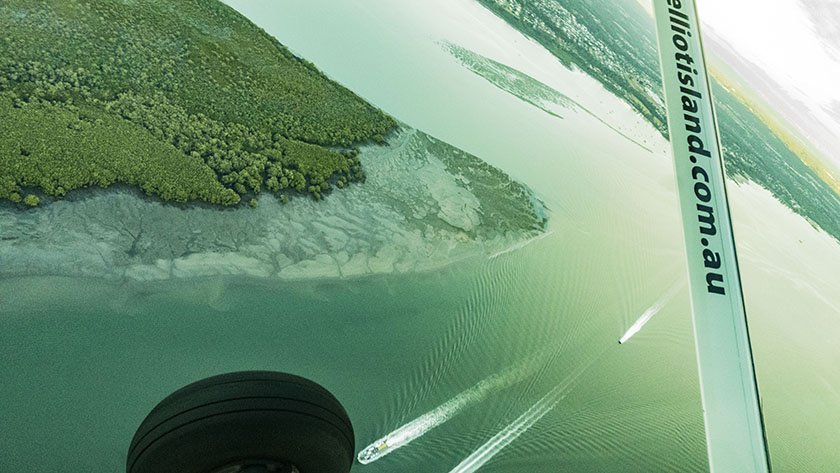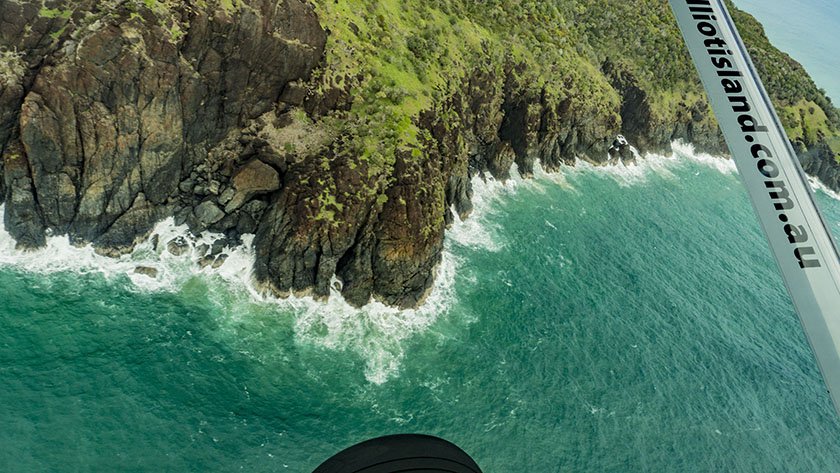 The second reason is that 15-minute boat ride to the snorkeling location (and back) that is done in the glass-bottom boat, making it possible for even those who are not getting into the water to explore life underwater in the Great Barrier Reef.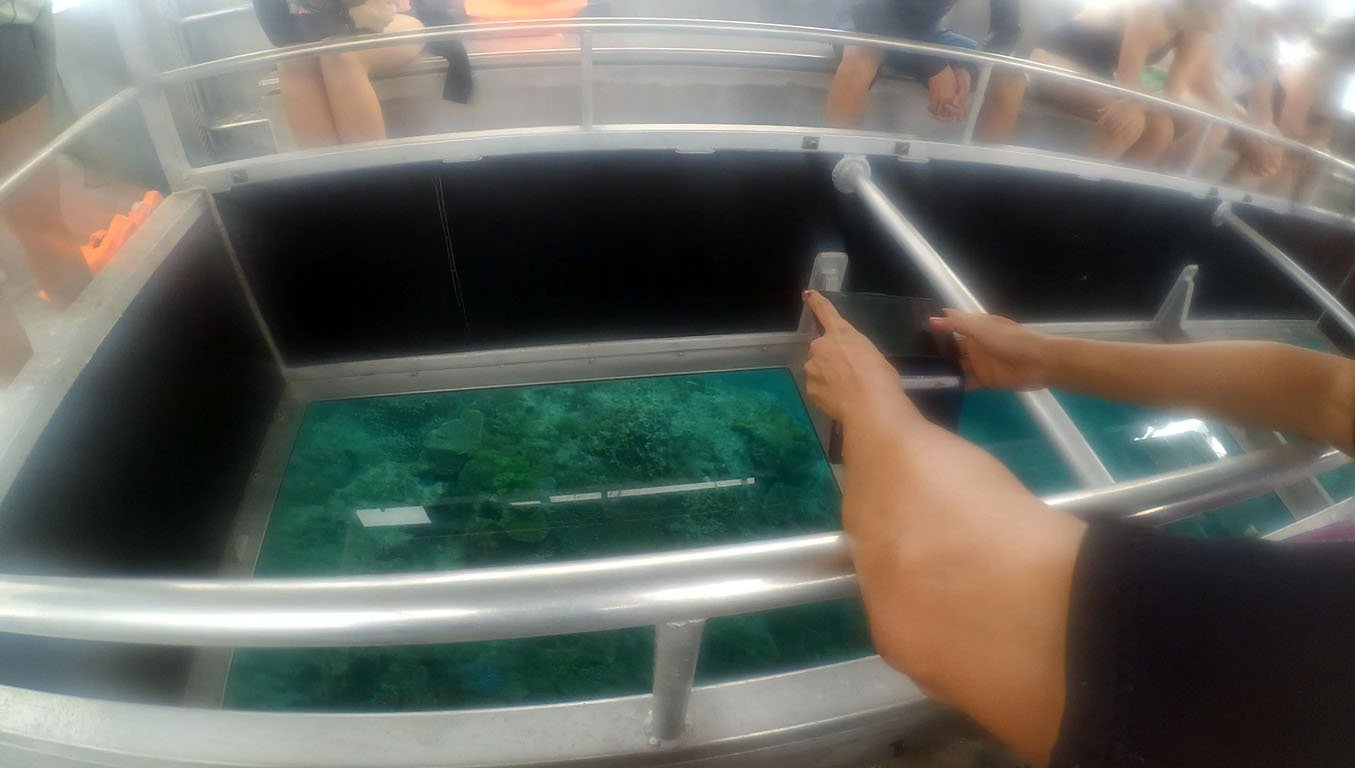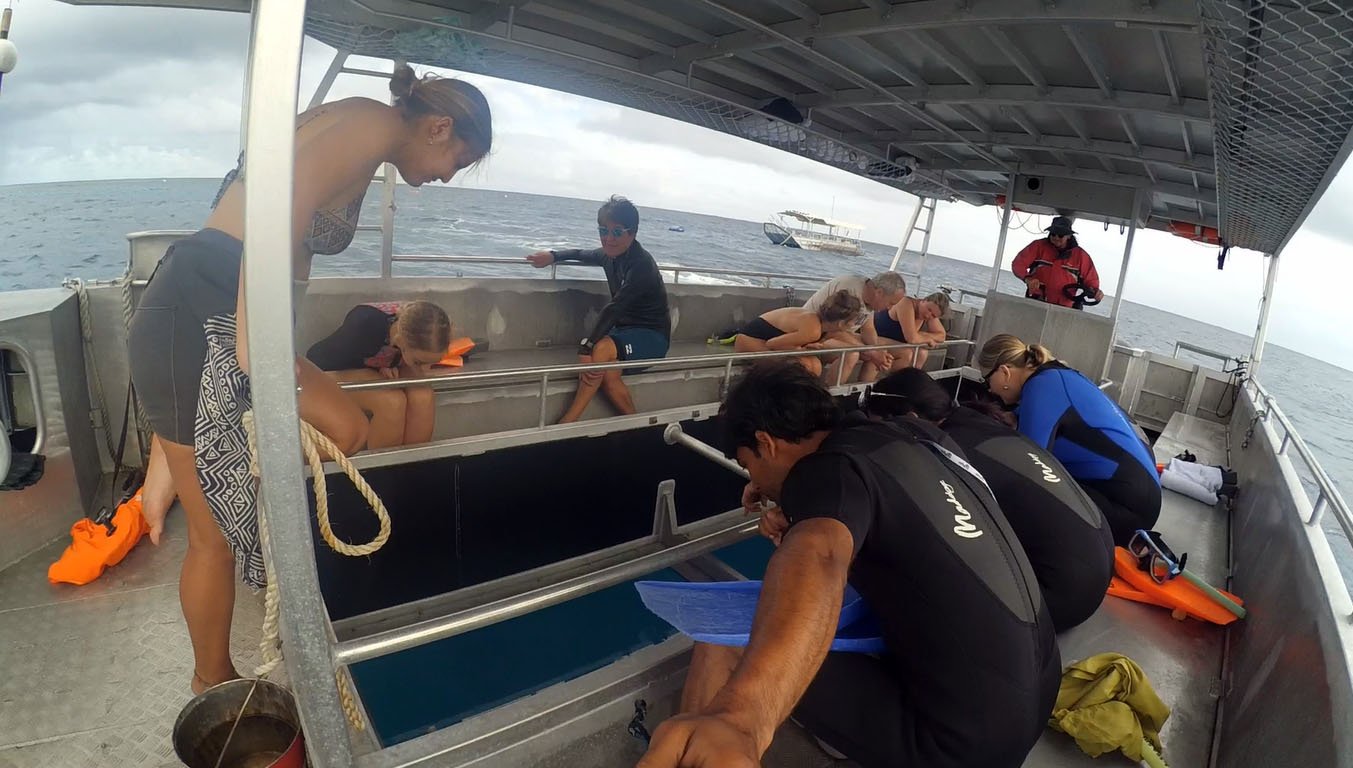 And third, is the natures calendar: visiting during winter to experience feeding the Mantra Ray, visiting between November and March to experience Turtle nesting, and visiting between February to April to experience Turtle hatching. If visiting from June to October, however, you can spot some migrating whales.
Spend At Least One Night On The Island
Though most international travelers visiting the Lady Elliot Island do only a day trip to the Lady Elliot Island, I found that the best charms of the island can be explored only by going a little slower. Plan a one day trip, and experience the serenity of the place. Though the island has a total occupancy of 150 people (and 100-day visitors) it still feels pretty deserted at all times, offering its guests a near-experience of staying on an island with no life around.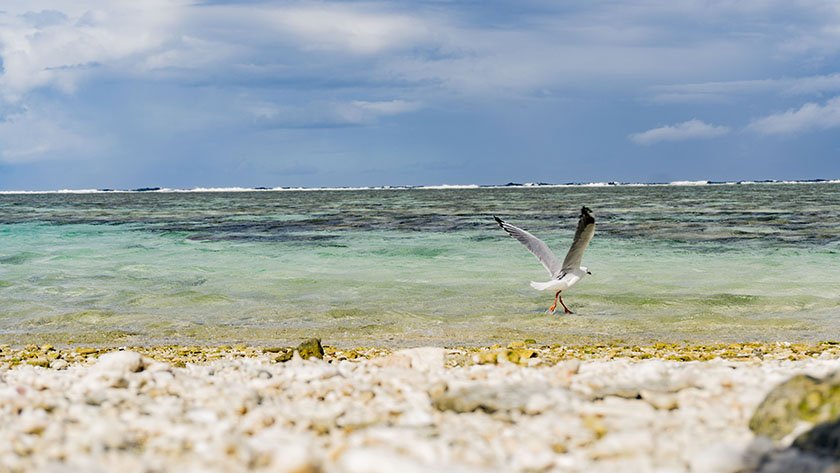 There are different accommodation options to choose from, ranging from eco cabins to glamping tents to island suites.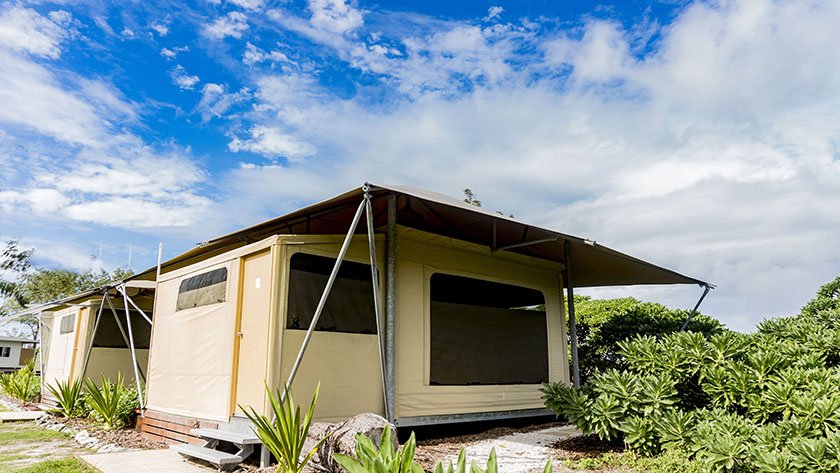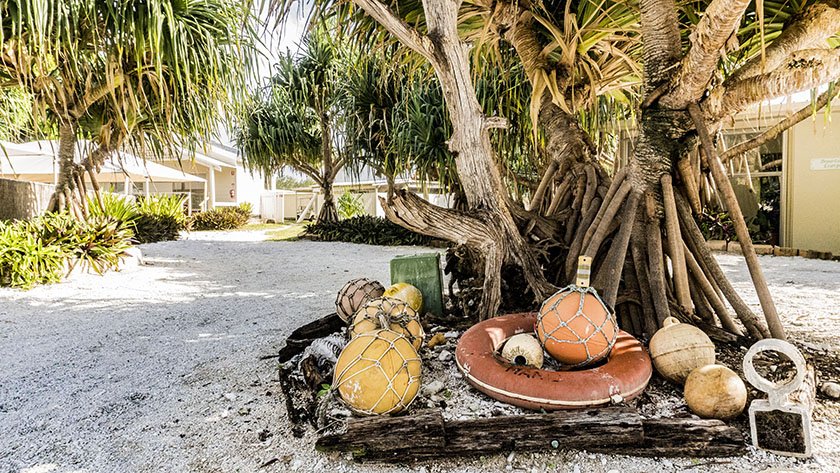 A few days of holiday with your family and friends, as you do nothing and lose yourself into the oblivion and the beauty of the Lady Elliot Island, you find a world far unparalleled and beautiful.
And hey, did I tell you that there is no phone reception at the entire island? Makes it even better, right?
---
If you are looking for cheap flight tickets from India (or someplace in Southeast Asia) to the Gold Coast, I will suggest checking out fares for Scoot Airlines. They've been flying to the Gold Coast in addition to a few other destinations in Australia for amazingly cheaper prices. I am sure their prices will give you another reason to be planning a holiday to Australia, and to the Gold Coast in particular!
---
Continue planning your trip to the Gold Coast with my ideal Gold Cold Travel Itinerary
Disclaimer: I was invited by Queensland Tourism for a 5 day trip to the Gold Coast. Though the trip was completely hosted, all recommendations and suggestions are solely my own. I only recommend what I personally try and find worth appreciating.