It has been 4 months today living in Naggar. And today, I am going to discuss it all — my personal experiences, best places to eat in Naggar, where to go for sunset (though mountains never have a sunset, if you know what I mean), and other details you may want to know.
In short, it's a detailed travel blog on Naggar.
I mean you can imagine what detail someone can go into if they spend months at a place.
The Initial 3 Months
My first three months of stay in Naggar was quite an experience.
I rented an old Kathkuni house in a quiet neighborhood in Naggar. It was a 2 bedroom property. Read about it all in this travel blog on hotels in Naggar.
I remember when I ended up in Manali (on 10th December 2020) I had no plan to make the Kullu-Manali region my base. I had just finished and was coming from my 2-month motorcycle trip across Chamba. Click here to see the Chamba Series.
I spent about a fortnight in Manali before moving to my friend's place in Hallan. And it was then that I was introduced to Naggar, its rich history, and its laid-back vibe. No wonder, I got hooked to the place.
It was the eve of Christmas and I was staying at a friend's place in Hallan 1 (5km from Naggar, 20km from Manali). Out of curiosity, I asked him if I can find a traditional Kathkuni house to rent "I would love to rent one such wooden house for a month or so and experience how it feels," and damn I was told, "you will find one in Naggar."
The next morning, I left for Naggar, asked around, and found a 2bhk house just 2km from the Naggar Castle. And that was it. I had such a strong first impression that I decided to pay 3-month rent in advance.
Check out the entire video of how it happened, and cut the red tape…
It was in this house that I spent my initial 3 months in Naggar. Tucked away from the real world, this cute little traditional Himachali house provided me a new experience altogether.
It is from this house that I got the idea of leaving my temporary life in New Delhi, and moving to the mountains, forever.
My First Impression of Naggar
Naggar, as a town is quite laid-back and relaxing. Unlike Manali (or even Old Manali or Vashisht of nowadays) it feels very less crowded while providing just about as easy accessibility as Manali does.
Naggar also feels a lot cleaner and greener.
And since it sits at about 300m higher up from the valley, you get sweeping views of the Kullu Valley at a distance.
Moreover, for an interpid like me, there was enough to see and do around. From popular tourist attractions to the offbeat jungle trails, from cheap eateries to high-end coffee shops, it has something for everyone.
And since Naggar sits almost halfway between Kullu and Manali, visiting nearby tourist towns and attractions — whether it was the popular Jana Waterfall or the unheard-of Kasheri Village — was never a problem.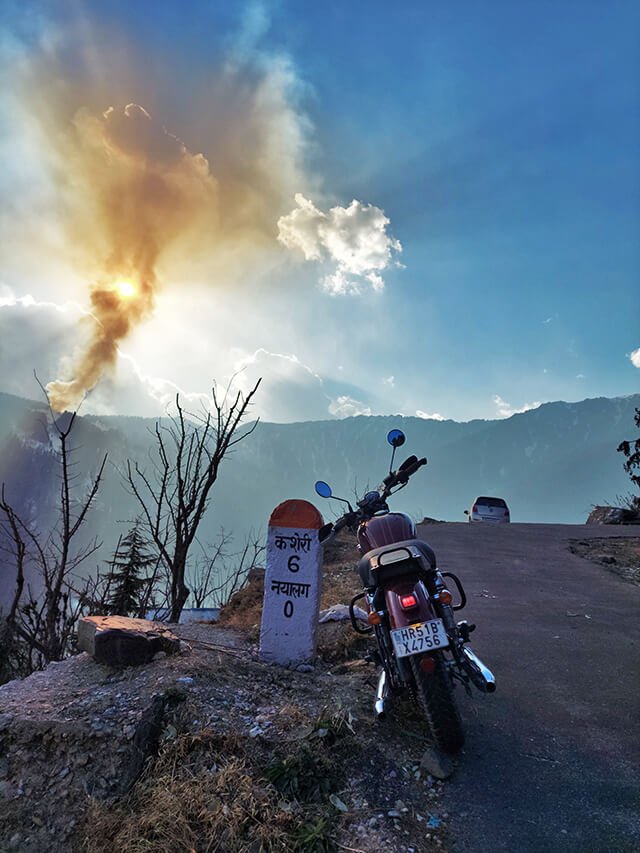 In short, Naggar was quiet and perfect. I would rate it much higher — especially for those visiting Himachal Pradesh for a long stay — than Manali.
And if you haven't heard of Naggar before, let me tell you that it was once the capital and the seat of the Kullu Rajas (and remained so for about 1400 years). Moreover, it was a very popular destination for the hippie westerners back in the 70s and 80s. The town had a very strong Russian influence.
The History of Naggar
As mentioned above, Naggar is located in the middle of Kullu and Manali. If you are coming from Delhi/Chandigarh you will first reach the district headquarter of Kullu. 22 kilometers north of the Kullu lies the town of Naggar. About 22km further north lies the popular town of Manali.
From the capital of Shimla, Naggar is 230km away.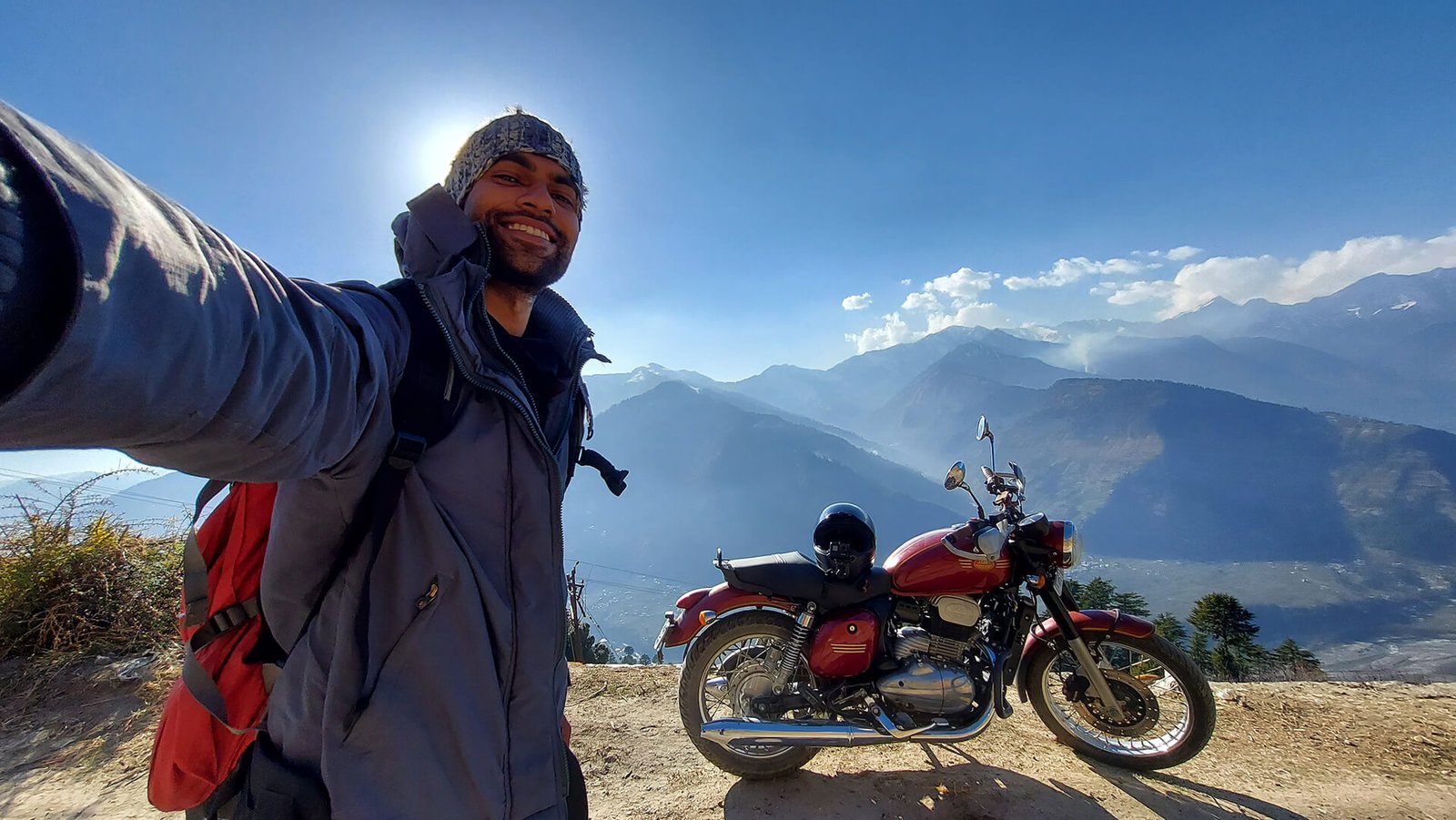 It was Founded by the Visudh Pal, the town remained the capital of the erstwhile Kullu Rajas for about 1400 years. It also remained as the State headquarters until the capital was transformed to Kullu by Raja Jagat Singh.
Naggar Castle was the official seat of kings for centuries that was built by Raja Sidh Singh more than 500 years ago. It represents the traditional Kathikuni architecture that, to date, remains the recognized traditional pahadi architecture.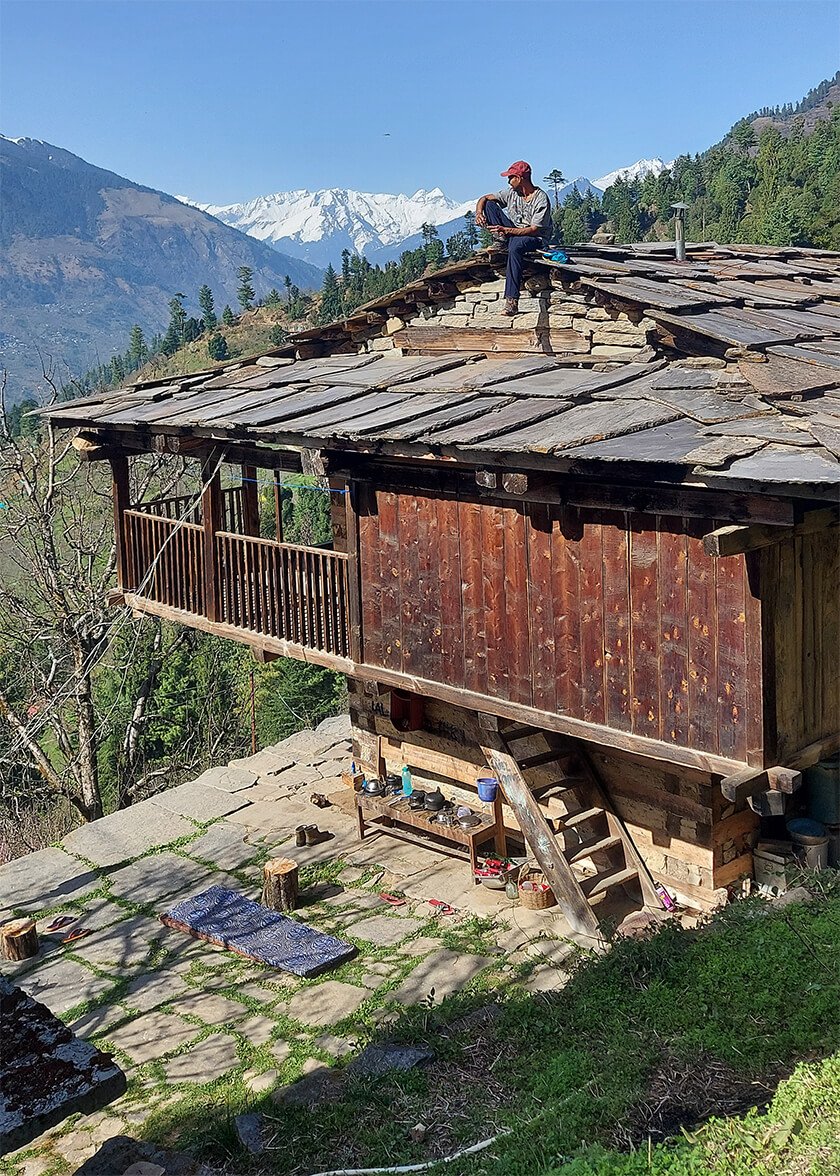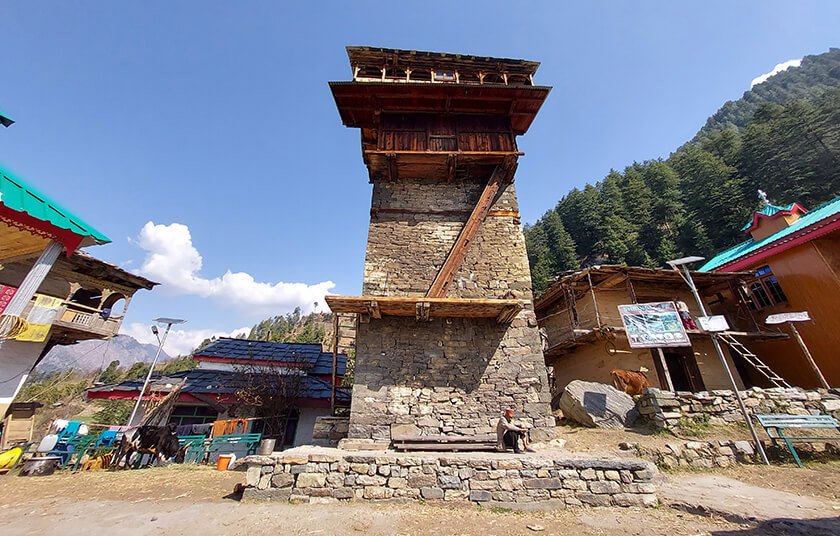 For those who don't know, kathkuni (or kathikuni or kath-kuni) is an indigenous construction technique prevalent in the isolated hills of northern India, especially in the region of Himachal Pradesh. In Uttarakhand, a similar architectural style is known as Koti Banal.
It is a traditional technique that uses alternating layers of long thick wooden logs and stone masonry. The wooden logs are interlocked and the stones are stacked one over another that makes these kathkuni structures shockproof and earthquake resistant.
Since Naggar Castle is also made in the traditional kathkuni style, it survived the earthquake of 1905. While most houses in the valley and the nearby city of Jawa were completely ruined, the castle's use of earthquake-proof techniques helped it sustain despite the calamity.
In 1978 the castle was taken over to Himachal Pradesh Tourism Development Corporation (HPTDC), to run as a heritage hotel. And honestly speaking, that's where it failed. Read this article discussing why I didn't like Naggar Castle.
Other than the Castle, another place that contributes to the town's rich history is the Roerich Art Gallery, dedicated to the Russian painter and explorer Nicholas Roerich. He was settled in Naggar in the early 20th century and the Art Gallery was once his personal two-storeyed house. Unlike the Castle, I found the Art Gallery worth visiting.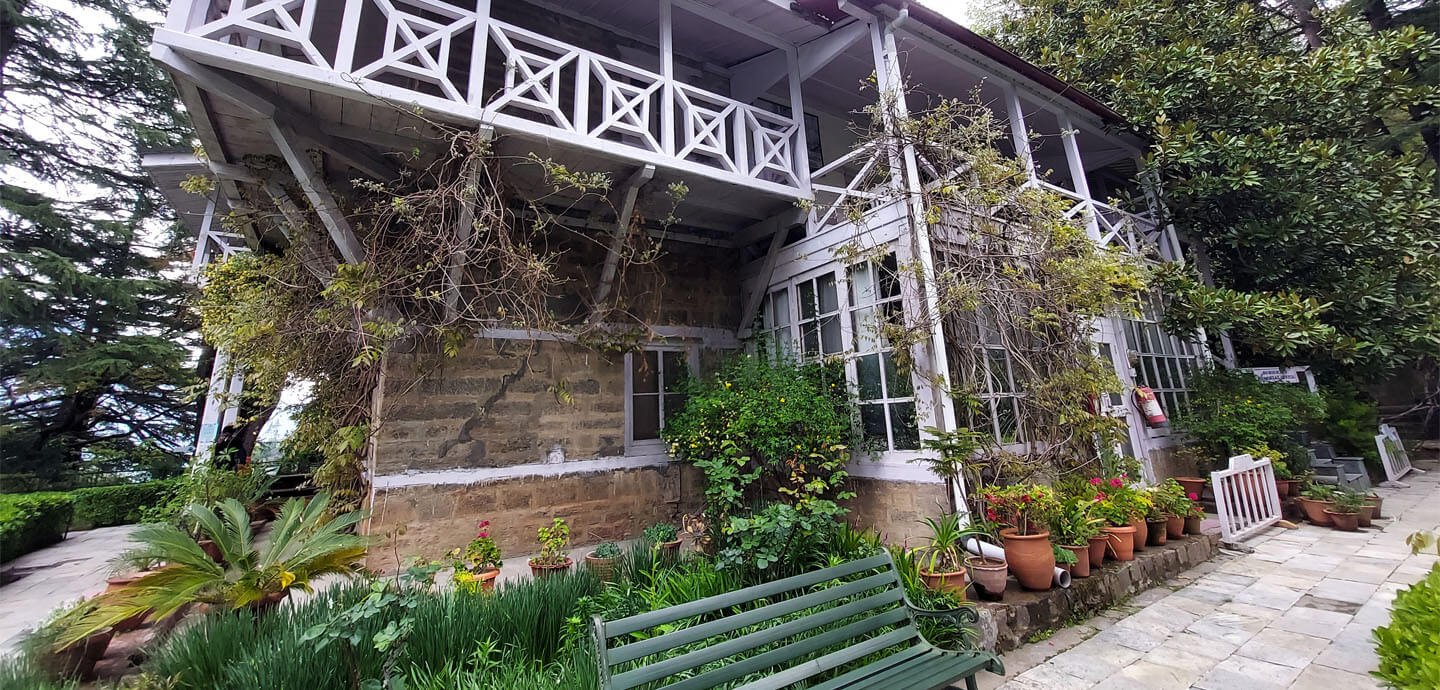 Places To See In Naggar
Roerich Art Gallery
The Art Gallery of Nicholas Roerich (who happened to be a very respected public figure and a legendary Russian painter) is his once-private house turned into an art gallery. He lived here between the late 1920s till 1947.
Born in Saint Petersburg, to a well-to-do notary Baltic German father & a Russian mother, Roerich lived in various places around the world until his death in Naggar.
Trained as an artist and a lawyer, his main interest was literature, philosophy, archaeology, and especially art.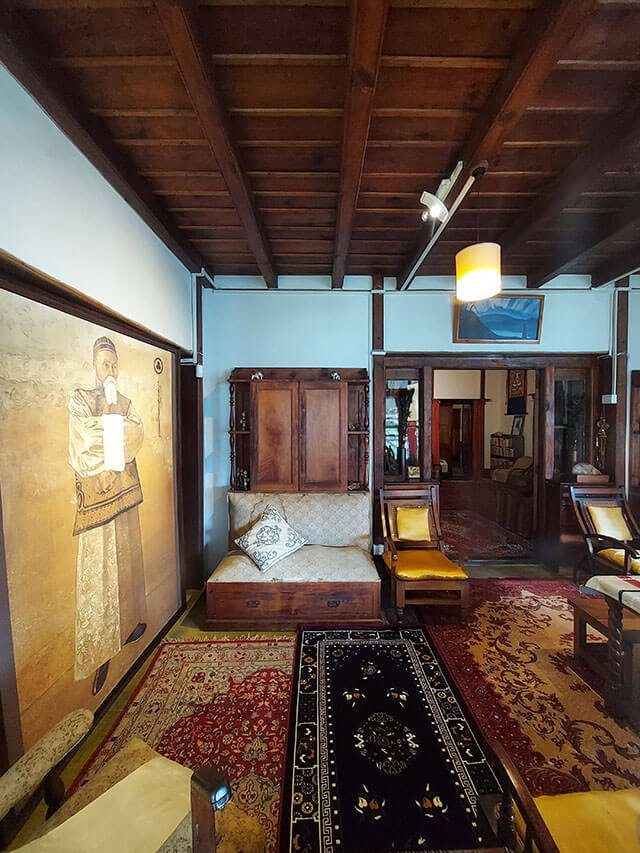 The entire Art Gallery comprises two floors.
The ground floor is converted into the Roerich Museum, having some of his original art pieces.
The upper floor is a memorial of Nicholas Roerich's the-then house.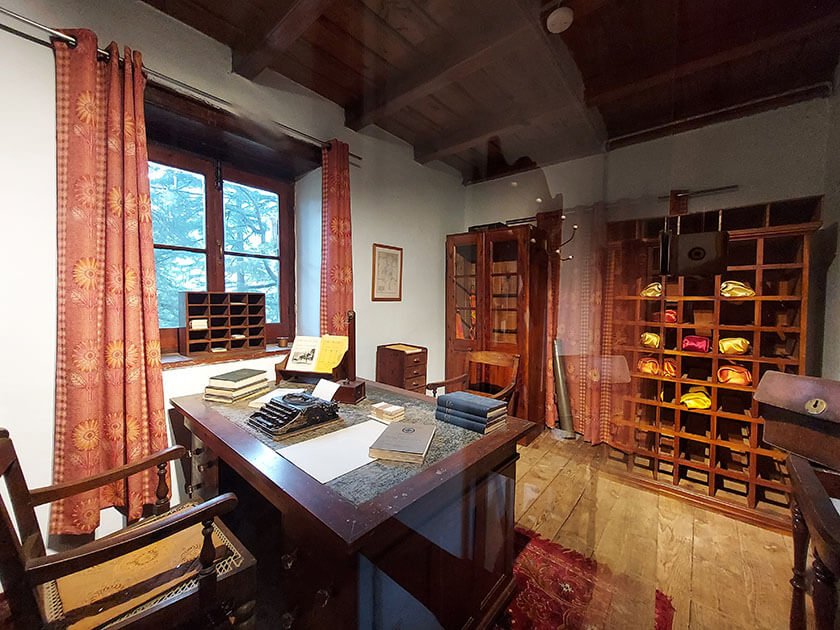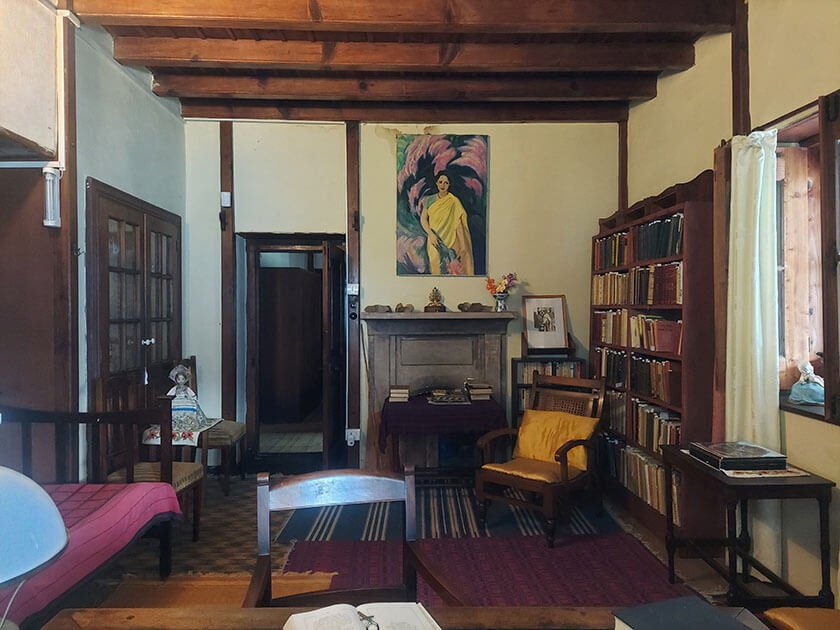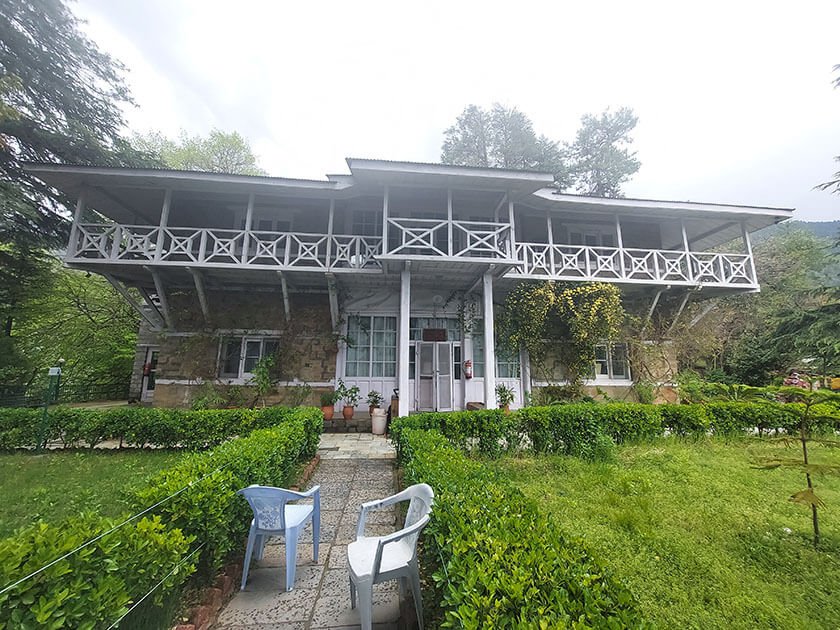 The visitor entry in the Art Gallery is only allowed between 9 am to 5 pm on all days except Monday. There is an entry fee of Rs 50 per person that can be paid in cash as well as digitally.
The Roerich Art Gallery is located 1.5km from the castle.
Naggar Castle
Though, as I mentioned above, I didn't find Castle worth visiting, it still remains one of the most popular tourist attractions in Naggar, hence the inclusion in the list.
And given the very nominal entry fee of Rupees 30, if you are around and you have time, the Naggar Castle is sure worth a quick 10-min stroll. Also, if you're someone for whom the budget is no problem or you would choose the bucket list experience over everything else, I suggest you stay in Naggar Castle (though there's nothing special about it, and the rooms inside also don't feel very Castle-like).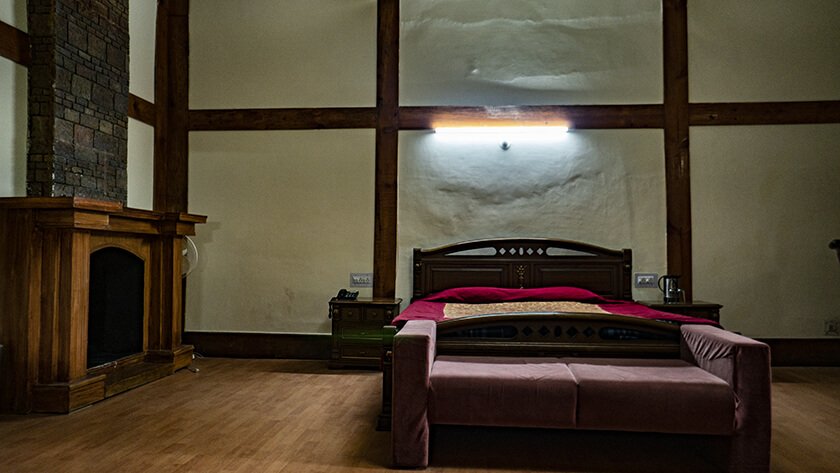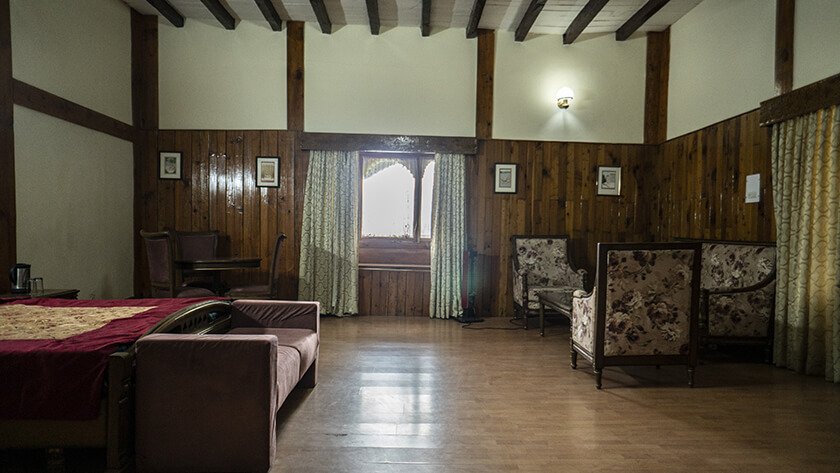 There's also a restaurant on the premises accessible for both day-trippers as well as the ones staying there. It is worth eating in the restaurant though!
Why did I not like Naggar Castle? Because for me, the vibe that could make it feel like a place where the Raja of Kullu once lived was somewhere missing. Neither did it have an ambiance of the British Raj, despite the Naggar castle being used as the Rest House for decades, before the independence.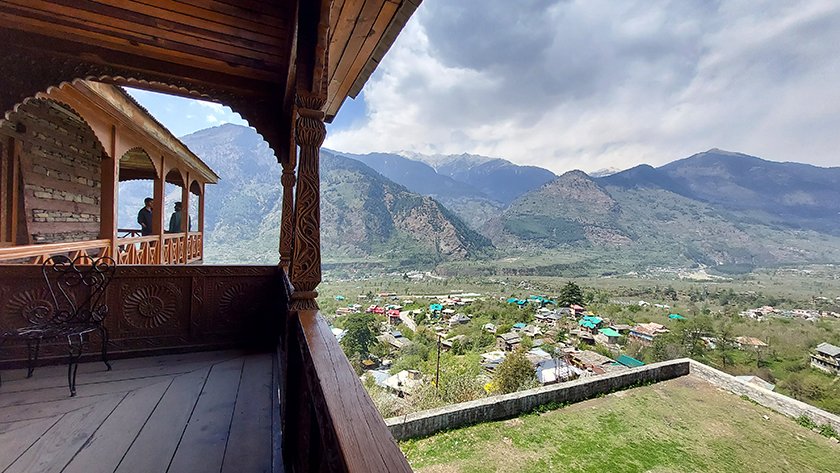 Gauri Shankar Temple
Located just below The Castle, Gauri Shankar Temple is an important religious center of the town. Dedicated to Lord Shiva, it was built in the 11th century and is said to be the last structure of the Gurjara-Pratihara traditions.
The stone carvings in this temple are worth noticing that provide a distinguished architecture to the temple. It's a must-visit for devotees and tourists alike.
If you will walk from the main chowk in Naggar towards the castle, you will come across the Gauri Shankar temple on the way. It is quite steep but a very beautiful walk that, other than the temple, will take you through the residential area as well as the Naggar Post Office.
Other than Gauri Shankar Temple, there are many other temples in Naggar that are worth exploring.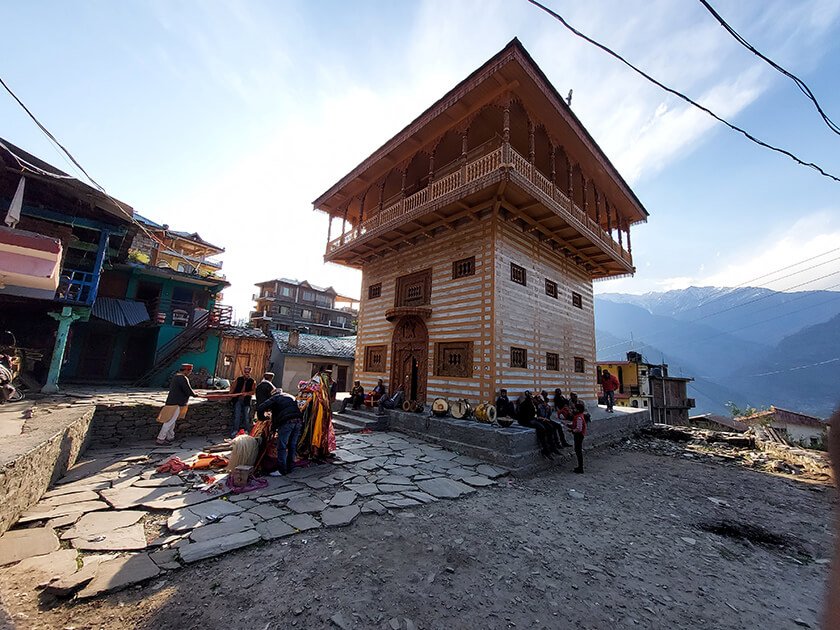 Murlidhar Krishna Temple
If you enjoy exploring historic architecture and temples, then there's no place better than Murlidhar Krishna Temple in the entire Kullu-Manali region.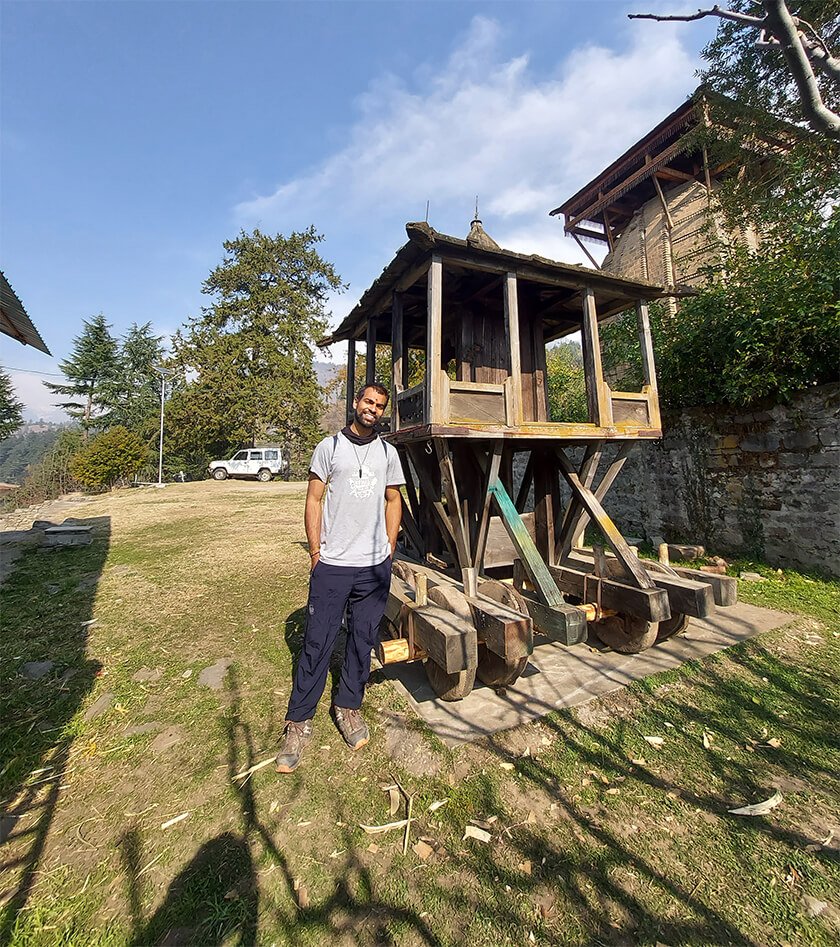 It is believed that this town is over 1000 years old dedicated to Lord Krishna. The sanctum of the temple enshrines a black-faced Krishna playing the Murli (flute), hence the temple's name.
Those not interested in the history of the place can appreciate the lovely views from the hilltop terrace of the temple. The patched-up 11th-century shikhara (stone tower) and the musical and (defaced) karma sutra mini-carvings on the temple are also worth appreciating.
The temple is accessible by road (very bad in shape and quite steep) and is located 2 km from Naggar Castle. Alternatively, you can also reach the temple on foot. From the castle, it will be about half an hour trek.
Chajogi Village
About 2km further ahead from the temple lies the unspoken village of Chajogi. Acting as the gateway (or the starting point) for trekkers doing Chandrakhani Pass, village Chajogi has recently picked up in tourist charts too.
Think of it as a village perched on a hilltop with about 20 houses — ideal for those who enjoy staying in a village over a crowded city. There are no guesthouses in the village at the moment however a few are in making.
Chajogi village is located less than 5km from Naggar.
It is worth visiting Chajogi during the festive season of Fagli. Many other villages near Naggar celebrate the Fagli festival with great fervor.
Where To Eat In Naggar
Poonam Aunty's
Named as Naggar's Special Tea for some reason that I couldn't understand why (though tea is good there and so is Siddu) the best thing about this place is an open-cafe feel.
Here you can order basics like Omelette, Lemon Tea, Siddu, and Paratha with a lot of homemade desi ghee.
The place can accommodate about 10 people, but nevertheless with a view. Here are some Instagram-perfect photos from the Poonam Aunty's…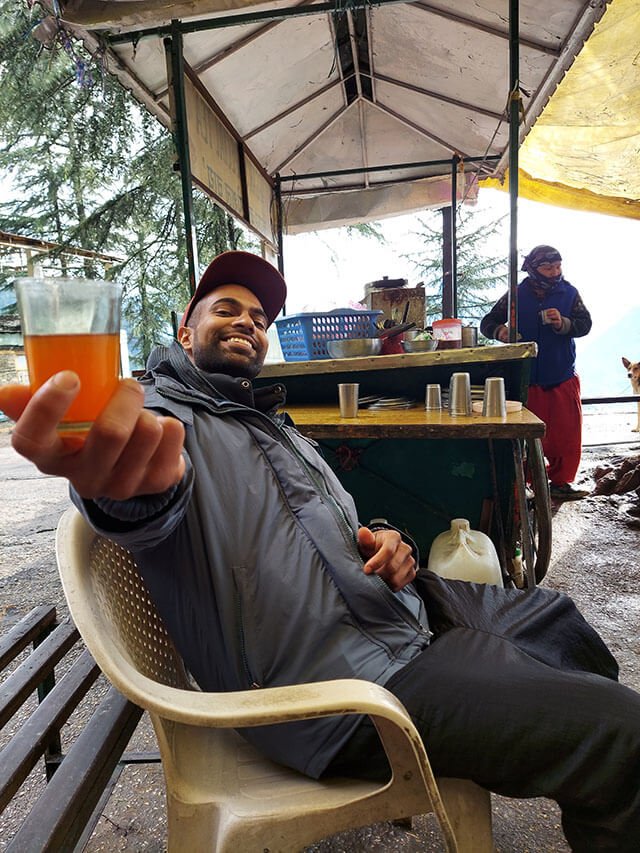 Wool Cafe
For those who want to get a comparatively more premium feel, Wool Cafe, right next to the popular Naggar Delight is the place to be. Other than the latte, which is worth trying, their homemade cakes are a must-have.
They serve great brews and possibly the best cheesecake you will ever have.
The place also has enough tables to be able to set up a workstation. A couple of tables placed outside are moreover a cherry on the cake.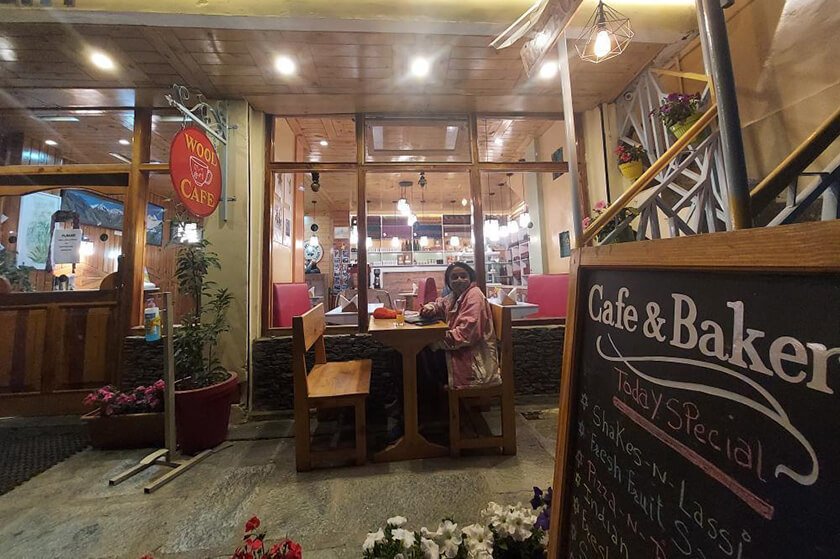 Naggar Momo Shop
And last but not least is this 60-year-old Momo shop located very close to Tripura Sundari Temple. There are no signboards for this shop or any fancy seating inside but they're still the most popular momo sellers in the whole of Naggar town.
Think of this place as a local food joint where only those who either live in Naggar or have stayed there for a few months eat. And that's what makes it special.
Another thing that makes it special is the fact that they don't serve anything (not even chai) other than the veg momos. That's right, only one thing on the menu — veg momos. For how much? 50 Rupees for a plate.
Where To Stay In Naggar
The first recommendation will go to the same house that I stayed in. Think of it as a 2bhk independent property that can sleep 3 to 4 people very easily. For 16k Rupees per month, you get a fully-functioning kitchen, an external bathroom with access to hot water, 1 double bed, 1 single bed, and about 5 movable ground mattrices.
The house also has a storeroom, that can be used as a servant quarter if the need be.
There is enough space outside with a 360-degree view. The property is moreover located in the middle of an apple orchard.
Though everything about this place is absolutely rocking, the only thing that can trouble people is accessibility. It is located 2.5 km from the Naggar Castle — 2km on a motorable link road and half a km trek (that happens to be quite a steep uphill).
But once you reach the place, there's no place better than this. As mentioned above, I stayed here for 3 months. My mother and sister also visited the place and stayed there with me for a month.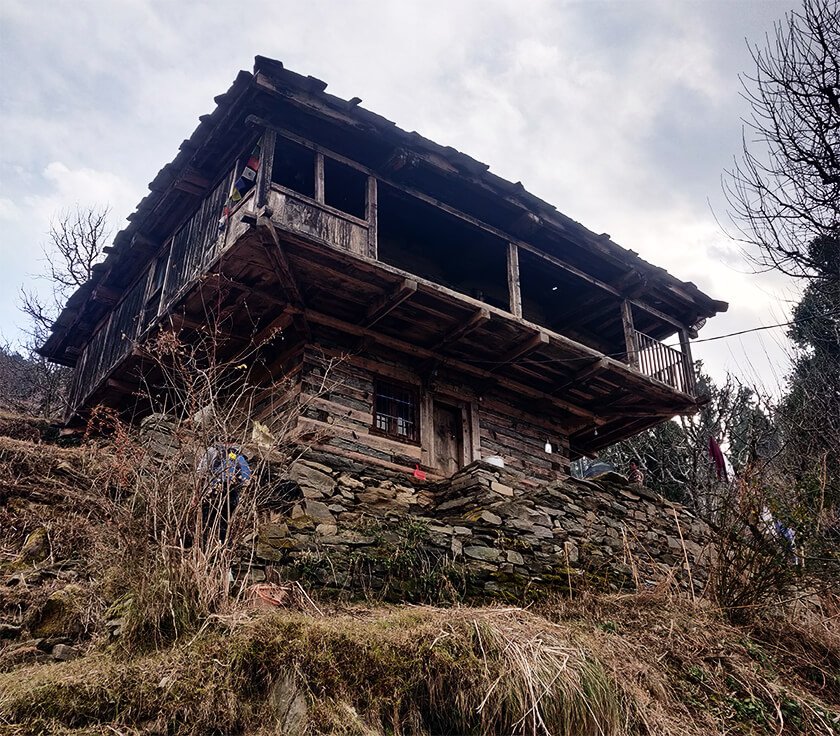 Namaste Homestay
I have personally stayed at this place for a month and so have a few other influencers.
They have two 2-bedroom + a kitchen setup. The kitchen is fully functioning with a gas cylinder and necessary crockery and tableware.
The two bedrooms have an adjoining gallery that gives sweeping views of the snow-clad mountains (between December & July mostly).
Inside the two bedrooms, you get a workspace with a few tables and ground matrices. The flooring is of wooden or carpet with one bedroom access to the bathroom.
The best part about this place is that it's a homestay. The family stays inside the premises so if you are a bad cook, you can order food in-house at a very minimum cost. I ate meals for 50 Rupees here (depends on what you eat of course).
Anyway, each 2-bedroom+kitchen unit costs 30,000 Rupees a month, or 1800 Rupees per day. Usually, they rent it out for long stays but per-day booking is welcome too. You can find them on Instagram or find me and message. (Instagram link)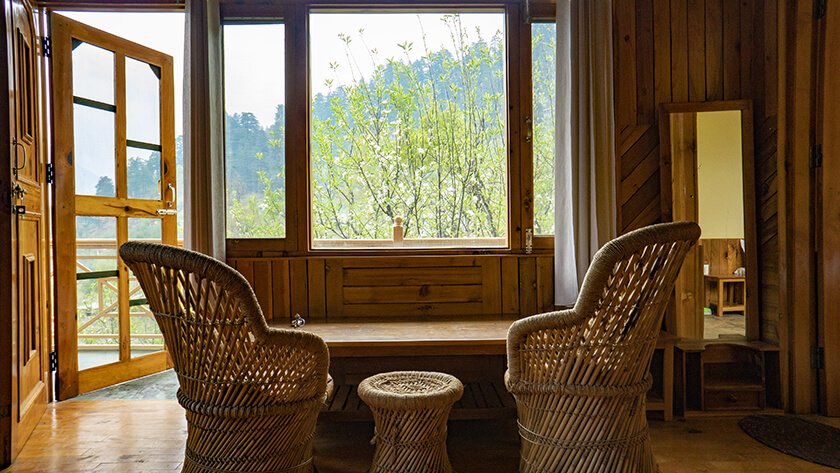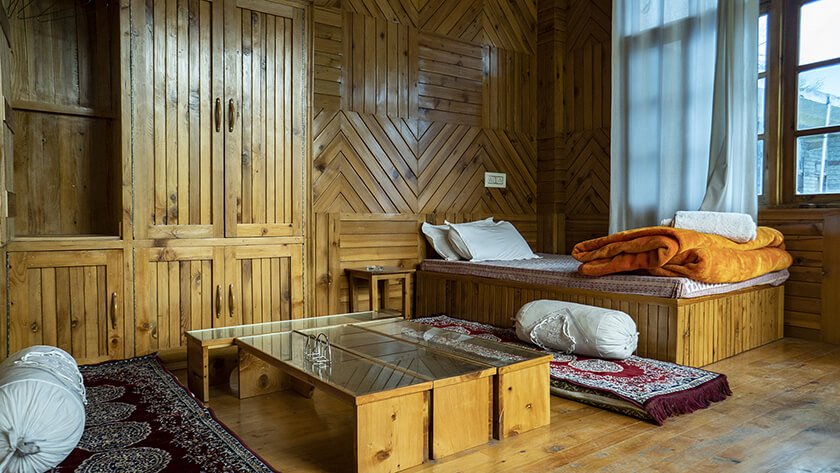 Crystal Art Cafe & Hostel
If your budget is a little low and you are a bucket backpacker hating the idea of a 50 Rupee entry fee for the Nicholas Roerich Art Gallery (like I did) then this place is for you.
Available for 300 Rupees a night, their dormitory is a bargain. You can use their in-house kitchen to cook or store eatables. You can find another hostel in Naggar (called GopStops) for about the same price, and I have stayed there too, but I personally prefer Cyrstal Art Cafe the more.
Find them on Booking.com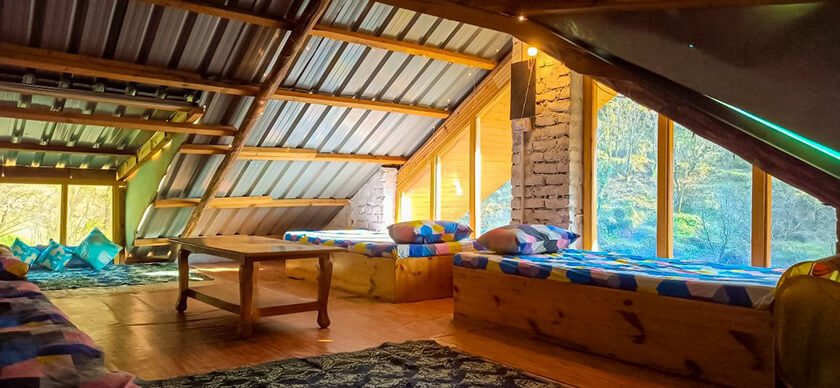 The North
If you want to stay in a traditional wood + stone structure, this is the place for you.
It is a 3-floor traditional Himachali house restored from an abandoned Kathkuni house. Honestly, I won't really call it a traditional Kahtkuni because it's missing the slate roof, but it still has a pretty interesting architecture and is an authentic mudhouse.
The rooms are also very nice and cozy that offers a mix of modern comfort with a traditional feel. If I compare the rooms of The North with those of the Naggar Castle, the North easily wins.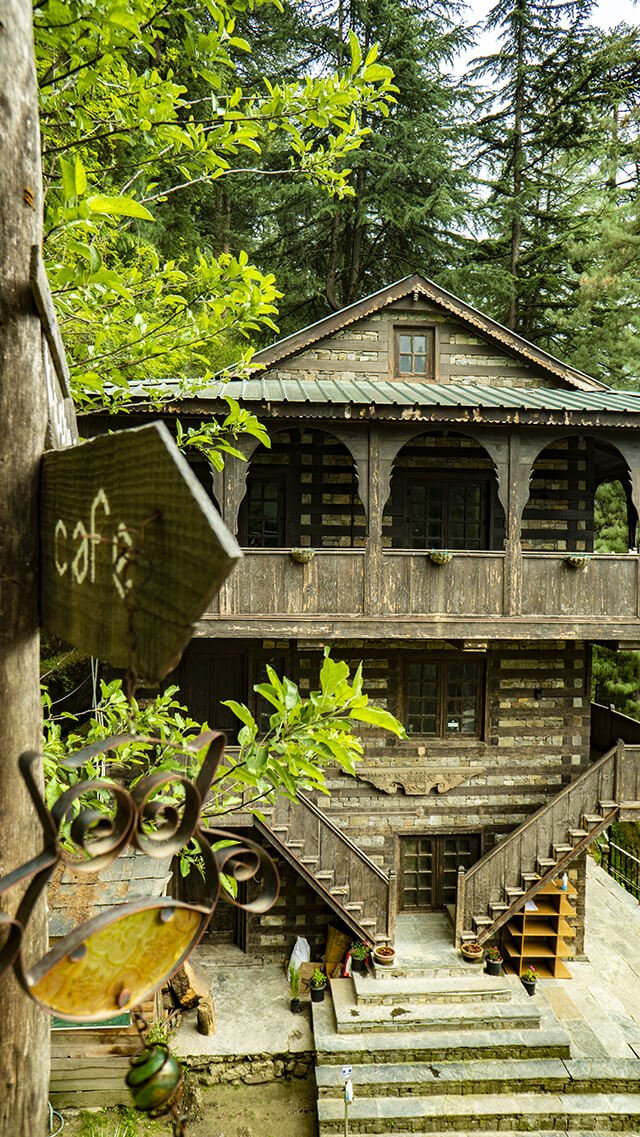 How To Reach Naggar
By Bus
From Delhi, take any bus to Manali and get off at Patlikuhl (located 20 km before Manali). From Patlikuhl, Naggar is about half an hour's drive away. You can get a taxi from Patlikuhl for about 500 Rupees for an Alto. There are no direct buses from Patlikuhl to Naggar.
I recommend traveling by HRTC (though their price is higher than private buses) because of many reasons and running on time is one of them. Here's the HRTC website to book a ticket.
By Private Car/Taxi
It is possible to Google navigate for directions to the Naggar Castle (think of it as the center of the town).
To still give you an idea, it is located halfway between Kullu and Manali on Naggar Road. If you're taking the main highway, you will have to bifurcate from Patlikuhl. Pathlikuhl connects the New Kullu Manali highway to Naggar Road over Beas River.
By Flight
The nearest airport is in Bhuntar (32.4km from the Castle) but flights are to Bhuntar are very rare and overpriced.
The most budget-friendly way to travel to Naggar, if you're coming from afar, is by taking a flight to Delhi/Chandigarh and take the overnight bus to Manali.
Again, get off at Patlikuhl (located 20km before Manali) and take a taxi.
If you are already in Manali… take a bus from Manali to Naggar (that goes via Naggar Road).
Useful Travel Information
The weather there remains quite cold most of the time of the year, except for the months of May and June. Having said that, carry enough warm clothes.
There are no ATMs near the castle, the last ATM you will find is near Naggar Chowk.
Most hotels in Naggar don't have power backup. However, power cuts are quite rare.
It is possible to shop for daily necessities. From medical shops to souvenirs, the market in Naggar is quite resourceful.
If traveling by public transport, you will have to walk or take a taxi from Naggar Chowk to the Castle (2 km). There are only 2 or 3 buses in a day that come to Naggar Castle.
There are several trails for trekking in and around Naggar. Two of the most popular villages near Naggar are Chajogi and Rumsu.
That's all in this detailed Naggar Travel blog. If you have anything to add to it, please leave a comment below. I will review the information and do the necessary edits.