Before I go ahead, I want to announce that I now run 2 properties around Manali: FootlooseCamps Hamta (setup including a traditional Himachali Mudhouse and three luxury Geodesic Domes with Jacuzzi & infinity hot pool) and FootlooseCamps 2.0 The Homestay (with three attached bathrooms for long stays). Both places are located within 8km distance from Mall Road with views like 99% of hotels fail to offer. For booking, WhatsApp/Call 8800763430.
Check below, the Instagram Drone Shot for FootlooseCamps Hamta and a Youtube Video for FootlooseCamps 2.0 The Homestay…
View this post on Instagram
For booking, WhatsApp/Call 8800763430. Now, let's continue with the topic at hand…
---
Looking for offbeat places to visit near Manali? Visit village Kasheri and village Nayalag.
Those who are regular readers of this travel blog may well know that this blog is all about offbeat travel destinations.
Since I've become a full-time travel content creator, in 2016, my focus has been so — of bringing to my readers some of the most offbeat experiences & destinations around the world.
This led me to stay at a horse-farm in Germany, working as an au-pair near Rome and volunteering at an observatory in Australia.
Following the trend, I leased an old Kathikuni Himachali House, 20km from Manali, with an aim to make it a BnB and offer tourists a kind of experience they only dream of… also, in the meantime, explore some of the offbeat travel destinations around Manali — places that have no mentions on Google.
During one such attempt, in search of THAT OFFBEAT, I happened to explore and uncover the beautiful villages of Kasheri and Nayalag (also spelt as Ksheri and Nayalag).
Here's a quick IGTV video of my house in Manali and the plan of exploring such offbeat destinations near Manali, in the upcoming months…
View this post on Instagram
My Journey to Nayalag & Kasheri Village
The original plan, that day, was to visit a place called Hallan-1 (near Pathlikuhl, about 20km from Manali). But as I discussed it with someone local I knew, the plan was brutally disregarded.
"I have a better destination for you to suggest," the person added, before pointing at a distance the detour that connected the Kullu-Manali highway to village Nayalag. "A little ahead of it, on Shegli-Ksheri Road, is the village of Kasheri," the person added. "Winter isn't really the best time to visit Hallan-1."
See the Youtube Video for more (PS: it was quite a discussion)…
I left my home in Naggar, reached Patlikuhl & followed the Shegli Kasheri Road.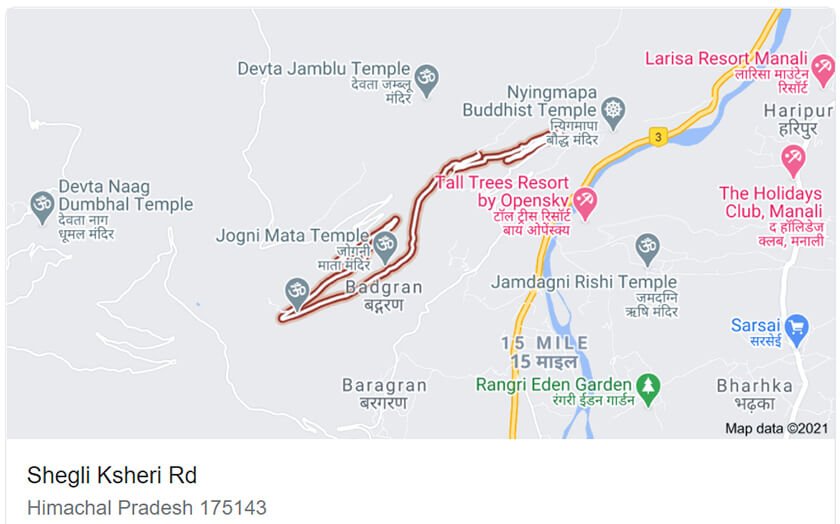 The first 5 km, as I began the journey, were quite normal. But as I reached Baragran and the road came adjacent to Kullu Valley, it was quite a spectacle to watch.
On my right, the entire Kullu Valley could be seen.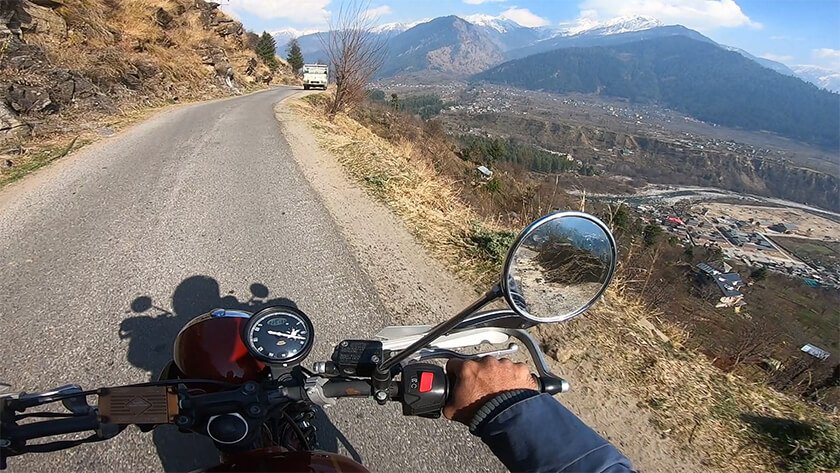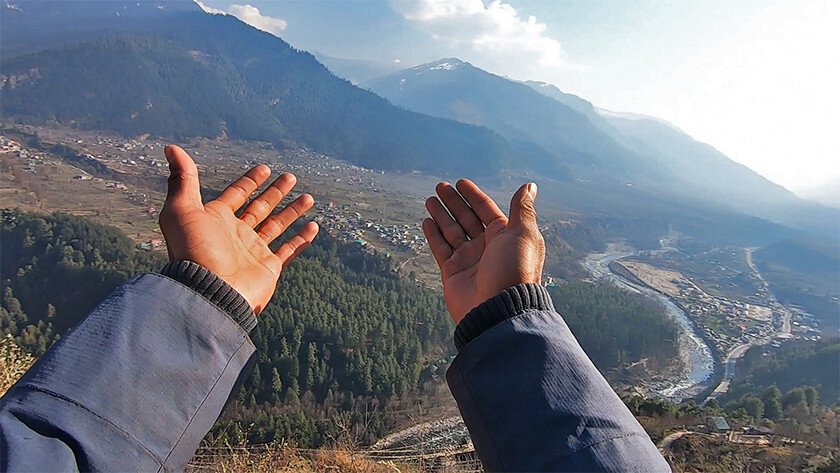 About 2.5km from Baragran lies the hidden Pangan Nyingma Monastery, also known as Pangan Monastery.
From Pangan monastery, the views must have been even more magical but because of COVID, I wasn't allowed an entry.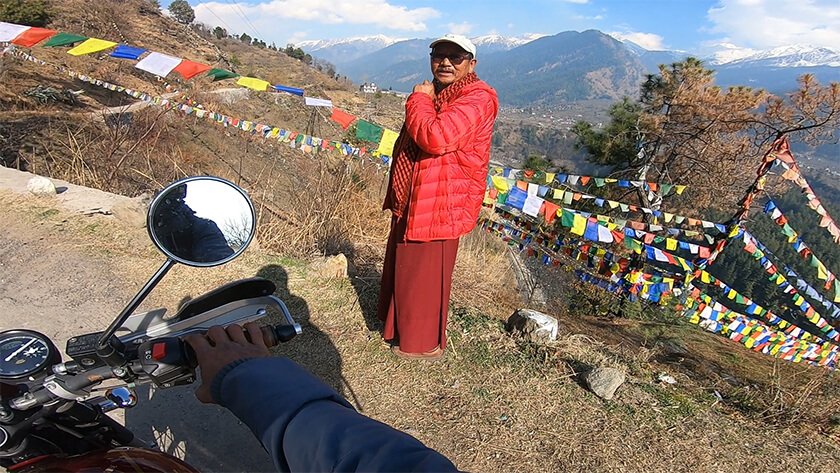 The entire 2.5km of a stretch between Baragram and the Pangan Nyingma Monastery runs parallel, and elevated at least 500m, to Kullu Valley, giving beautiful mesmerizing views.
For photographers, the soft morning or evening light would do wonders here.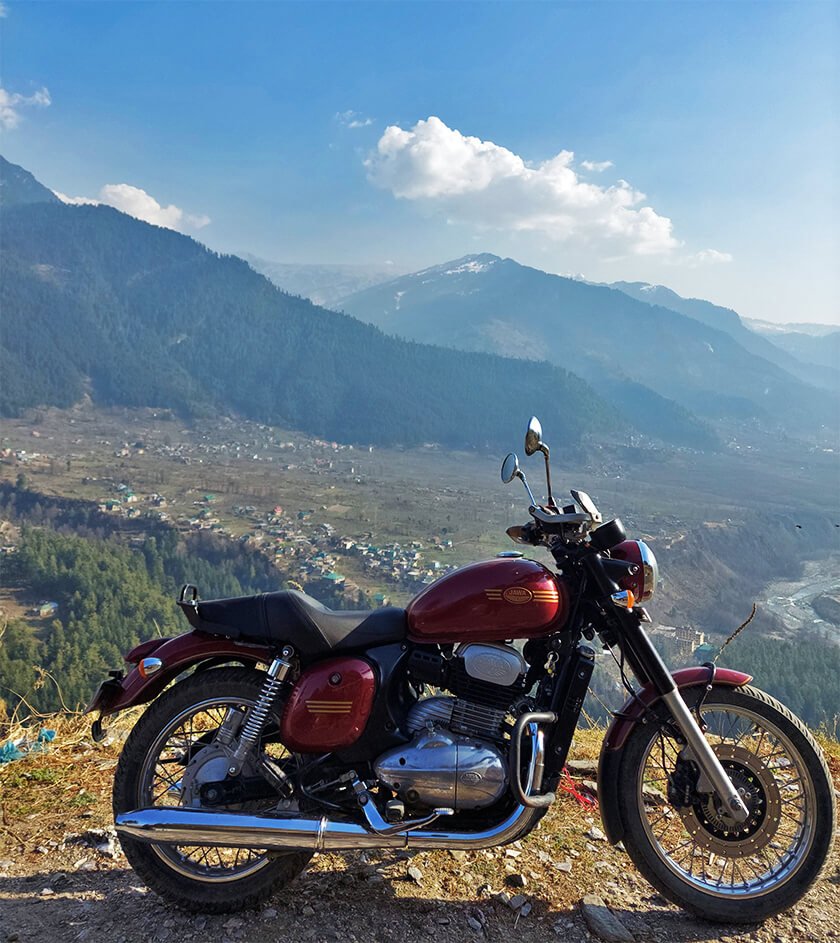 About 2km from the Monastery lies the town of Pangan, hence it's called Pangan Monastery. If you've time, you can visit Pangan Village too but compared to the drive to Nyalag Village and further towards Kasheri, Pangan doesn't have much to offer (but still an offbeat destination near Manali worth visiting).
About 500m before Pangan Village the road bifurcates and starts climbing uphill again. A Roadsign, at the bifurcation, reads 'Kasheri 13 Km'.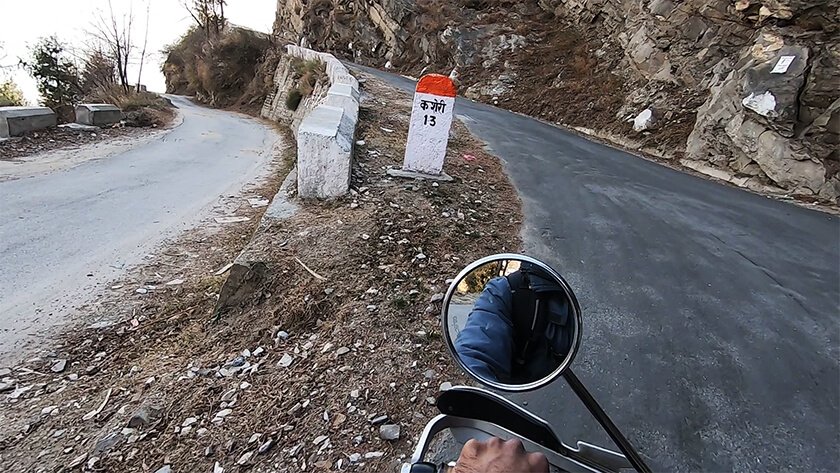 From Pangan to Nayalag & Kasheri
The actual distance, from Pangan to Kasheri was about 16km, and about 4km before Kasheri lies the town of Nayalag.
In February 2021, when I visited these places, there were no guesthouses in any of these villages and the only possibility of visiting them was on a day trip from Manali or Kullu or someplace else.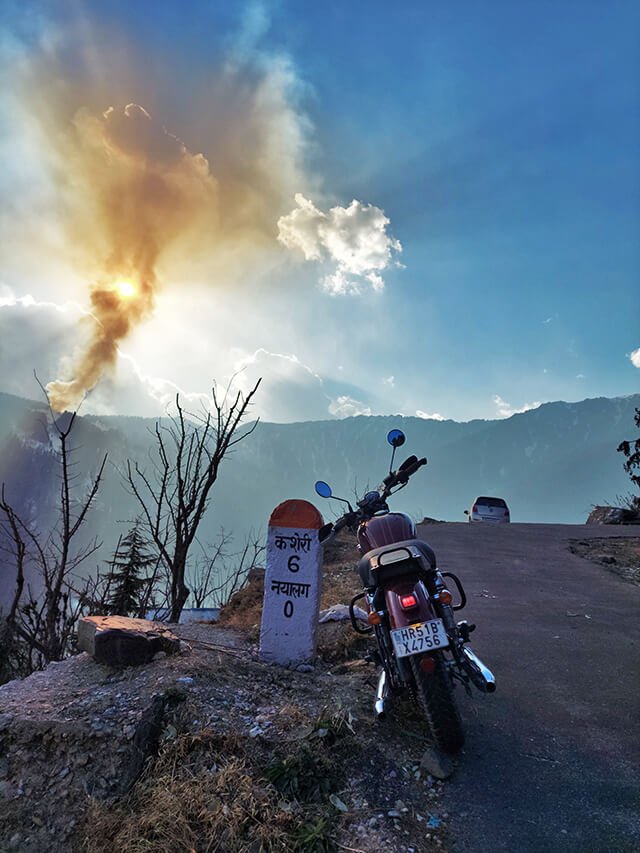 The road was moreover being constructed beyond Kasheri Village. A proposed loop connecting Shegli-Ksheri Road to Hallan 2 was in process.
I was told there's a waterfall about 1km from Kasheri Village but lack of time didn't let me visit.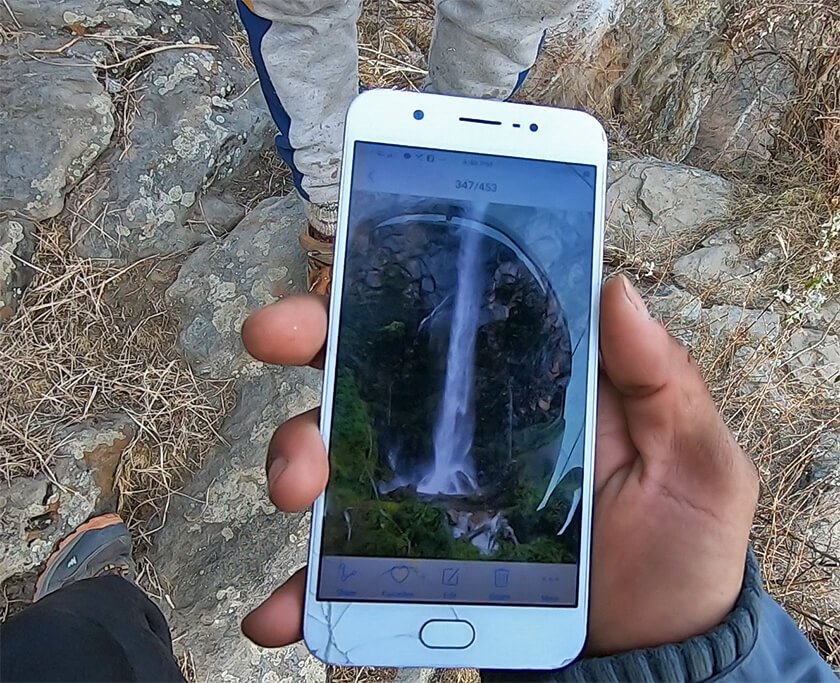 There were about 15-20 houses in both the villages with the entire scene quite village-like.
In the village, I found most people busy sorting out their simple lives. Men were found working outside in the fields and women apparently looking after their house.
Nearly all houses were refurbished Kathikuni with their base made of wood, stone and mud, and the roof either made of tin or a refined form of slate.
As I said above, there were no guesthouses in either of the two villages but it won't surprise me if someone comes up with one tomorrow.
Such Offbeat Destinations Near Manali: Worth Visiting?
Honestly speaking, for those for whom the idea of holidaying is shopping at Mall Road, and ticking off other such popular tourist places in Manali, doing a day trip to offbeat villages like Nayalag or Kasheri or Nyingmapa Pangan Monastery will make no sense.
Such places (and there are more like them like Fojal Valley and Hallan and dozens of others) may have a lot of beauty but nothing of sorts of a tourist attraction. There won't be any popular Google Map location to tag along on a photo posted on Facebook or Instagram.
They're more like destinations that would attract an intrepid than a seasonal tourist.
I would recommend you visit places like Kasheri if you…
Enjoy offbeat travel.
Want to explore local village life in Himachal.
Are a photographer & need beautiful panoramic landscapes.
That's all in this travel blog if you've any suggestions/comments to add please leave a message below. I can also be reached out on Instagram.
Also Read, for popular tourist attractions in & around Manali: Manali Travel Guide.