And if you'll ask me what's my most memorable travel memory: I will say, learning horse riding in Germany.
It has always been my dream to learn horse riding, slowly galloping away into the sunset. But the fact is… I never got a chance. Neither to pursue my dream, nor my fantasies.
The last time I felt horseback, I was in Darjeeling, some half-a-lifetime ago, under the scrutiny of my parents. And I vaguely remember (well, there are pictures to prove) that I cried the entire time.
But then later in life, I happened to grow up with pets around me, and growing up as an animal lover, horses became my biggest fascination.
So while planning for my two-month backpacking trip through central and eastern Europe, earlier in 2017, I happened to find an amazing volunteer opportunity work-exchange network called WorldPackers. The deal was, I had to help a family run their horse-farm in a small village, some 120 km Northwest of Frankfurt. And in return, I will get to learn horse riding in Germany.
Also Read: Volunteer With Worldpackers or Workaway? if you do not know how to travel and volunteer work. Also, check this article on Lonely Planet that talks about responsible volunteering so that you do not end up hurting the people you are trying to help.
So, after about 10 days of backpacking in Zurich, Stuttgart and Frankfurt (and falling in major love with German Beer), I made my way to the Ballhausens household in Mörz, near Koblenz, and their horse-farm, which was going to be my home for the next couple of weeks and my school for learning horse riding in Germany.
Mörz as a Town

Call Mörz a picturesque small town surrounded by breathtaking and lush scenery. With its many half-timbered medieval houses, which were, as I believe, less than 20 in number. Mörz turned out to be my highlight in Germany, and of course, the smallest German town I've ever experienced.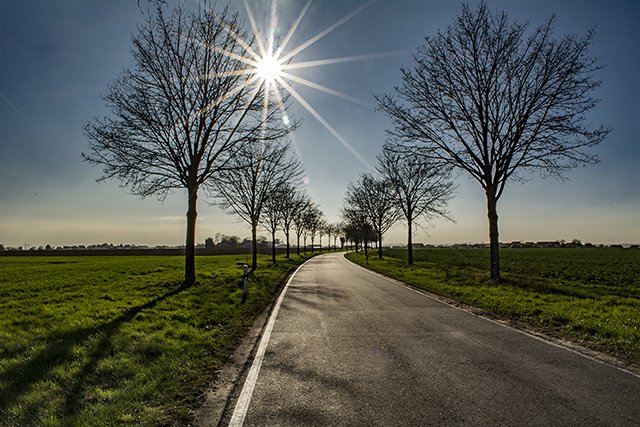 Sitting on top of the valley, the town appeared just perfect every morning. The sun gave a dreamy light across the horizon — a tinge of dawn, in orange and red and yellow.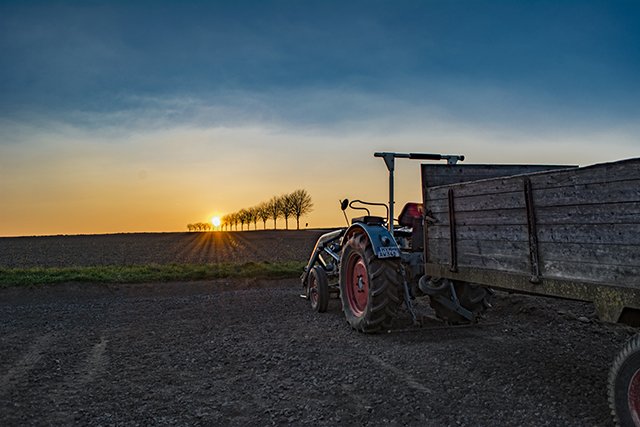 As Germans love to call it "Ruhe", you will find a found lots of it here. There were hardly any vehicles to be seen most of the day. And as the bubble of personal space is bigger in Germany than in most other countries, a few neighbours that we had in Mörz were always busy minding their own business — a few friends, good friends.
And hey did I tell you that at least half a dozen houses in the town, out of the total 20, were older than 150 years ago? Including the one I was staying in — the Ballhauses'!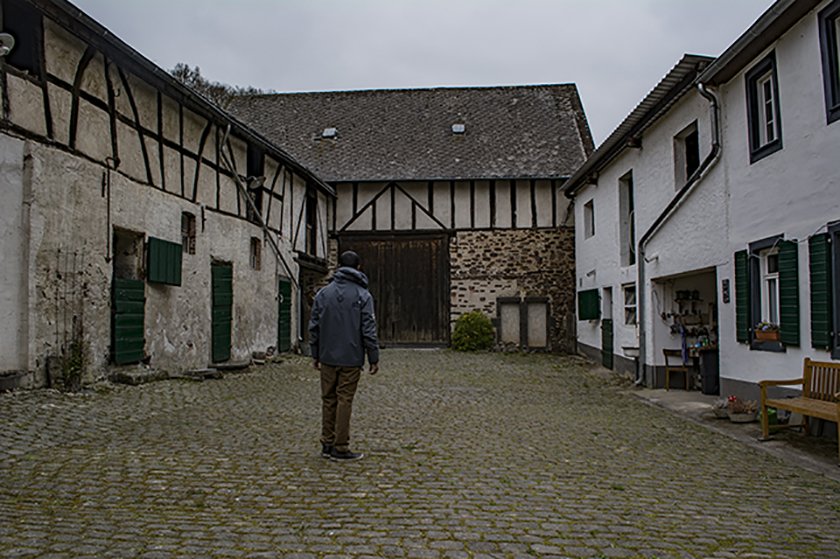 The Experience of Horse Riding In Germany
As a volunteer, I had my own tiny flat and a lot of private space. From the flat to the big ancient house to the stable, and a shared open space in between, appeared to be following the German way of life — of looking nice, and everything being intact at its place.
I found Germans having minor symptoms of some kind of cute OCD. The one that makes your house and everything inside and outside of it, look beautiful.
My job as a volunteer was to look after the animals — which included chickens, horses, and dogs. And my duties were of collecting eggs, looking after the horse stable, and walking the dogs out. After this experience I know for sure I want to work with animals.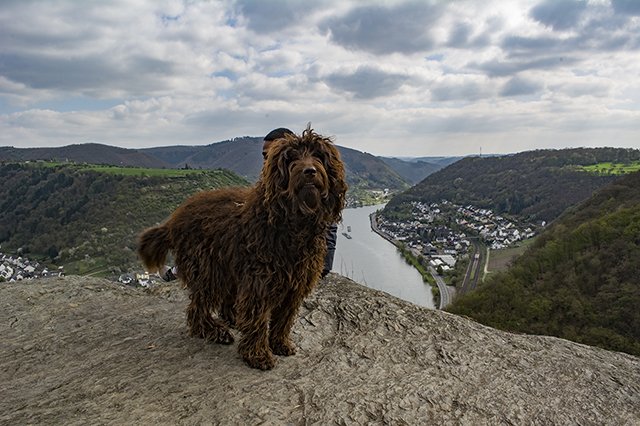 Among all the jobs, looking after the stable and cleaning it was the toughest deal (the only thing that made it up to me was the many learning horse riding sessions).
Every day I would fill the hay racks for horses and let them load their massive bellies, only to let them fart and shit to the best of their ability throughout the day.
Six horses, at the end of the day, would give me enough poop to stay busy cleaning it for at least 30 minutes every evening.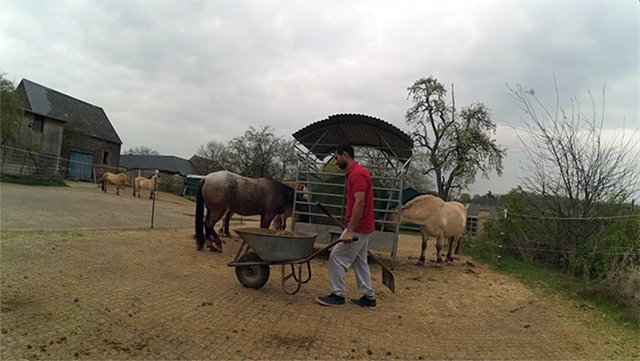 But looking after the horses and the stable came with many riding lessons. And thanks to Bob (the oldest, cutest, and kindest of all horses) I learned horse riding in Germany.
An unbelievable thing, however, that I never imagined myself volunteering abroad, was driving a digger and a tractor — on German streets. Though I can be acknowledged as a trained Indian driver, with an efficiency level of 100 out of 100, trying such a thing in Germany where I had to follow an overwhelming number of rules, was a tough deal! But in the end, it was a great experience, that left me with some great pictures. The ones that kind of make you look cooler!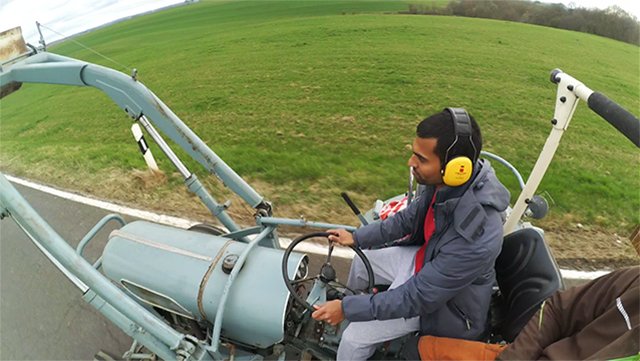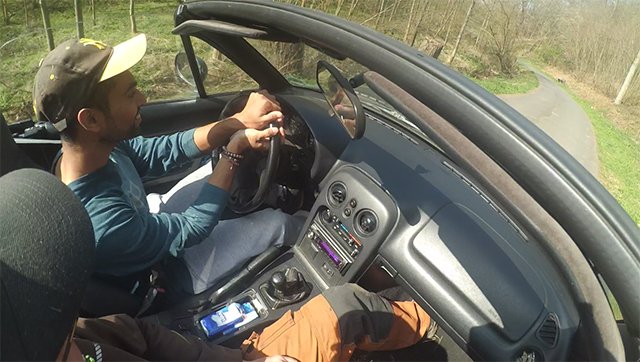 The Many Bike Rides
Germany is a country for cyclists. From the city to the countryside, bikers are often more abundant than cars. For a casual tourist, a bike tour is perhaps the perfect way to explore a hidden side of Germany that they can hardly see from a bus or train.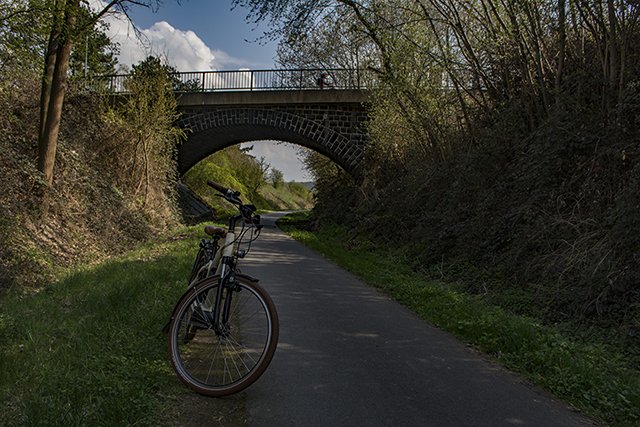 At Ballhausens, I had a couple of bikes at my disposal, whom I often used to pedal my way into the nearby villages — a kind of thing that completes your countryside experience.
One of the best rides, however, was between the town of Münstermaifeld and the town of Mayen. The route, which took a couple of hours to complete on each side, ran me along the disused railway line between Münstermaifeld, Polch, Ochtendung, and Mayen. Another highlight was a 40-meter-high natural stone viaduct that spans the Nette valley between Polch and Mayen, followed by two tunnels of 250 and 500 meters in length.
My First Impression Of Germany
Other than learning horse riding in Germany, one of the reasons why I wanted to volunteer in Germany, was to understand the German way of living — for Germans have always kept the world communities curious about their way of life.
Germans are known for their discipline, well-organized and traditional way of life. And when a few days of tourist activity in Stuttgart and Frankfurt gave me no clear perspective about them as a community, I decided to stay with the local host. And volunteering seemed like a perfect plan.
My first impression of Germans can be summed up in two sentences. Germans are quality-conscious, work-life balance conscious and health-conscious. And they hate quick and dirty work.
If you're into good food, I will definitely not recommend Germany, ever, because for Germany the staple diet is bread and meat. For them (and you will be expected to believe in that too) bread is everything. When you sit down at a business deal… coffee and bread. Want a bedtime snack? How about quark bread? Want to layer it? Go ahead. However, their liking for good beer balances things out. And German's eagerness to buy and offer you one makes it even better.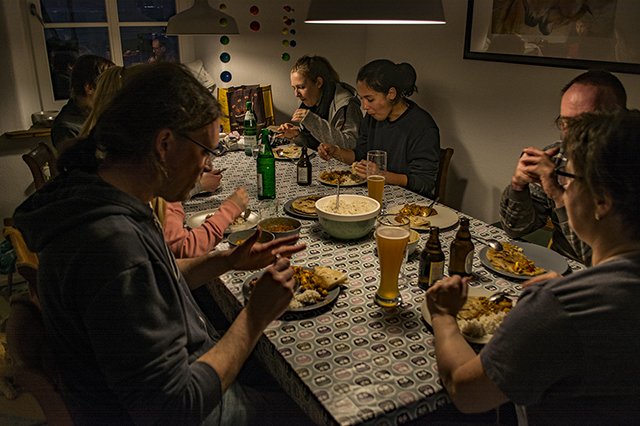 One thing that I particularly loved about Germany was their planned way of life. They love to plan things and plan more. This does not mean that they are not spontaneous. They just have an alternative plan for every possible scenario. This has to do with the fact that they are quite orderly as well. Germans try to keep everything clean and tidy. They like to structure their days well and schedule appointments exactly.
Their romantically fascinating and physics-defying houses are also worth talking about. Though I expected things to be nice and organised in cities like Frankfurt, towns like Mörz (and the many others I explored around it) amazed me. Each house in Germany would include decorations outside it, and trees well cut and shaped. Well, to sum up… in Germany, public appearance matters!
Want To Have A Similar Experience?
If you're a budget traveler, or love exploring places like the back of your hand, I suggest you try volunteering. Volunteering as an au-pair is a great way to explore culture, understand the local community better, and even learn a skill or two.
Just like I happened to learn horse riding in Germany, you can learn another similar skill.
I have been volunteering for some time now, and have tried websites like WorldPackers and Workaway to find such volunteering options across Europe and Australia (well, they've volunteering options in every continent and pretty much every country in the world).
In case you're wondering… these websites are platforms where you can find volunteer positions in tourism, agriculture or as an au-pair anywhere in the world, and where potential hosts can hire you.
You start by creating an account. All you have to do is sign-up, pay the signup fee, and create a profile. Once it's done, you can start contacting businesses or local hosts based on countries, cities, and/or types of work. The general gist of each location is that you get room and board in exchange for a few hours of work every day. It's that simple.
Though to some people, the signup fee may seem like unnecessary money to bleed, imagine the heaps you can save by staying and eating for free somewhere in just one week (how about in Switzerland!!!). And consider all the amazing experiences you will get totally free on top!
My Other Volunteer Experiences: Staying With A Roman Family | Finding My Love For Astrophotography And Stargazing In Western Australia
Do you want to learn horse riding too? or do you already know it? Do you know many places that teach horse riding in Germany? Spill your comments below.