Before I go ahead, I want to announce that I now run 2 properties around Manali: FootlooseCamps Hamta (setup including a traditional Himachali Mudhouse and three luxury Geodesic Domes with Jacuzzi & infinity hot pool) and FootlooseCamps 2.0 The Homestay (with three attached bathrooms for long stays). Both places are located within 8km distance from Mall Road with views that 99% of hotels in Manali fail to offer. For booking, WhatsApp/Call 8800763430.
Check below, the Instagram Drone Shot for FootlooseCamps Hamta and a Youtube Video for FootlooseCamps 2.0 The Homestay…
View this post on Instagram
For booking, WhatsApp/Call 8800763430. Now, let's continue with the topic at hand, let's discuss Fojal Valley in a great length 🙂
---
From its placement and appearance, the town of Fojal certainly looked like a place where tourists would want to spend a few relaxing nights, avoiding the crowded Delhi to Manali road, in Himachal Pradesh.
And then, Fojal is a popular paragliding site too (known as Dhobi Paragliding site). Yet there were no guesthouses, for I was searching for one for over two hours now. Those who visit Fojal Valley, do only a day trip, try paragliding, and head back to where they came from.
So yea, after wandering confusingly and pleading with a few random locals for a bed, when I had decided to leave this offbeat place near Manali and head back to the crowded Mall Road, my eyes beheld a sight totally unworldly.
The shining snowcapped mountains were appearing golden at a distance. A few local Himachali houses were moreover adding to the charm.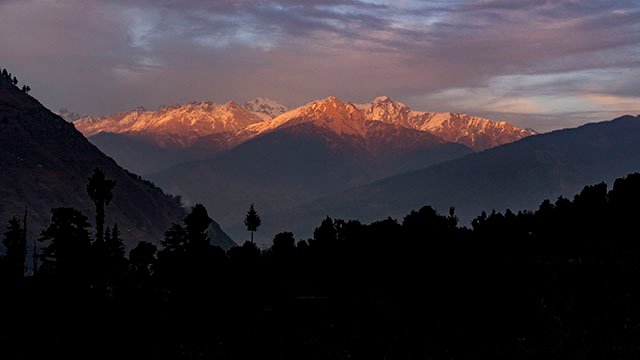 For a moment it felt as if I have time-transported myself into the golden age of the 70s or 80s when people shared more green space around them than concrete; when the chirping of birds echoed all day, from afar; when every Himalayan mountain looked no less auspicious.
The town of Fojal, and the Fojal Valley, appeared as one of those rare places where people would want to relax, forget their busy life behind, and spend a few nights unwinding and just being (in the moment)… and I was no different!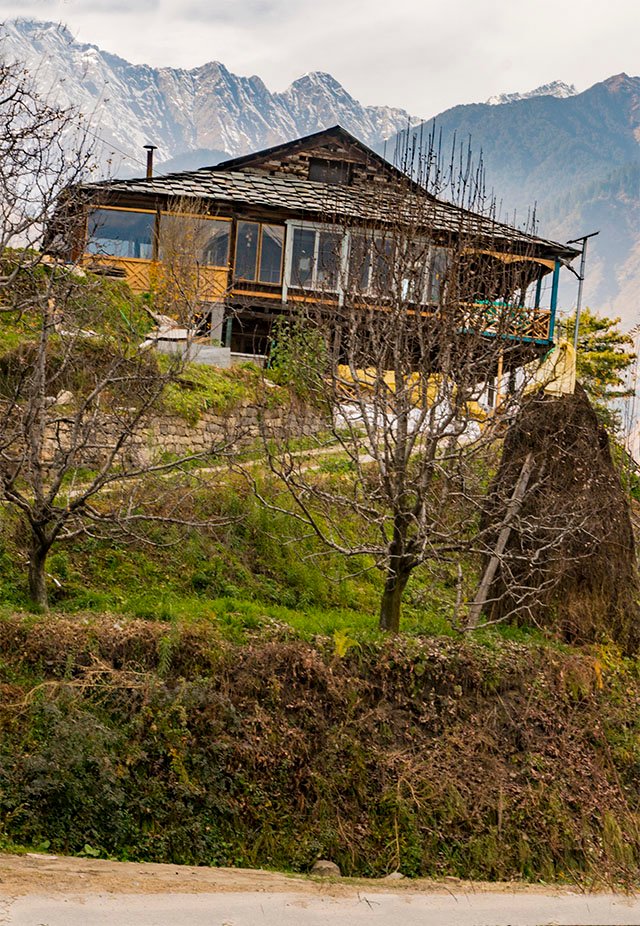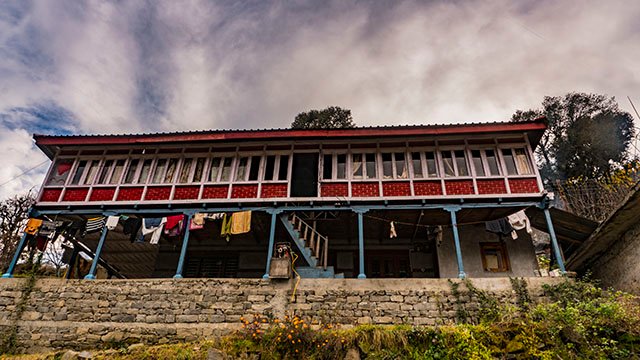 Fojal Valley: An Introduction
Located almost halfway between Kullu and Manali, Fojal Valley is a tiny little valley in Himachal Pradesh comprising no more than a dozen (small) villages with an average of about twenty families living in each village — with the biggest, the most populated and the centrally located being the town of Fojal (yes, the same name as the valley itself!).
There are literally no eating joints meeting tourist standards but a few local dhabas selling just Momos and Maggi.
There's moreover not much for a regular tourist to see and do in Fojal Valley, except for just trying paragliding and a bit of trekking during summer. But for an intrepid, and for those who appreciate the idea of slow travel, Fojal Valley is a perfect place for relaxing and soaking in the laidback Himachali life.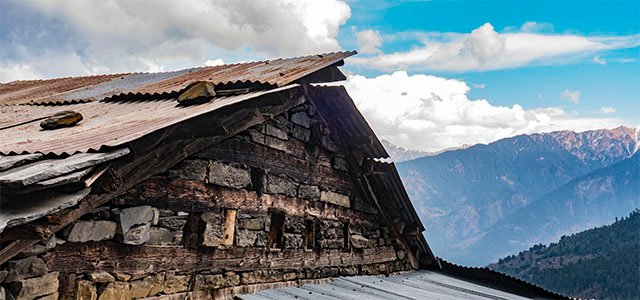 Here one can spend their holidays blissfully, in their own solitude or while interacting with a few happy locals. Lacking any modern-day tourist facility (not matching even with that of what you may find in the most offbeat corners of Parvati Valley or someplace else in Manali, or in the entire Himachal Pradesh) Fojal Valley is only meant for travellers not interested in visiting places and but experiencing a different way of life.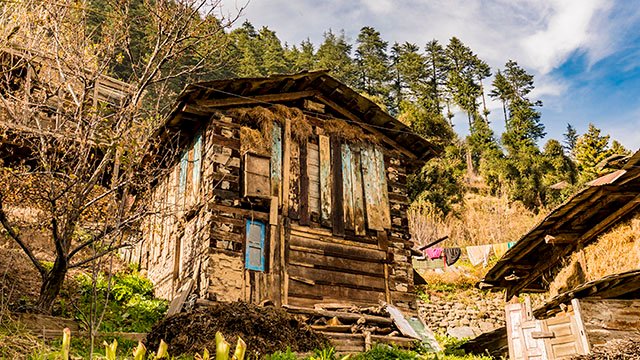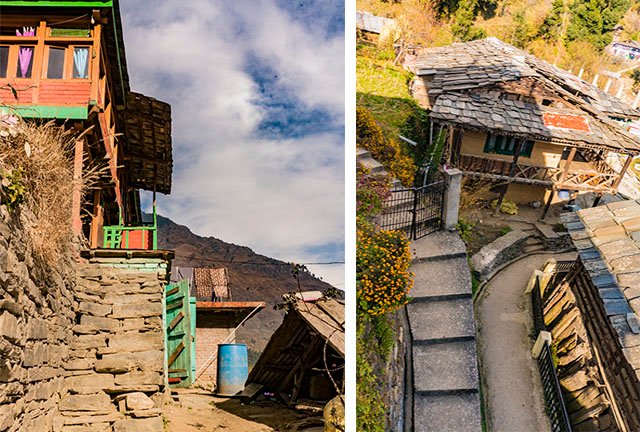 Also read about what to see and do in Manali, if you are going there.
Among locals, however, Fojal Valley is well known for its revered deities including 'The Maa Sharvali Devi Temple', and 'The Maa Jwala Temple'. Both the temples (located in the town of Fojal) are very ancient and are bustling with scores of devotees during the annual fairs, needless to point out the devotees undertake the arduous trek with great fervour and devotion to a nearby lake in Fojal Valley.
Getting There
Speaking of its positioning, Fojal Valley rises almost perpendicularly to Kullu Valley near the town of Patlikuhl, before it divides itself into two halves, with the town of Fojal being located in the centre acting as the transportation hub for the entire valley.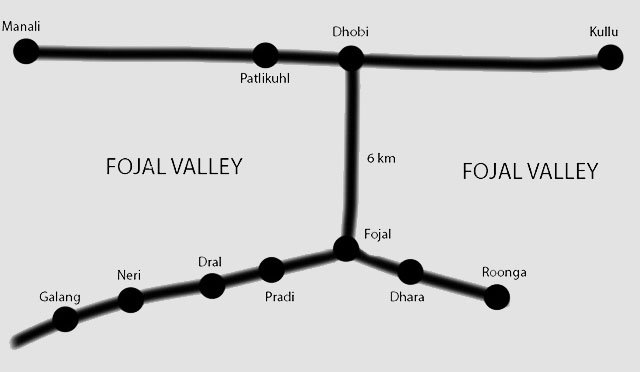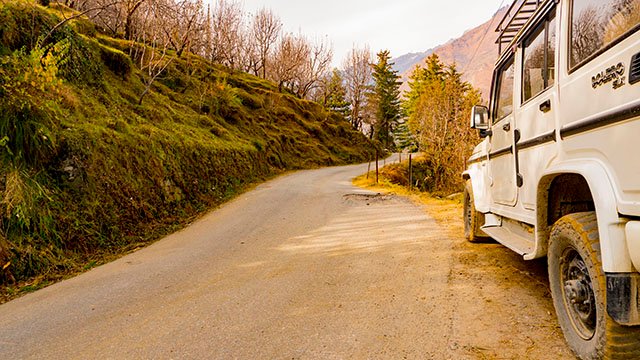 If you're driving, just Google Map Navigate for Fojal and you will end up in Fojal town without having to worry about a thing (the road connects Fojal and most of the villages in the valley). If, however, you're taking a bus, get off at the town of Dobhi, on National Highway 3, connecting Kullu-Manali. From Dobhi, just take a taxi which costs about 200 Rupees per trip and drops you in the town of Fojal. The journey from Dobhi to Fojal takes about 15 minutes.
A Bit More About My Visit To Fojal
So yea, after wandering confusingly and pleading with a few random locals for a bed, when I had almost lost the will and decided to head back to Manali, my eyes beheld a sight totally unworldly.
The shining snowcapped mountains were appearing golden at a distance, and that was the moment, I knew I wasn't leaving Fojal without at least spending one night and experiencing all the beauty it has to offer. I called everyone I knew in Manali for helping me find a place, and it turned out that luck was on my side.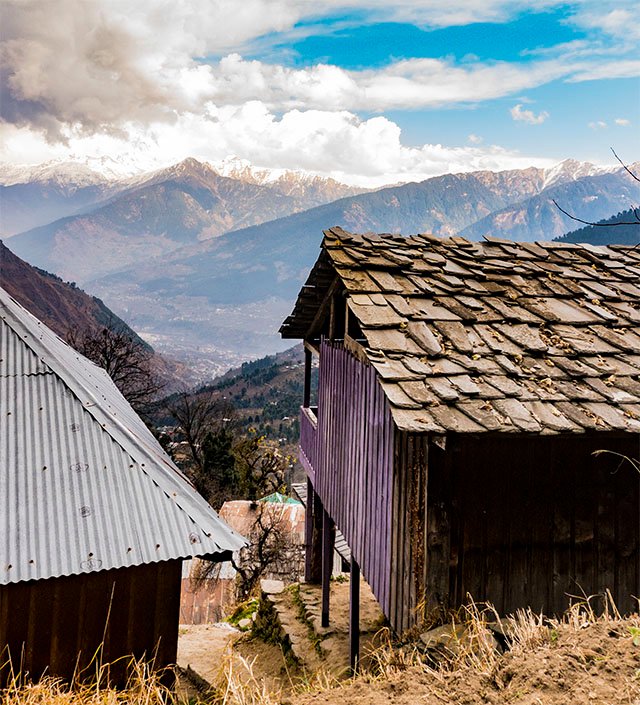 At about 3km from the town of Fojal, and towards the sleepy village of Roonga, someone found me an old Himachali house lying abandoned for the previous many years. As if this wasn't mouth-watering enough, I was told that the electricity in the house was sporadic (and only available in the common areas) and that there would be no phone connection inside the rooms. "The thick walls of the house hamper any phone reception inside," the friends on the phone said sheepishly.
The next thing I knew, I was accompanied by two locals taking me there, with some food and a bottle of Whiskey.
As they say, the best discoveries happen with no plan, I happened to discover Fojal Valley, and this state of an art-house out of luck too. It turned out that the property was originally constructed by a European about three decades ago but for the last 10 years, he never returned to India, allowing someone from Delhi to lease it for start the first-ever Bnb in Fojal.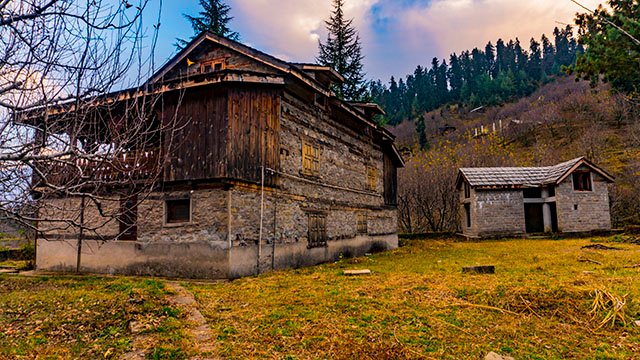 Feeling at home in the Himalayas and in this state of an art property, I decided to spend the next few days without doing anything but just strolling along with the picture-perfect villages of Fojal Valley, discovering bylanes beautifully lined with lifeless pomegranate trees, watching the locals carry firewood on their backs and stock up for the approaching winter. Fojal Valley reminded me of the Alpine countryside in Austria, sans the common language.
At around 6 in the evening, the sun had already started sinking behind the mountains, as though seeking refuge in them. The sky appeared as a beautiful mix of purple and blue, with a few twinkling lights trying to survive at a distance.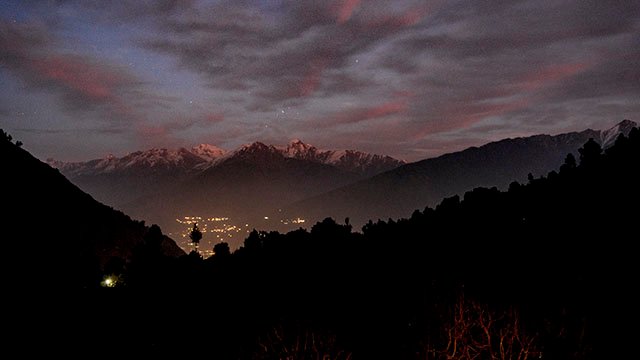 The temperature was now dipping sharply outside, forcing me to return to the royal recluse of my home for the night. Inside, the fire was already lit, and the dinner table was already set, taking me back in time, and to an era that I had only read about in textbooks.
So would you like to visit Fojal Valley and explore a bit of off-the-beaten-path Himachal Pradesh?