During my recent trip to Himachal Pradesh that took me across parts of Chamba, I spent three nights in Bharmour.
Since it was my first ever trip to Chamba, I booked a paid itinerary with a Dalhousie based travel company called Explore The Unexplored. The idea was to visit as many places in Chamba as possible within a week.
The first few days of the trip took me to local villages in Chamba and a few popular tourist attractions Near Dalhousie, with the last three days being left for the town of Bharmour.
As per Wikipedia, it was Bharmour that was the ancient capital of Chamba — just like Naggar for Kullu Valley. Today, Bharmour acts only as a gateway to Manimahesh Yatra.
"Nearly 90% of tourists who visit Bharmour visit only because it falls on the way to Manimahesh," I was told. Think of it as the centre of all transportation and communication. But in my view, Bharmour has a lot more potential. It can be much more than just a stopover for pilgrims.
Located at nearly 7000 feet in Budhil Valley, Bharmour, for a tourist, has everything — from scenic beauty to ancient temples to a rich (and quite preserved because of low tourist inflow compared to other places in Himachal) culture. Also Read: Best Places To Visit In Himachal.
It is believed all land around Bharmour belongs to Lord Shiva. Hence, Bharmour is fondly and locally spoken of as Shiva Bhumi. The town lies between the Pir-Panjal and the Dhauladhar range of the Himalayas and between Ravi Valley and Chenab Valley.
About landscapes and vibe, in Budhil Valley in general, you will find abundant alpine pastures with a lot of Gaddis (or Shephard) making their way from Chamba to Lahaul, or vice-versa.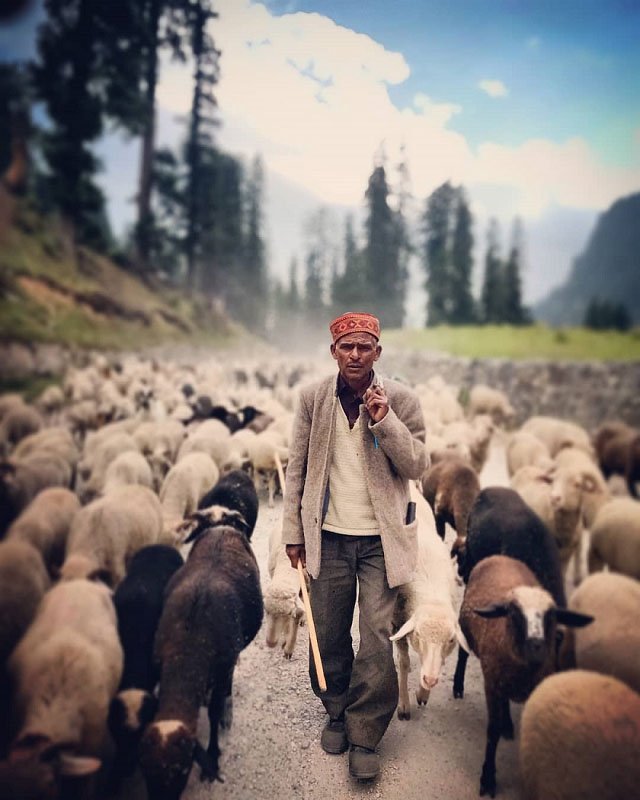 Speaking of Gaddis, it is in Chamba district that you find them in most numbers than in any other district across Himachal Pradesh. If you're keen about their life, read this article on Livemint.
Hospitality in Bharmour – A Reason To Visit
Bharmour is known for extremely courteous and welcoming locals. They are known to welcome visitors like their own family members.
I remember during my trip I was taken care like that too. My local point of contact, or my Host if I may, took me across Bharmour and Kugti Village like he was taking someone he personally knew.
On one of the days, he took his wife and mother to village Kugti (since it was only two of us in his car). Of course, I was asked if it was okay for me and if it won't affect my work (of blogging and vlogging).
We visited their extended family in Kugti Village.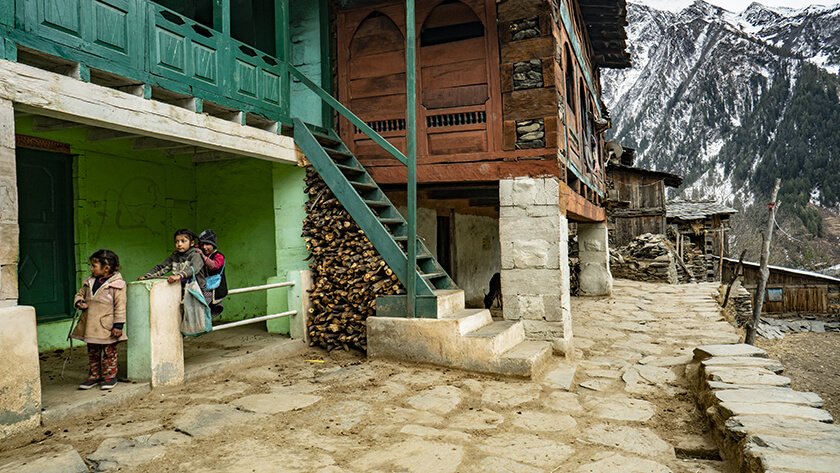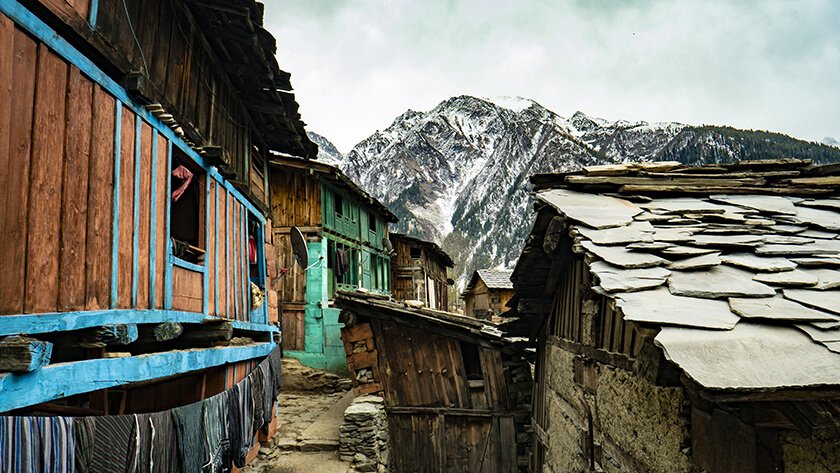 On another day, I was taken to their ancestral home in another village, some 20 min drive from Bharmour.
If you love not only the landscape and serenity of the hills, but also appreciate the intricacies of the village culture, the warmth of the Himachali people, and the delectable taste of their lifestyle, such an experience can be a memorable event of the lifetime.
To experience the hospitality of locals is certainly a reason to visit Bharmour.
 Places To Visit In Or Near Bharmour
Chaurasi Temple
Built around 1400 years ago, Chaurasi temple is dedicated to Lord Dharamraj.
Just like Pushkar, in Rajasthan, has the world's only temple of Brahma, Chaurasi temple in Bharmour is the only temple of Lord Dharamraj. With Chitragupta's shrine placed in the centre of the temple complex.
The entire temple premise houses 84 temple Shrines and thus the name Chaurasi. Chaurasi in Hindi translates to the number 84. Additionally, the 84 shrines are those of Lord Shiva. In other words, they're all Shivlingas.
According to locals, Lord Shiva has himself visited and created those Shivlingas. But if we read Wikipedia, it says something on the contrary — a story that feels more connected and speaks of a much recent past. As per Wikipedia, "The Chaurasi temple was built by Raja Sahil Verman, in honour of the 84 Sadhus who had meditated there, while they were passing Bharmour on their way to Manimahesh Lake.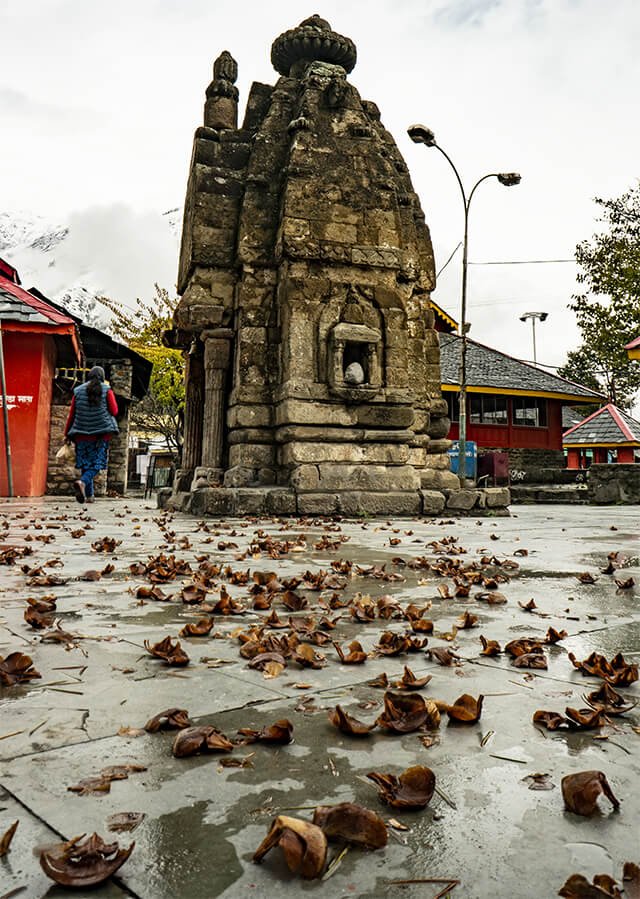 Whatever's the real story, Chaurasi temple is certainly one of the top places to see in Bharmour. For architecture lovers to spirituality seekers, Chaurasi temple entertains everyone.
Kugti Village
What can be referred to as the last village of Chamba (the district) Kugti is certainly a no-miss if you're visiting Bharmour. Think of visiting a place placed far-flung, inside Himachal Pradesh's second-largest Wildlife Sanctuary, Kugti Sanctuary.
I decided to visit Kugti for many reasons though. Other than the two reasons mentioned above, the idea was to see how people live there.
When I visited Kugti in the month of November in 2020, there was no road connection to the village (though the road was being constructed and should reach the village in the third quarter of 2021). There's was phone network in the village. In the winter months, there's no electricity either.
Life in Kugti was still very much affected (and dependent too) on nature. People would consume and survive on what's available around.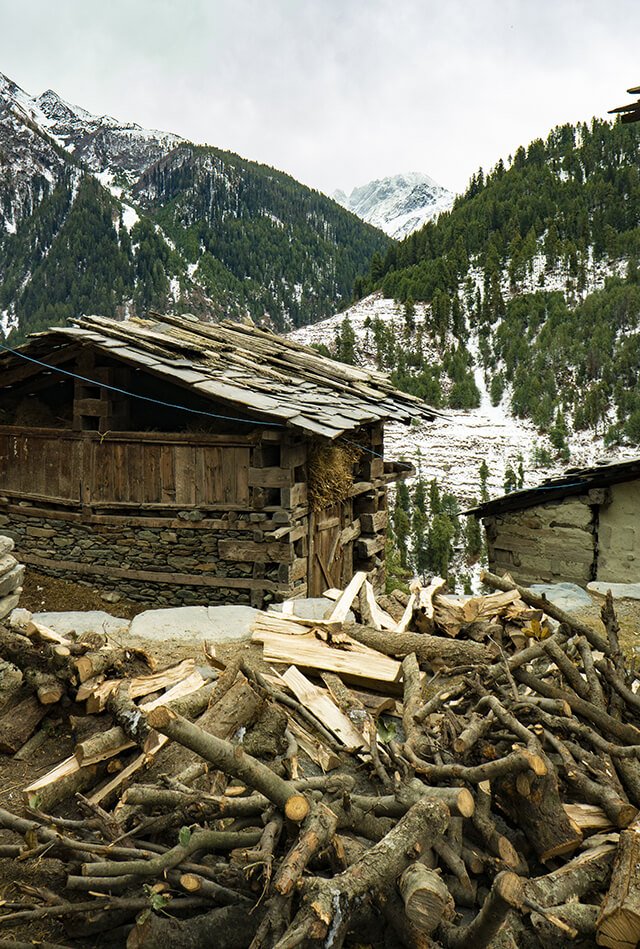 If we have a tunnel (which is quite an unrealistic statement to make) we can reach Keylong (from Kugti) in less than 3 hours — say, about just as much as it takes from Bharmour to Kugti. Think of it more Lahauli in appearance than Chamba.
Kugti is not just among top places to visit when in Bharmour but when you are anywhere in Chamba, be it, Dalhousie. From Dalhousie, it can be a 2-day trip.
Read more: My Visit To Kugti Village
Manimahesh Lake
Trekking all the way to Manimahesh Lake and completing one of the most revered Pilgrimages in Himachal Pradesh can be another reason to visit Bharmour. Think of it as a reason to visit Bharmour and not just one of the top places to visit in Bharmour.
The equation is, rather, otherwise.
As I mentioned above, the biggest reason for many people to stay in Bharmour is because of Manimahesh. It's the last biggest town or the centre of all transportation and supplies for pilgrims visiting Manimahesh. Though the trek to Manimahesh Lake begins from Hadsar village (located half an hour drive away from Bharmour) since Bharmour is the biggest town with most convenient stay options, many pilgrims make it their base.
So yea, to say the least, if you are looking for places to visit when in Bharmour, doing the Manimahesh Yatra can be a great idea.
The Yatra takes places during monsoon. In 2020, it began on 12th August. Though you can trek to the lake any time of the year (except for in winter when there's too much snow around) it's just that you won't get to see the annual rituals if visited outside of the official Yatra timeframe.
Bharmani Mata Temple
Located 4 km away (after a steep climb) overlooking the town of Bharmour, it is possible to visit Bharmani Mata temple any time of the year except for between November and March (because of the snowfall). And because I was there in late-November when snowfall had already made commuting quite challenging across Himachal Pradesh (especially over 2000m above sea level) I couldn't visit Bharmani Mata Temple either.
Famous for the Goddess Barmani Mata, the legend has it that when Lord Shiva moved his abode to Manimahesh Kailash, he blessed the goddess Bharmani Devi (placed in Bharmani Mata Temple premise) that for anyone doing Manimahesh Yatra but failing to visit Bharmani Mata temple, their pilgrimage will not be considered complete.
Every visitor before or after visiting Manimahesh Kailash should take bath in Brahmani's holy pool too.
Other Things To Do & Places To Visit In Bharmour
And then there are other places of common interest including the local market and a few waterfalls near Bharmour, including Hadsar Waterfall, Ghared Waterfall, Kaksen Waterfall and Bhagsen Waterfall.
For those visiting Kugti Village, Swami Kartikeya Temple also remains a popular tourist highlight.
That's all in this travel blog on places to visit in Bharmour. If you have more suggestions to add in the list, please leave a comment below. If you have any questions, let's connect on Instagram.