Want to experience a tree-house in Himachal Pradesh? Try Ojuven Resort, in Kotkhai, near Shimla!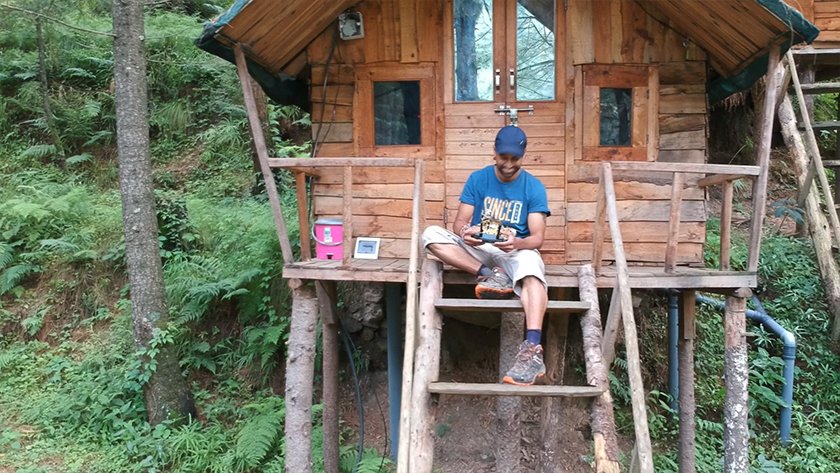 Out of all the experiences I've had during my previous 4 years of nomadic life – from experiencing luxury train in India to volunteering in Germany – if there was one experience that was missing, it was, staying in a treehouse. A place tucked away in between branches, far away from the real world; a place for shelter or just to see the earth from another perspective.
And this time, as I planned a (nearly) one-month motorcycle ride across the Shimla district in Himachal Pradesh, I succeeded to tick off that wish from my bucket list.
But before I go ahead and tell you how and where it happened, I want to disclose that this isn't a sponsored post. I know it's rare for me to talk about a hotel or a guest house, and so far I've written only one more article on my blog where I openly and dedicatedly promoted a homestay (this village homestay in Uttarakhand) sometimes, when I find a place that is rather worthy of appreciation, I boldly promote it, and this is one such example.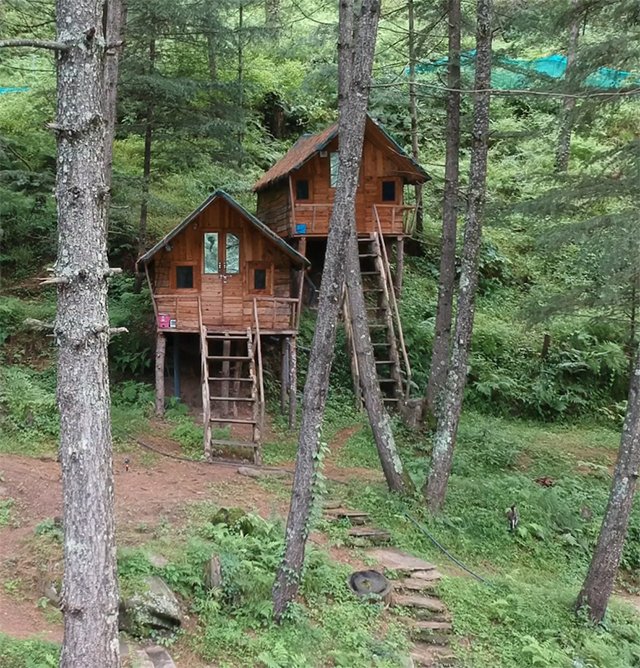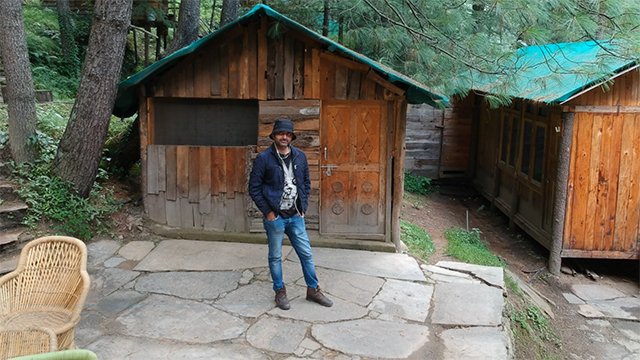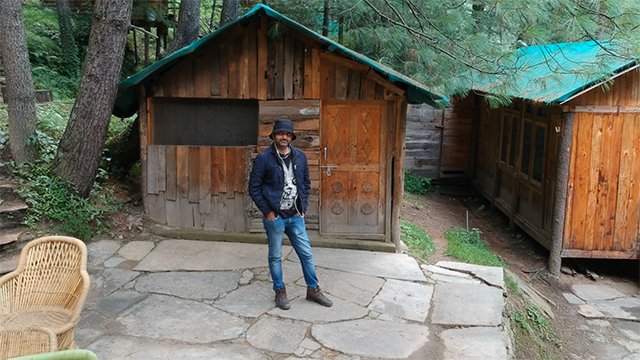 A Brief Introduction
Almost 4 hours drive from Shimla (and about one hour from Kotkhai) lies this unworldly and off-the-map place called Ojuven Resorts by LivingStoneStays.
Though officially located in Kotkhai (a big town situated on the Himachal State Highway 10) Ojuven Resorts was still about an hour away from the main town of Kotkhai, making it a perfect place, at least for me, to spend two nights in oblivion. Its location was so offbeat that the road that connects Kotkhai to Ojuven offers some real off-roading experience. It was, in fact, a cherry on the cake.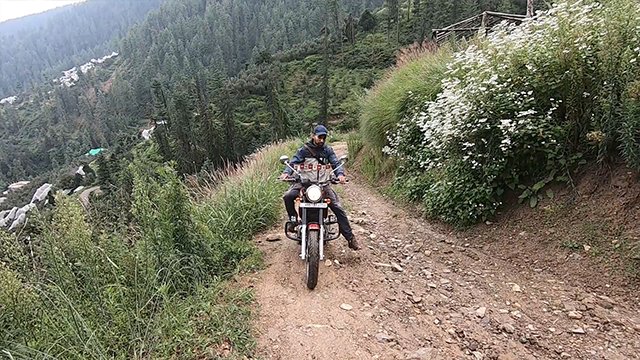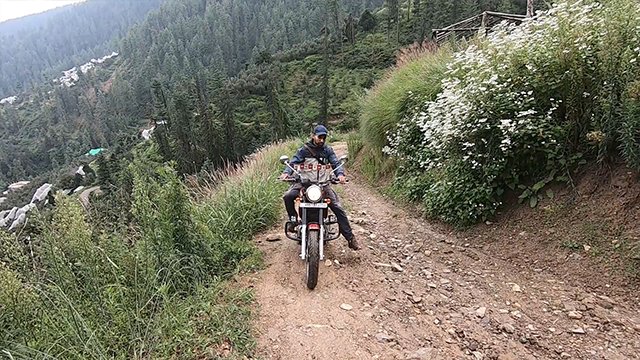 I remember how when I Google navigated for Ojuven, all it showed me was a place with no road connection. For a solo rider, riding in the months of monsoon, that was a real deal and some uncalled-for adventure. And honestly speaking, I liked it, except for the part when my luggage went loose and ended up in a big pothole.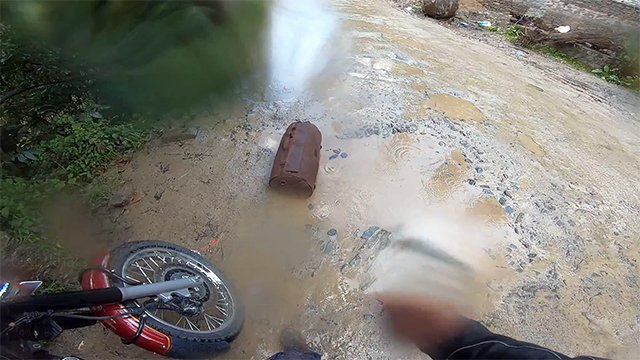 About The Place
To be honest, I found it as one of the most exotic resorts and the best place I stayed throughout my Himachal Pradesh ride. Nestled right in the heart of a beautiful deodar forest, away from the bustling city lanes, Ojuven Resorts offers a quiet and friendly escape.
Though I've ventured into, and camped and stayed in the Himalayan forest more times than I can remember, this experience remained the highlight for the fact that it combined jungle stay with comfort and luxury (to whatever degree it was possible). The in-house restaurant served some of the most delicious food including Indian and continental dishes. The tree-houses (or the tree huts) that truly felt like having a private cabin in the woods, opened to incredibly beautiful views of a freshly smelling deodar jungle.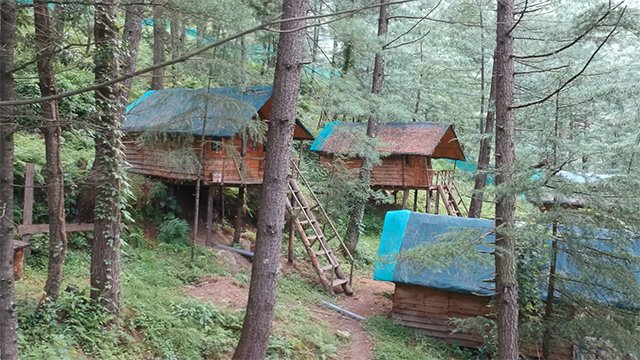 But let's not make any false fantasies. The treehouse was small and basic, about 8*8 in size (only big enough for two people to stay in, with almost no luggage) room that was about 10ft off the ground with a very steep ladder to get up to it. All the tree-huts had ground bedding. There was a little balcony area as well and shutters on all the windows to 'keep the monkeys out'. On a good note, however, they all came with an attached bathroom that opened to the forest.
All in all, they offered a small cozy environment for nature lovers and the new-age romantics, but if you're a honeymooner expecting a suite-like setting, their small cabin size may disappoint you. For honeymooners, however, the place had two big sized cabins too, that, throughout my 2-day stay, stayed highly in demand – offering no time for me to even have a peek inside.
What's Special About Ojuven?
Just as much as I appreciate the idea of exploring new places and understanding new cultures, a part of me also appreciates staying close to nature – or better put, losing myself into nature. This is the reason why I often find myself camping in the wilderness.
Now, other than losing myself in nature, I enjoy giving the same experience to others – the reason why I started a camping business of my own in the mountains last year.
When I stayed at Ojuven, it reminded me of my place FootlooseCamps – a place located right in the middle of nowhere. A place that allows you to stay in the jungle, take its good tidings, while still feeling very safe and surrounded. It offered a kind of setting that was exclusive, natural and was just as much a habit of a leopard or a bear as it was of a human.
Places like these, in my experience, define a true adventure holiday, and this is Ojuven or FootlooseCamps matter. This why this blog matters!
Do you know any other such places that offer a tree-house experience in Himachal Pradesh? Let me know in the comments below!
Here's a vlog I made at Ojuven Resorts. Sadly, I lost my drone here: