The deep-rooted history of India speaks highly of a rich and royal past — of places like Mysore Palace, and of kings and sultans, and their forts and fortress.
During my media-trip with the tourism of India, and while experiencing the Golden Chariot Luxury train — that itself is a new-age palace on wheels — I happened to visit one such opulent fortresses called Mysore Palace… and boy, I was blown with its grandeur.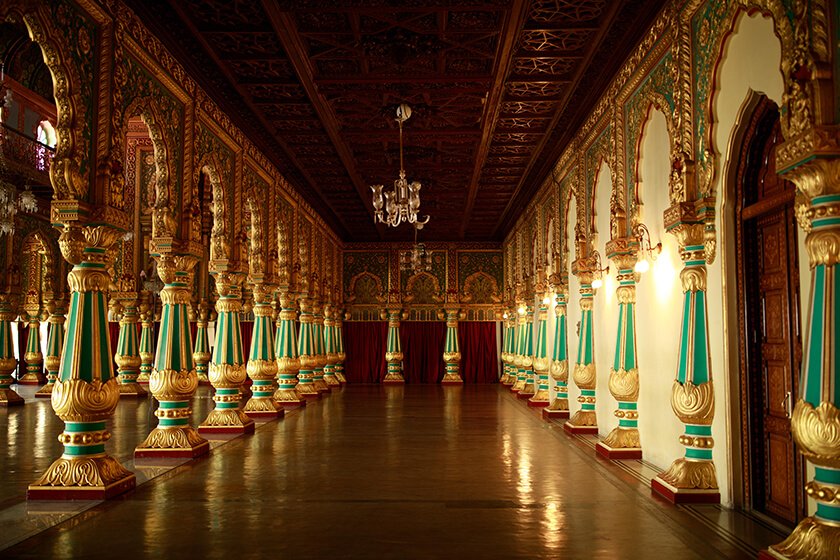 These opulent palaces are now a mesmerizing peek into the bygone era. And there are many such places to visit near Delhi and Bangalore and other big towns.
Speaking of Delhi alone, there are nearly 100 such historic forts in less than 500km distance.
Bangalore to Mysore Palace — My Visit
As I said above, my visit happened during an official media trip. We were a group of 15 bloggers, representing 5 continents, invited to experience luxury train travel in India. Who invited us? The ministry of tourism handling operations for Incredible India.
View this post on Instagram
Our trip began in Bangalore. For a period of 7 days, we explored the length and breadth of Karnataka and Goa. On day 2, the itinerary included a guided tour to the Mysore Palace. And that's how my trip happened — but with a little distinction.
Since we were an invited group of journalists, we were given permission to carry our camera and click pictures inside the palace (for general people it isn't allowed). Our guide was also not someone usual but the official guide working for the ministry of tourism of India. With over 30 years of experience as a guide, he was a living encyclopedia. I am sure he knew more about the Mysore Palace than the craftsmen who originally made it.
Our trip lasted for about 3 hours before we made our way to the Golden Chariot again and moved to our next destination on Day 2 — Bandipur National Park.
View this post on Instagram
Mysore Palace — History and Other Information
WARNING: Under this section, I will be giving Wikipedia style information. Skip the next 500 words if Wikipedia bores you.
Also known as the Amba Vilas Palace and located at less than 150 km from the city of Bangalore, Mysore Palace is one of the most prominent palaces that is visited in India. This tourist destination attracts millions of visitors over the year and comes to light during the Dussehra festival in the month of October. As per figures given on Wikipedia, over 6 million people visit this place every year — making it one of the most popular travel destinations in India after Taj Mahal.
Mysore palace was originally built in 14th century by Yaduraya Wodeyar. But it has been reconstructed and renovated several times meanwhile.
As soon as you enter the palace, the first notable thing is the entrance gate and the arch of Mysore Palace holding the emblem with Wadiyar dynasty's motto written in Sanskrit "न बिभॆति कदाचन" (that translates to never terrified).
Of particular highlight are the domes of the palace that are a perfect blend of Hindu, Mughal and Rajput style. Where the domes are made of marble, the rest of the structure is granite. The entire structure is supported by nearly 150-feet five-storeyed towers.
Above the central arch is the most impressive sculpture of Gajalakshmi with her elephants. Those who don't know, Gajalakshmi is the Indian goddess of wealth, prosperity and abundance. There are three major exclusive temple buildings within the Mysore palace. The kings of Mysore were devotees of Goddess Chamundi, hence the palace's facing the Chamundi Hills.
The palace houses two durbar halls and incorporates an array of courtyards, gardens, and buildings.
There are three entrances to Mysore palace: The East Gate or the front gate (opened only during Dusshera), the South Gate (for general public access) and the West Entrance.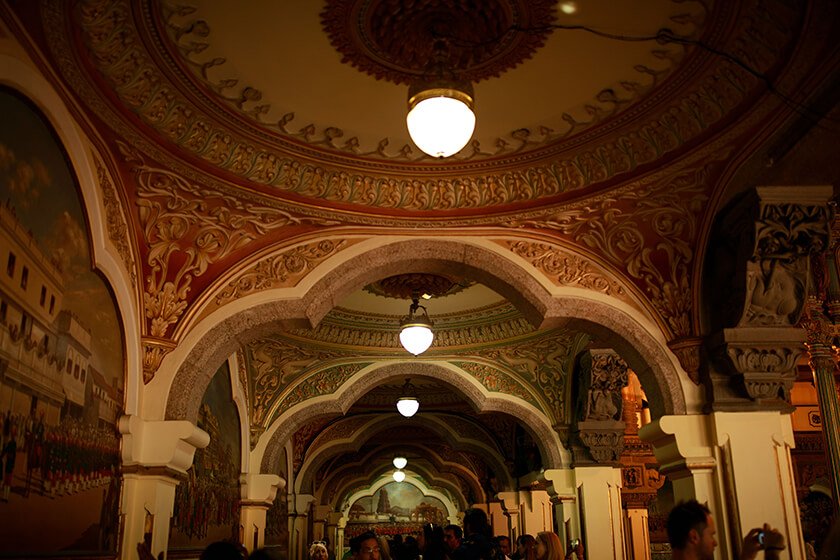 Mysore Palace Timing & Entry Fee
It is possible to visit any time between 10 in the morning to 5:30 in the evening. The entrance to the palace is possible from three Gates: Varaha and Amba Vilas Gate in the South and Jayarama Balarama Gate in the north.
A typical visit to Mysore Palace can take about 2 to 3 hours to see all highlights and be done with a guided tour.
The entry fee is INR 70 for adults and INR 30 for children between 10 to 18 years of age. The entry is the same for Indian and foreigners. It is possible to park your vehicle at the palace premise that cost 40 Rupees for cars and 20 Rupees for two-wheelers.
Online entrance pass can also be booked on Mysore Palace official website.
If you are visiting on a Saturday or any other special day when there are chances of more people showing up, it is recommended to buy an online pass as ticket counter can be a little crowded. It is possible to get a ticket from the counter at any time between 10 am to 5:30 pm.
Hotels Near Mysore Palace
Since it is located in Mysore city — one of the biggest towns in Karnakata, there is no dearth of hotels and guesthouses nearby. It is also possible to stay in Bangalore as the distance is less than 150km, and Mysore can be very well travelled on a day trip from Bangalore.
Alternatively, if you want to stay as close to Mysore Palace as possible, here are a few suggested hotels located in under 20 km radius.
The Quorum. Location: 2257/1 Vinoba Road | Distance: 2.7km
Fortune JP Palace. Location: 3, Abba Road Nazarbad | Distance: 2.5km
Royal Orchid Metropole Hotel. Location: 5 Jhansi Lakshmi Bai Road | Distance: 2km
Pai Vista. Location: Bangalore Nilgiri Road, Opp suburban Bus stand | Distance: 1.5km
Hotel Sandesh The Prince. Location: Nethra Nivas Nazarbad Main Road | Distance: 1km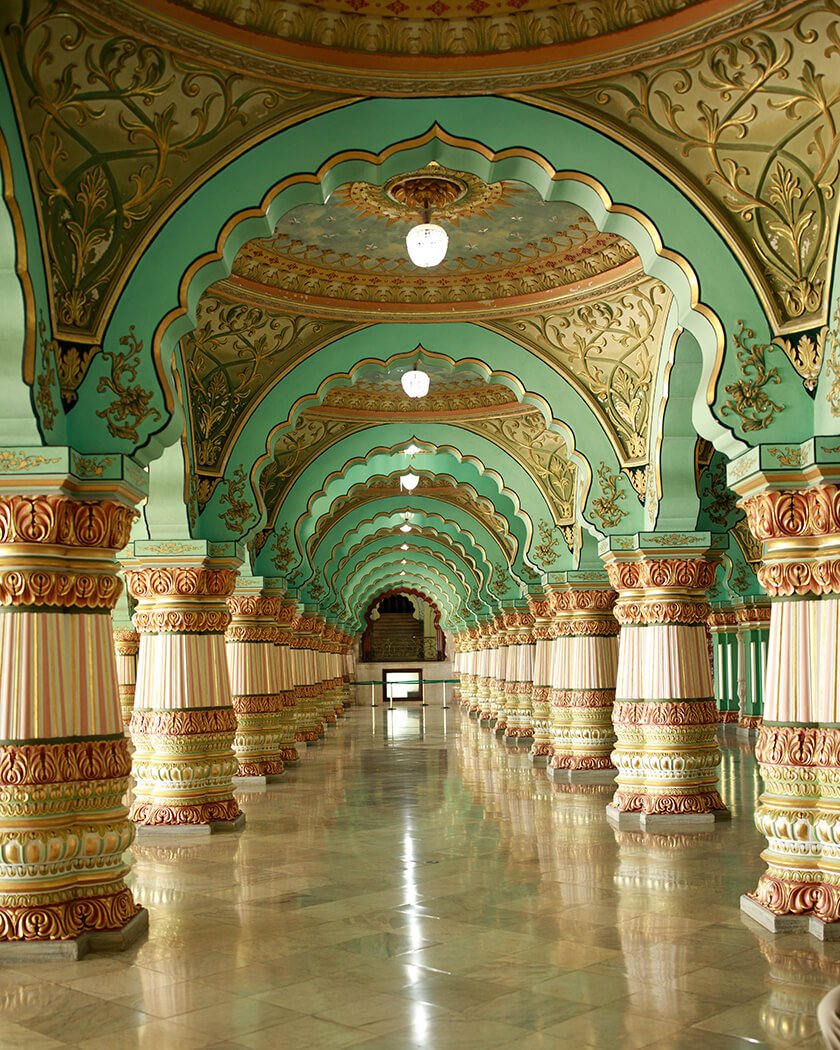 Mysore Palace Light and Sound Show
Other than the normal tour, the 45 minute light and sound show depicting the 400 years of history of Mysore city also worth an experience. It takes place every evening, except for Sundays and public holidays.
In Kannada, the light and sound show takes place from Monday to Wednesday between 7.00 PM to 8.00 PM, and on Saturday between 8.15 PM to 9.15 PM.
In English, the light and sound show takes place from Thursday to Saturday between 7.00 PM to 8.00 PM.
The ticket for Mysore Palace light and sound show is INR 90 for adults and INR 40 for children.
Best Time To Visit
The best time to visit the palace is around the time of Dussehra when the entire compound is beautifully decorated and lit in a golden hue. Though the palace is lit every Sunday and on public holidays too the fact that it remains closed, makes it impossible to see it from close.
During Dusshera, the entire place is lit and you can enjoy it from up close.
Speaking of the best season, however, the best time to visit Mysore Palace and Karnataka is during winter.
Since Karnataka has coastal weather it remains pretty hot and sweaty throughout the season. Sinter months of November to February is when the temperature is at its lowest, making it easy to travel around in the open.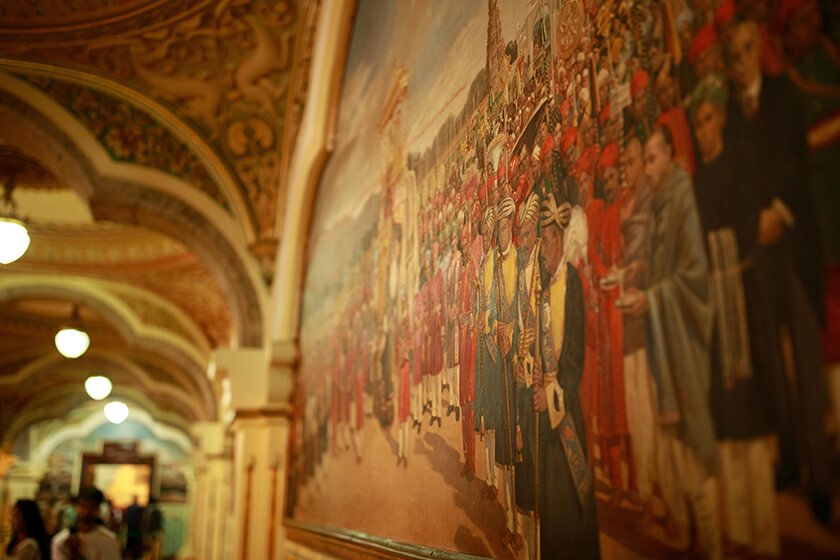 Mysore Palace Dussehra Celebrations
Also known as Vijay Dasmi, Dusshera celebration is the grandest in the palace. Celebrated every year in autumn for about 10 days, this is when you can enjoy parade marches by elephants and many music and dance shows.
The entire palace is moreover decorated like a bride, attracting tourists from across the world.
Members of the royal family, as well as special guests of honour also attend the ceremony.
Other Useful Information
Because I was an invited journalist, I had special permission to do photography inside Mysore palace. The general public, however, isn't allowed to carry their DSLRs.
You will, moreover, be asked to remove your shoes. There are safe lockers though to keep the shoes and camera etc. The lockers for keeping shoes charge INR 2 per pair.
It is possible to hire a guide for around 500 Rupees, right outside the palace gate, near parking. Additionally, audio kits are available in Mysore Palace in many languages.
Looking for more tips on what to see and do in Karnakata? Read this detailed Karnakata travel guide
Photos used in this Mysore Palace blog belong to Jinson Abraham who was our official photographer for the trip. You can get in touch with him on his Instagram channel.