This Angkor Wat travel guide with tips on how to best explore it is all you need. Also, find out what are the famous Angkor Wat temples.
Visiting the ruins of Angkor Wat is on every traveller's bucket list. This was the centre of the great Khmer empire that once ruled most of Southeast Asia. Though the civilization got extinct later, its identity, for its rich history and culture always stayed in news.
The temples of Angkor are among those highlighted tourist attractions in Cambodia, that compel many tourists to visit Cambodia in the first place.
I spent five days in Siem Reap, out of which three days were totally dedicated to exploring Angkor Wat.
Before you start your Angkor Wat temple tour, getting a guidebook and reading it is always a good idea because if you will have some knowledge about the place before you actually get there, you'll be able to appreciate it much more.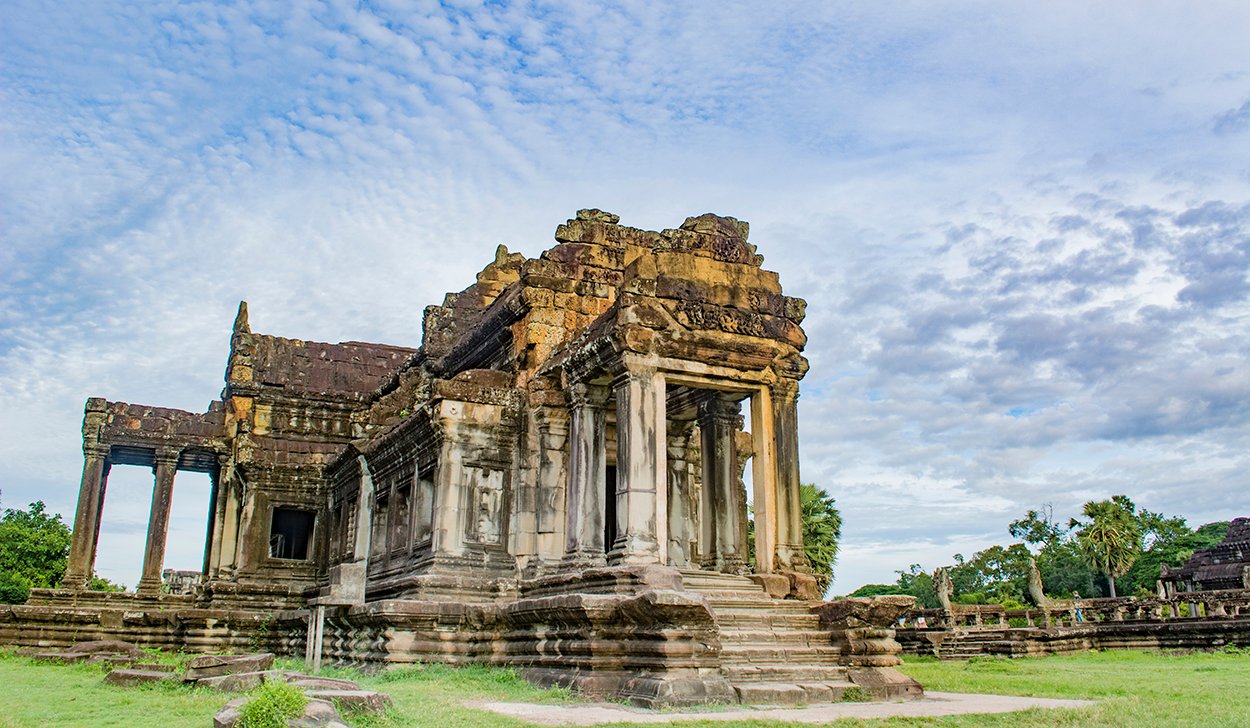 Famous Angkor Wat Temples: Travel Guide
Now Let's start with what to do, where to stay, entry ticket costs and other things.
Angkor Wat Temple Ticket Price
There are 3 types of tickets.
The Angkor Wat temple ticket price is USD36 1-day ticket, USD62 3-day ticket, and USD72 7-day ticket (prices as of May 2020 | check this website for updated price).
A 3 or 7-day Angkor Wat ticket can be used on non-consecutive days but within a month. You need the ticket to get into some of the larger and more famous Angkor Wat temples, as well as to gain entry into the Archaeological Park itself. This means, if you do not buy the ticket, you cannot even see the temples from outside, or even access the 400 square kilometre area of the entire Archaeological Park.
Is Day Angkor Wat Ticket Better or 3 Days?
I know the 1 day Angkor Wat ticket price looks luring and you want to buy it and save yourself some money. I was confused about it too. But since I wanted to see most of it on a bicycle and click as many pictures as possible, I opted for a 3-day Angkor Wat ticket.
A 1-day Angkor Wat temple ticket may just be enough for you if you just want to quickly scan some famous Angkor Wat temples and are doing your tour on a tuk-tuk.
Moreover, since the entire area is massive and you cannot see it all, even in 3 days, 1 day gives you just enough time to get a feeling of the temples.
In 1 day, you can catch a glimpse of almost all the temples in the inner circuit, and a few famous ones on the outer circuit.
So unless you're really interested in knowing the history and want to explore the temples thoroughly over a 3-day or a 7-day period, go for the 1-day Angkor Wat pass and be happy about it. But make sure that you hire a tuk-tuk to use your day efficiently.
Also, buy your ticket a day before, to avoid wasting your time in the morning and make sure you catch the sunrise at one of the temples and not at the ticket counter.
Here's the Angkor Wat temples map:
[Also: If you want to know how much a holiday in Cambodia can actually cost, read my travel costs for the Cambodia guide. And here are some top 7 money-saving tips for Cambodia.]
Useful Travel Tips
Start early With Your Tour
Watching the sunrise at one of the temples is no less than a Things-To-See-Before-You-Die experience. I personally found it the highlight of my entire experience – better than ticking some famous Angkor Wat temples.
The temples' grandeur can only be best seen silhouetted against a rising morning sky.
And there are more reasons to do the tour early morning, one is the general fact that historical monuments always look a little more appealing with the brightening morning sky; and second, it might just be too hot to enjoy the beauty of the Angkor complex during the noon.
So start early in the day, and take a rest during the afternoon.
Avoid The Tuktuk If You Have A 3 or 7 Day Angkor Wat Ticket
Unless you're in a rush and you have bought 1 day Angkor Wat ticket, I would recommend you avoid a tuk-tuk and rather explore the complex – after researching a bit and creating a perfect route plan – on a scooter, or a bicycle.
The entire Archaeological Park is surrounded by jungle and has many jungle routes and shortcuts to commute from one temple to the other. If you have the flexibility of a two-wheeler, you can explore these routes and try the entire temple hopping experience like Indiana Jones.
Do not, however, forget to buy a bowler hat to get into the proper attire.
It's true that you won't be able to hire a guide if you're on a bicycle, but if you will study the map a little a day before, and prepare your route map in advance, you will be better off without a guide.
I did not hire a guide either, yet most of the time I knew where I was going.
Make A List Of Famous Angkor Wat Temples To Visit
Getting around the entire Archaeological Park can be confusing, and choosing which temples you don't want to miss can be bewildering.
Of course, you don't want to miss the famous Angkor Wat temples which include the Bayon and Ta Prohm, among a few others – it would help you a great deal if you research a little about where all you want to go.
The archaeological park is spread over 400 sq kilometre distance with a number of different temple complexes, and most tourists often find themselves directionless, soon after they finish visiting the famous Angkor Wat temples.
Also, as I said above, if you only have a 1 Day Angkor Wat ticket you cannot see many temples located in the outer circuit. So stick to temples that are located in the inner circuit. Similarly, do some research and make a map before you start exploring.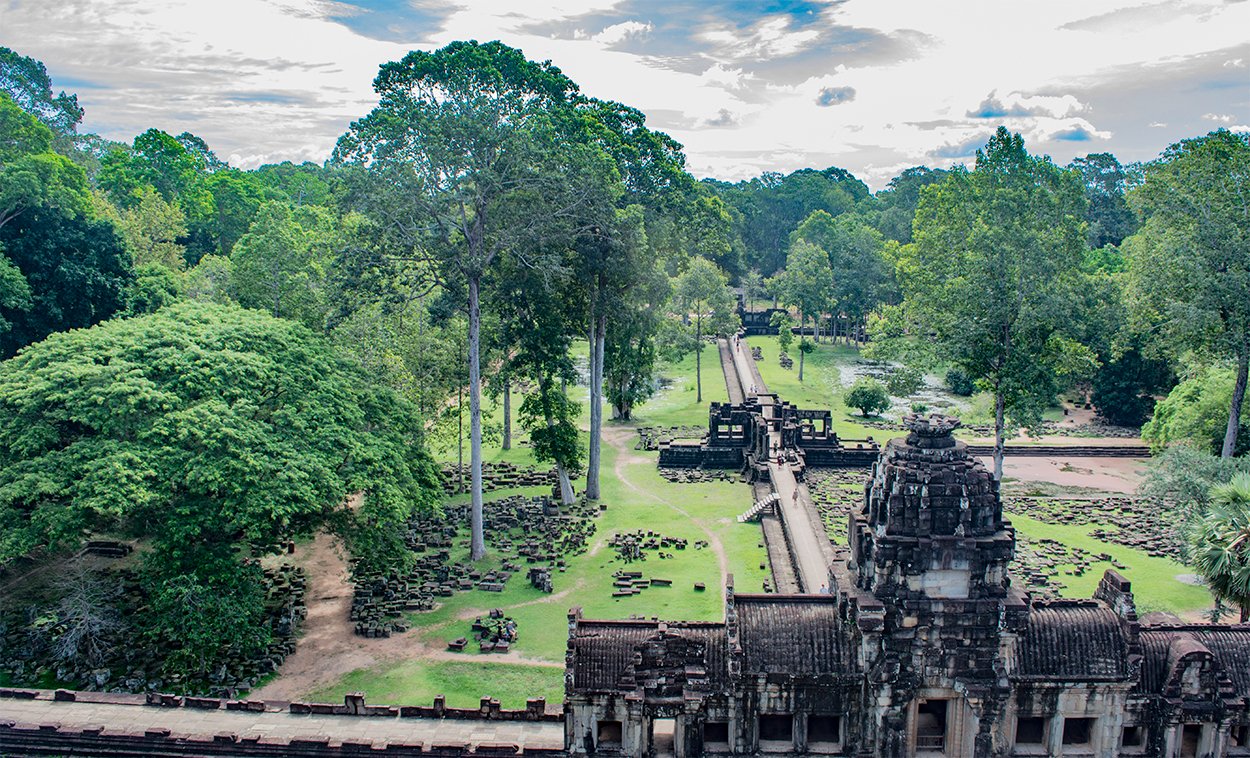 Moreover, it will work in your favour if you had decided not to follow the usual 'circuit' and rather mix it up, to avoid the crowds.
Famous Angkor Wat Temples
Where every temple is different and has its own significance, some of the most famous Angkor Wat temples you don't want to miss, include Angkor Wat, Bayon, The Baphuon, Terrace of Leaper King, Ta Keo, Ta Prohm, Banteay Kdei, Pre Rup, Preah Khan and Banteay Srei.
Whether you're in Cambodia for a day or a month, make sure you have time for the Angkor Archeological park it deserves – for all the temples are amazingly beautiful and offer an experience that no other place, no city of ruins, around the world offers.
So take some time out, and rest assured, visiting the temples here will be the highlight of your entire Southeast Asian trip.
How To Travel
Since Angkor Wat temples are located very close to Siem Reap, you will have to travel to Siem Reap first (and stay there) to visit the Angkor area.
You can find flights (to Siem Reap) from across Asia and buses from nearby Southeast Asian towns with good frequency. I flew from Bangkok to Siem Reap and it cost me around 70 USD. It is also possible to fly to Phnom Penh and then travel on a bus from Phnom Penh to Siem Reap.
If you want to travel on a budget, however, you can also catch a bus from Bangkok, Hochi Manh and other places. It is possible to do the immigration, and even get a Cambodia Visa on Arrival if you are entering Cambodia by land.
You can know more about visas on the Cambodia Embassy website.
Unfortunately, there is no railway line in Cambodia.
So yea, if Thailand or Vietnam, you can travel on a bus and save money. If you are coming from some other country that does not share a border with Cambodia, then take a flight to Siem Reap.
Here's a 3-Day Siem Reap Travel Itinerary if you're looking for more tips beyond the Angkor Wat temples.
Best Time To Visit Famous Angkor Wat Temples
The best time to visit Angkor Wat temples or Siem Reap is in winter. Between November and March is when the temperature remains most pleasant.
Monsoon is also a good time to visit if you do not hate rain very much. Weather in Siem Reap is coastal, so be prepared for a lot of heat, sweat and sun.
If you are visiting other places in Cambodia, here's my Cambodia Travel Guide