Bodhgaya – the birthplace of Buddhism, the crucible of a new philosophy, the epitome of knowledge and compassion!
Located in the Gaya district, in the Indian state of Bihar, Bodhgaya is a tiny little town where Prince Siddhartha attained enlightenment beneath a Pipal tree, some 2500 years ago.
In terms of blessedness, consider Bodhgaya for Buddhists what Mecca is to Muslims, or Varanasi to Hindus. Unsurprisingly, the town attracts thousands of Buddhist pilgrims from around the world, who come to pray, study and meditate – with some in their flaming red robes, and other, in Turmeric and Saffron ones.
If you have been to Tawang Monastery in Arunachal Pradesh or Namdroling Monastery in Bylakuppe and found significant Buddhism influence there, in Bylakuppe you are going to find even more of it.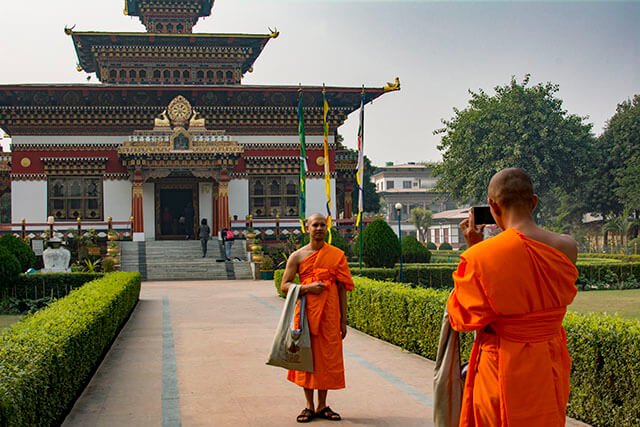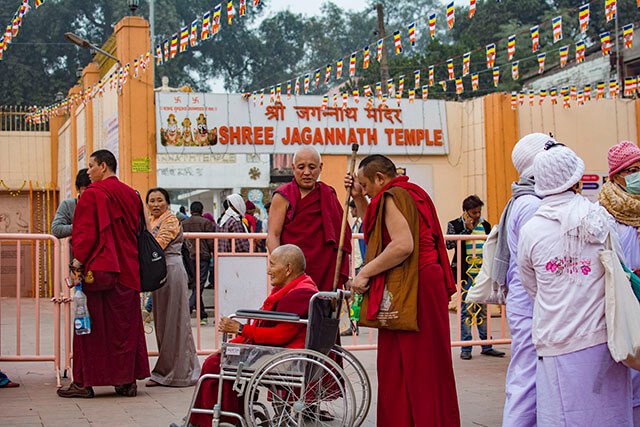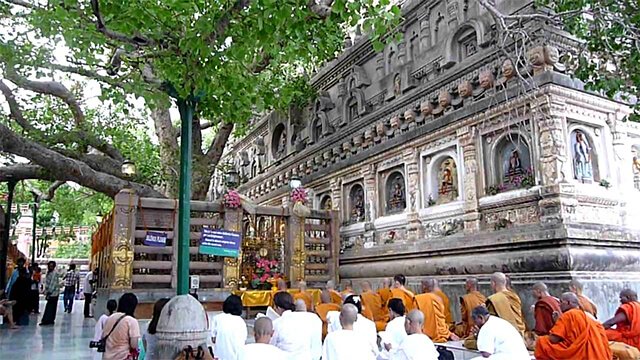 Bodhgaya
Though of course, the most hallowed spot here is the Bodhi tree which flourishes inside the Mahabodhi Temple complex, the many Buddhist monasteries and temples that mark its bucolic landscape, built-in their national style by foreign Buddhist communities, are no less charming.
Every country in the world, which has a Buddhist population, including Japan, Burma, Bhutan, and Nepal, among others, has erected their own version of a Buddhist monastery in Bodhgaya. And the diversity in architecture brought about by them is nothing short of amazing. Walk along the many streets in the town and you will find a mix of monastic tranquillity and a small-town commotion.
No wonder Bodhgaya is fascinating – as the birthplace of Buddhism, as well as a town which offers a multicultural Buddhist experience.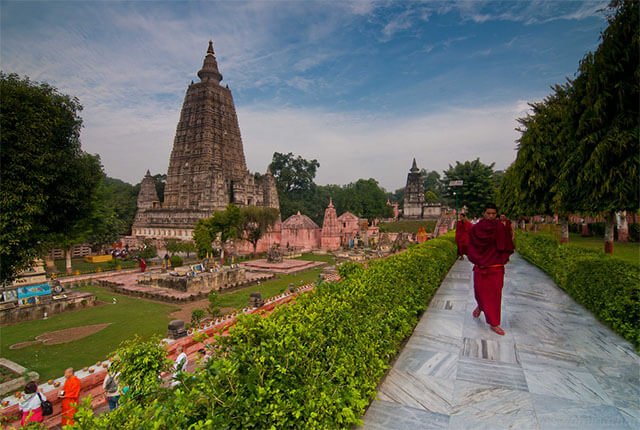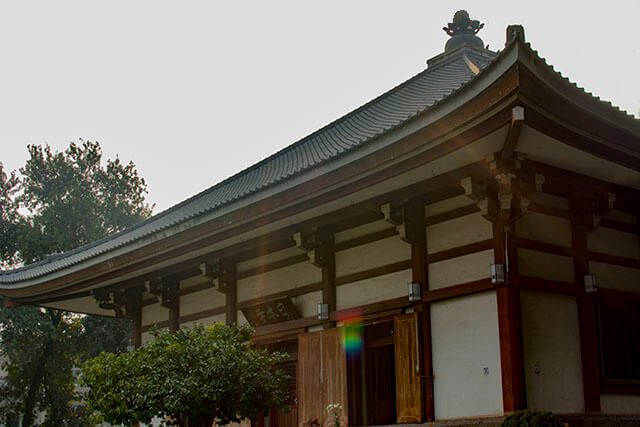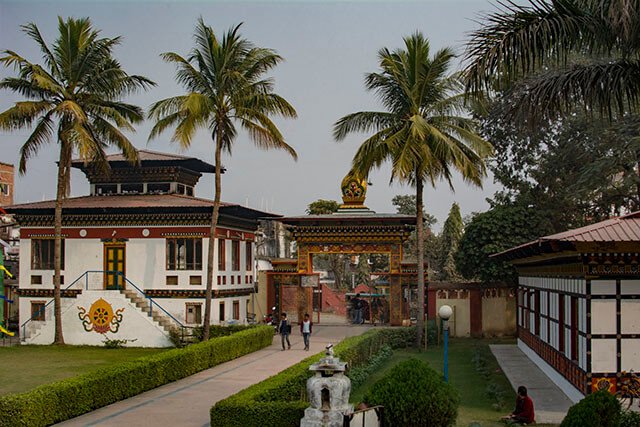 But the scene inside the Mahabodhi temple entertains no distinctions and rather favours only one idea and follows a universal god. Here the many modern pilgrims, representing different worlds, can be found practising meditation or devotional exercises at the very place where the Buddha himself did.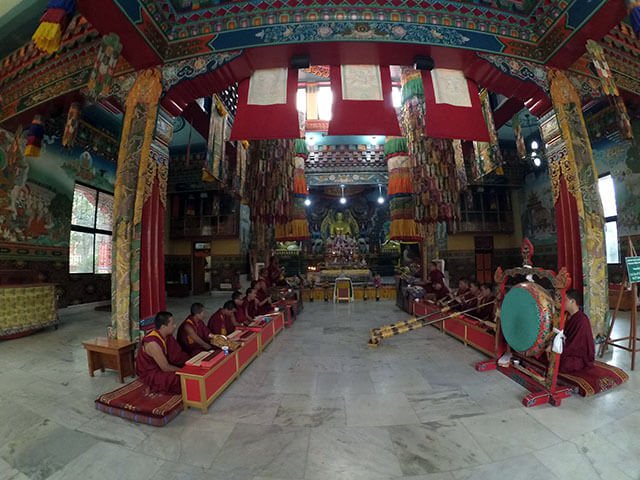 Though many Buddhists, across the world, travel to Bodhgaya, and moreover to India, only to spend a few days by the sacred Bodhi tree and pay their tributes to its temple complex – my visit, to my guilt, took place because I was so close from it.
From the streets of Varanasi 'the spiritual town of India', Bodhgaya is only a few hours' drive away. Take the late-night train/bus from Varanasi, and the next thing you know is that you're already here.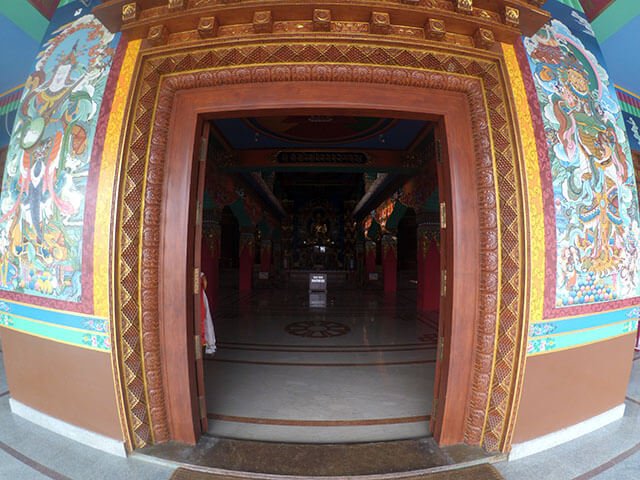 Before I travelled to Bodhgaya, I expected the town to be no different from Mcleodgunj Dharamshala – where a bunch of Buddhist monks can be found rotating a prayer wheel, while chanting their favourite mantra, and representing a long-lost community.
"One day to explore the monasteries would be enough," I remember saying. But as I arrived here, and found myself lost in a place, representing different cultures, and following different routines, I realised that one day was perhaps not enough to travel to Bodhgaya.
Therefore for you, my fellow travellers, my suggestion would be to dedicate at least a couple of days to explore, understand, and feel the spirituality and the innate peace that Bodhgaya brings to the soul.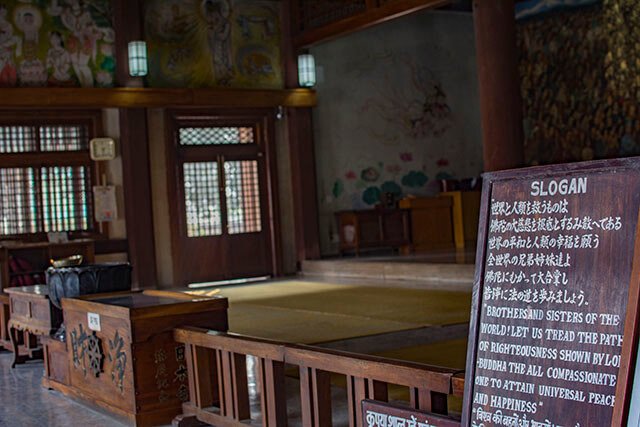 Now let's talk about some useful tips on how to travel here, what to do, where to say and so on and so forth.
I also suggest you check this Incredible India website page that talks more about attractions in Bodhgaya in great detail. Since it is a government website, you can rely on the tips and suggestions provided.
Useful Travel Tips
Where is Bodhgaya?
It is located in Gaya district in the state of Bihar, almost 1000km east of New Delhi. Speaking of its position, it is located by the bank of river Niranjana.
The total number of monasteries in Bodhgaya
If you are wondering how many monasteries we have in total and from which countries, the total number is over 60, out of which more than 55 are foreign Buddhist monasteries. They are from countries like China, Thailand, Cambodia, Vietnam, Myanmar, Tibet, Japan, Bhutan and other countries.
Which are the most famous monasteries in Bodhgaya?
Though all monasteries are worth exploring, some of the most famous ones are Mahabodhi Temple, Thai Monastery, Royal Bhutan Monastery, Indosan Nippon Japanese Temple, Chinese Temple, Burmese Vihara Monastery and Vietnamese Temple.
How many days are enough to see Bodhgaya?
It depends on how much of it you want to see. If you only want to quickly scan all monasteries, 3 days are enough. If, however, you want to do more than just quick scanning, you may need a week. A minimum of 2 days is certainly required to get a hang of the place.
What is the best time to travel to Bodhgaya?
The best time to travel is the winter months of December to February. This is when the temperature remains most pleasant. Other than this, you can also travel to Bodhgaya during the monsoon season, given you don't hate getting wet.
I also suggest you visit the monasteries early in the morning – especially the temple with Bodhi Tree – as most places get very crowded during the day.
Nearest airport from Bodhgaya.
The nearest airport is at Gaya (17 km) with regular flights to and from multiple cities. But flights to Gaya airport can be expensive. If you are looking for cheap flights, fly to Patna airport (120 km) and take a bus from there.
How to travel from Delhi to Bodhgaya?
Other than flying to Gaya or Patna airport, you can travel on a train. The nearest railway station is in Gaya (the name of Gaya Railway Station) with regular shared tuk-tuks and taxis to Bodhgaya.
Regular bus service is also available from Varanasi, Patna, Kathmandu and other prominent towns in India that are around 500km away from Bodhgaya.
How far is Bodhgaya from Gaya train station?
From Gaya train station, the distance is almost 17km.
How to travel from Gaya or Gaya railway station to Bodhgaya?
Since the distance is less than 20km (or a half an hour's drive at max) you can hire a shared taxi or a tuk-tuk and travel. There are frequent shared taxis and tuk-tuks available between the two destinations. It is also possible to hire a private taxi from Gaya.
Is Bodhgaya safe to travel?
Yes. From families to solo female travellers in India, it is a very safe place to travel to. Though the state it is located in (Bihar) does not have a very good image and has a very high crime rate in the country, this city is quite safe. Local authorities have made efforts to keep crime at bay because of all the foreigners who come here.
Best hotels in Bodhgaya.
It is possible to stay at one of the monasteries. Some of the best hotels, however, are Sakura House, Marasa Sarovar Premiere, Monika Mansion, Hotel Orchid, Regency Hotel, Maya Heritage Hotel, Hotel Bodh Vilas, and M K Plaza.
The best place to meditate is in Bodhgaya.
Hands down, the sacred Mahabodhi Temple.
That's all in this travel blog. If you have more questions, please write them in the comments below and I will get back to you asap.