I remember the first time I visited Igloo village Sethan, back in 2016, it was like just another town around Manali housing nothing more than a few guesthouses.
But Sethan had more to offer than just the traditional stay. After all, it has an elevation of 800m higher than that of Manali. It gets more snowfall than any other town adjoining Kullu Valley. Here, opportunities (when it comes to snow activities) were many.
So yea, back in 2016, Sethan had nothing beyond a few guesthouses. Then in 2017, one of the locals built the first Igloo in the entire Manali, or Himachal Pradesh for that matter.
The town picked up popularity in 2018 when all major news channels in India, including Times of India, LiveMint, and Tribune India, among others, wrote about the place. According to Financial Express, Sethan is the first place in entire India to offer an Igloo experience.
And that was it, Sethan, as a destination picked up overnight.
What To Expect From Igloo Stay In Sethan, Manali
In one sentence: getting the arctic feel in the Himalayas in India.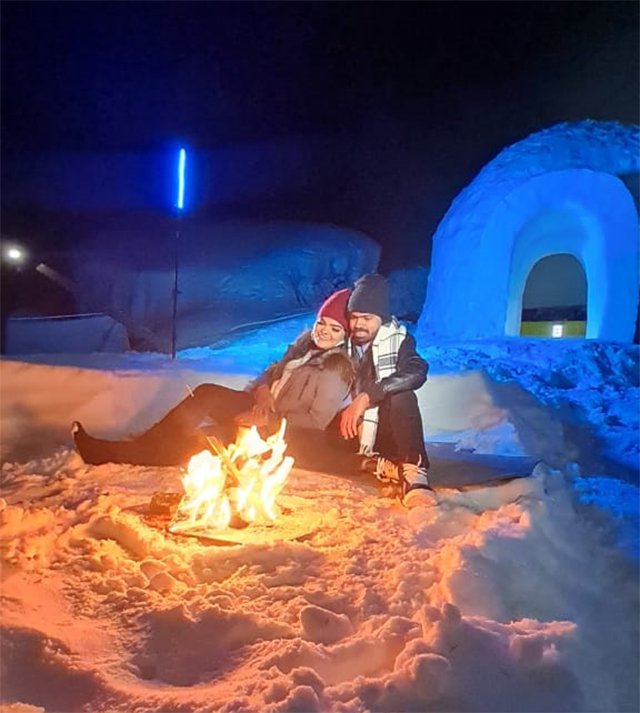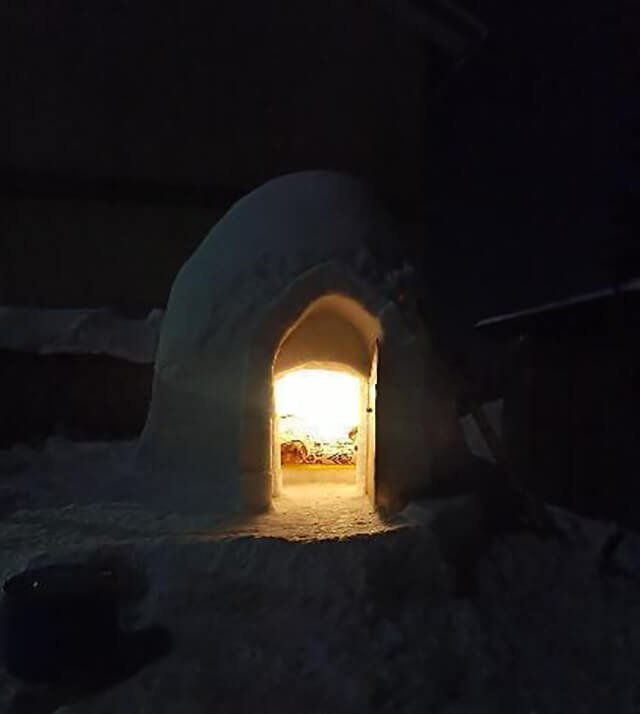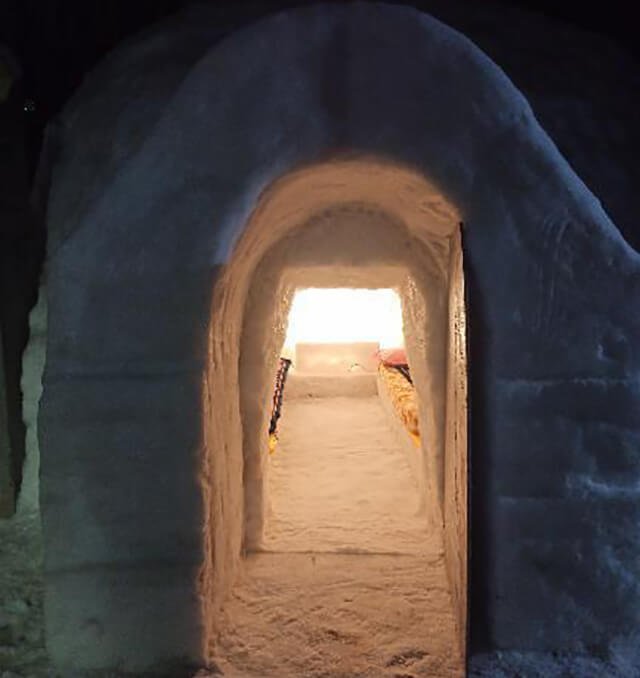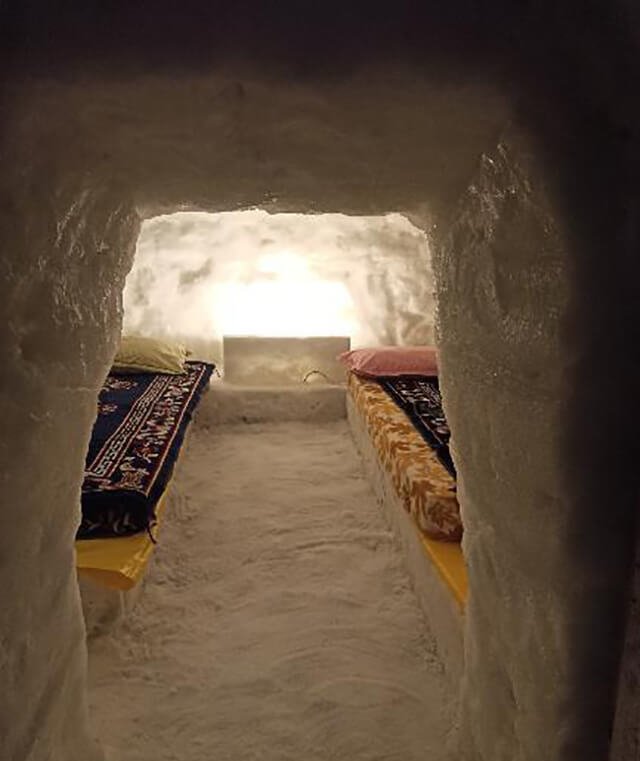 To book a place, please leave a message on Instagram.
Staying in Igloo is an experience of a lifetime. I won't call it a very luxurious feel but it will be comfortable enough for sure.
During winter, the temperature in Sethan village can drop down to minus 20 degrees, however, inside the igloo, the temperature remains somewhere between 0 to minus 10-degree celsius because of the body heat. The inside of the igloo is, always comparatively warmer. Why? Because the air can't circulate very well inside the ice crystals, the heat remains trapped inside.
It is not going to be warm enough for a t-shirt, however, it will be much warmer than being outside of the igloo.
Again, I won't call staying in an Igloo in Manali a very luxurious experience but it will be comfortable and adventurous enough. It will create memories for a lifetime. I mean camping out in summer is one thing but staying inside of an Igloo, when everything around you is cold and snow-white, is a different experience. There is something magical about it.
To make it better imagine the cosiness of staying in the tiny igloo with bonfire and barbeque meals waiting outside. To add to the experience, there are adventure activities like snowboarding and skiing to try as well.
How Many Igloos In Sethan?
In 2018, there were only 2 people making and offering Igloo experience in Sethan. But when the town made news, more and more locals started building them.
In 2021, there were as many as 7 different vendors providing the igloo stay in Sethan. Each vendor had 3 to 4 igloos and they all had a different price (for a night) and offerings. Some were into day trips with others were into basic stay.
Only a few of them, including us, provided a complete 360-degree experience, including stay, adventure activities like snowboarding/skiing, tubing, snowman-making, and group bonfire in the evening.
Manali Igloo Stay: A 2 Day Itinerary
As I mentioned above, I recommend this experience for just a few days. A 3-day/2-night itinerary with a few adventure activities combined would be the ideal way to go about it.
Day 1
Arrive Manali and start your journey towards Sethan. Sethan is located 15 km from Manali Mall Road. It is possible to take a taxi or drive all the way to Sethan.
Arrive by lunch. Savour your tastebuds with delicious food.
Use in-house amenities like common washrooms and charging points to settle down.
Witness the mesmerizing sunset along with the views of the snow-capped mountains from the comfort of your campsite.
Try snowman-making around sunset, while we prepare for the campfire and music for you.
Day 2
After breakfast, move to our adventure activities area and try snowboarding/skiing. Those who are quick learners can, with the help of our instructor, master basic slopes in just a few hours of practice.
Get some photos and videos clicked before moving back to our location for lunch.
Post lunch, we have tubing in the itinerary.
If you want to skip tubing, and if the weather allows, we can go for a short hike as well.
Once done, return to the basecamp for the evening snacks and dinner.
Group bonfire is included in the itinerary on Day 2 as well.
Day 3
Head to the parking area after breakfast and be ready to depart.
We may ask you for some happy group photos before you leave though!
A minimum of 2 people are required to book this itinerary.

Please whatsapp at 8285695030 for booking/enquiry.
Alternatively, please connect on Instagram.
Unless you are in hurry, we strongly recommend our 3-day/2-night itinerary for Igloo stay that comes with a few adventure activities including snowboarding and snow trekking. Alternatively, for hurried tourists, we have a DAY TRIP as well as a 1 NIGHT STAY available. And here are the details…
Day Trip
Enjoy the Igloo site for about 2 hours with access to the inside of the Igloo. A cup of chai will be served on-site.
1 Night Stay
Arrive at our Sethan Igloo site by lunch. You will be welcomed with a hot cup of tea followed by veg meals for lunch. Savour your tastebuds with delicious food.
Use in-house amenities like common washrooms and charging points to settle down.
Witness the mesmerizing sunset along with the views of the snow-capped mountains from the comfort of your Igloo site.
Try snowman-making around sunset, while we prepare for the campfire.
Enjoy adventure activities like skiing/snowboarding and ziplining.
Again, to book, please connect on Instagram or whatsapp at 8285695030.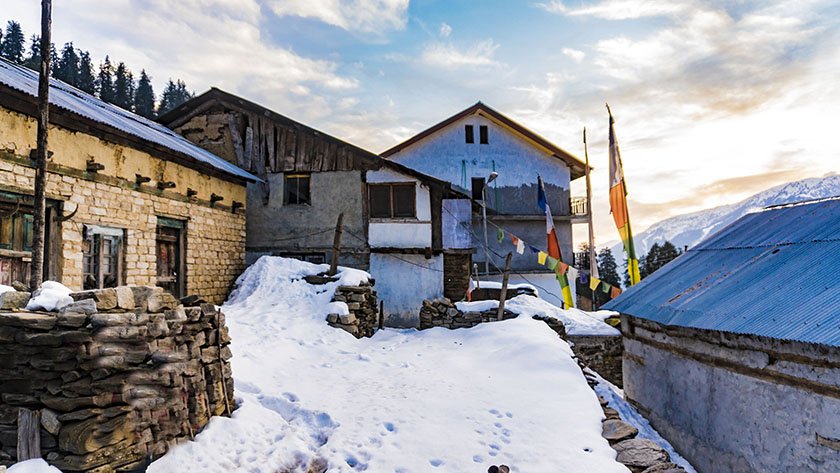 How To Reach Sethan
It is easily accessible from Manali, throughout the year. Get a night bus from Delhi to Manali, and from Manali, readily available taxis can take you from Manali to Sethan.
If you're driving, however, you don't need to go to Manali, just take the old Kullu Manali highway (from Kullu), also known as Naggar Road, and reach Prini. Prini is located 3 km before Manali and can be navigated on Google Maps.
From Prini, you will find a road bifurcating (and going uphill) on your right. That road goes towards Hamta Valley, towards Sethan. Just keep following the road for the next 12 km (and 35 hairpin bends) and you will reach Sethan village.
For easy navigation, search for 'Footloose Camps' on Google maps. Or contact me on Instagram: instagram.com/footloosecamps, and I will be happy to navigate you through!
View this post on Instagram
Useful Travel Tips
I have seen a lot of people searching for Sethan Valley on Google. Please note that there is no valley called Sethan Valley. The valley where Sethan and the Igloos are located is called Hamta Valley. It is the starting point of the popular Hamta Pass trek.
To give you a better idea, Hamta Valley rises perpendicular to Kullu Valley. Think of it as a high mountain pass that connects Manali in Kullu Valley to Kaza in Spiti Valley.
Unlike in Manali, here you won't find much to see and do. There are no popular temples or waterfalls. It is a small village meant for those who appreciate the idea of slow travel. If you're one of those people who visit mountains to relax and unwind, this is your kind of place. If, however, you're looking for things to see and do, you may get disappointed.
There are no cafes in the village but just a couple of dhabas where you can find things like Maggi and Parantha.
The entire ambience is very village-like — no fancy shops, no cafes, no vibrant crowd.
It is also possible to do a day trip to Hamta Valley. Just catch a taxi from Manali, spend a day lazying around, or try the adventure activities and return.
It is also possible to do a day trip in one of the igloos in Sethan, click a few photos and return to Manali (or your respective) location.
Taxis from Manali to Sethan take somewhere between 1000-3000 Rupees, depending upon the kind of taxi (a 9-seater or a smaller 4-seater). If it's a peak season and most taxis are already booked, they may charge extra. It may also cost more if there's a lot of black-ice on the road and a 4×4 car is needed.
There are no ATMs in Sethan. However, most people, including us accept Google Pay and other forms of digital payment. No credit/debit card payments are accepted.
There is no phone reception in Sethan Village. Most places, however, including ours, have wifi.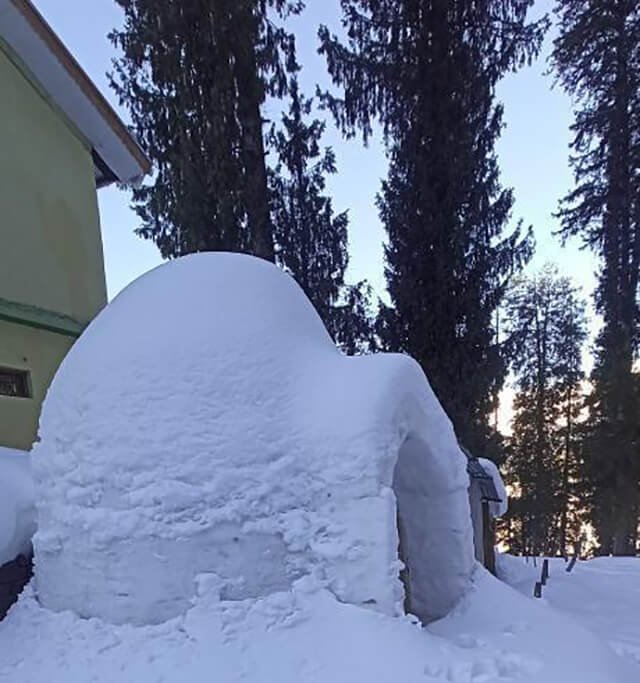 That's all in this blog on Manali Igloo stay. If you want to book a stay in Igloo, or just do a day trip to Sethan, please connect with me on Instagram or send an email (at deveshjoshi1990@gmail.com) and I shall get back to you.