Planning for Hampta Pass trek (also spelt as Hamta Pass) and looking for an itinerary, a route map and other details like how much a paid tour costs? This travel blog is for you!
Back in the days, Hampta Valley was a mere passage for horse-herders and shepherds to travel between Kullu Valley and Spiti Valley. But of late, it has become one of the popular trekking destinations.
Connecting Manali and Chandratal, it has become one of the best-selling treks for tourists visiting Manali.
But it wasn't so until 2016. I remember when I first visited Sethan village (the last village on Manali side from where the trek begins) there were hardly any day-trippers to be seen in Sethan, let alone trekkers trying a 5 or 6-day itinerary to Hampta Pass.
Then something happened in 2018, and most of the popular adventure tour companies like Thrillophilia and AdventureNations, among others, started organising Hampta Pass tours. Soon, tourist inflow increased in the valley and it became one of the most popular tourist places in Himachal Pradesh.
The Hampta Pass trek is particularly popular among tourists coming from Delhi and Chandigarh.
Hampta Pass: An Overview
Located in the Pir Panjal range, the top point of Hamta Pass lies at an altitude of 4270m above sea level. As mentioned above, it is a small corridor that bridges Manali in Kullu Valley to Chandratal in Lahaul and Spiti Valley.
As per Wikipedia, the name of the pass has come from Hampta Village located right below Sethan Village.
Other than seasonal trekkers, the meadows and grasslands Hampta Pass are used by shepherds too, seeking high altitude grasslands in summer.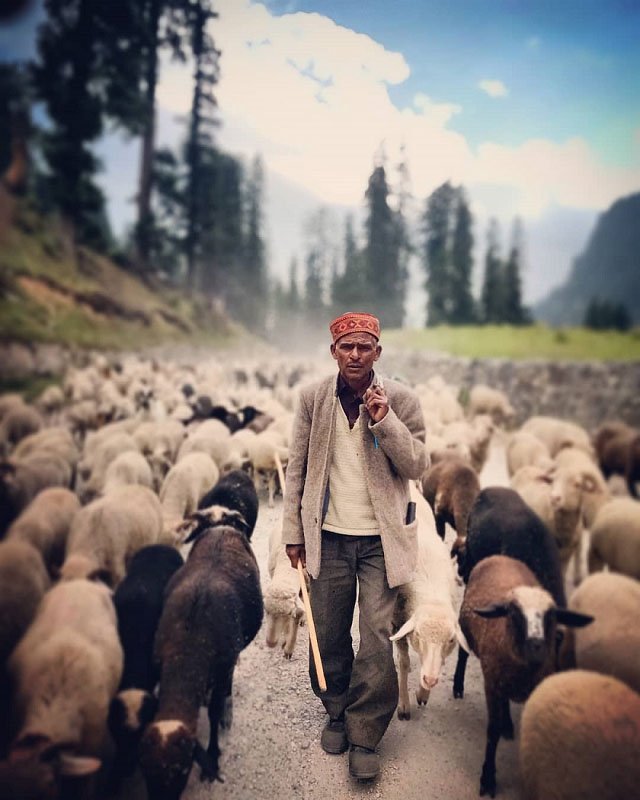 Hampta Pass Trek Itinerary
There are two different itineraries you will find online for the paid tours: 4-day and 5-day.
The one that is for 4-days doesn't take you to Chandratal. Your journey begins from Manali in a car/jeep. From Zero point in Hampta Valley, the trek to Chhatru, via Hamta Pass begins. From Chhatru (in Lahaul and Spiti) you're taken back to Manali in a Jeep or a car.
However, the 5-day itinerary for Hampta Pass trek takes you to Chandratal. On day 4, when you reach Chhatru, you're taken to one of the campsites in Chandratal (in a car/jeep). You spend a night in Chandratal and return to Manali the following morning.
This is how a 4-day or a 5-day Hampta Pass Trek itinerary differs.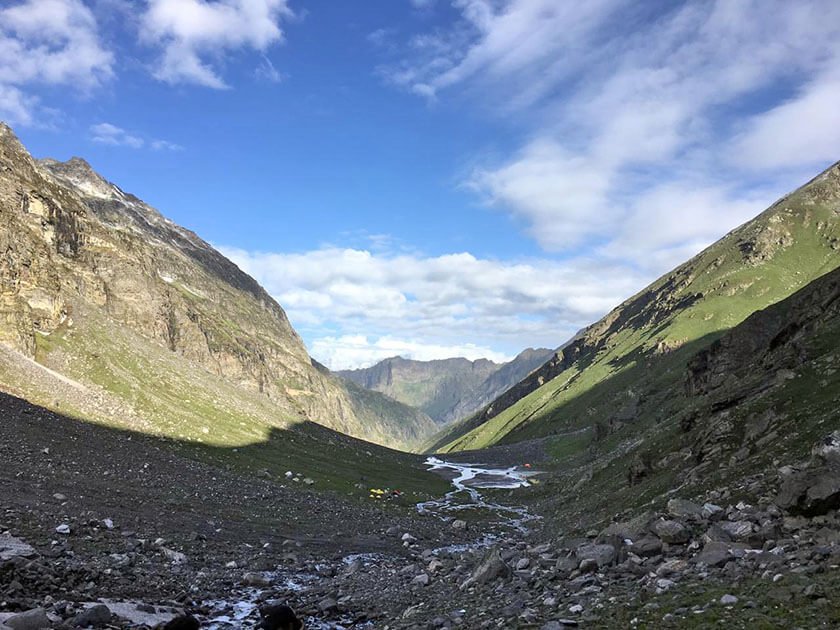 Now let's talk about it in detail…
Day 1: Manali to Chikka
(Manali to Jobri, 1-hour drive. Jobri to Chikka, 3–4 hours): Your journey begins with a short drive from Manali to the Zero point in Hampta Valley, also known as Jobri Nala.
You will pass the town of Prini (on the old Kullu-Manali highway) and Sethan. It is in Sethan that you will find the last few shops to buy some chocolates and biscuits.
The road ends at Jobri. The trek from here after an easy river-crossing. The route will take you through a deep forest of pine and birch trees following a jungle trail. The day's trek ends at Chikka. It is possible that there is a waterfall close to the campsite.
Day 2: Chikka To Balu Ka Ghera
(Chikka to Balu ka Ghera, 6-7 hours): The beauty of your Hampta Pass trek will actually begin after a few hours from Chikka towards Balu ka Ghera as you will slowly ascent along the Hamta river to wide-open meadows.
It is possible that you come across a few temporary shepherd-shelters and your itinerary includes a cup of tea inside one of their huts. If not, you can ask your trek leader to organise such an experience.
It is going to be a little uphill on day 2 so be prepared for it. For most paid Hampta Pass tours, Balu ka Ghera remains the spot for night camping. On a clear day, you get a beautiful view of the Hampta Pass from Balu ka Ghera. I suggest waking up a little early to click a few Instagram photos.
On a cloudy day, however, the view gets screwed up really badly.
Day 3: Balu ka Ghera to Shera Goru
(Balu ka Ghera to Hampta pass to Shera Goru 7–8 hours): As you approach the pass, the trek becomes very challenging. One, because the climb is quite steep uphill. And two, because of decreasing oxygen level at 4000+ m above the sea level.
It takes about 4 hours to reach Hampta Pass from Balu ka Ghera. From the top point, expect beautiful panoramic views of the mighty Dhauladhar range and the snow-capped Indrasan Peak. It is usually windy and cold in the Pass, so most groups don't stay for long.
From the pass, starts the descend to Lahaul Valley. From this point, the valley starts widening up. The campsite on day 3 is going to be the most scenic campsite of the entire Hampta Pass trek itinerary. But again, you need a clear sunny day to experience so!
Day 4: Shea Goru to Chandratal
(Shea Goru to Chatru to Chandratal 7-8 hours): From Shea Goru, the trail further descends and enter into a landscape of boulder and rocks. You will be walking along the left bank of Chandra River for a good part of the trek.
The trek ends at Chatru. From here, Chandratal lake is about 46 km. Tonight's stay will be in Chandratal. From the campsite in Chandratal, the lake of Chandratal is about 1.5-2 km.
TIP: If you were doing the trek on your own and want to visit Spiti Valley, you can take a bus from Chatru to Kaza. There is a daily HRTC bus service from Manali to Kaza that arrives in Chatru around the afternoon. Chhatru to Kaza distance is 119 km. It is also possible to hitchhike as well as find one of the many share jeeps on the route.
Day 5: Chandratal to Manali
(Chandratal to Manali 5 hours): Day 5 of your Hamta Pass journey will take you back to Chatru and then further to Batal (a popular stopover for people doing Manali-Spiti Valley route as there are many Dhabas to eat in Batal).
From Batal, comes Gramphoo and Rohtang Pass. Rohtang Pass is a popular tourist destination overcrowded by tourists looking for places to visit near Manali. Rohtang Pass is always surrounded by thick fog with rain being a certain possibility on the top, so make sure you ask your driver to pack your luggage put on the roof rack in plastic bags.
After Rohtang top, there are many places to eat and rest for a while. A little further ahead lies the beautiful Solang Valley, followed by Manali.
Best Time To Do Hampta Pass Trek
The Hampta Pass trek begins sometime around late April or May and stays functioning until October. Between October and April, the high pass remains snow-covered, making it impossible for anyone to access the route.
It is also not advised to do it during monsoon season, but it remains officially open during the monsoon.
The best time to do Hampta Pass trek is the months of May, June and September.
What To Expect During The Hampta Pass Trek
Speaking of the landscapes, expect a lot of waterfalls, rock walls and lakes on the way.
A large portion of the walk will take you through a rhododendron and pinewood forest. As you exit Hampta Valley and start nearing Lahaul and Spiti, the valley comparatively widens, with very little greenery. Expect more dusty and rocky mountain structures (similar to what you find near Keylong during Manali to Leh journey) in Lahaul and Spiti. Check these Spiti Valley photos for more on what to expect from the landscapes.
You may also come across some rare wildlife on this route, including leopards, Ibex, Himalayan brown bear, Musk Deer, and the Himalayan blue sheep.
What Kind of Fitness Level You May Need
Since the terrain can be challenging, with a mounting pass of over 4200m above sea level to climb, it is recommended that you are physically fit.
You will be walking for about 7 hours on Days 2,3 and 4, with regular uphill and downhill. Day 1 will be a little easy with about 2 hours of trek.
Having said that, the Hampta Pass trek is suitable for either intermediate level trekkers or fit beginners.
That's all in this travel blog. If you have more details to add, please leave a comment below. You can also contact me on Instagram if you have any questions.
Also Read: Valley of Flowers trek itinerary