Due to COVID-19 travel restrictions, local tourist attractions like Mangar (for people living in New Delhi & NCR) are becoming evidently mainstream. Travellers are exploring their own backyard like they never did before.
And the same applies to me!
I first visited Mangar Bani (the sacred hill forest that surrounds the village) a few years ago. And that was it. In a free world, where the Himalayas was only 5 hours away from Delhi, this tiny little forest held no charm for me.
And then coronavirus happened!!
Craving for green spaces around New Delhi, the surrounding hills of Mangar became one of the most precious places for me.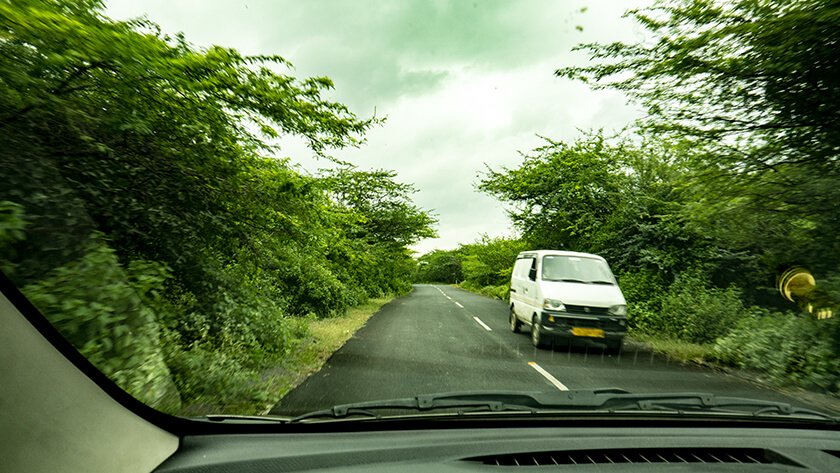 Mangar Village
From outside it looks like any other village in Haryana — with women busy with the household chores behind their veil, kids running around on streets, and men either gone for work or playing cards and smoking hookah in the verandah. To add to the normalcy, cow-dung cakes can be found on the peewee lanes across the village.
So yea, Mangar looks like any other village in Haryana. The only thing that distinguishes it, however, is its placement.
Surrounded by Gurgaon, New Delhi and Faridabad from all three sides, it offers an idyllic village scene right inside the national capital region. From MG Road Gurgaon to Mangar the distance is less than 21 km. From Cannaught Place, in New Delhi, it is less than 35km. From most places in Faridabad, it is about 15km.
No matter where you are coming from in NCR, you can get here in less than 45 minutes, and enjoy a rustic charm, a setting that makes villages popular among city folk.
Street Art in Mangar
Other than an idyllic village setting and surrounding hills and green spaces (that are discussed later in the vlog) you can find impressive street art here.
Though most people who come here often miss the street art, for an intrepid, it is rather a highlight. And adding to its charm is the local life that dwells around.
Most of the Street Art is limited to humble depictions of Gods and Goddesses. But with their grace, they have transformed what may seem like just another village in India into something totally spectacular.
If you are into graffiti street art, walking across the many peewee lanes of Mangar village is certainly a thing to do.
While most people believe there's no rival to the street art of Lodhi Colony in Delhi if you will ask me, street art in Mangar just happens to be one.
If you are wondering who did all this graffiti, then let me tell you that it's the 37-year-old Ravinder who was born and brought up in the village itself. Ravinder now works at the popular Lalit Hotel.
Mangar Bani
'Bani' in local language stands for Jungle, and Mangarbani — the surrounding forest — is considered sacred by the local community. The region is dominated by Dhau trees.
Traditionally, people here always lived in harmony with nature. They believe since everything is derived from nature, the relationship between nature and person is like that of mother and child.
"Mankind thrives on what surrounds us. The man should always respect what feeds him," said Ravinder.
The local people believe that if they cut the trees, or harms the nature in any way, they are doomed. "Gudariyadas baba will get angry if we destroyed the nature around us" added Ravinder.
Legend has it that several centuries ago, Gudariya Baba came to the village and attained enlightenment in a cave inside this forest. Thereafter, the word spread that curse would befall anyone who destroys the trees surrounding Mangar village. People can depend on livestock and jungle and can use them for food. But anyone who tries to destroy them will be cursed. Even today, the villagers guard the forest as they did back in days.
Mangar Bani is also home to a wide variety of wildlife and plants. It is possible to spot leopards, bear, civets and nearly 100 different species of butterfly, in addition to rare migratory birds. The beautiful Dhau forest, that is practically extinct in Haryana and Rajasthan, grows in abundance here.
Let me also tell you that Mangar Bani is perhaps the last green patch between the polluted surroundings of Delhi NCR. It is also here that most of the rainwater is being harvested, in the entire 54,000 sq km of the National Capital Region. Unfortunately, there's too much construction and mining happening around the sacred grove and this needs to stop.
When you are there, I also suggest you visit the Gudariya Baba temple too. It is possible to Google Map to navigate the temple.
What To Do In Mangar
Speaking of activities, one can do hiking, cycling, rock-climbing, bouldering and even adventure motorbike around. The location is picking up charts among families wanting a quick Sunday-picnic too.
Rock Climbing and Bouldering
Off late, many people have started organising rock-climbing and bouldering sessions in the area. It is possible to book a rock-climbing tour at the Lalit Hotel as well as not book anything, show up at one of the rock-climbing sites in Mangar, and do a few hours of crash-course.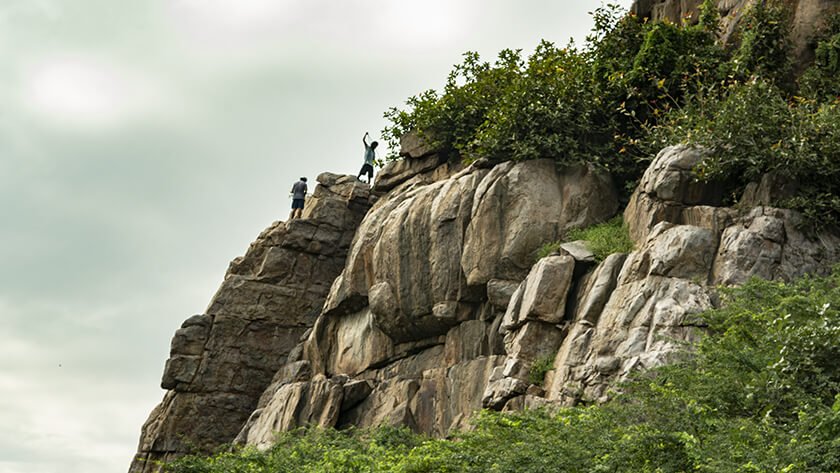 The daily crash-courses start from 1200 Rupees per person. The session lasts for about 5. You will be given all necessary equipment, taught how to rock-climb and be allowed to practice under the supervision of expert professionals.
There are many ideal sites to try rock-climbing in Mangar (spread around less than 2km radius from the village).
Other than rock-climbing, it is also possible to try bouldering.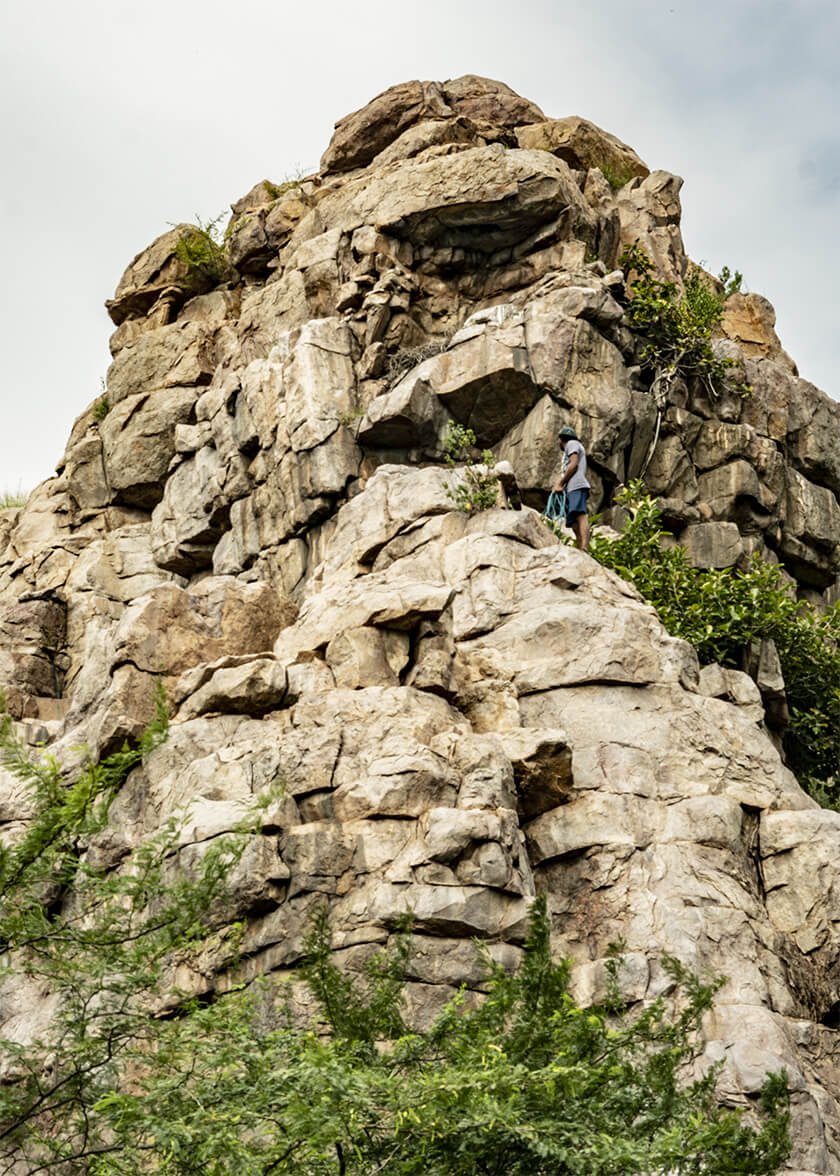 Mangar To Damdama Lake Adventure Trail
For cyclists and motorbikers living in National Capital Region, the 15km Mangar to Damdama Lake jungle trail is no less than a holy grail.
The trail starts with a steep uphill climb, right after Baba Gudariya Das temple (that also happens to be a dead-end for 4-wheelers) leaving adventure riders in the middle of a deep forest with wildlife including leopards and bears. It is believed that there are over 10 leopards in the entire 4000 acres of the Aravali Hills that surround Mangar and the neighboring Asola Bhatti Wildlife Sanctuary. Spotting leopard pugmarks a common thing for those who have the knowledge.
The trail is pretty flat for about 10 km, with the rest of the 5 km having frequent uphills and downhills. At times you will also come across a few village houses where you can refill your water-bottles and rest under the shade.
Also Read: 21 of The Best Places to visit near Delhi
If you are riding a bicycle, it may take 3 or 4 hours to complete the entire 15km trail, given the challenging terrain. Make sure you carry enough liquid and a few energy bars. You can find a tourism resort at Damdama Lake with an in-house restaurant where you can eat and rest.
I did a (nearly) 80km Faridabad to Mangar to Damdama Lake and back (via Dhouj-Pali road) and it took me 10 hours, including the photography stops. If you are doing something similar, start early morning around 6. Breakfast on Gurgaon-Faridabad Highway, lunch at Damdama Lake and get home before sunset.

The best time for motorbiking or cycling in Mangar Bani is between December and February. Monsoon is a not-so-perfect but not-too-brutal time. Rest of the year may feel too hot to cycle or hike.
Wildlife And Birding
The Aravalis is an important habitat for a wide variety of birds, mammals and reptiles, in addition to a rich faunal life.
As I said above, the Mangar Bani is the most crucial native tropical dry forest in the entire National Capital Region. The most common fauna found here is the Kikar (or Prosopis juliflora), that can be found across north India — especially in Haryana and Rajasthan. Other than Kikar, you can find Dhok (or Anogeissus Pendula) Heens (Capparis Sepiaria), Wild Ber (Zizyphus Mauritiana) and Palash (Butea Monosperma).
Mangar Bani is also home to the rare Dhau trees.
Speaking of wildlife, it is possible to spot Leopards, four-horned antelopes, civets, hyenas, Indian crested porcupines, ratels, jungle cats, nilgai and jackals.
Bird-lovers can spot Common Woodshrike, Black-headed Cuckoo-shrike, White-bellied Drongo and White-browed Fantail Flycatcher, among other species that are rare to find anywhere else around Delhi. Out of the reported 500+ different bird species across Delhi and NCR, it is possible to spot close to 60 different species of birds in a day in just 17 sq km area of Mangar Bani.
So yea, if you are into birding and wildlife, be sure to carry your binoculars.
How To Reach Mangar
The drive to this village is rather easy. Take the Gurgaon-Faridabad highway until you reach the road that goes past a forest area. A signboard saying Mangar will help you point out the turn.
Alternatively, Google Map search for it and follow the navigation.
You can also navigate for Gudariya Das Baba Temple, that happens to be the last point for 4-wheelers on this route. Beyond this point, you can access the above mentioned 15km trail to Damdama Lake on a bicycle or a motorbike.
As I said above, from Cannaught Place in Delhi, Mangar Village is less than 35 km. From most places in Gurgaon, it is about 20 km.
Where To Stay In Mangar
There aren't many options for people wanting to spend a night there. The two most popular names are The Lalit Hotel (often known as The Lalit Mangar) and Laksh Farms. Both the places offer a luxury setting with all the modern amenities including indoor swimming pools.
With increasing popularity, however, there are going to be a few more hotels in Mangar soon. In September 2020, I saw a few cafes and guest houses under construction, but they will still take time before they're up and ready.
It won't surprise me if Mangar, just like other weekend getaways from Delhi like Kalagarh gets crowded soon. But even if it does, let's promise ourselves to keep this last bit of Green in Delhi the way it is. Let's all be a responsible tourist.
If you have anything to add in this travel blog or have a question, leave a comment below. You can also contact me on Instagram for a quick reply.
Another destination for wildlife lovers in Delhi: Bhindawas Wildlife Sanctuary