Bhindawas wildlife Sanctuary and the lake including many migratory bird makes for an offbeat day trip from Delhi.
Last weekend happened to be my second weekend at home, with no travelling at all. I was bored and desperately seeking a quick escape from Delhi.
The only thing was, I had only a day to spare (I am leaving for Northeast India soon) and didn't want to go anywhere beyond 150km from Delhi, hence Bhindawas Lake and bird sanctuary – located less than 70km from Delhi – felt like a good plan.
Update January 2020: I am back from northeast India. Two of my personal favorite places I explored on this trip are Manas national park in Assam and the popular Dwijing Festival in the territorial area of Bodoland.
So I called a few friends and asked for recommendations, and a few names that everyone repeatedly suggested were Neemrana, Agra, and Jaipur. No one suggested Bhindawas wildlife sanctuary or the lake around it.
I knew that Neemrana is a good place for those who are staying in Neemrana Hotel, but for day-trippers, it has nothing to offer. To make it even worse, Neemrana charges some 1500 Rupees as an entry fee. Other places like Agra and Jaipur were over 200km away and a long drive was the demotivation.
Later, as the research got a little intense and I started studying Google Maps in detail, I came across this big blue patch that appeared as a pretty decent-sized waterbody. A little more research and I later found that this blue patch was, in fact, an artificial Bhindawas lake made to collect water from two local canals.
Here's a video from my Youtube channel of the entire ride from Delhi to Bhindawas wildlife sanctuary:
Bhindawas Lake Is The Original Bhindawas Wildlife Sanctuary
Bhindawas Lake, which later turned into Bhindawas Wildlife and bird Sanctuary was originally constructed in 2009, to store the excess waters of two nearby canals. Today, the area of the bird sanctuary accounts for a total of over 1000 acres, with an impressive ecosystem for migratory birds.
According to the figures, it is believed that over 30,000 different varieties of migratory birds flock to this place and find a temporary abode.
And that's not it, the place is moreover home to over 250 species of local resident birds that call Bhindawas Bird Sanctuary their permanent home. The number dips during the summer and picks up during the winter.
Unfortunately, I wasn't carrying my DSLR and thus couldn't shoot any birds but just the usual surrounding with my phone.
Developed and funded by the government, the place Bhindawas bird sanctuary houses an interpretation center as well as a museum that provides in-depth knowledge of the place and the bird that visit the area.
Visitors can find watchtowers located at a few places to spot bird action or just soak in the freshness of the place. Those who are not much of bird lovers can also enjoy the peaceful nature of the place and the fresh air.
And since there are many mammals found around too, it is also called Bhindawas wildlife sanctuary. According to Wikipedia, it is an important part of the ecological corridor along the route of the Sahibi River.
Though the place is massive (spread over an area of 1000+ acres) a trip to Bhindawas Lake does not involve too much talking. A nearly 15 km vehicle track that goes all around the lake, in a loop. It is possible to drive a car/jeep, as well as ride a motorcycle along the track.
How To Travel From Delhi To Bhindawas
The total distance to Bhindawas Lake is less than 100km from Delhi and even lesser from Gurgaon. Driving to Bhindawas is easy and takes less than 2 hours from Delhi. The ideal way to get there is in your own car/motorcycle as there is no direct public transport to Bhindawas.
The place is moreover super-easy to navigate on Google Maps.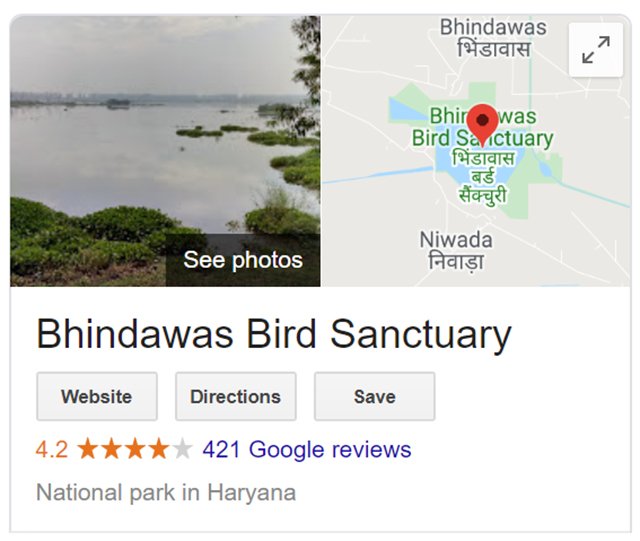 The best time to visit Bhindawas is between November and February when the weather is cold and the maximum number of migratory birds can be spotted.
Have you been to Bhindawas wildlife sanctuary? Or have you heard of it before?
Also Read: Delhi to Kalagarh and Delhi to Barog, two more day weekend trips