Almost 7 years later, when I finally got time to visit Spiti Valley, irony happened. For the entire trip, Manali to Kaza, and back, I had only three in hand. And I wanted to explore Kaza thoroughly.
I had two routes to reach from Manali to Kaza. One, via Rampur, in Kinnaur Valley, but it would take me at least two days to reach Kaza (and four days to get back). Naturally, it didn't fit the timeline. The second — and the more obvious option — was Manali to Kaza via Kunzum Pass.
So before we begin, let's talk about the road conditions…
Manali to Kaza (via Kunzum Pass) Road Conditions
Honestly speaking, and as I write this article in 2023, road conditions in Spiti Valley are bad. Via Kunzum Pass, Manali to Kaza is a nearly 200km distance. If the road conditions are good, it won't take someone more than 4 hours. But given the conditions right now, it takes nearly 9 hours to reach Kaza from Manali.
From Manali, until Khoksar, it's no problem. But right after Khoksar, road conditions deteriorate. Khoksar to Kunzum Pass (nearly 70km) and further to Losar it's all offroading.
From Losar to Kaza (nearly 60km) the local authority is widening the road, hence, bad conditions again.
If you're planning this route in 2024, you are going to find the Losar to Kaza stretch well-built, but Khoksar to Losar is still going to be offroading and will take nearly 5 hours to complete. Consider Manali to Kaza at least a 7-hour drive in 2024.
Now let's begin with our…
3 Day Manali to Kaza Road Trip Itinerary
Day 1: Batal, Chandratal, Kunzum Pass, Losar
So, picture this: you kick off your engine in Manali, surrounded by towering peaks and the promise of adventure hanging in the air. The road snakes its way through the picturesque landscapes, treating your eyes to the kind of views you've only seen in postcards. It's not just a drive; it's a visual feast, and you're in the front row, especially once you cross Atal Tunnel, from Manali, and reach Lahaul Valley.
First pit stop – Batal. Nestled in the mountains, this little village is like a scene straight out of a fairy tale. But it's not just about the view; it's about the vibe. The Chandra Dhaba is your go-to spot for a pit stop. Imagine sipping on a hot cup of chai, surrounded by snow-capped peaks, and chatting with fellow travelers who are just as starry-eyed as you. Oh, and the thukpa and momos? Absolute game-changers.
Next up, Chandratal – the Moon Lake. Yeah, you read that right. It's like a slice of heaven right here on Earth. The pristine blue waters, the reflection of the mountains – it's the kind of place that makes you question if you accidentally stumbled into a dream. If you're into camping, this is the spot. Pitch your tent, count the stars, and let the mountain breeze serenade you to sleep.
I visited Chandratal in 2016 but during my recent trip from Manali to Kaza, it was closed. Check out the Day 1 of our trip vlog…
Now, let's talk about Kunzum Pass. This high mountain pass at a whopping 4551 meters is not just a road; it's a gateway to tranquillity. There's a tiny temple dedicated to Kunzum Mata, adding a spiritual touch to the whole experience. And the views? Brace yourself for a 360-degree panorama of pure, unadulterated beauty.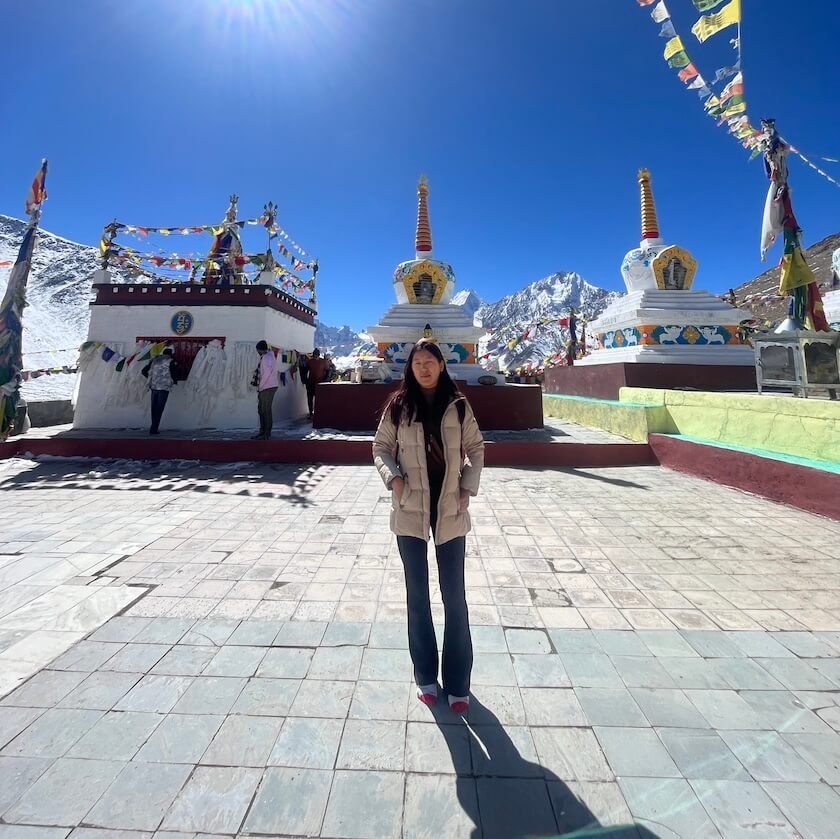 Losar is our next checkpoint. This charming village at around 4079 meters is like a time capsule. Engage with the locals, explore ancient monasteries, and soak in the rich culture. It's like stepping into a different world, where time slows down, and every moment is worth savouring.
Oh, and a little insider tip – don't miss Chacha-Chachi Dhaba on the way. The warmth of this place matches the deliciousness of their food. It's not just a pit stop; it's a mini fiesta for your taste buds.
As the sun dips below the horizon, casting a warm glow on the mountains, you'll find yourself in Kaza, the final destination of Day 1. But remember, it's not just about reaching the end; it's about revelling in the journey. So, kick back, take a deep breath, and get ready for Day 2 – because the adventure is only just beginning!
Day 2: Langza Buddha Statue, World's Highest Village Komic, Post Office Hikkim, Kaza Market
Get ready for a day jam-packed with high-altitude thrills and cultural spills as we begin with Day 2 of our Kaza to Manali trip.
First on our hit list is the Langza Buddha Statue. Picture this – you're standing in front of a colossal Buddha, perched at an elevation that makes other landmarks blush. The Langza Buddha Statue is not just a sculpture; it's a testament to the tranquillity that defines this region. As you take in the breathtaking views of the surrounding mountains, you can't help but feel a sense of peace washing over you.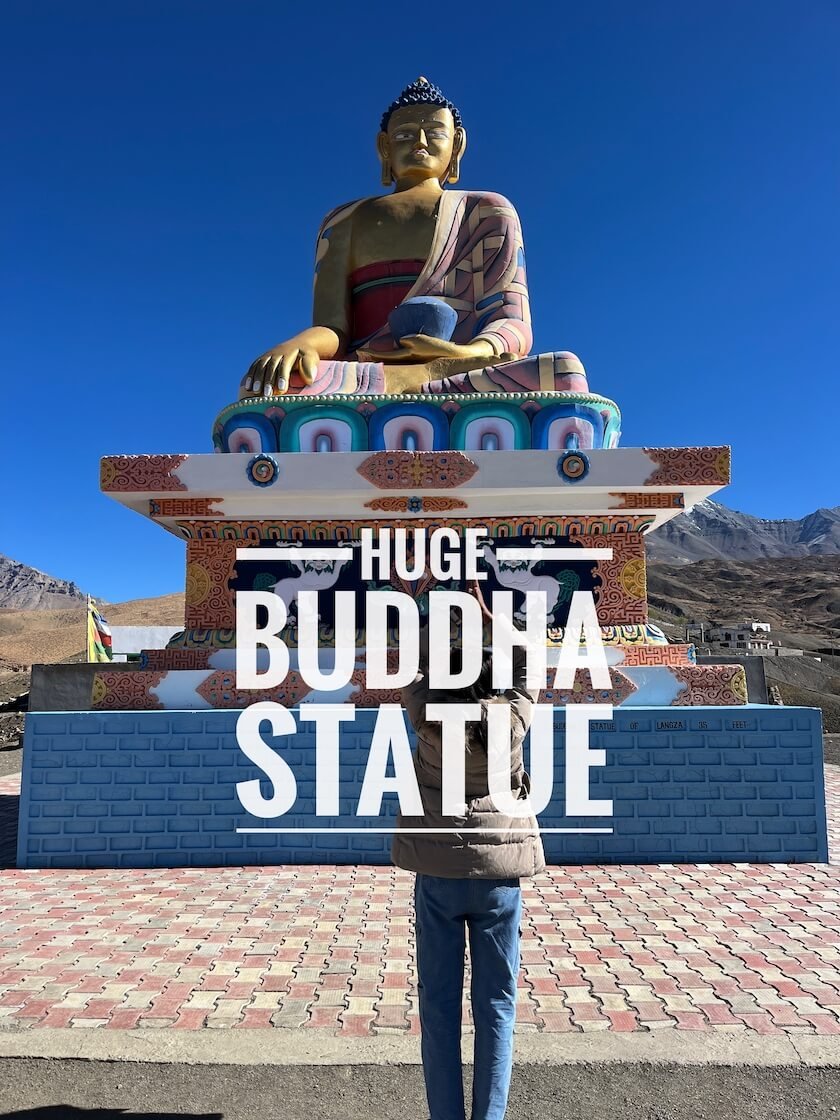 Next up is Komic – the World's Highest Village. Yeah, you heard that right. Komic is not just a village; it's a milestone. Located at a staggering altitude, it feels like you're on top of the world. The air is crisp, the scenery is mind-blowing, and the vibes are unbeatable. Take a stroll through the village, interact with the friendly locals, and let the charm of Komic leave an imprint on your soul.
Next up, we're hitting up the Post Office in Hikkim. Why, you ask? Because it's the highest post office in the world! Sending a postcard from here is like sending a piece of the Himalayas to your loved ones. It's quirky, it's cool, and it's a story to tell. Plus, the sheer novelty of mailing a letter from the top of the world is an experience you won't find anywhere else.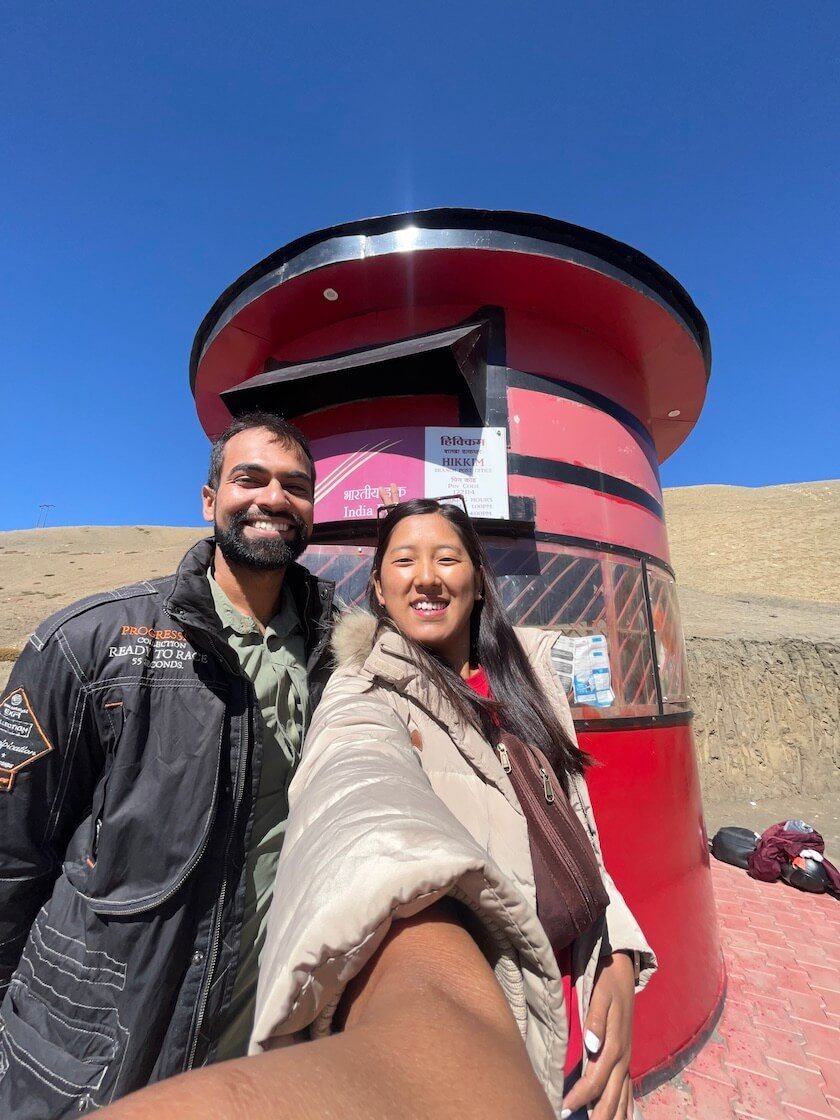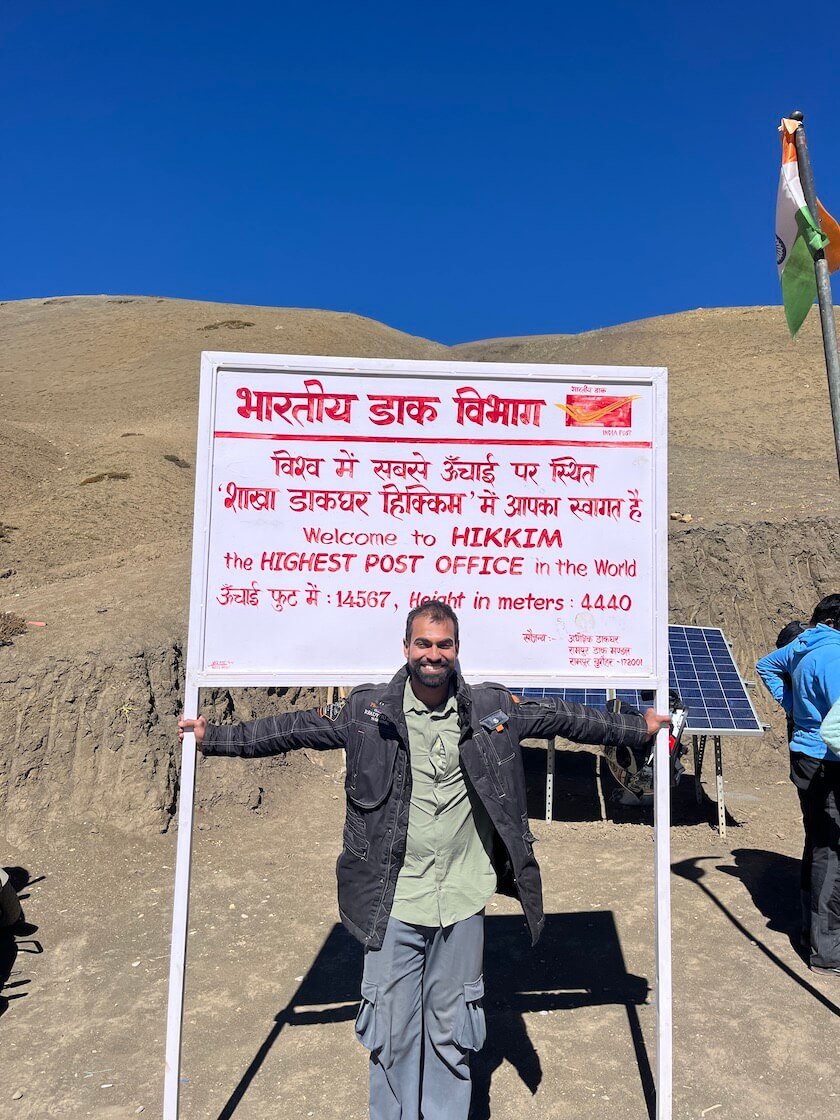 Now, let's dive into the heart of Kaza – the market. Kaza Market is not your typical shopping spree; it's a cultural emporium. From local handicrafts to traditional garments, the market is a treasure trove of Spitian goodies. Don't miss the chance to grab a piece of Spiti to take home – be it a vibrant scarf or a handcrafted souvenir.
But wait, there's more! If you're up for more exploration, consider checking out Key Monastery. Perched on a hill, this centuries-old monastery is a haven of serenity. The panoramic views of the Spiti River and the surrounding mountains make it a photographer's paradise.
And let's not forget about the Sakya Tangyud Monastery, another architectural gem that shouldn't be missed. The intricate murals and the spiritual aura make it a must-visit spot in Kaza.
As the day winds down, you'll find yourself not just exploring tourist spots but immersing yourself in the unique blend of nature and culture that defines Kaza. Day 2 is a reminder that this journey from Manali to Kaza isn't just about the destination; it's about the stories you collect along the way. So, charge your camera, put on your explorer hat, and get ready for Day 3 – because the adventure ain't over yet!
Where To Eat In Kaza?'
The Himalayan Cafe offers more than just food; it's an experience. Picture this – you're surrounded by the rustic charm of the Himalayas, seated in a cosy ambience that feels like a warm embrace. The menu is a culinary journey through local and international flavors, curated to tantalize your taste buds.
From traditional Spitian dishes to global favorites, The Himalayan Cafe has something for every palate. Whether you're craving a hearty bowl of Thukpa after a day of exploration or you're in the mood for a continental delight, the diverse menu caters to all cravings.
Where To Stay In Kaza
I recommend you stay at Iceland Homestay, located right next to the only Petrol Pump in Kaza. The place is run by a local family and offers clean budget comfy options.
Check out the following video for all the highlights we have covered on Day 2 and for a few shots of the Iceland Homestay in Kaza…
Day 3: Kaza To Manali via Chicham Bridge
Let's wrap up this epic 3-day Manali to Kaza journey with a bang on Day 3. We're cruising back from Kaza to Manali, and guess what? We've got a pit stop that'll make your heart race – Chicham Bridge (Asia's highest bridge)!
This ain't your average bridge. Chicham Bridge swings between two towering cliffs, suspended like a thread in the Himalayan breeze. As you walk (or maybe cautiously tiptoe) across, the views below will give you that sweet combo of excitement and awe. It's like a daredevil's dream come true.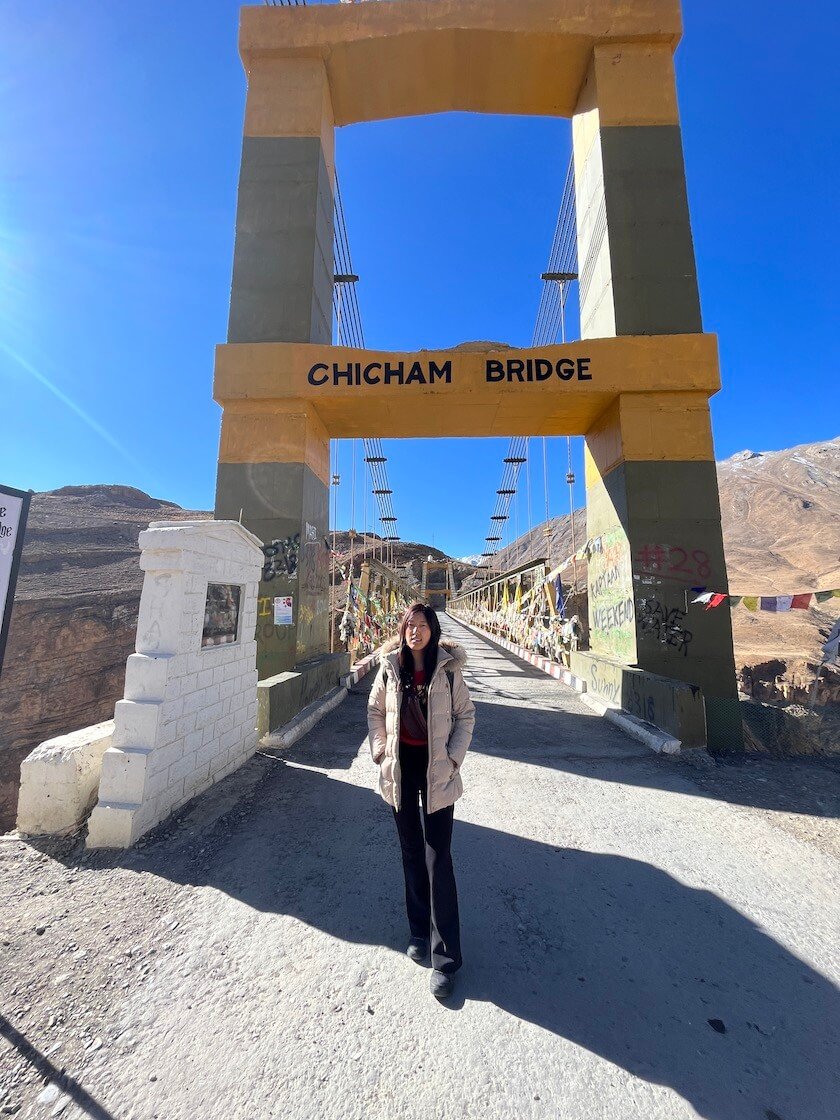 But hey, if you're not into acrobatic bridges, just stand there and soak in the jaw-dropping scenery. The Chicham Bridge isn't just a crossing; it's a front-row seat to nature's grandeur.
Now, as the adrenaline settles, it's time to hit the road back to Manali. Wind through the familiar twists and turns, reliving the memories of the past three days. The landscape may be the same, but you? You're not the same person who started this journey.
Check out Day 3 of our Manali to Kaza itinerary in the form of a video below…
So, rev up your engine, sing along to your favorite tunes, and let the memories of this road trip be the soundtrack to your drive back home. Until next time, adventure seekers – the road is calling, and it's never too late for another journey! 🚗✨