For someone like me who spent most of his life in Indian cities, mountains and waterfalls remain the first love.
It was the beauty of mountains and my love for waterfalls that I decided to move to Manali in 2020. Starting a boutique property in Manali was a way to sustain this decision. I took a traditional Himachali House and slowly rebuilt and reconstructed it into a 3-star hotel.
And since I moved to Manali, I have been exploring waterfalls like Vasco Da Gama explored islands.
Some of the popular ones I have covered and recommend you visit too are Sajla Waterfall,  Parsha Waterfall, Jana Waterfall and Jogini Waterfall. I also recommend you visit Soil Village during your Manali trip — for the love of river streams.
So this time, as I decided to explore and present to you another waterfall around Manali, I went to Knoi Waterfall (also spelt as Kanoi).
Located very close to Sajla, Knoi Waterfall is meant for those who are in a little hurry or those who are a little lazy and don't want to walk much.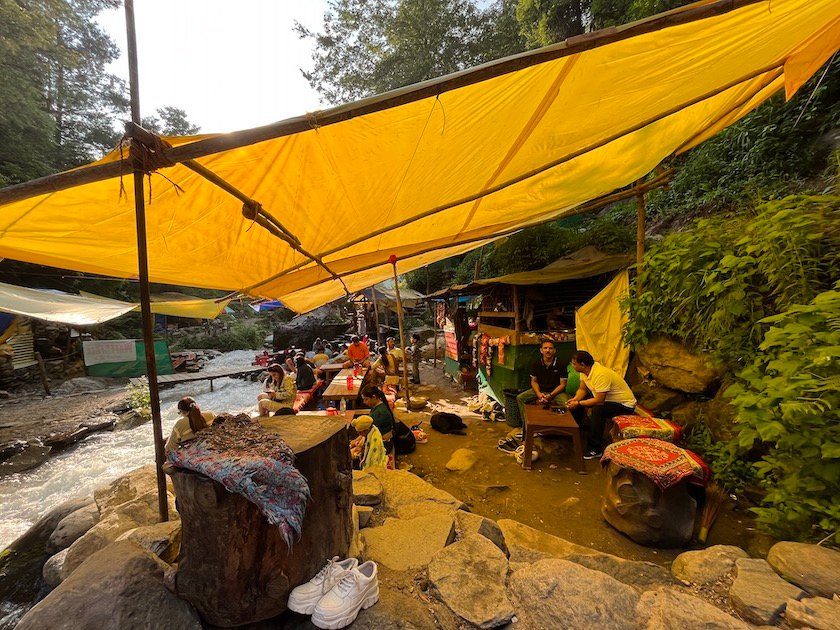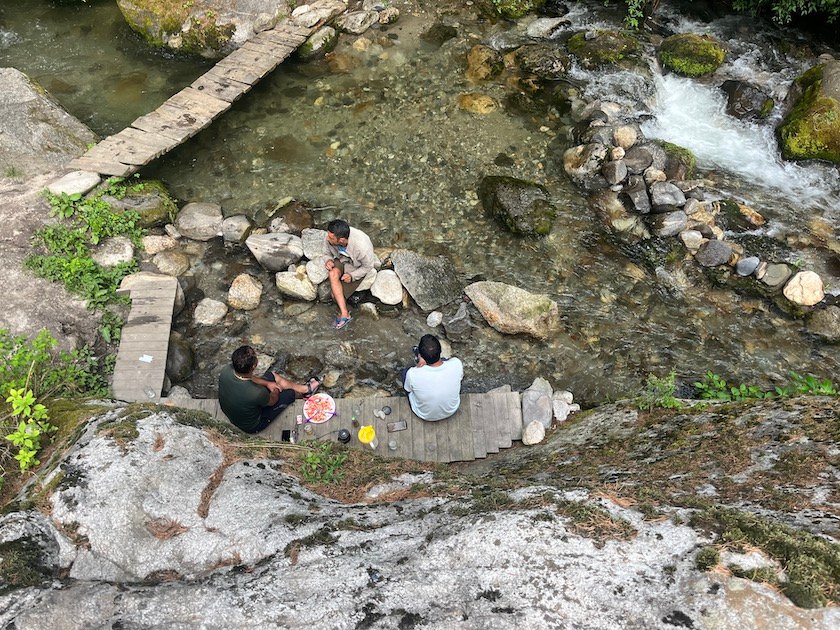 You see waterfalls are generally located inside the forest, demanding a little walk. Nearly all waterfalls located near Manali, including the three names I suggested above, require you to trek for a while, for Knoi Waterfall, however, there's no trek involved.
Located less than 100 steps from the main road it is meant for those wanting to spend a lazy afternoon eating Maggi and Momos next to a waterfall.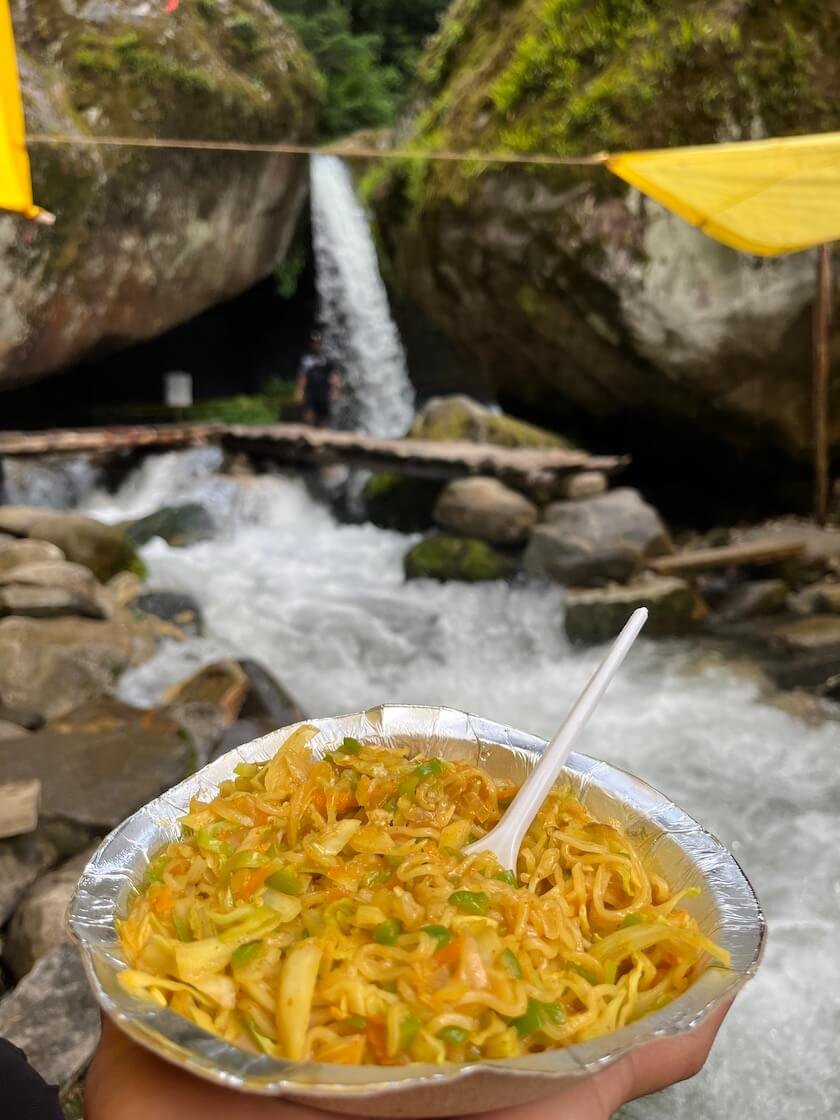 If I were to explain Knoi Waterfall a little poetically, I would say "It was falling from a height of 20 feet or so, forming a tiny pool, and foaming it at the bottom. The rest of the pool was as clear as cellophane, allowing me to see down into the rocky bottom. The waterfall looked like a sheet of green velour as it swished down."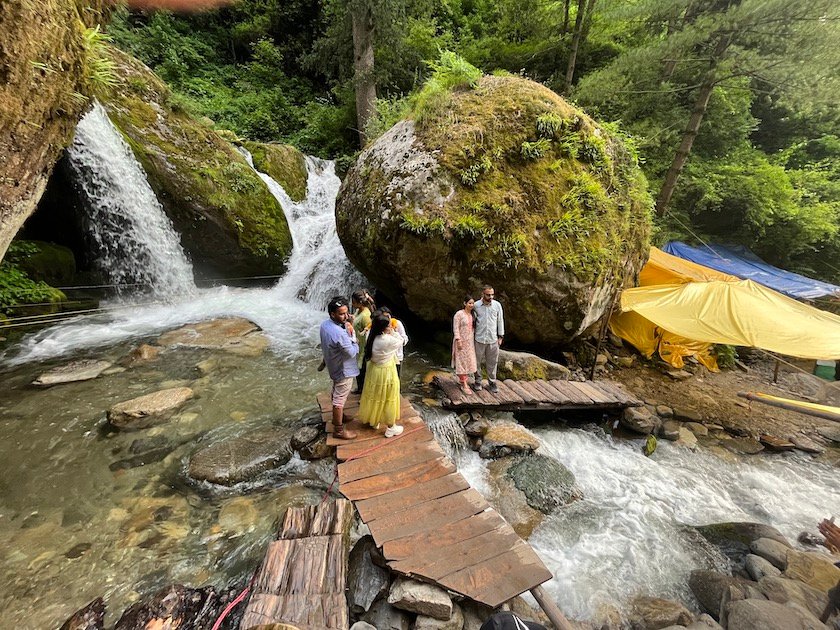 Right next to the waterfall, you find a few local families running tiny cafes with Maggi, chai and a few other refreshments, including beers. In total, there are 7 different shops, or stalls, selling refreshments at Knoi Waterfall.
What I loved the most about this place is how easy it was to get there. For people like me, it can be an ideal weekend destination.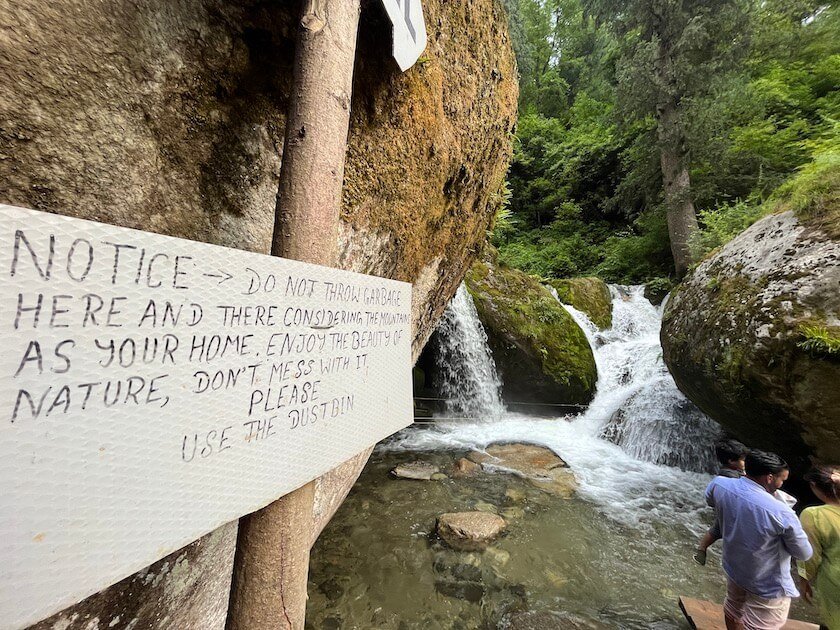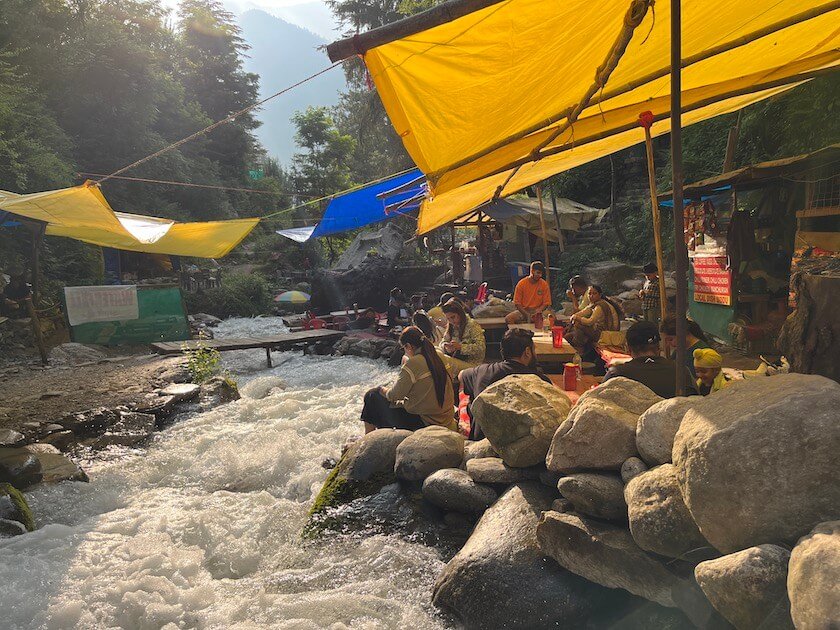 How To Reach Knoi Waterfall
The waterfall is situated on the left bank of the Beas River (on Naggar Road, or the old-Kullu Manali Highway). It is located right next to Sajla, hence sometimes referred to as Kanoi Sajla Waterfall.
To get there, and if you're driving from Delhi to Manali, take Naggar Road from Kullu (and not the new highway). Almost halfway between Kullu and Manali lies the town of Sajla. Right next to it, and on the main road itself, lies this waterfall.
To make it easy, just Google Map navigate for the exact pointer.
It is also possible to take a local Kullu-Manali (via Naggar) bus to this falls.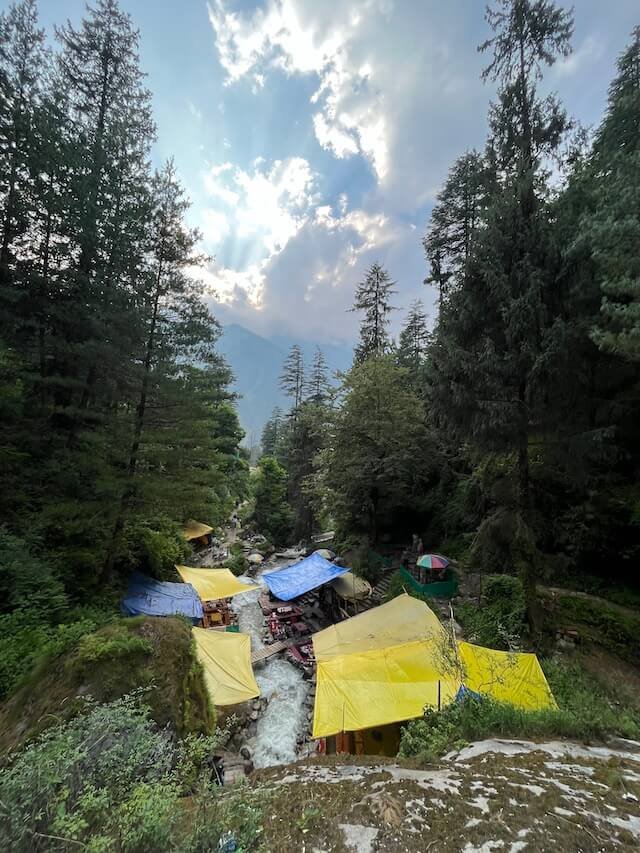 Knoi Waterfall Vs Sajla
Both falls have their own charm.
If you are someone who doesn't want to do much effort walking, then visit Kanoi Waterfall. It is located right on the road and you don't need to walk more than 100 steps to get to the falls. Sajla Waterfall, on the other side, involves around 1km of trek from the main road.
Having said that, expect comparatively more crowd around the Kanoi Falls. Sajla, on the other side, is more offbeat with the lesser crowd around.
Speaking of magnificence, Knoi Waterfall is comparatively smaller than Sajla Waterfall. However, there isn't much difference between the two.
You will find more food options at Knoi Waterfall than as compared to Sajla. There are only a couple of food stalls at Sajla. At Kanoi, however, you will find 7 different food stalls.
What Else To See & Do There
At the falls? Nothing much to be honest. The falls are pretty much the only thing to see and do around. However, you will enjoy various food items and love sitting around the falls with your feet dipped in the river stream.
Between December & April, most surrounding peaks are found snow-covered, but you won't find any food stalls around that time. The best time to visit, when you can even take a dip in the water is between June and September. This is when the water in the falls is also the maximum.
Less than half a km lies the town of Sajla which is worth a visit. It is a quaint Himalayan town with about 30 or so houses, out of which 10 are still the original traditional Kath-Kuni.
Lying in the centre of the village is the popular Lord Vishnu temple (also known as Sajla temple) that's certainly worth a visit. For most tourists, the architecture of the temple is certainly worth seeing.
That's all in this blog about Knoi Waterfall. If you have any questions or want me to add something to the blog, please leave a comment below. I can also be reached on Instagram.