Are you planning for backpacking in Bhutan? Is it possible to travel alone in Bhutan? Let's find out in this blog.
If you look at the world now, Bhutan is the only remaining Buddhist Himalayan Kingdom in the entire world, making it an alluring destination for tourists. What makes it even more alluring is the fact that it has only opened its borders to tourists only in 1974.
Perhaps that's why I decided to make Bhutan my first travel destination after I decided to quit my job to travel the world. I knew I was in store for a travel experience unlike any other.
I wanted to backpack in Bhutan. But the question was since Bhutan has a daily royalty fee that gives you an all-inclusive trip, is it possible to do backpacking in Bhutan? Could I wander around the country as a real backpacker does? Was it possible to travel to Bhutan alone at all?
Well, let's find out…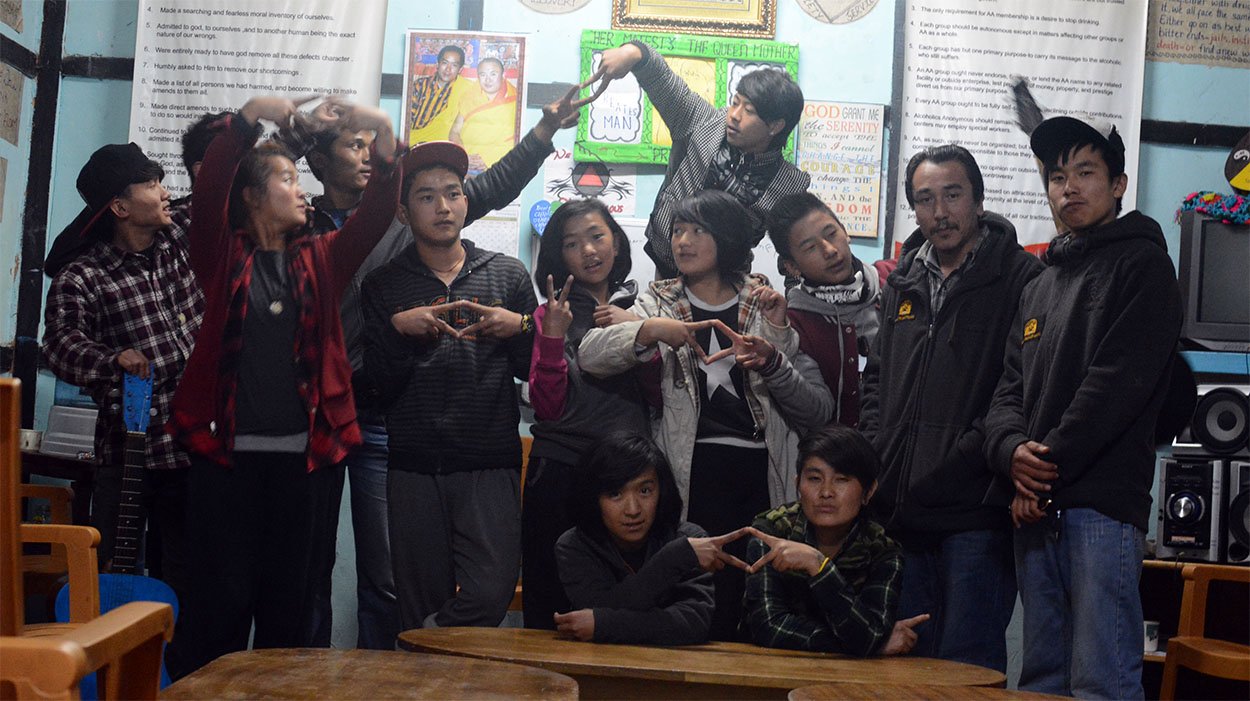 Backpacking In Bhutan
Where many want to experience Bhutan's culture and learn about the unique sentiments attached to it, travelling to this Unknown Shangri-la is no easy job.
The country requires you to pay $ 250 a day in Royalty, against which you will get pre-booked accommodation and a complete end-to-end itinerary — right from the morning tea to the late evening snacks. You will moreover be accompanied by a tour guide, during your entire period of stay there, making it very clear that travelling in Bhutan alone or backpacking in Bhutan is next to impossible.
What's worse is that even if you're ready to pay $250-a day and are ready to compromise with your movement, by getting pre-booked travel arrangements, it's not guaranteed that your application will be selected. The country allows only a limited number of tourists per season, on first come first serve basis. And if you just happened to be unlucky enough to not make it in the first few thousand people, your application will be put on hold and will only be processed in the upcoming season. So forget the idea of backpacking in Bhutan and start thinking if you can, at all, be there.
But the $250-a-day royalty doesn't apply to Indians. And I thank the gods for that and consider myself lucky. We can cross the border pretty much anytime we want – with only a permit, which can be obtained from the immigration department, at one of the borders. Getting a permit is easy and can be obtained with any photo ID card with address proof. I used my Election Card.
Indians were allowed to travel alone in Bhutan and do backpacking. But in 2020, Bhutan passed legislation to charge Indians, Bangladeshi and Maldivians a ₹1,200 fee for entering the country. According to the news, the fee will implement in April 2020. How the new rule affects Indians, Bangladeshi and Maldivians to travel to Bhutan as a backpacker is yet unknown. Also, owing to the coronavirus, the ruling is currently put on hold. Keep checking the Royal Bhutanese Embassy website for a recent update on this.
Indians Travelling Alone In Bhutan
For non-Indians/Bangladeshis, as I said, the true sense of backpacking in Bhutan is not possible.
Because the $250 daily tariff includes your food, your accommodation and your tour guide, you cannot travel alone in Bhutan and cannot do your own thing. You're pretty much restrained in an orderly executed travel plan. And there is no other option unless you want to take the adventure to the next level, and go, vigilante.
Though you can travel solo (by paying a US$40 surcharge) you're still bound by a predefined itinerary and your tour guide. So backpacking in Bhutan and wandering as you wish is practically impossible!
My Bhutan Backpacking Experience
I did travel along in Bhutan in 2016 (Check my Bhutan travel guide for more tips on what to see and do there). But as I said, it might have changed now.
Now, speaking of my trip, I travelled to Bhutan solo.
I started at Phuentsholing and my Route Permit, which I'd obtained from Phuentsholing, was limited to Thimpu and Paro only, with a validity of only 1 week. To get it extended, I was required to visit the immigration headquarters in Thimpu, and indulge in long, annoying – often half-understood – talks, with the immigration officers.
Rejecting my 'one-month-long extension request', they offered me another 15-day extension to four more cities (Bhumtang, Mongar, T/Gang and exit via S/Jongkhar).
Though the process was easy and wasn't much of a hassle – by Indian standards – I was pretty much restrained to go anywhere but the mentioned 4 cities and had to leave the country in a 15-day period. Looking at this, I can say that IN A WAY I could manage to backpack in Bhutan and travel on my will, and IN A WAY I couldn't.
Don't Travel Solo Or Alone In Bhutan
Though until 2929 Bhutan gave Indians freedom to roam around a few limited cities without a royalty fee – the idea of allowing tourists to go solo never struck the country.
The minute you enter their immigration office solo, wearing your untidy backpacking garb, and tell the immigration officers you want to see their country like a local, they go baffled. "Why would anyone want to do that," they ask themselves, before asking you.
When I was at the immigration office in Thimpu, travelling to Bhutan alone, I had a similar experience. The immigration officer I was fixed an appointment with, never understood my fascination with solo travelling and ended up asking me – with an indirect order, they call Immigration Letter – to leave the country in the next 15 days, following a defined route.
Here's the solo Bhutan backpacking route map I followed: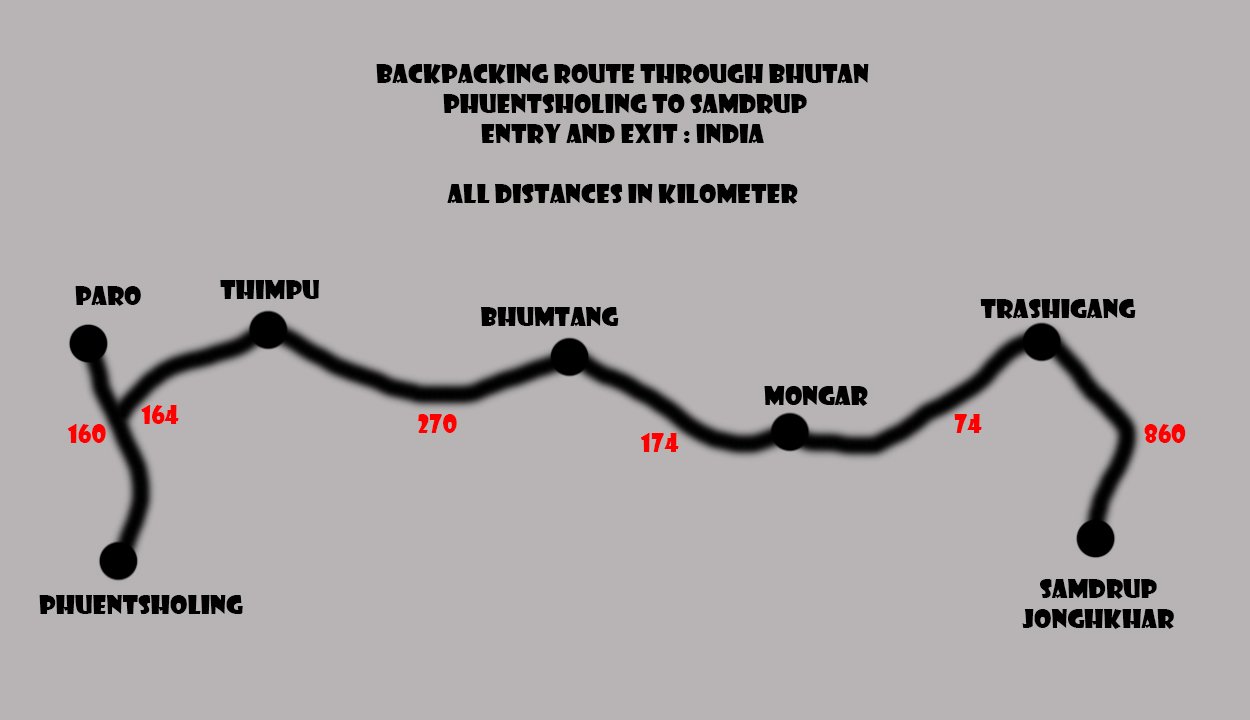 If you could not go to Bhutan but are still interested in going somewhere similar, I can recommend you go to Tawang Monastery in Arunachal Pradesh, India.
Tawang is probably the most culturally and scenically similar to Bhutan, out of anywhere in India. And it has the world's second-largest monastery, after the Potala Palace in Lhasa.
Moreover, Tawang is only 15 kilometres away from the nearest town of Bhutan called Trashigang, making you feel that you're almost there except for a border diving between the two countries. You will moreover realise that about a quarter of the population in Tawang is actually Bhutanese, uniting either side of the border into a seamless cultural scene.
If you are planning to do backpacking in Bhutan or are following my advice and travelling Bhutan alone as an India traveller, you can always write me a comment below for suggestions.