Selongor is a peaceful holiday destination near Kuala Lumpur? And for top things to do in Selangor, this is your ideal Selangor travel guide.
After staying in downtown Kuala Lumpur for a few nights, and comparing it with my time in the neighbouring state of Selangor, I realized that Kuala Lumpur was, after all, never meant for me. And if given a chance to revisit Peninsular Malaysia, I'd like to uncover a bit more of Selangor, or perhaps the southwestern coast and the comparatively offbeat northeast. But for those who happen to be in Malaysia for just a few days and are bound to stay close to the Kuala Lumpur Airport, the state of Selangor, with its many offbeat locations, provides a great escape. Keeping that in mind, I wrote this Selangor Travel guide, covering some of the top things to do in Selangor.
Away from the urban centres, while still not very far, Selangor offers convenient travel options and a far refreshing scene of rural villages. Its serene coastline towards the west moreover promises a pleasant and relaxing holiday. And speaking of the things to do in Selangor, rest assured, there are enough.
Fondly known as the "Gateway of Malaysia" it offers many adventure experiences like rock climbing, paragliding, river rafting, and bungy jumping, among others. The fun and excitement of glorious theme parks, abundant food choices and the idea of unfolding the royal towns like Klang will, moreover, always remain a plus.
A dinner table for eight, in AVANI Goldcoast Resort, Selangor
Selangor Travel Guide
Exploring The Town Of Kuala Kubu Bharu   

Also known as 'KKB' by locals, exploring Kuala Kubu Bharu remains one of the most popular things to do in Selangor. It is a charming little town located at the foothills of Bukit Fraser in Hulu Selangor. On its east, and some 30kms away, lies the highlighted Frazer Hill, popular for its colonial-style architecture and wealthy mansions, but if you look at the town of KKB, the case appears to be rather the contrary.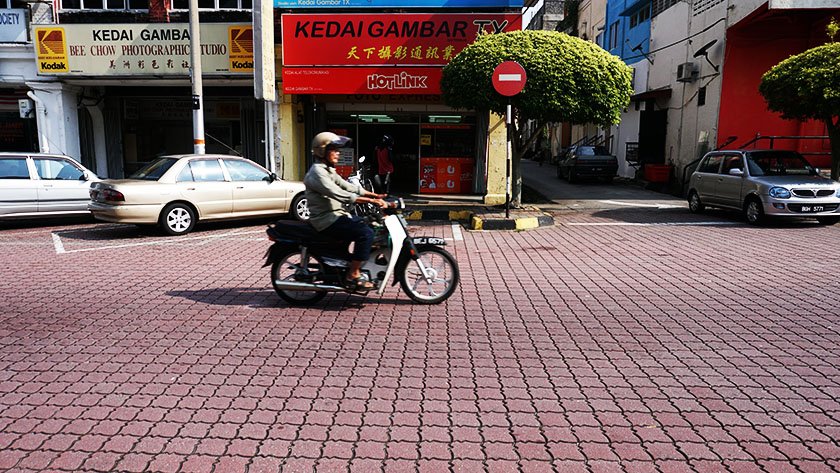 In KKB the streets still remain empty most of the time of the day
What may seem like a small nondescript town today, KKB was once a mining colony, but a massive flood in 1883 wiped out the entire town's infrastructure. Today, it is a tiny, laid-back town perfect to unwind and taking the feel of a small-town Malaysia, while not going too far from Kuala Lumpur. At only an hour's drive from downtown Kuala Lumpur, KKB offers a backdrop of rainforest and hills, alongside clusters of traditional houses. Life in KKB is unhurried, pleasant and peaceful, unfettered by the constraints of modern living and conveniences.
Visit the two community temples of Sri Sithi Vinayagar and Guan Yin Gu See to get a hang of the multicultural Malaysia, or simply walk down the many intermingled laneways and spot some world-class graffiti. So yea, an obvious first mention to Kota Kina Balu in our Selangor travel guide.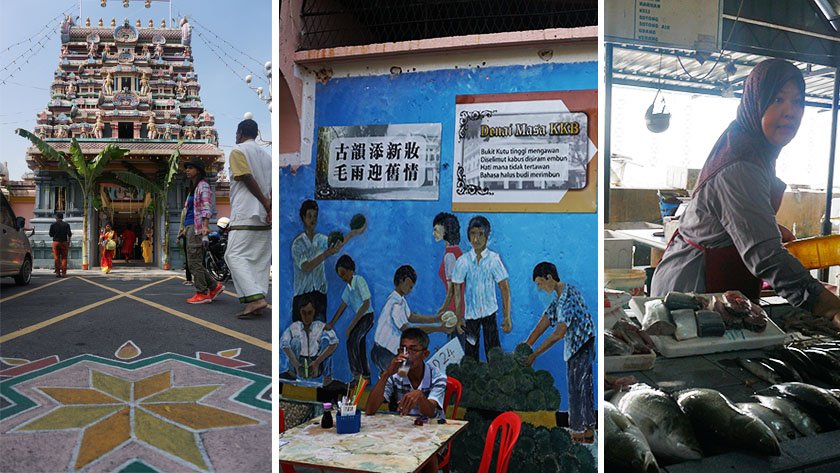 On Left: Sri Sithi Vinayagar temple | In The Center: A man drinking tea | On the right: A woman selling fishes in a fresh market
At only a few minutes drive from the main town lies the Paragliding site of Millenium Park at Batu Pohat Hill. The cost of paragliding is also very less, approx 250Rm per person, depending on the group size, making it one of the top things to do in Selangor.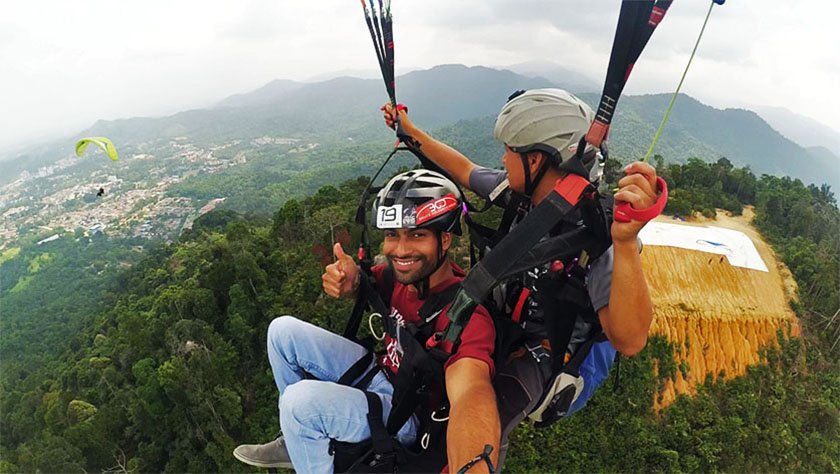 The paragliding site in Hulu Selangor, with sweeping views over the Selangor region
Relaxing And Unwinding In Surrounding Tropical Rainforest

As you escape the town of KKB and drive only a few kilometers further East, you enter the rich tropical rainforest of Kalumpang. Surrounded by nothing but lush greenery and fresh air, the rainforest offers urban millennials and nature lovers a heap of different activities to partake in.
We spent a day here trekking, tubing and simply relaxing and breathing fresh air while staying in a Zen retreat called The Sticks. Staying at The Sticks remained one of my favorite things to do in Selangor.
Read More: Two Zen Retreats Near Kuala Lumpur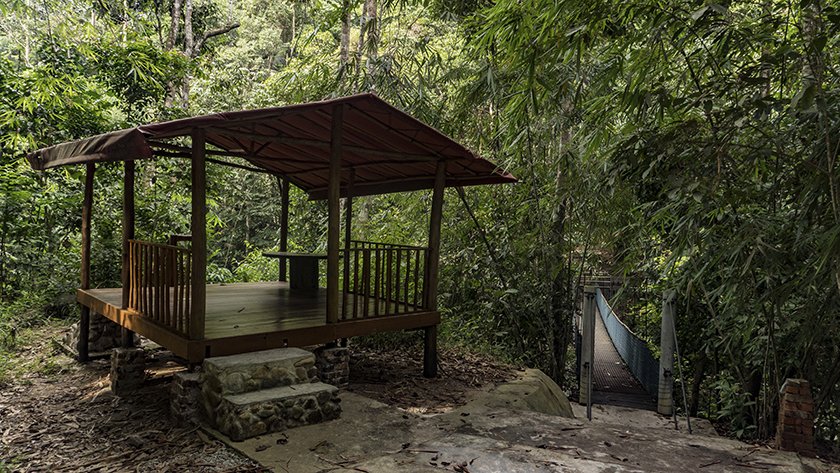 The rich rainforests of Kuala Kubu Bharu
Watching Motorsport At Sepang Circuit
For adrenaline junkies & racing fanatics, the international F1 track of Sepang offers a quick getaway from Kuala Lumpur. And if you're going to, or coming from KL international airport, it's even better because the circuit is located only 5 km away. Here, you can enjoy the MotoGP bikes or F1 cars screaming their way down the long straight, from an Aircon indoor room or an open deck.
If the machines are too fast for you to spot, you can still use the venue to get yourself clicked with the riders and/or for some Instagram show-off.
At: Avani Sepang International Circuit
Finding The Kid In You At Sunway Lagoon
Perhaps one of the highlights in Selangor for a memorable holiday is the water park and the theme park at Sunway Lagoon. As soon as you hit the place, the lively atmosphere inside revitalizes your mind inside out and takes you back to your younger days. From kids to adults to middle age couples, Sunway Lagoon is meant for all — even those who stay away from extreme rides, and are quite faint-hearted, like me.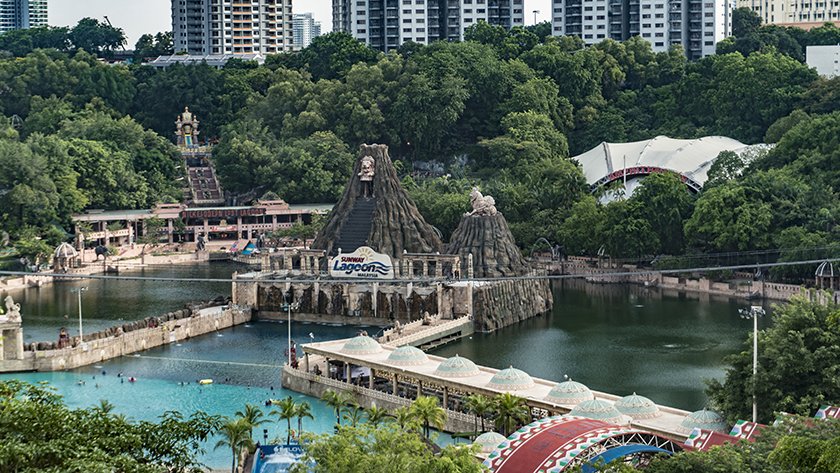 Rejuvenated and revitalized: With other travel-bloggers from India 
Comprising an Amusement Park, Water Park, Wildlife Park, Extreme Park, Scream Park, and Nickelodeon Lost Lagoon, visiting Sunway Lagoon remains one of the popular things to do in Selangor among tourists. It offers a flat admission fee for visitors, and costs RM153 (S$50) per adult and RM126 (S$42) per child (cheaper for Malaysian citizens) which is pretty value for money considering the number of attractions on offer. For a few activities like Bungee Jumping or GoKarting, however, you'll have to pay extra.
We tried Bungee jumping (yes, I did too) and it was an experience of a lifetime. Located in the extreme park section, over the longest pedestrian suspension bridge in the world, walking onto which is an Instagram achievement in itself. The Bunjee jumping site offers an elevation of 22 m/72 ft high, perfect for first-timers.
So yea, another obvious mention in this Selangor travel guide.
Further Reading: My Bungy Jumping Experience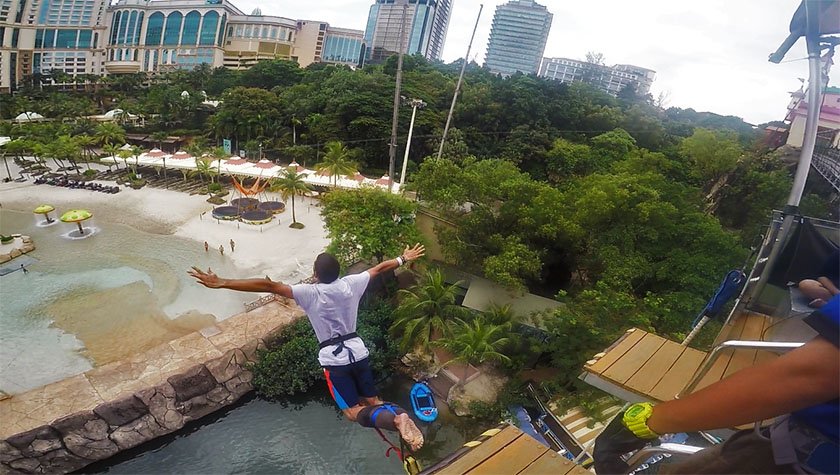 Bungy Jumping at Sunway Lagoon. Duration of jump: 6 seconds
Tantalizing Your Tastebuds With World-class Food
One of the best things to do in Selangor, and in the entire Malaysia for that matter, is eat food. So, eating food remains another thing I recommend in my top Selangor travel guide suggestions.
What do you get when you combine Malay, Chinese and Indian influences on a plate? An addiction to Malaysian food. If you're visiting Malaysia, and it doesn't matter which part, be ready to put on a few inches of the waistline, because here, people take food a bit too seriously.
Here, they do not believe in the customary 3 meals a day, but rather count on at least 5-meals a day. And when you're surrounded by all the great food in the world, pretty much all the time, how can you actually even not?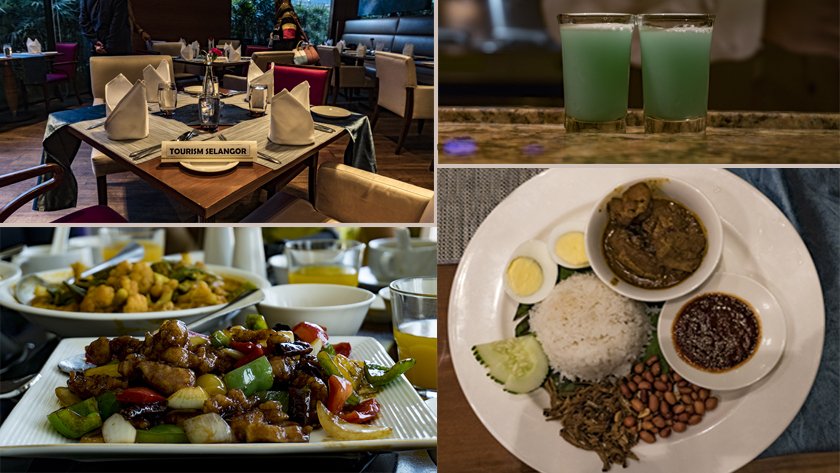 Food is one of the highlights of Malaysia. And eating at least 6-times a day is a custom
Visit one of the local Nasi Kandar food joints for a cultural experience, or someplace fancier to tantalize your taste buds even furthermore, and capture memories of a fine-dining experience in Malaysia. Out of the few hotel restaurants we visited during our 5-day blog trip, a couple of them that I particularly loved for their great ambience and fine-dining experience, would be One Worlds Hotel in Petaling Jaya and Avani Sepang Goldcoast Resort in Sungai Pelek.
More than food, though it's definitely worth a mention, something that put Avani Sepang in my top charts was the amazing views you get from their restaurants. It's one of the two Zen Retreats Near Kuala Lumpur, that I recommend.
Exploring The Heritage Town Of Klang
For history buffs, the Heritage town of Klang remains a popular tourist highlight in Selangor. It offers a bounty of cultural and historic sites. Take a free English walking tour around the city, hosted by the city's municipal council and Tourism Selangor (every weekend) or simply explore its many streets on your own.
We did a walking tour with them which took us around a 3km loop in under 2.5 hours. We covered some of the highlights in the city including Klang Fire Station, Sultan, Abdul Aziz Royal Gallery, and Royal Klang Club, among others.
The heritage city of Klang
Another point of interest that I am going to mention in my Selangor travel guide is the town of Little India, which is one of several Indian business districts in the Klang Valley, but the one you can find in Klang is just a bit intense, to be honest. From Indian astrologers luring tourists on the streets to high-end jewellery shops, Little India in Klang Valley takes you to a different part of the continent altogether. You can even buy Tamil magazines and other local Indian products.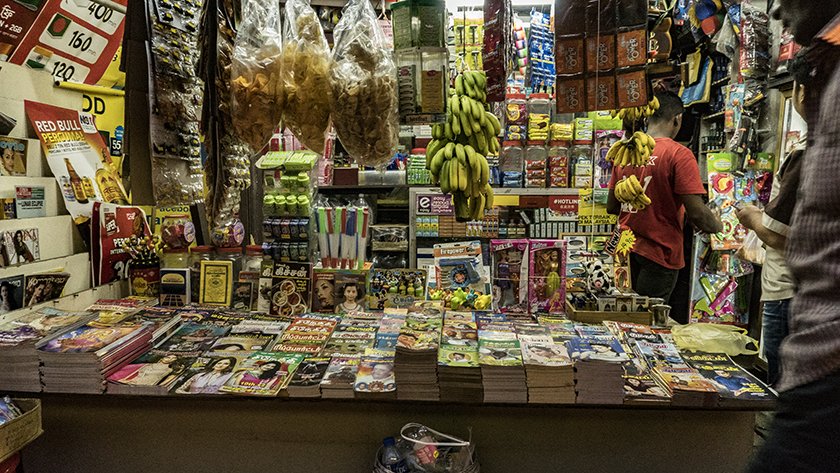 The many Little Indian towns in Malaysia are so Indian in their appearance that they take you back some 7 thousand km. This shop here, for example, can be seen selling Indian magazines, published in Tamil, in addition to other Indian products.
How to Reach Selangor
The state of Selangor basically surrounds Kuala Lumpur and depending upon which part of Selangor you want to go to, if you're starting from Kuala Lumpur downtown, you can reach between a half an hour to a two hours drive. An interesting thing to note, however, is that the Kuala Lumpur airport, which otherwise has been named after the city of Kuala Lumpur, is actually located in Selangor, so technically speaking you're actually flying to Selangor and then making your way to Kuala Lumpur. We flew with MalindoAir from NewDelhi to (Kuala Lumpur International Airport1) and then hired a minivan to reach KKB — our first destination in Selangor.
Selangor In A Nutshell
Much of Selangor to the west and south of Kuala Lumpur is a part of the Klang Valley conurbation, which is the most developed part of the country. It is an area of sprawling townships and large industrial estates linked by networks of highways. Here also are the country's main airport and port, as well as the federal territory of Putrajaya, the Malaysian administrative capital.
However, man-made and natural attractions are plentiful, that draw-in in both local and international tourists. There are great day trips to be made here from Kuala Lumpur, whether to see a Hindu temple at the Batu Caves, discover indigenous crafts at Pulau Carey, experience the rainforest near KKB, or exploring the old royal towns such as Klang.
If you found this Selangor travel guide useful, or have more tips on top things to see in Selangor, please share in the comments below!
Disclaimer: I visited Selangor on a FAM trip hosted by Tourism Selangor and Malindo Air. Though my trip and experiences were all sponsored, all recommendations and advice are totally personal. I only recommend what I personally like.