These 16 Majuli Island photos are your complete doze of a virtual visit. But before we see these Majuli Island pictures, a little introduction, perhaps…
My first sight of Majuli Island (as you see in the photos below) was on a humid afternoon in June. I took an 11:30 am morning ferry from Nimati Ghat in Jorhat to Majuli Island.
As I got there, I saw wave upon wave of tourists pouring out of ferries, before they all took shared jeeps and buses and made their way deeper into the island.
Then abruptly all became silent and I found myself left behind, wandering through the empty shores, waiting for another ferry to arrive and share another jeep. This is how my unforgettable journey to this surreal, almost magical place began.
But soon, the pristine beauty left me startled, craving to stay there forever.
Before I continue with the Majuli Island photos below, I want to share a useful piece of a blog that I wrote after my second visit there 2 years later. If you are planning to travel there and looking for more practical information I suggest you read this Majuli Island Travel Blog. In that blog, I've shared more about top places to see, how to travel and more tips.
Now let's continue with the topic in hand, continue with our photo blog on Majuli Island and see some of my best…
Majuli Island Photos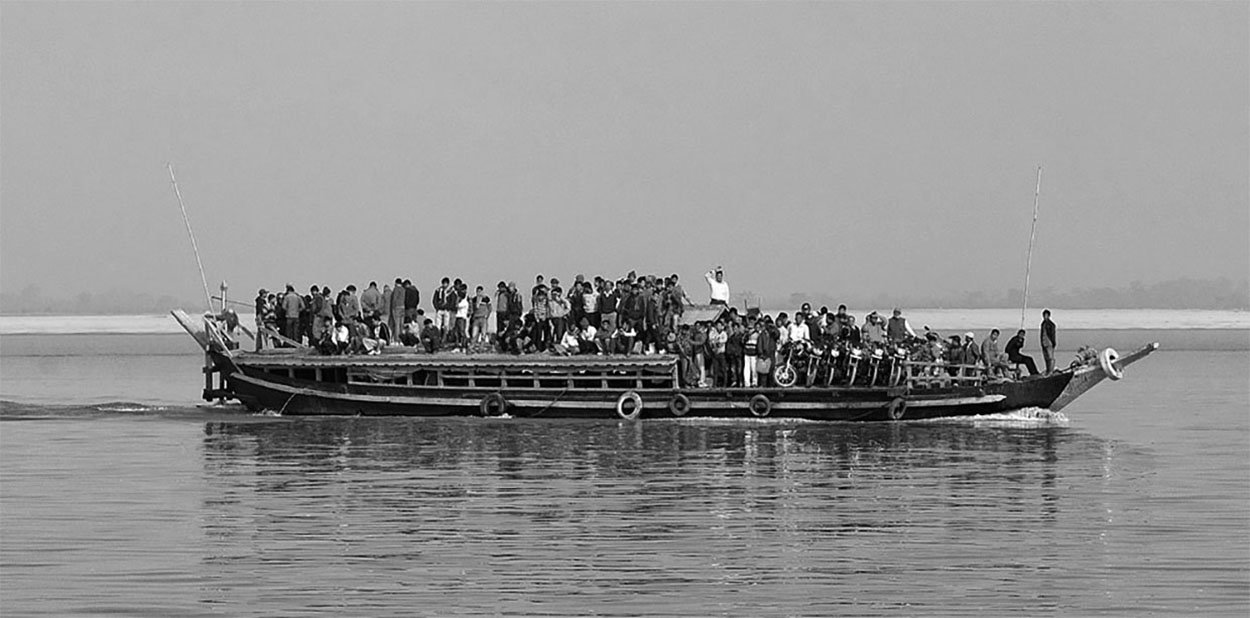 From Nimrati Ghar in Jorhat to Majuli Island is a nearly 1-hour ferry ride (or in a comparatively smaller boat) in the Brahmaputra River. The ferry can be full of people, cattle, cars, and whatnot. It's nothing like travelling on the roof of a bus, but something more interesting than that.
A ferry costs less than 20 Rupees for people. If you are carrying your bicycle, motorcycle or 4-wheeler, you will have to pay additional charges accordingly.
No matter what you are clicking your Majuli Island photos with, the secluded beauty of the place will enthral you, surprise you and leave you with a greater appetite to click amazing Majuli Island pictures.
The landscapes there will ensure that your appetite for nature and stillness is completely satiated.
The island in itself is a complete world – full of space and freedom – detached from the outside world and standing alone, without any influence of urban sprawl.
As if that wasn't enough, its people and their warmth will give you a thousand more reasons to visit Majuli Island and want to stay there forever.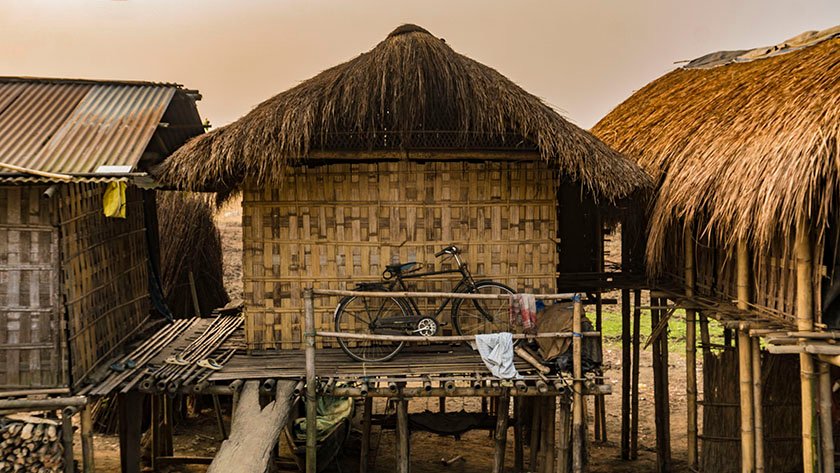 Other than local Assamese, the tribal community of Mishing people has the second largest population on the island. And this is what their traditional homes look like – a small square-shaped hut standing on bamboo stilts.
It is believed that the Mishing people originally hailed from Cambodia.
During my visit to Cambodia, I even saw similar-looking huts many times in the countryside. Check the featured image of this Cambodia Travel Guide article and you will see similar-looking huts in the image.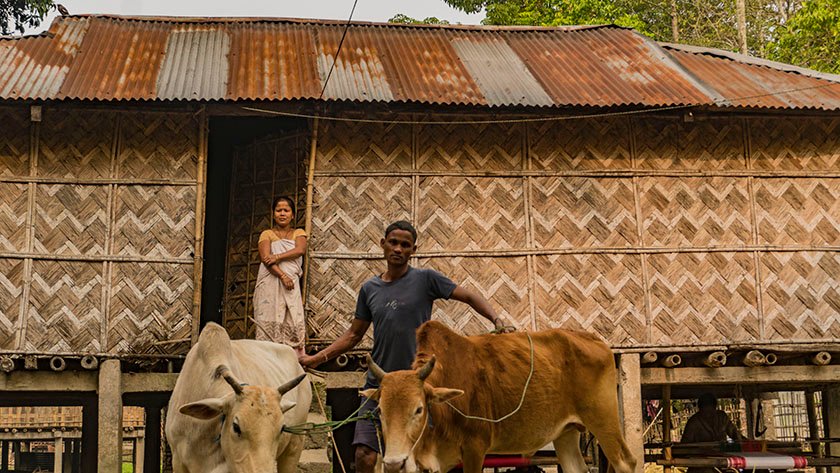 Here's a local family posing and making my Majuli Island pictures a little more interesting.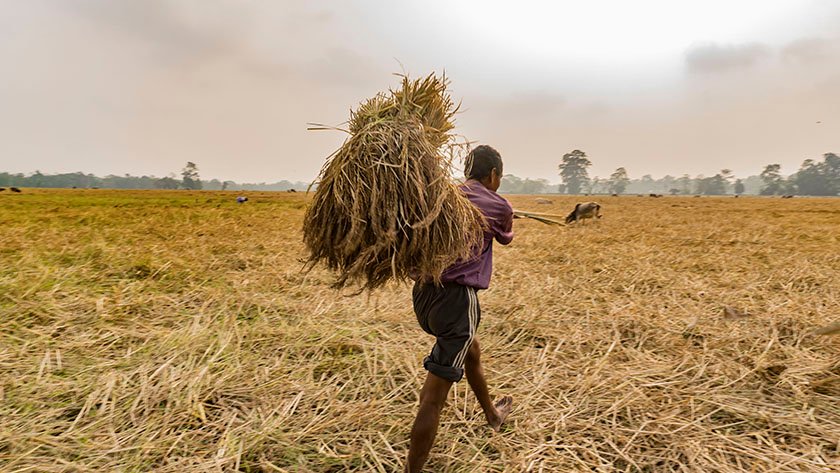 This is how life there often looks like – simple and full of hard work.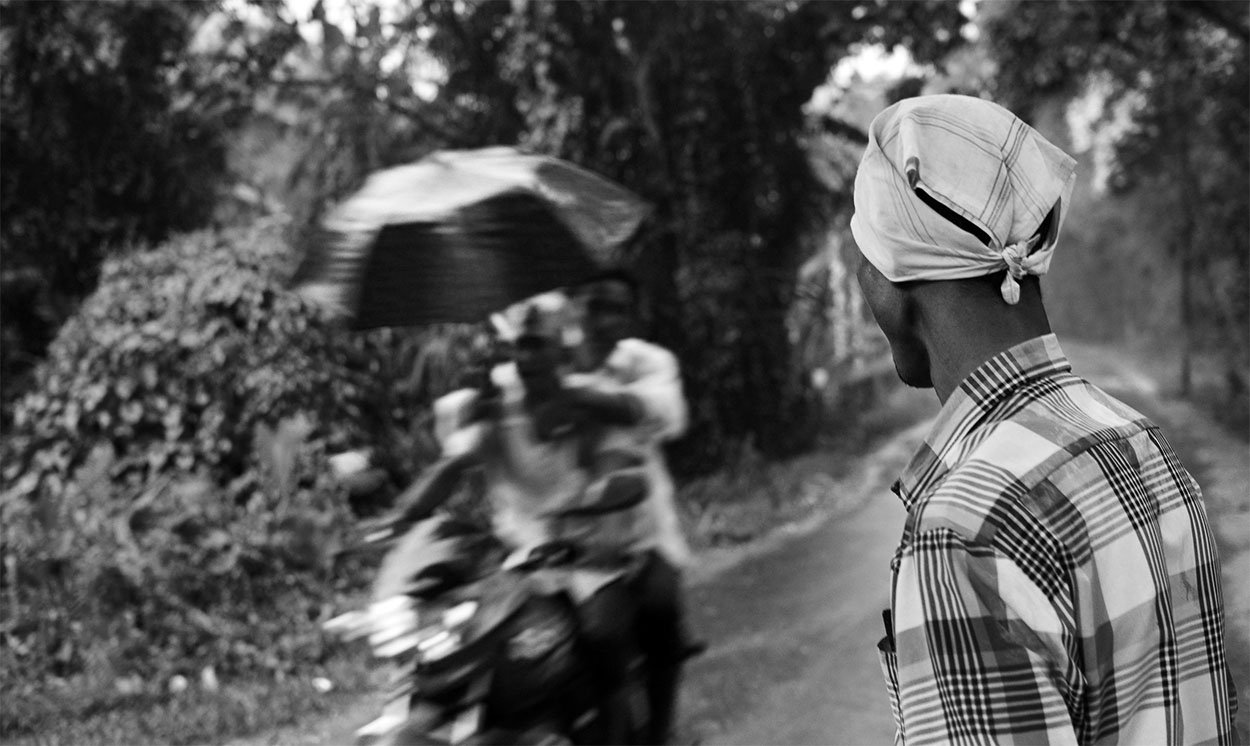 One can travel around here by walking from village to village or by renting a motorbike.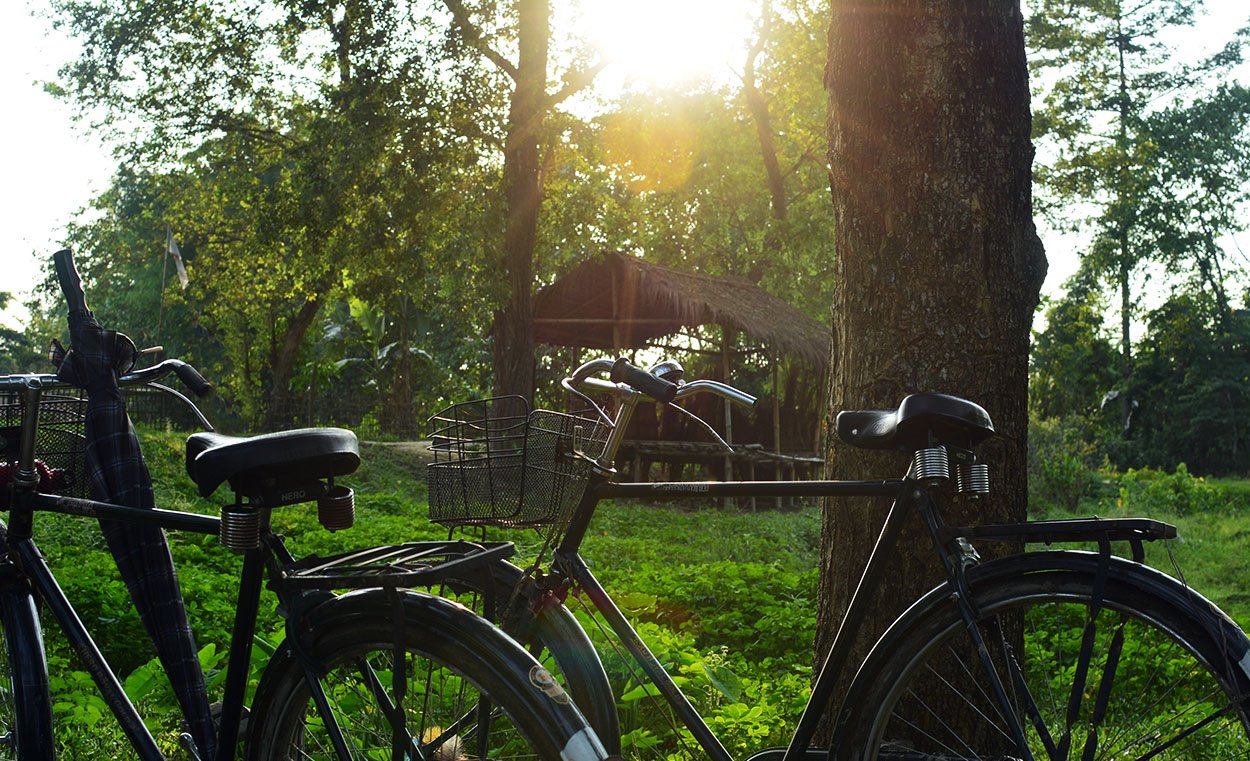 But the best way to get around the place is on an old-school bicycle that you can rent for about Rs 100 a day.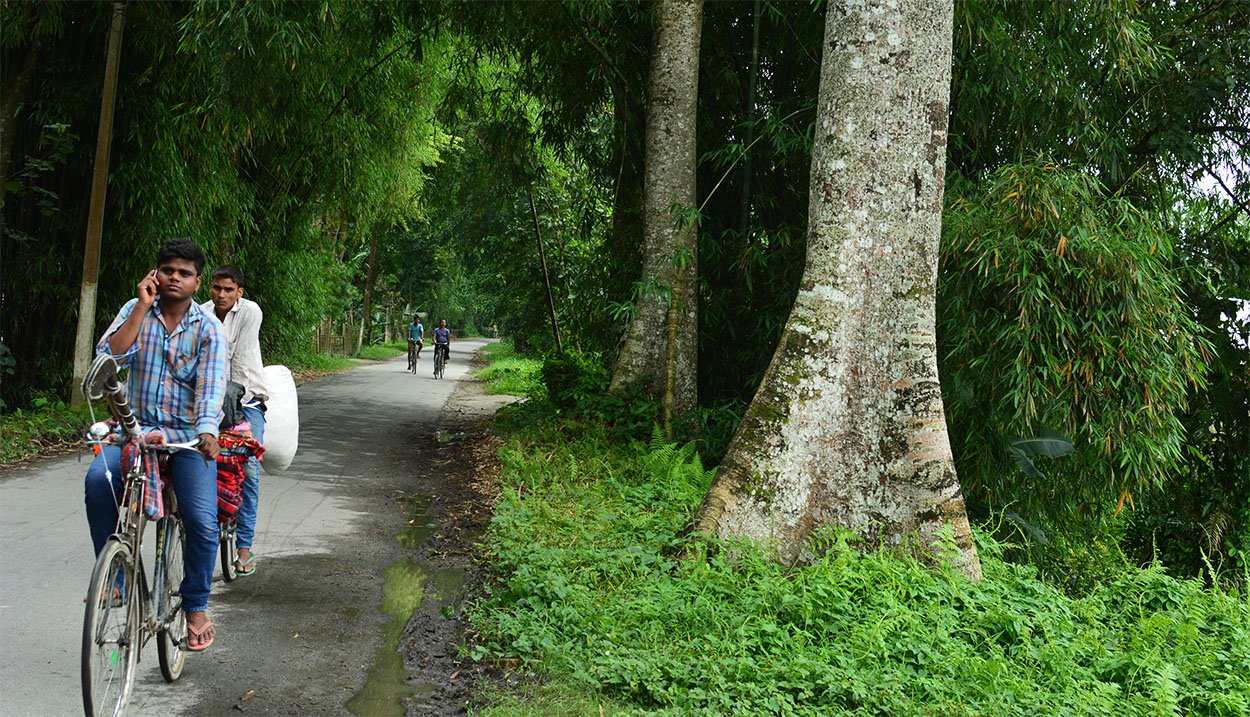 Renting a bicycle on Majuli island has its own grace. It makes you feel that you're perhaps living in the golden era of the 60s or 70s – where beauty and culture are perfectly intertwined. It will simply set your soul free and take your mind to another level of freshness.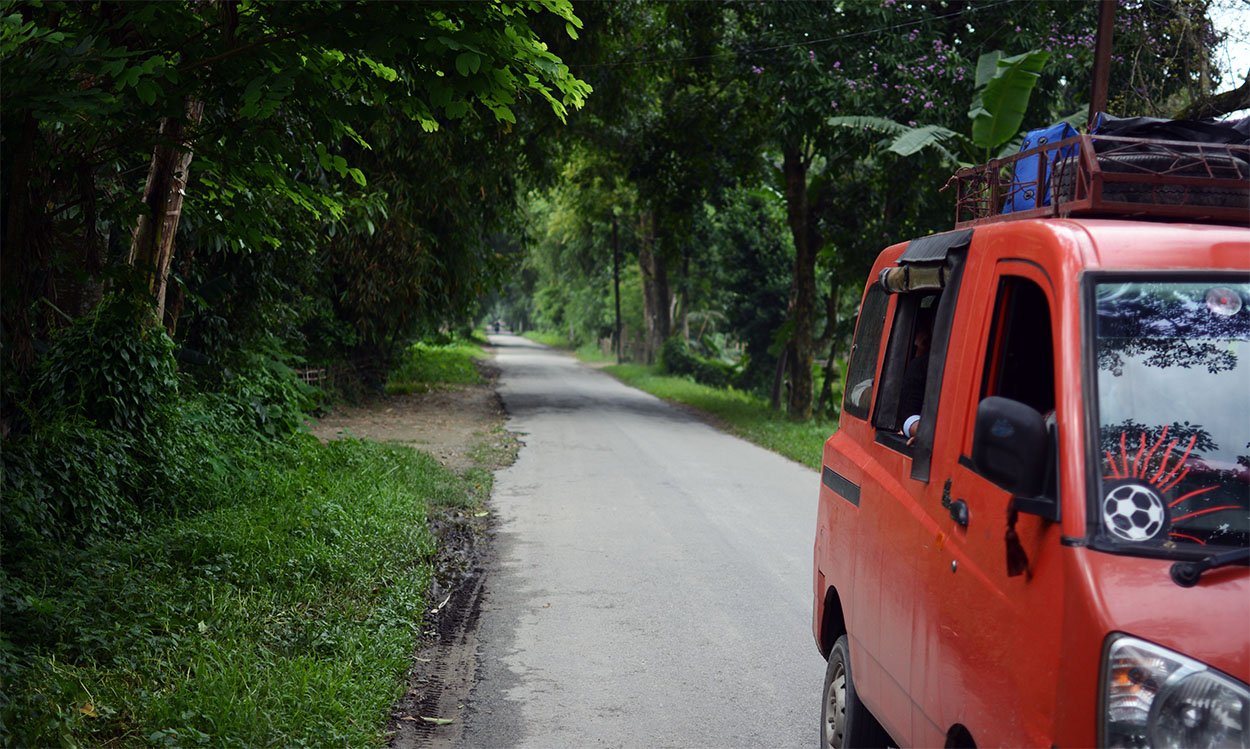 You can also wait for hours to hire paid and often shared taxis.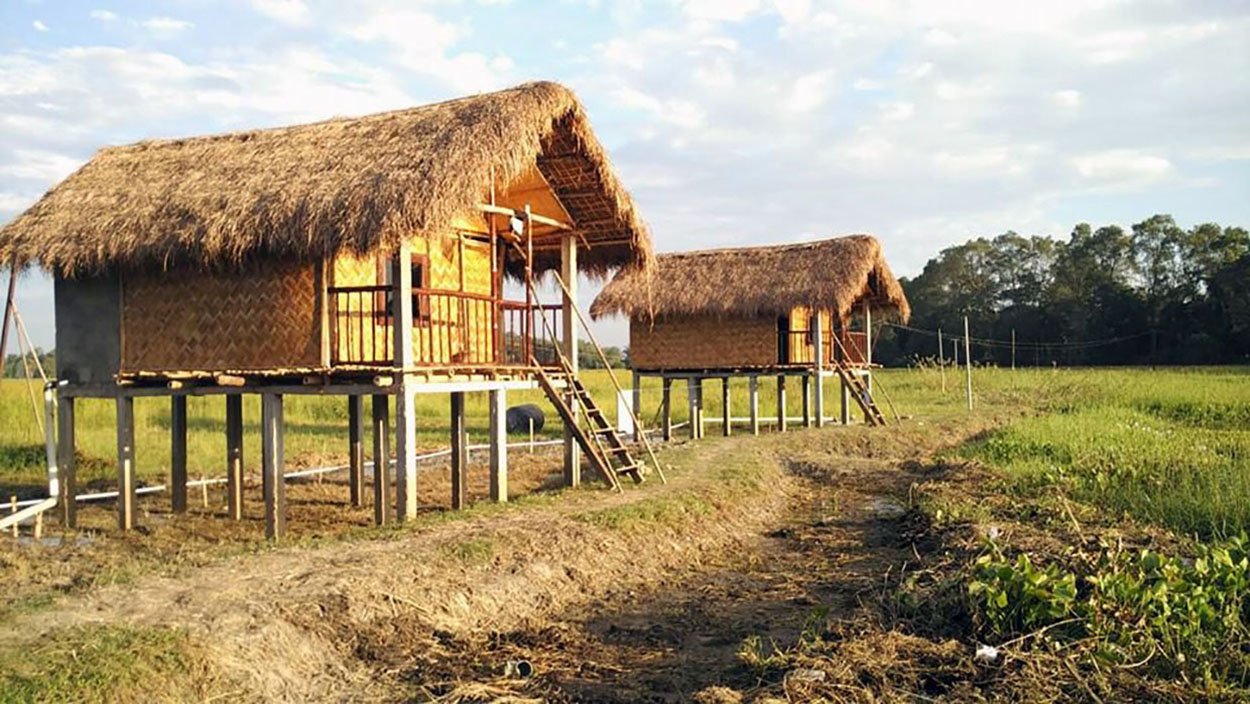 To make your stay simple and delightful the island offers tribal-style cottages standing on bamboo stilts, spread around an open riveting piece of land.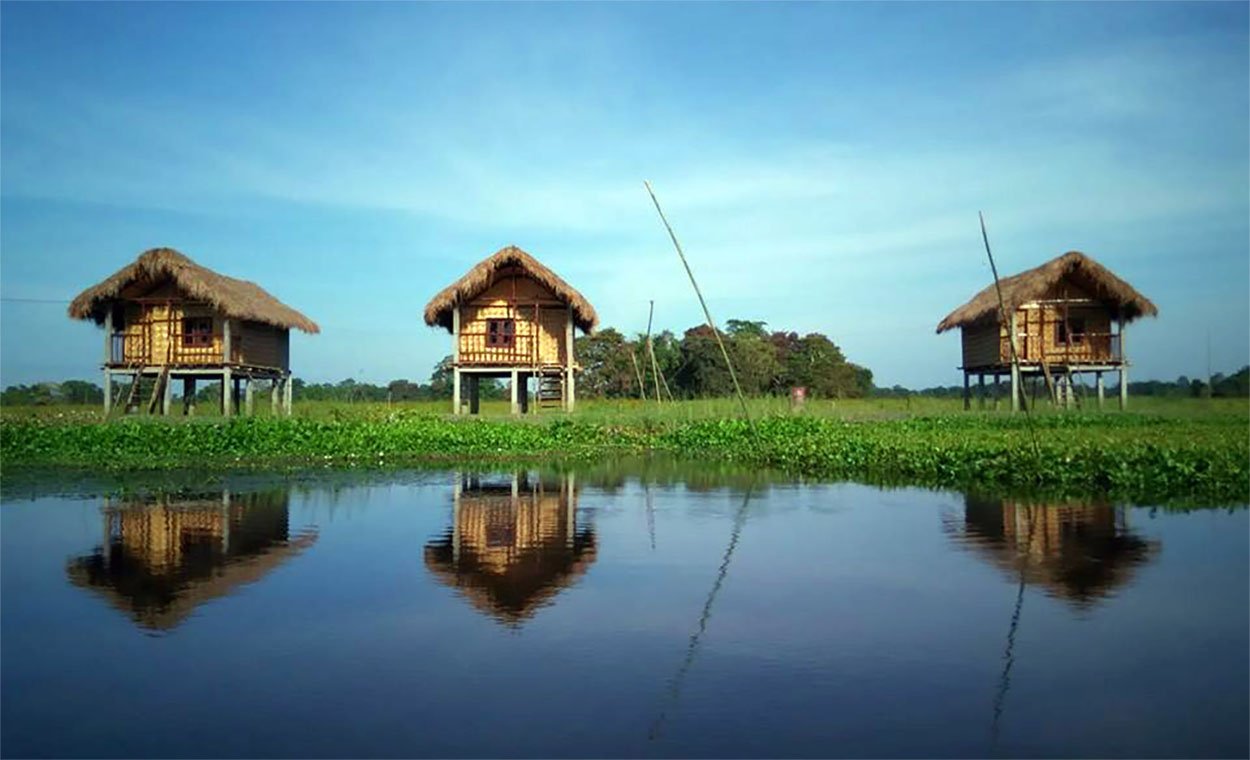 This is 'Yggdrasill Bamboo Cottage' where I happened to spend a week and appreciate the beauty of the place.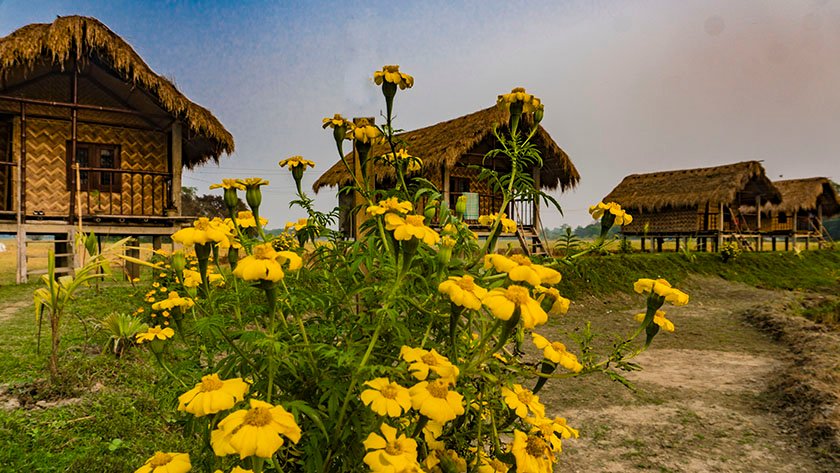 The best time to visit Majuli Island is either during winter (when the weather is perfect) or monsoon (when everything looks more colorful). I personally prefer monsoon as monsoon a photographer. The many green spaces and flowers in full bloom make for the best time to click some beautiful Majuli Island photos.
One can also opt to stay in a Satra which is like Ashrams, for as much as Rs 150 a day. A Satra is basically a Hindu monastery where Hindu monks learn Indian philosophy, and scriptures and worship Lord Vishnu.
There are a total of 25 Satras across the island today accommodating between 50 to 500 disciples each. So other than being a popular tourist destination, the island has a high religious significance too.
Useful Practical Details
Majuli island is the largest river island in the world. Located in Assam in the mighty Brahmaputra River, this 400 sq km island is a surreal and sprawling emerald of mesmerizing landscapes in its verdant and vast forests. I heard many people boasting about its surreal landscapes in a way that it would inspire even the most uninterested person to go and explore the place.
And well there is another compelling reason for you to visit Majuli island. This idyllic beauty – which is no less than a relic of India's diversification and grace to this temperate world – is in trouble. Due to soil erosion, Majuli is losing its land every minute. And if this continues around the island over the next 25 years, as is evidently possible, then the whole of Majuli island could become nothing but plain water.
Already a large chunk of its land has already been swept away in Brahmputra. Clearly, as ever there is a time to experience this singular beauty, it is now!
If you want to see more Majuli Island photos or pictures from my other travels, check my Instagram channel. If you think this photoblog lacks some useful information, please write a comment below.
Also read: Nongriat, Meghalaya Photos