Ever encountered a kid running in excitement but scared while shouting "Angrez! Angrez!", after seeing you? That's how I was welcomed when I first visited the village of Parkachik in Suru Valley.
It is a tiny village with a stunning view of Nun Peak — the largest peak of Jammu Kashmir. Speaking of the distance, Parkarchik Village lies at about 4 4-hour bus ride from Kargil (80 km) towards Zanskar. It is located in one corner of the Suru Valley.
I happened to be there accidentally while travelling from Kargil to Zanskar (that further take you to Keylong via Shinkula Pass). It was too late when I reached Parkachik so I had no choice but to stay there and make Suru Valley my home for at least a night.
I somehow feel thankful for the treacherous road that made my journey so slow that I was stuck there and got a chance to taste the best of Zanskar.
I was so charmed by Parkachik village that I ended up staying for 3 days before I continued my journey to Zanskar.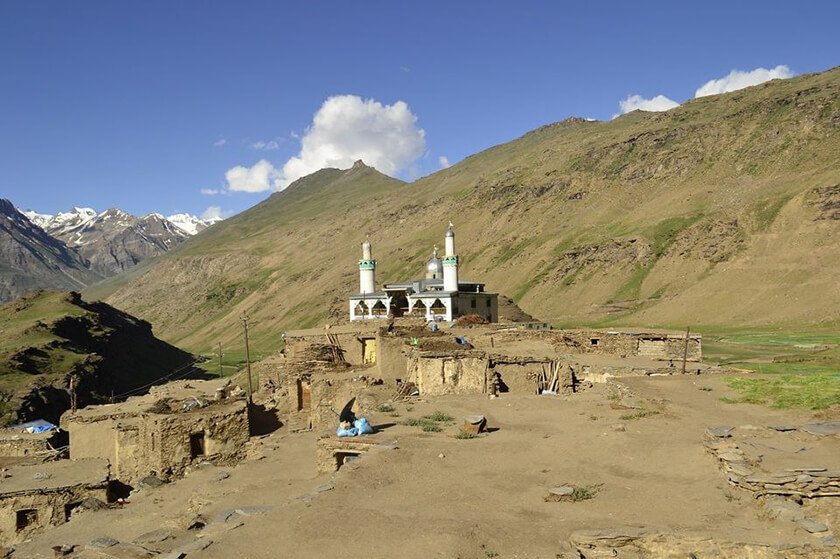 Suru Valley
Surrounded by meadows on one end and the Suru River on the other end overlooking the Nun Peak, Parkachik gives your eyes a panoramic bliss.
The entire valley is inhabited by Shia'Islam followers of people from the Dardi tribe. Just like Parkachik, the entire Suru Valley has its own peaceful Islamic vibe.
Watching young kids walking to school with their hijabs on will fill your heart with joy. If you have been to Nubra Valley, you will find similarities in both places.
Places To Visit Near Parkachik In Suru Valley
Parkachik Glacier
Parkachik Glacier lies below the Nun and is one of the major highlights if you like hiking. It's a humungous piece of ice slowly melting into the Suru River, looking nothing less than an ice-fall.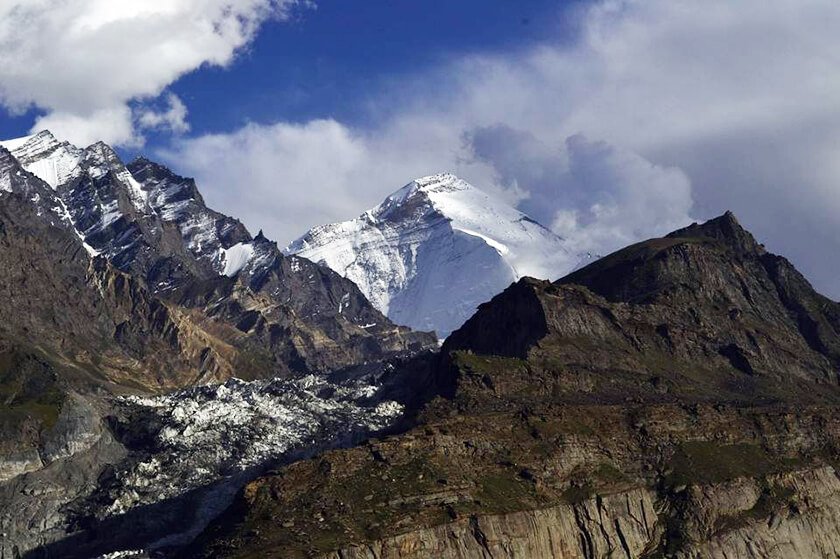 You can hike up to the glacier after crossing the suspension bridge across the river following the well-trodden trail. There aren't any signs or anything so if you are a bit sceptical of your geography skills you can ask a local from the village to be your guide.
People in Parkachik, and in the entire Suru Valley for that matter, are really helpful and kind. It is possible that they would want to accompany you without taking any money in return.
Summit Nun Peak Base Camp
For serious hikers who want to summit the Nun Peak or climb the base camp, Parkachik is a good place to start.
You can also start with Tongole, which is 7km from Parkachik. It can take up to 3-4 days for the base camp and other sightings while it can almost take 11 days to summit the peak.
Bathing In The Hot Spring
Who doesn't love a hot spring? Amidst the meadows of Parkachik village lies a small spring. The temperature of the spring is warm and not particularly hot as usual.
Taking a bath out in nature above 3000m, overlooking the highest peak in Jammu & Kashmir, is a very satisfying experience.
Walking In The Meadows
The upper side of Parkachik village hides the meadows of Suru Valley in its backyard. It's a beautiful feeling to walk across the meadows watching the cows grazing the grass as kids collect water and take it home with pots on their heads.
If you are lucky you might get a chance to witness Red fox roaming around. If not, witnessing some cute Kashmiri faces and beautiful sights are assured.
Related Read: My Srinagar, Kashmir travel blog if you are going that way.
Soaking In The Rural Beauty
Parkachik is one of those rare places that introduces you to the unspoilt charms of rural India. Just walk along the trails and explore life having its own slow and steady pace.
A farmer collecting dry grass for the livestock. A group of kids playing in the field. All these so-called sights from yesteryears are so true in Parkachik and in other villages in Suru Valley.
Getting There
Parkachik is well connected with daily bus service from Kargil. A bus leaves every day at 11 AM from Kargil town (Confirm timings in Kargil town) and reaches Parkachik around 3 PM. The same bus goes back to Kargil, the next morning around 7 AM.
But nothing beats having your own car though, especially if you plan to go ahead to Zanskar or visit a few places in Suru Valley. Parkachik doesn't have a fixed daily travel source to Zanskar. But there's a good probability of finding a shared-taxi to Zanskar early in the morning.
Kargil is well connected with buses from both Leh and Srinagar. It is also possible to hitchhike between the two destinations. Read about it here: My Leh to Srinagar Hitchhiking India adventure.
Where To Stay In Suru Valley
To stay in Parkachik, there's nothing fancy available, but the Jammu & Kashmir tourism developed Alpine Huts which provides a basic facility with an in-built restaurant. It's right across the highway overlooking the beautiful Suru Valley.
The accommodation is priced at around 1000 Rs for a night.
There's a small restaurant on the highway as well which can feed your taste buds. The food will be very basic in both places. There's no mobile network in Parkachik so you cannot book the accommodation online or call them. You can also check for hotels in Ladakh & Kashmir on J&K Tourism website or on hotel booking websites like Booking.com, among others.
Have you been to Parkachik Village or any other village in Suru Valley? How was your experience?