Wondering what are the best places to stay in Nainital for someone travelling on a weekend, wanting to cover as many tourist highlights as possible? Read this travel blog!
During all these years of full-time travelling if there's one thing I have learned it is that staying in central locations of popular Himalayan towns — whether it's Manali or Chail or Shimla — is a bad idea. And the same applies to Nainital.
Why?
Because central locations — of all these popular towns — are crowded, expensive and noisy. They don't offer a quiet holiday experience, something, that I believe, most tourists visit hill-stations like Nainital for.
For someone looking for the best places to stay in Nainital, the options lie at least 5 km outside of the main town (or the Mall Road) — close enough to enjoy the colours of Nainital yet far away from its uninvited crowded madness.
Best Places To Stay In Nainital
I have been to Nainital about a dozen times but never have I ever stayed on Mall Road except for once — during my first trip. And that was it! A 2000 Rupee per night room — that, in fact, was tinier and noisier than all the rooms in my tiny 3BHK flat in New Delhi — and I realized I've made a mistake. Had I travelled 5km in any direction I would have found a much bigger and cheaper room in a comparatively quieter neighbourhood.
Naturally, my second trip — which happened during my 20-day motorcycle trip across the Kumaon region in Uttarakhand (the same journey that took me from Delhi to Munsiyari) — took me to a town called Bajoon.
Bajoon was located less than 20 minutes from Mall Road in Nainital, close enough to be in Nainital as I fancy yet far away to offer a peaceful locale. I would wake to the sound of chirping birds (and not the sound of traffic in Nainital) and be in Nainital before I'm fully awake. The cost of accommodation in Bajoon was moreover only a fraction of the cost of accommodation in Nainital.
Similarly, later trips took me to the towns of Jeolikote and Bhowali — close enough to qualify as the best places to stay in Nainital yet far enough from the town's crowded Madness.
So let's discuss them one by one…
Bhowali
At about 10 km from the Mall Road in Nainital, lies the lesser frequented Bhowali. Where Nainital is 2080m above sea level, Bhowali is 1700m above sea level, so expect very similar weather. And since Bhowali is comparatively very less crowded it often feels more pleasant.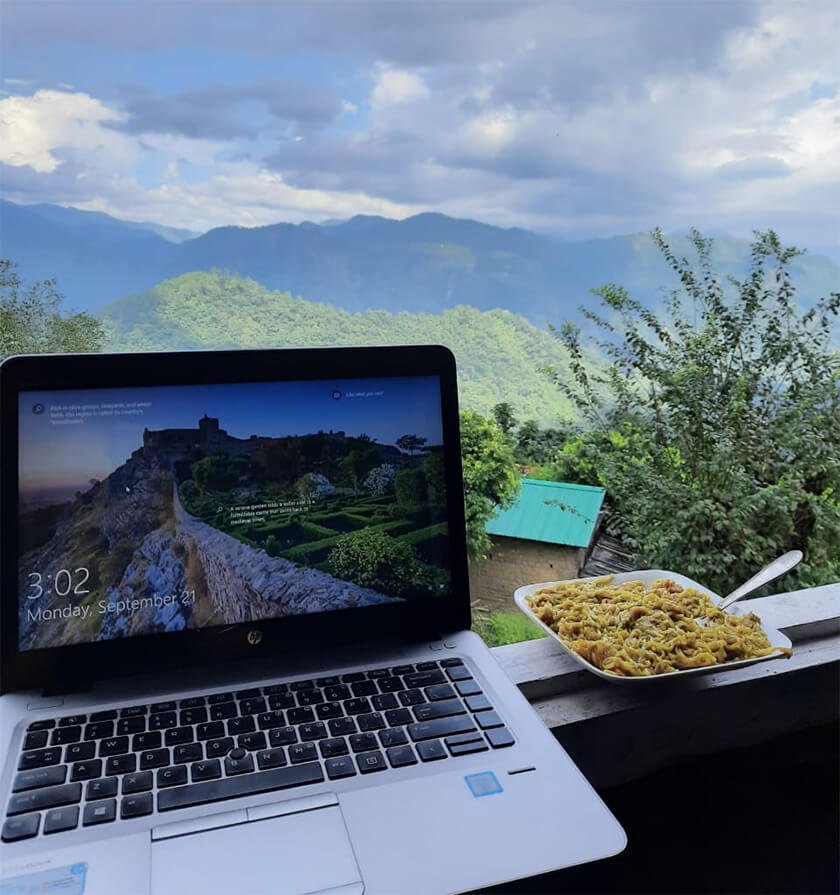 Bhowali is known for producing the finest quality fruits like apples, peaches, plums, strawberries and apricots.
For a tourist, there are many green spaces around for a short hike or enjoying a beer surrounded by the woods (just be a responsible tourist and don't throw the cans and bottles away!).
No wonder, Bhowali is one of the best places to stay in the Nainital area.
What Bhowali lacks in terms of a Mall Road it fulfils by providing nearby attractions to tourists.
At less than 8km lies the popular Neeb Karori Maharaj temple and ashram visited by devotees from across the world. Bhimtal is also comparatively closer to Bhowali (11 km) than it is to Nainital (23 km). If you're going to Bhimtal, also visit the picturesque Jangalia Gaon from where you get panoramic views of the valley.
Jeolikote
At less than 20 km from Nainital, lies the town of Jeolikote — another recommended destination in this article on best places to stay in Nainital.
A calm, secluded and quaint haven for nature enthusiasts, Jeolikote has recently picked a lot of popularity, with many backpacker hostels, targeting the low-budget travel community of India. Jeolikote is moreover located on NH87, which makes it easy to get to Nainital. It takes less than 15 minutes to travel from Nainital to Jeolikote.
I can recommend Vista Hostel in Jeolikote.
Jeolikote is located at an altitude of 1219m above sea level, perfect for those who can't bear the cold weather of Nainital, particularly between November and March.
Popular places of Nainital like Naini Lake, Mukteshwar and Jim Corbett National Park can be easily covered during day trips from Jeolikote. Another attraction in Jeolikote is the bee-keeping centre. It is a place where honeybees are bred for honey extraction.
Bajoon
Third, on this list of best places to stay in Nainital is the town of Bajoon.
At less than 10km from Nainital Mall Road, on State Highway 41 (Kaladhungi-Nainital road) Bajoon offers a great offbeat destination for people wanting to stay close to Nainital yet far away from its uninvited madness.
You will find a few OYO and SpotOn on the main highway in Bajoon, but if you will bifurcate a little and climb towards Adhawda you will find a few campsites offering you right in the middle of nowhere.
I have personally stayed at a place called Camp Wildland (see the video below from my Youtube channel) and recommend the same place if you are looking for a peaceful holiday experience near Nainital. Enjoy the serenity of nature, do some adventure camping, and visit Mall Road in Nainital (to complete your Nainital experience) one of the days. There can't be a better and more peaceful Nainital experience!
It takes less than half an hour to travel from this campsite in Bajoon to Mall Road in Nainital.
You may also be interested in reading about these alternative and less-popular things to do in Nainital.
Where To Stay In Nainital: If Near Mall Road
If the idea of staying at 10 or 15 km from Nainital makes no sense to you and you're expecting this article on best places to stay in Nainital to recommend you a few places not more than 2 or 3 km away from Mall Road, here are a few names…
The Naini Retreat: If you can spare 10,000 Rupees per night for a room then this is one of the best places to stay in Nainital. The Naini Retreat is located across the Lake and about 1 km from Mall Road. It's a 4-star property.
The Pinewood: For a slightly cheaper price, this 3-star property (costing between 3 to 4 thousand Rupees a night) is another good option. From Mall Road, it is less than half a km walk away.
Balrampur House: At 1.5 km from Mall Road, Balrampur House offers another beautiful stay in Nainital. It is a 3-star property, costing about 5,000 Rupees for a night.
That's all in this blog on the best places to stay in Nainital. If you have more suggestions to add to the list, please leave a comment below. You can also contact me on Instagram if you have any questions.