airaVisiting Sabah, in Malaysia? Try camping, hiking and rafting in Kiulu in Sabah. And the best place to do it? Kondi's Point. 
"Who does camping in a new country anyway? Don't you think jungles look the same everywhere?" I remember how my friends initially reacted as I told them about my upcoming trip to Malaysia.
And I understand their disapproval. For most people visiting a new country, streets and cities remain the biggest fascination. I mean if you are visiting Japan for an instance, would you rather go hiking, or carefully spend your time taking selfies at the famous Shibuya Station intersection in Tokyo? Similarly, for Malaysia, shouldn't eating Malaysian food, exploring Malaysian streets or planning a trip from Kuala Lumpur to Penang or from Kuala Lumpur To Genting Highlands remain the highlight? Why would anyone want to go camping in the jungle?
So yea, when I told my friends back home that I am going to do camping in Sabah, I didn't get a very positive response. The only thing they didn't frown upon was river rafting in the Kiulu River.
On this trip, I flew to Malaysia with Air Asia. There are other options too, however, which include flying with Flyscoot if you are looking for low-frills budget airlines or Singapore Airlines (if you want to spend more and travel in comfort). Read my business class experience with them if you are interested. 
Also, before I start with the article and talk about my camping experience in Sabah, in Malaysia, here's a Youtube video from my Youtube channel:
Camping & Hiking In Sabah: An Introduction
Before I write further and tell you how much I loved camping, hiking and river rafting in Kiulu, Sabah, let me tell you why I was excited about it in the first place.
Over 50% of Sabah's landmass is covered under forest reserves and tree cover. This makes activities relating to nature, like camping and hiking in Sabah, a USP.
Just like while visiting KL, I would visit the famous Petronas Twin Tower, for someplace like Sabah, which is famous for its natural reserves, staying close to nature felt like covering a highlight.
Note: Camping in Kulu, Sabah is a popular thing among locals. If you will ask people living in Kota Kinabalu, they would have gone camping there, or river rafting in the Kulu River.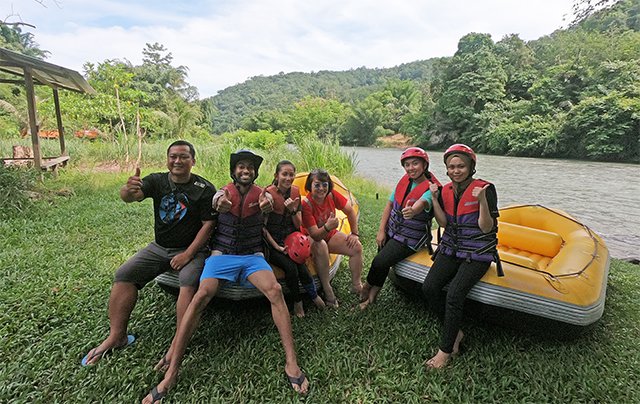 Why did I want To Visit Kulu, In Sabah?
When I was backpacking in Malaysian Peninsular back in 2017, people told me how Malaysian Borneo has a small-town vibe. They told me Borneo is full of ethnic tribes. I was told how people there, particularly in small towns, are so friendly that it feels like a different Malaysia.
Kiulu felt like that small town that would have both in abundance — ethnic tribes and friendliness.
I couldn't be more excited to visit someplace whose name was rather rare on the internet. Visiting Kiulu meant, if nothing else, experiencing the epitome of the friendliness of local Malaysians. And in the process, I may just end up learning more about the traditional tribes in Malaysia.
Also Read: Why I Loved Sabah, Malaysia
And then, being an adventure enthusiast and more of a camping lover than a city-dweller, camping, and hiking in Sabah made even more sense.
Kondi's Point: Best Place For Camping In Sabah?
About a one-hour drive, southeast of Kota Kinabalu life was rather in a slow lane. Here people were even fewer in number than they already were in Kota Kinabalu. And the smell of the jungle was far fresher.
We were taken to a place called Kondi's Point, and it was our home for the next two days.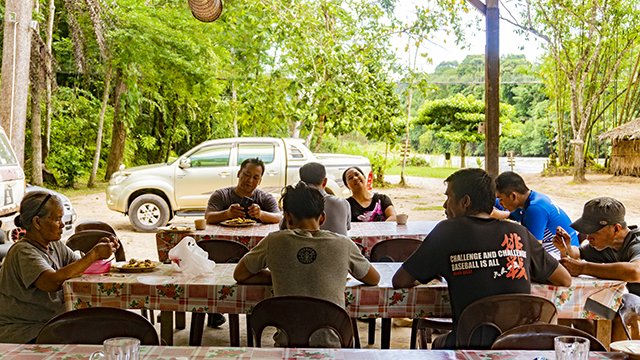 Though popular for camping, hiking and relaxing, our stay at Kondi's Point was rather flavoured with a few other activities. We tried netting, white river rafting, rubber tapping, cooking and a few traditional dance performances over dinner.
Rafting in the Kiulu River was, however, my favorite thing too.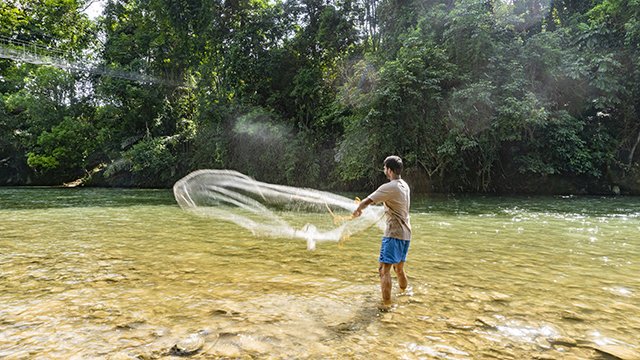 What's interesting was, we were even given basic survival lessons if ever we found ourselves stranded in a jungle – the chances of which were very slim, given (pretty much) everyone in our group was a fashion blogger, except for me, of course.
Where activities surely added to the experience, I was happy even if we were left on our own, with some food and the refreshing Kiulu river to swim in. The place, in itself, was so complete that we didn't need much to see and do to have a good time.
Kondi's Point: Worth Visiting?
Well, to honestly tell you, if you're the kind of person who enjoys nature no matter what, Kondi's Point (or perhaps some other place near Kiulu River) is certainly a place to visit. Even if you're visiting Sabah, or say Malaysia, for the first time, it's worth it.
But if you do not want to stay at Kondi's Point and rather prefer to stay in Kota Kinabalu watching the sunset at the waterfront – which certainly makes perfect sense – the fact that you can visit Kiulu on a day trip, do river rafting, trek in the jungle for an hour and return, cannot be disregarded.
And then, given that Sabah is known for its rich biodiversity and jungle reserves, the very idea of exploring one of its jungles while still not missing much of the city experience is always a better choice than exploring the town inside out and returning home with an incomplete experience.
Even a day trip to a place like Kondi's Point will give you a much broader sense of life in and around Sabah than just staying in Kota Kinabalu and only seeing the modern side of Sabah.
Tips For Camping & Rafting In Kulu, Sabah
The best way to get to Kiulu is by hiring a taxi or driving a car yourself. It is also possible to travel on a public bus, but it's going to be too much of a hassle.
A one-night stay at Kondi's Point is a must. If you did a day trip from Kota Kinabalu, however, it may feel a bit rush.
Carry all necessaries to bathe in a river: goggles, bathing suit, GoPro etc. Kondi's Point has made special bathing areas where you can swim in the Kiulu River and enjoy more.
The weather there remains hot and humid most of the year. Carry sunscreen sunglasses and a hat.
Carry trekking boots if you're going trekking.
There are a lot of herbs and plants of medicinal quality around the area. Try to get some information while trekking and camping at Kiulu River.
People in Sabah, especially in small places like Kiulu may be simple but not conservative in any sense. Learn and laugh and crack any joke with them. No one's going to mind.
Try some rice cooked in Bamboo shoots. It's the best.
Would you try a similar experience of camping and hiking in Sabah? Does rafting in Kiulu River feel intriguing? How many points for Kondi's Point?
Disclaimer: I visited Sabah on a blog trip with Travel.Earth, Sabah Tourism and Air Asia. While my trip and experiences were sponsored by them, all inputs provided above are solely personal. I only recommend what I personally try, and find worth appreciating.