Visiting Munich? Don't miss these top tourist attractions!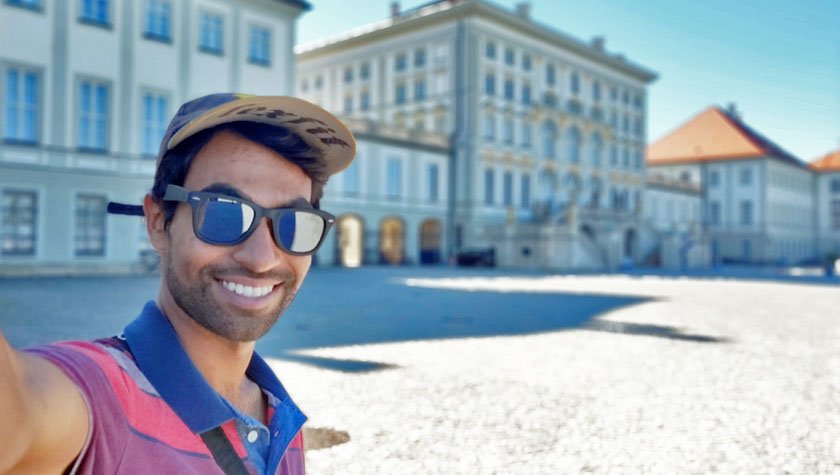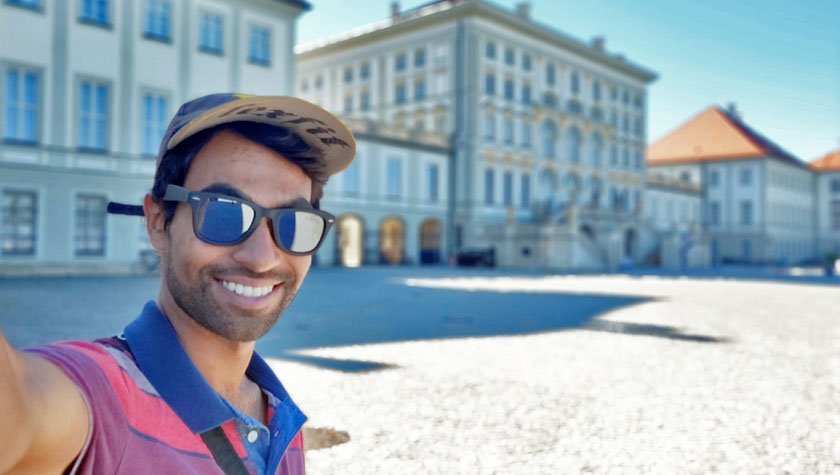 Munich was in my bucket-list for long for all the good things I had heard about it from fellow travellers. Though it was true that most people who adored Munich adored it for its annual beer festival, I found there's still a lot more to the city of Munich than the drinking steins of beers and going crazy during Octoberfest.
Munich is host to a beautiful historic city centre, many serene public-parks (where one can even surf) vibrant beer gardens and some hearty German food — no wonder, being the third largest town in Germany and the largest in South Germany, Munich has a lot to offer. And what makes it better than any other town (even better than Berlin — the rebel free-city of Germany, so to speak) is its posher, cleaner and more well-behaving look.
Also Read: Berlin Travel Guide
So if I were to suggest that one big German city (please note that I am still not comparing it with the cuter small towns like Rothenburg or Fussen) that every traveller must visit Munich is going to top the list. And speaking of the top tourist highlights in Munich, here are some suggestions:
Top Tourist Attractions In Munich
Marienplatz (Mary's Square)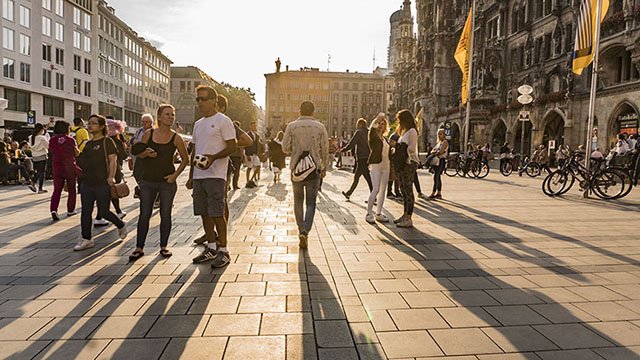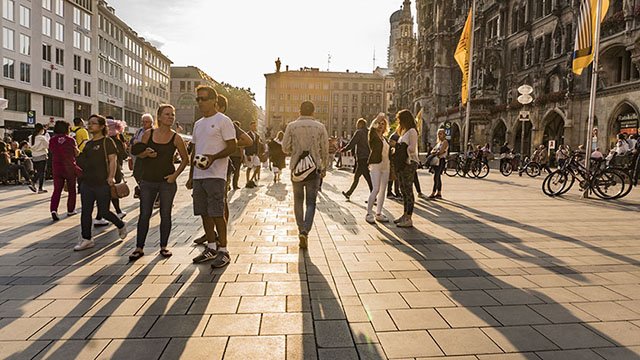 The heart and central square of Munich, Marienplatz is home to one of the favourite things about Germany and that is its Christmas markets. But if you visit is outside of December (as I happened to visit) you will still find it as one of the centre attractions in Munich. Have a look at the Old and New Town Hall, Mary's Column in the middle and St. Peter's Church, the oldest church of Munich.
It is even possible to get a panoramic view of much of the town by climbing either the tower of the New Town Hall (elevator) or the tower of St. Peter (stairs only).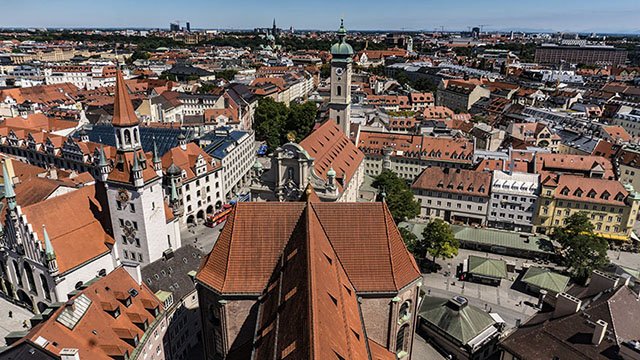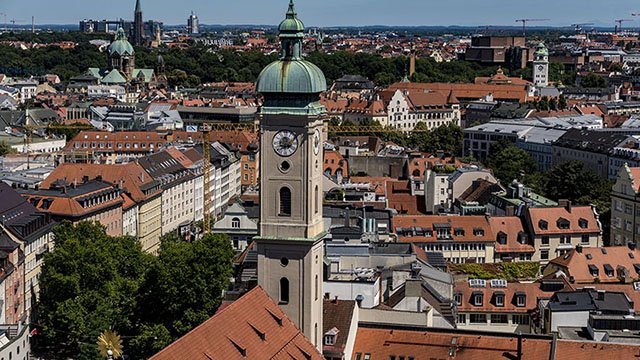 For more real and old-school European charm, however, climb the tower of St. Peter's (nearly 300 steps) which costs just 3EUR for adults.
Viktualienmarkt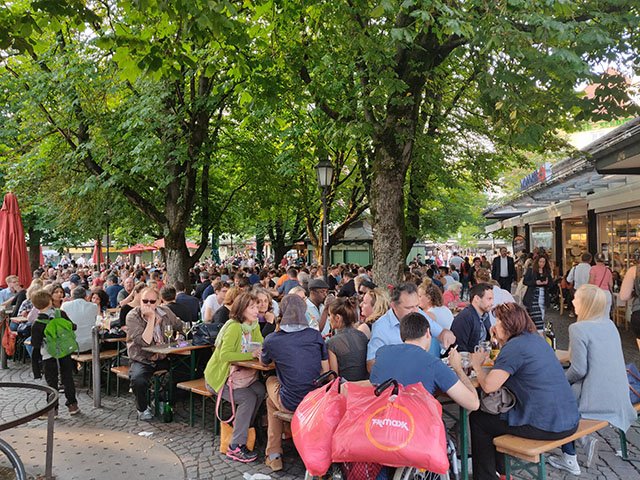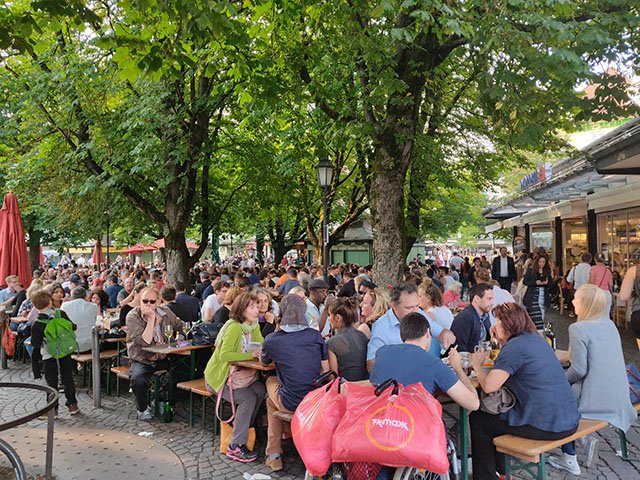 Right behind St. Peter's Church, you can find the Viktualienmarkt, a daily food market offering typical delicacies from Bavaria, but also international products from all over the world.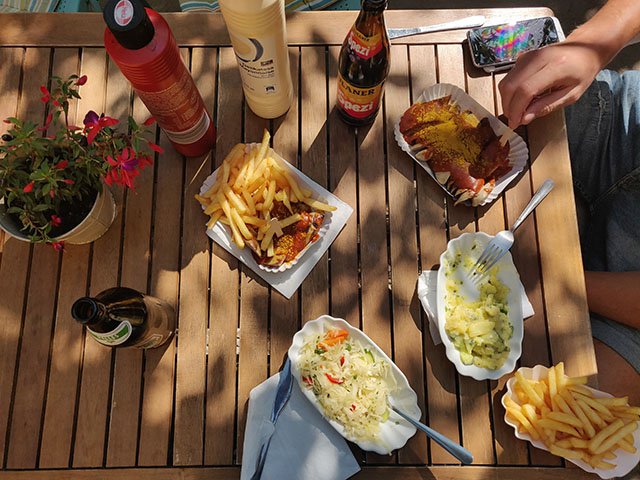 Try some real pork sausages, sauerkraut, and potato salad, with Munich's favourite Augustiner Helles Lager Hell in Viktualienmarkt's beer garden. Though you may find it a bit crowded at all times, it's still worth a beer and some quick munchies.
Odeonsplatz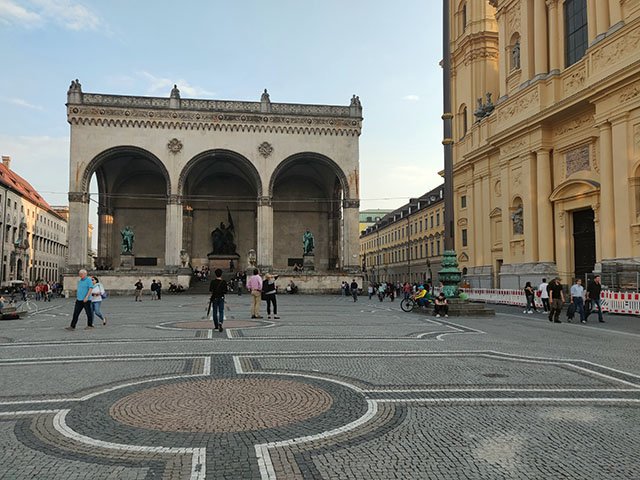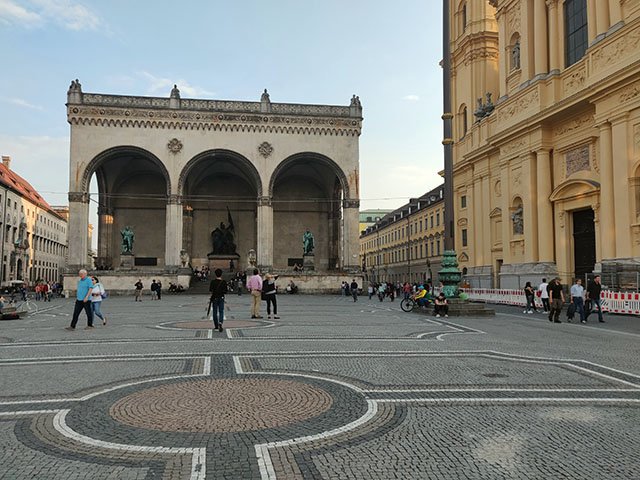 Another public square full of sights, Odeonplatz is popular primarily for its  Field Marshalls' Hall, the Munich Residence which used to be the main palace for the Wittelsbach dynasty reigning in Munich and Bavaria until 1918 and the Theatiner Church (a bright yellow-coloured church on the west side of the square).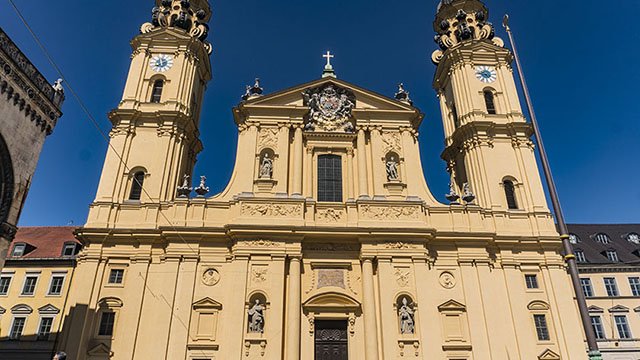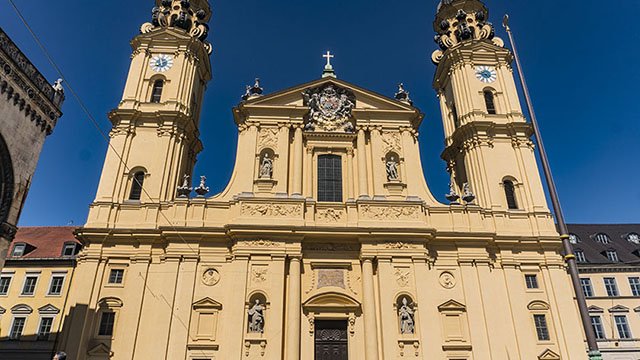 Exploring all the highlights can take at least half a day, so if short with time, a quick stroll around the square and a quick exploring Wittelsbach can complete your Odeonsplatz visit (just like I did).
Deutsches Museum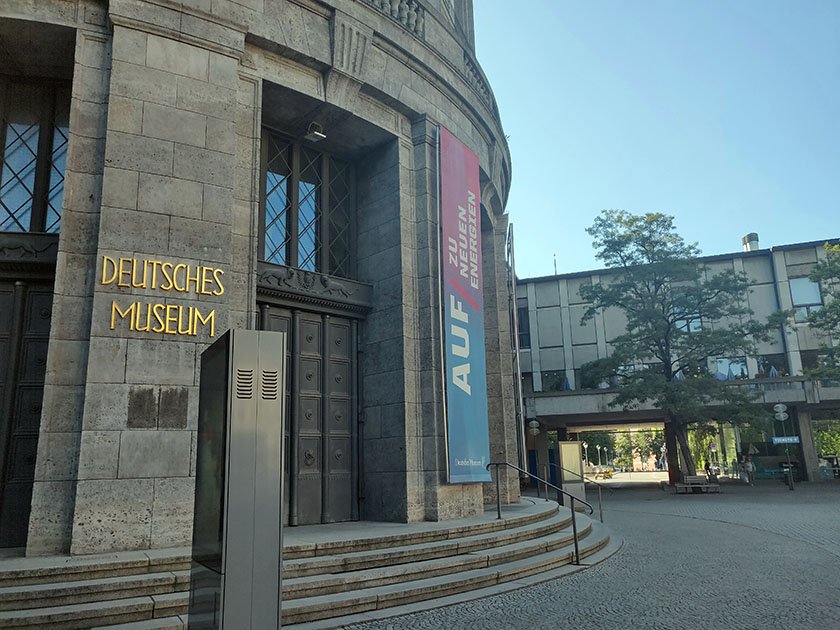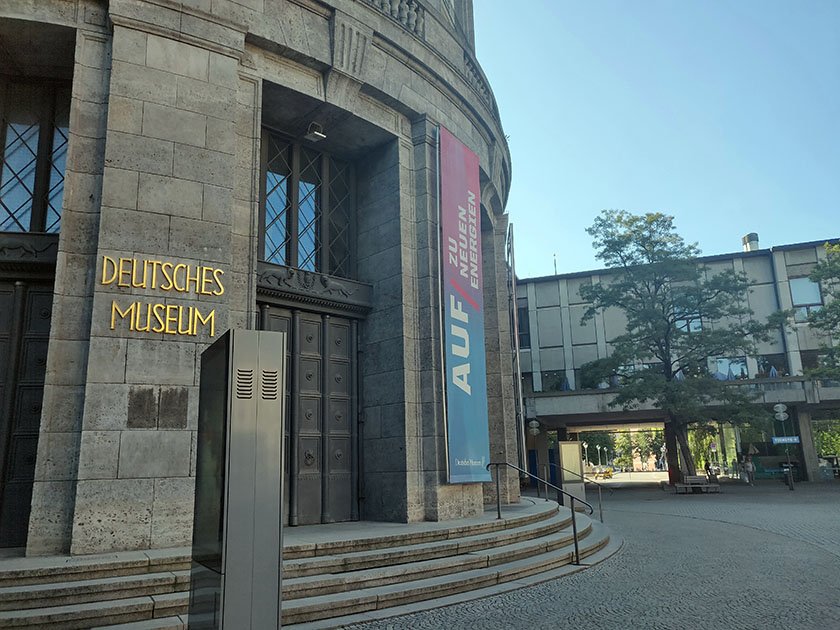 If you're a museum person, Located on an island in the Isar River, Deutsches museum is a real treat for museum lovers with displays of everything (from history to culture to technology to science, that is related to Germany). In case you visit this museum, make sure to select some departments beforehand, otherwise, your visit would take the entire day.
English Garden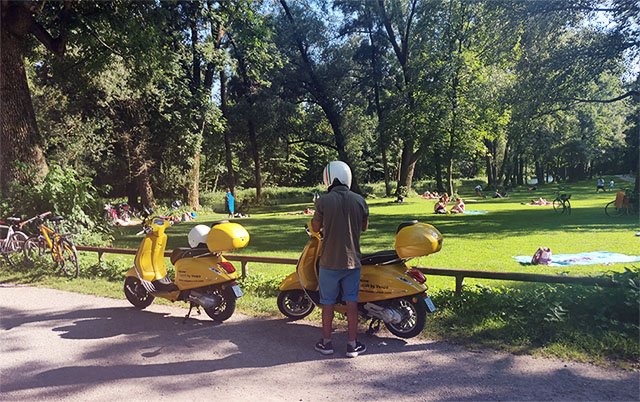 English Garden is the green lung of Munich and one of the biggest city parks in the world. Enjoy walking align the various trails, have a stop at one of its beer gardens or pay a visit to the surfers entertaining their audience with their tricks at an artificial surfing wave at the Eisbachwelle (a small creek).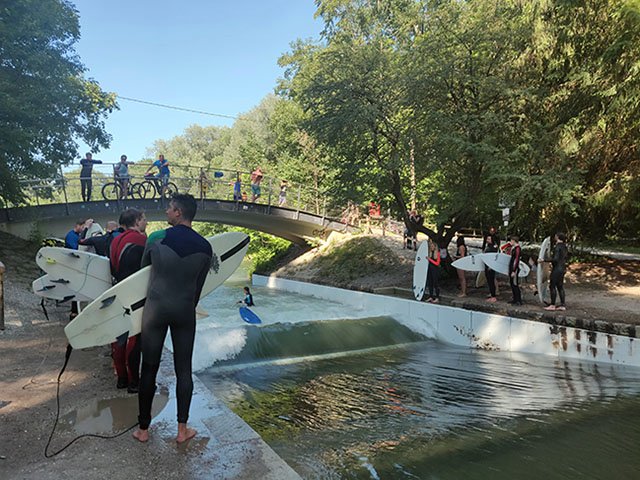 If, however, you want to see local surfers and experience the comparatively more laid-back atmosphere, visit the surfing site of Flosslaende. Also, if you are visiting during the summer months of the year, do not forget to carry your swim shorts and take a short swim in Eisbach River. It's possible to swim across its length in English Garden, take a tram (with your wet swimsuit and naked chest) and get back to where you started from.
Olympic Park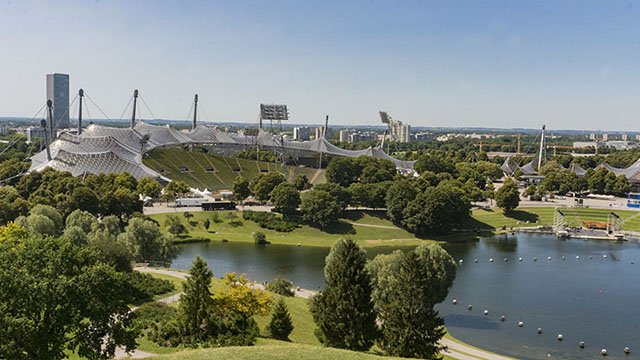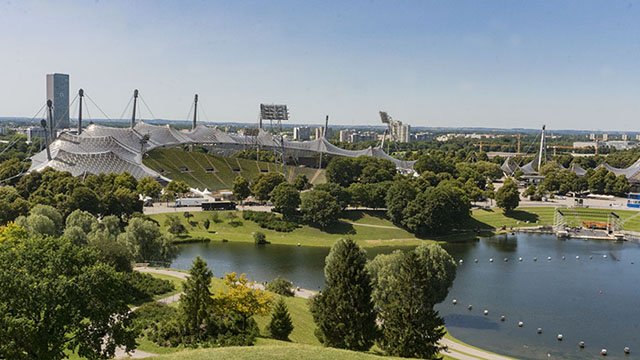 Established for the Summer Games in 1972, this park still belongs to the most iconic places in Munich, not only because of its unique tent roof architecture. Visit the Olympic Stadium or the Olympic Tower, the tallest tower in the city or just enjoy walking across the park.
BMW World & BMW Museum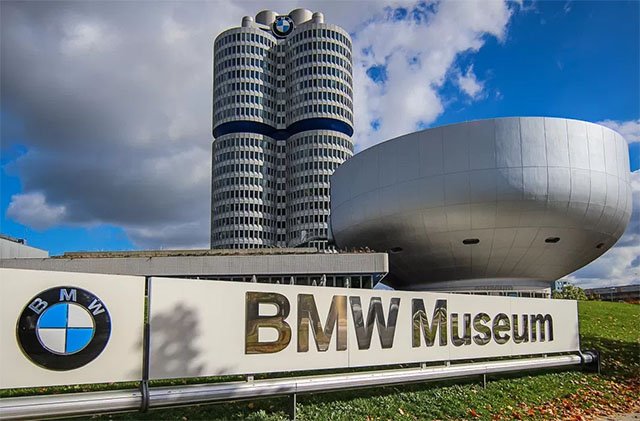 Right next to Olympic Park, car enthusiasts can have an insight into the history, but also into the future of one of Munich's biggest employers, BMW. If you have already been to other car museums in Germany, say Porche or Mercedes Benz Museum, you may find some similarities, but more than that, a museum that is by far more impressive.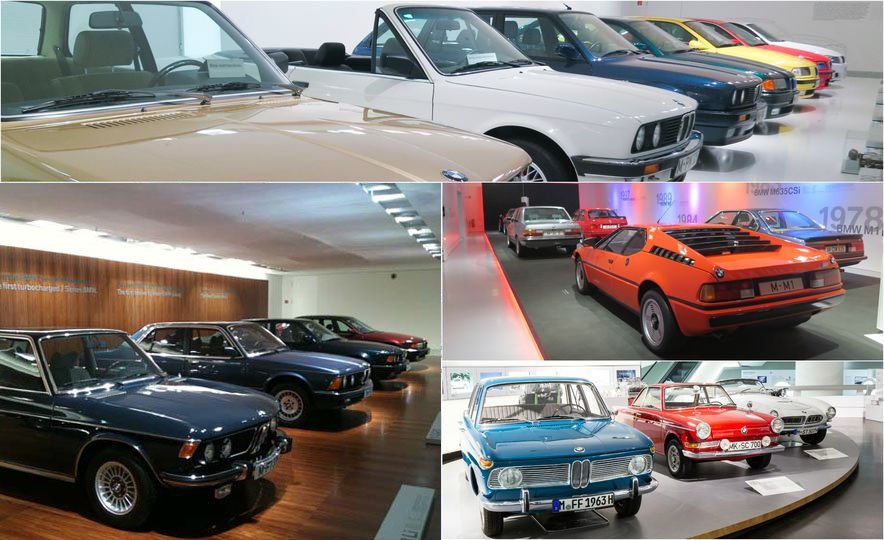 It's possible to lose the track of time in the BMW world and the museum if you haven't already planned the number of hours you want to dedicate in the BMW world and the museum, so be careful. An ideal tour can, however, take between 2-4 hours. Please note that BMW world is free to visit, which caters mainly to the tourists, displaying some of their top of the line cars like the M6. They even had a section for Rolls Royce which was unexpected. BMW Museum, on the other hand, costs EUR9 for adults and shows a detailed history of the company right from its inception until today.
Nymphenburg Palace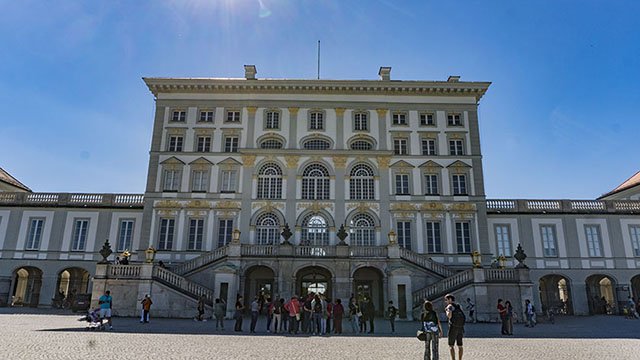 About half an hour away from the centre, lies the most popular sights of the city and an important place in the history of Bavaria: the Nymphenburg summer palace, which used to be the home to the former Royal family of Bavaria.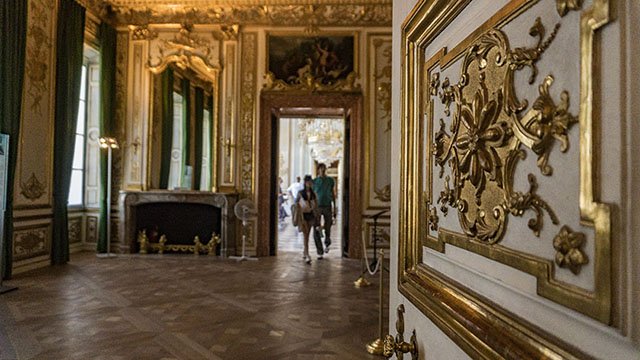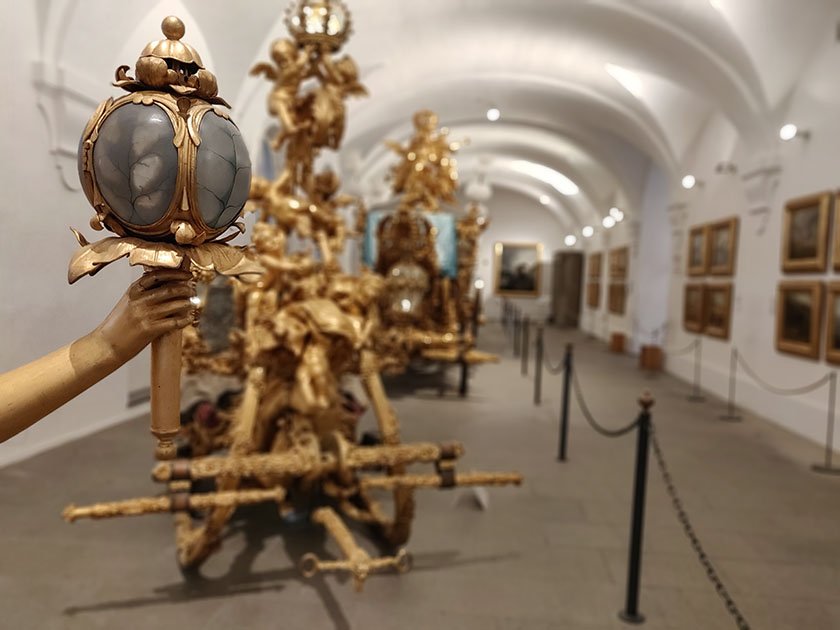 The palace consists of many buildings, pavilions, museums and an extensive outdoor garden and one requires an entire half day to see it all.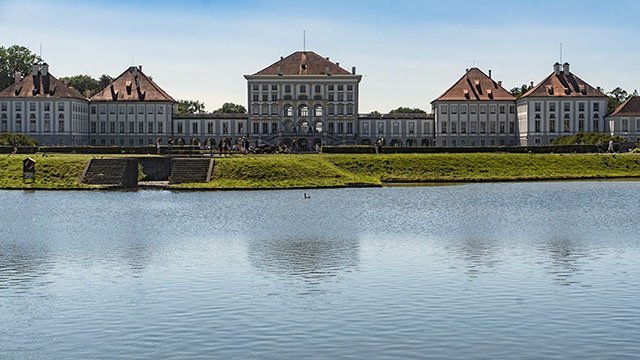 I recommend buying the ticket that gives you access to everything on offer, although if your budget is tight or you are short on time, then I wouldn't miss the main museum exhibits and the stable.
---
These are the few highlights that I covered during my 4-day stay in Munich and were moreover recommended to me by Munich Tourism. Though I know is a lot more to see and do there, covering these, as I personally found, can more or less complete your holiday in Munich.
Also Read: A 3-Day Travel Itinerary For Munich