Here's an ideal 3 days in Munich itinerary, including travel tips on things to do in Munich, where to stay & more. I was on a sponsored media trip by Germany Tourism to travel around a few places in Bavaria and write about them on my blog, so you can certainly trust the suggestions given below.
While it is true that Berlin is the most visited tourist destination in Germany, Munich is no less a highlight either, especially if you're in Bavaria (read my Bavaria Germany itinerary if you're interested). If Berlin is popular as a party town, the hipster hotspot and the place to be right now, Munich is more original and real. For me, my 3 days in Munich itinerary felt more than a typical German clichés travel experience.
Now, before I start with my 3 days in Munich travel itinerary, I want to confess that you need at least a week to see it all. But I understand not everyone is so lucky. So, if you're short in time, just like I was, this travel guide will help you whet your appetite in just 3 days.
This is not your regular Munich itinerary but an actual layout of the city based on my personal experiences and suggestions from the tourism department. I tried a lot of other things beyond what's mentioned (and of course in a completely different order) and out of all of them, I have written this blog. If you will follow this Munich travel itinerary, you will make the most of your time there.
If you are travelling to Munich, you may also be interested in reading this Romantic Road Germany itinerary that I covered during another blog-trip with Germany tourism almost 6 months later. If you are interested, you can also do a day trip from Munich to Augsburg for an offbeat experience.
I rented a car to explore Augsburg and the Romantic Road. Read these Europe car rental tips if you are going to drive around in Europe. 
I would also like to share the link to the official Germany Tourism website for more tips on what to see and do around Munich and in the Bavaria region at large.
Now let's get started…
Things To Do In Munich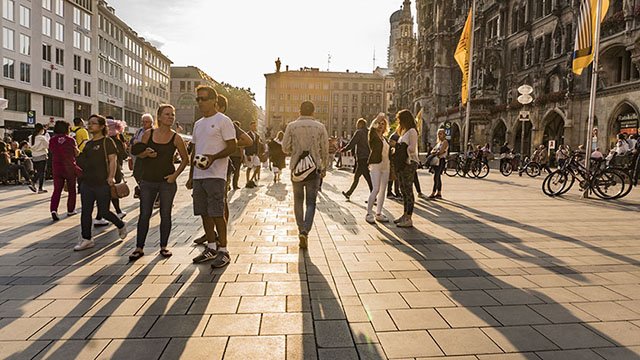 3 Days In Munich Itinerary
Day 1 In Munich: Start With A Guided Bike Tour
During my 4 day Munich itinerary, I tried a guided bike tour (with MikeBike Tours) and a Vespa tour and found them both an ideal way to cover major tourist highlights in the city on a fast track.
Though public transportation in Munich was also very impressive, these two options were quicker and more convenient. So yea, a bike tour and a Vespa tour (we will talk about it later in the article) are the two best things to do in Munich.
There are a few bike tour operators to choose from but I suggest you book a Superior Bike Tour with MikeBikeTours. It starts at 9:30 in the morning, costs €39 for adults and covers most of the things in our Munich travel itinerary in just 5 hours.
During the tour, you visit Königsplatz, the NSDAP Headquarters in Führerbau Max Joseph-Platz, Ludwig Maximillian's University and Marienplatz. The tour also includes a visit to a popular beer garden (the English Garden) for lunch and a mug of beer. No wonder, a bike tour is the best way to start your 3 days in Munich itinerary.
There are over 15 stops during the tour with guided commentary and in just 5 hours, you get to learn a great deal about the history of the city including the Munich Agreement.
A guided tour on day 1 is the single best way to acquaint yourself with a new city.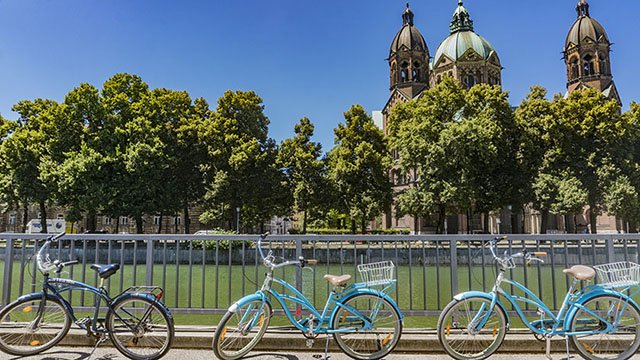 Drink Your Second Beer At Viktualienmarkt
Your bike tour will end back at Marienplatz just in time to grab a bite and have another mug of beer — very important to keep having during our Munich travel itinerary. And there can't be a better place than Viktualienmarkt now that you're already there.
Located in Marienplatz, Viktualienmarkt is a daily food market and an ideal stop to try some typical delicacies of Bavaria, but also products from across Germany. Visiting Vikatulienmarkt and eating some food is certainly one of the best things to do in Munich.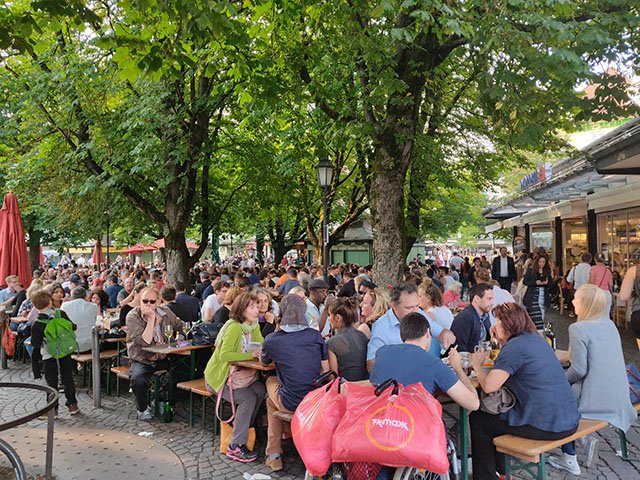 Climb The St. Peter's Church
Once ready with a happy stomach, head to St Peter's Church in Marienplatz to climb its tower (of about 300 steps) and catch the panoramic view of the old town centre. If the weather is nice, you can also catch glimpses of the Alps at a distance during your Munich itinerary.
Tip: If you're not very hungry after the bike tour, you can also do the St Peter's Church before heading to Virtua, as both places are right next to each other.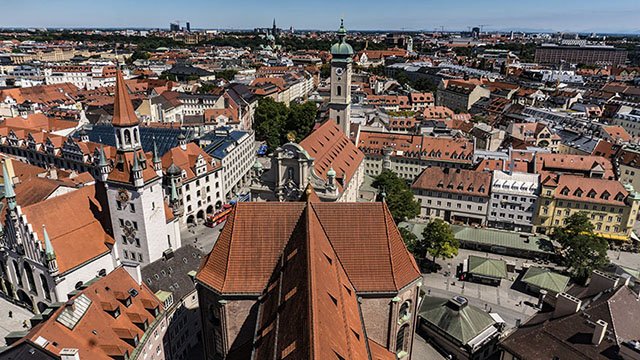 Eat At A Kebab Takeaway
It is not hard to notice that Germany has a big Turkish community with a strong influence on Turkish cuisine. At every 200m, you can see a Turkish food joint selling Doner Kebabs or something equally amazing.
So don't miss a chance to eat a real Turkish Doner Kebab, or even better, a Doner box. They're one of the best things to eat in Munich!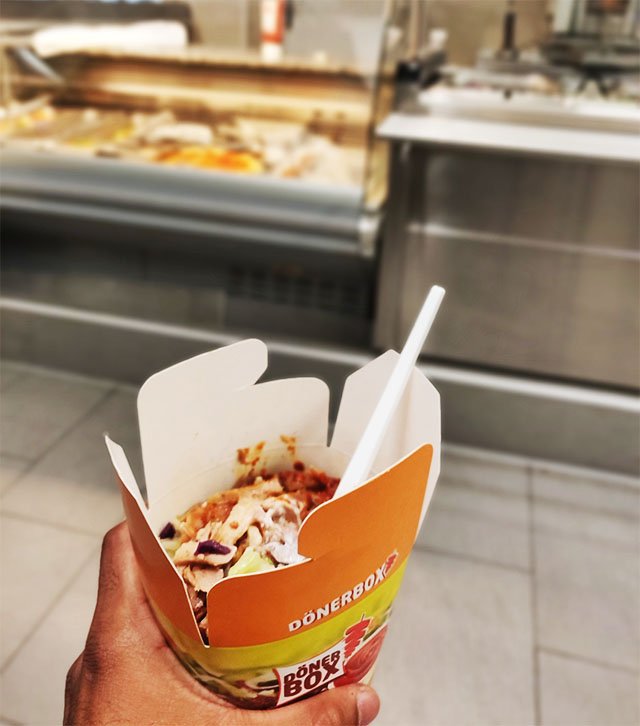 Day 2 Munich Itinerary: Start With The Vespa Tour
Stylish, practical, innovative, classic… descriptions of the Vespa, the iconic Italian scooter, are endless. These vehicles aren't just nice to look at, they're also a very unique way to explore Europe. During my trip, I rented a Vespa for a couple of days and rode around. Likewise, I suggest you rent a scooter on day 2 of your 3 days in Munich travel itinerary.
Though it's fairly easy to explore the town by public transport, a Vespa is a little more convenient and fun. Ride it like a scooter and park it like a bicycle on any pedestrian path, without worrying about getting a ticket.
I rented a Vespa for less than 60 EUR a day which included a GPS and one full tank of fuel. Once done, the tour began…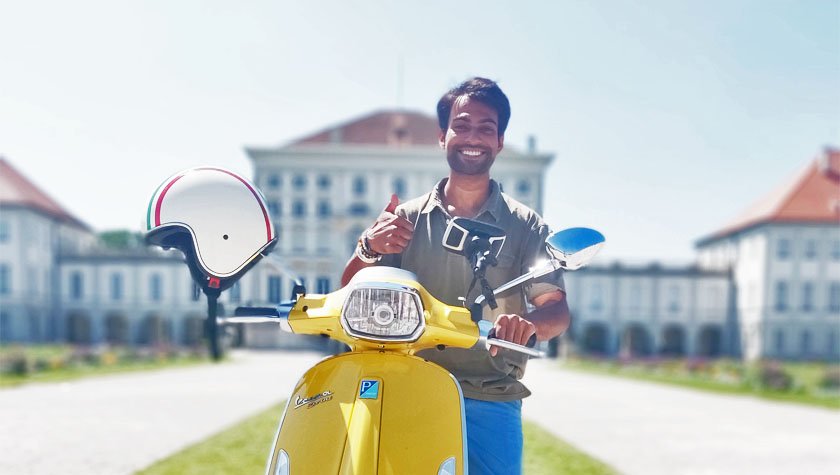 Start Your Day With Some Sausages & Potato Salad
Start your Vespa and start your day with some breakfast. Bavarians love sausages and their staple breakfast is Weisswurst. So eat a Weisswurst if you can handle something heavy. If not, try any regular sausage with potato salad and start your day like a real Bavarian. And if it's not too early for you, a beer to settle it all down.
There are many street cafes to grab a sausage and potato salad combo, but if you want a suggestion, I can recommend Königlicher Hirschgarten located not too far from Nymphenburg Palace. They offer simple regional food & a wide range of beer — making them a must-visit during our Munich itinerary.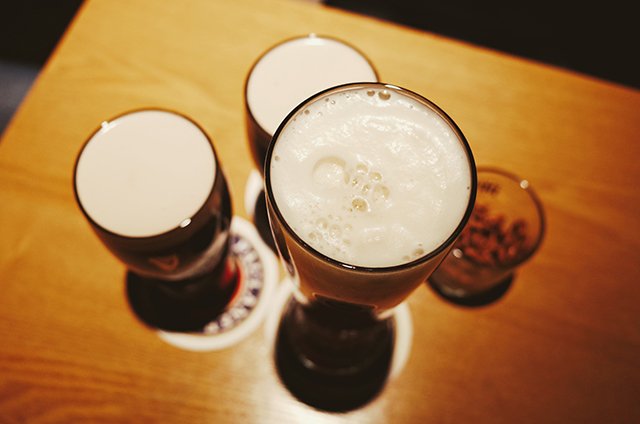 Once done, let's start with our top things to do in the Munich list. And the first destination we will explore on day 2 will be the Nymphenburg summer palace.
Also, read these budget tips for travelling in Europe if you are interested.
The Nymphenburg Summer Palace
Home to the former Royal family of Bavaria, the Nymphenburg Summer Palace is a must-see in any Munich travel itinerary. And since it's one of the most frequented places in town, I suggest you get there early morning so that you don't have to deal with a big crowd.
There are different tickets for Nymphenburg Summer Palace, the basis of what you want to see there. Out of all the places, I suggest you do not miss the main museum exhibition and the stable.
No matter which ticket you buy, head straight into the main museum first. The royal gardens are also worth visiting and can also be visited without a ticket.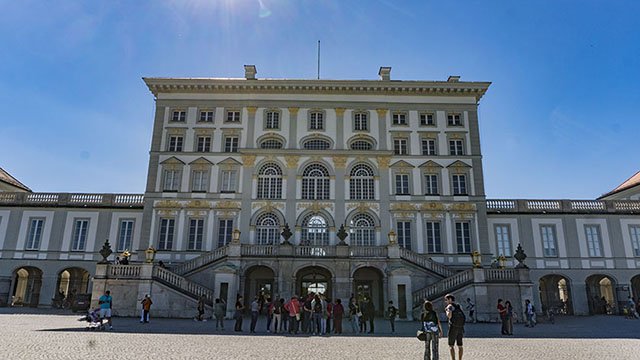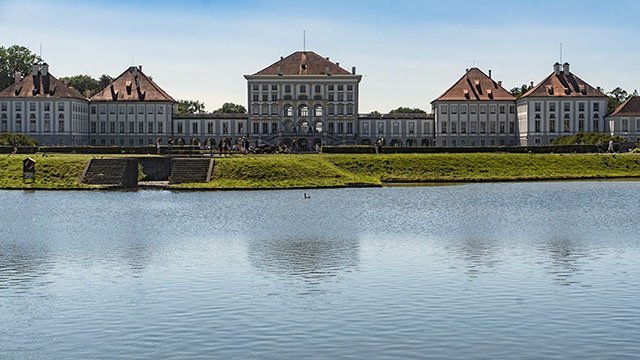 It is quite likely that you will end up spending a good share of your day at Nymphenburg Palace. Though an ideal visit can take an entire day, since we are short on time we will not spend more than half a day there. Next on our list will be lunch.
Lunch At Hofbräuhaus
Hofbräuhaus is one of the oldest and best beer gardens in the world and their one-litre beer steins during your 3 days in Munich travel itinerary is a must.
Other than the beer, visit Hofbräuhaus for a typical Bavarian atmosphere as lederhosen-clad staff sling beer steins across tables. If you are an extrovert and travelling solo, go join other guests. The lively atmosphere in Hofbräuhaus is the best part, with everyone enjoying and having a jolly time.
I loved the ambience in Hofbräuhaus more than any beer garden. Having said that, Hofbräuhaus wins the top place in the beer garden category in this Munich itinerary.
Explore Streets On Vespa
One of the things I loved the most (more than exploring the tourist highlights) is riding the Vespa around Munich.
Just pick one of the many routes in the GPS provided with your Vespa or simply choose streets that catch your fancy. I particularly loved the area around Olympiapark and Luitpoldpark.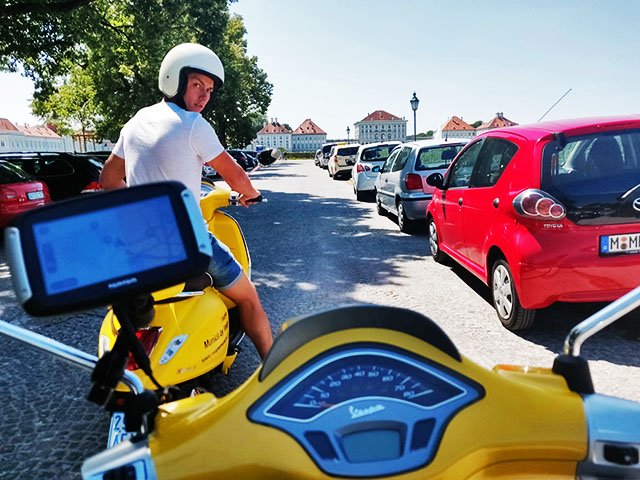 Day 3: Escaping Munich
One of the best things about Munich is its central location for a day trip.
During my recent trip to the Bavaria region, I explored a few towns that were all ideal for day trips. Other than destinations, I also tried skydiving which can also be an ideal day trip for adventure buffs.
So on day three of the Munich travel itinerary, here are a couple of suggestions to actually escape the town:
Skydiving In Günzburg
Located in Günzburg, in the Swabia region of Bavaria (about 2 hours train ride from Munich, towards Stuttgart) is the airfield for adventure sports like adrenaline aircraft rides and skydiving.
If you're into adventure sports, a day trip to try tandem skydiving can just be the most memorable thing to do during your Munich itinerary.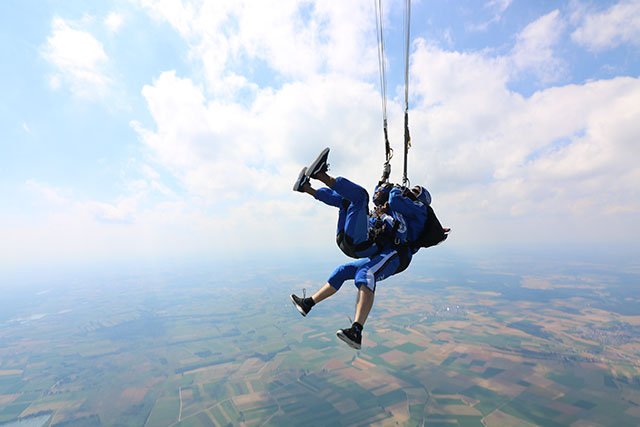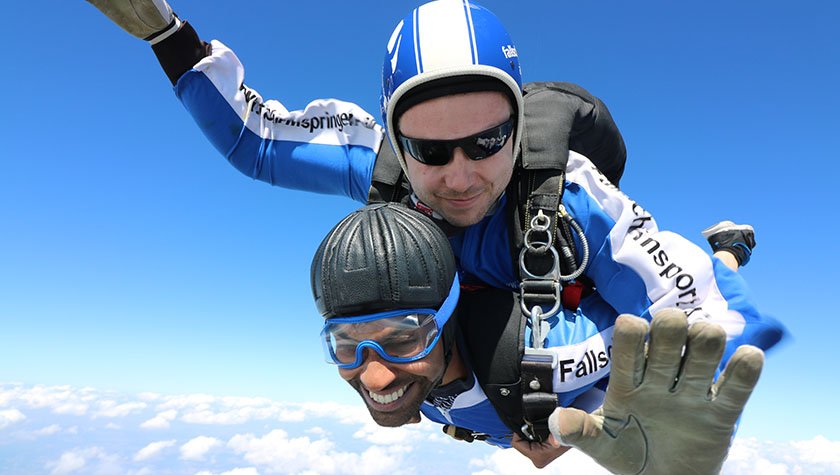 I skydived with a company called Fallschirmsport Airtime, for a price of EUR 200. The dive included 60 sec of free fall.
To get there, you can take a train from Munich to Günzburg (which takes 1.5 hours and about 20 EUR for a single journey). A 20 minutes walk to the airfield and you're ready to try one of the most extreme adventure sports in the world. The entire skydiving experience (from training to jumping and getting your skydive certificate) can take 4-5 hours. With 4 hours of travel from Munich, it makes it an entire day trip.
Here is more about it: Munich Skydiving Experience
Hohenschwangau & Neuschwanstein Castle
Just 1.5 hours from Munich you can find yourself at the foothills of the Alps, wandering the tiny Bavarian village of Füssen with a pretzel in hand. Where the town itself is a highlight and worth exploring, the main draw to this area is the castles of Hohenschwangau and Neuschwanstein, related to King Ludwig II.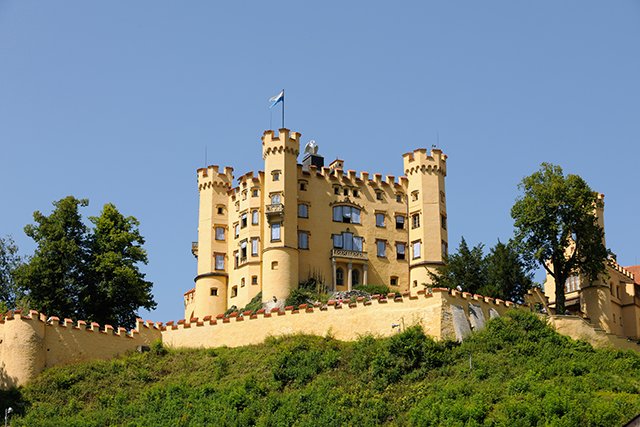 Both the castles are quite spectacular to explore.
Set in a mountain setting, it's hard to visit them without conjuring up thoughts of fairy tales and royal musings.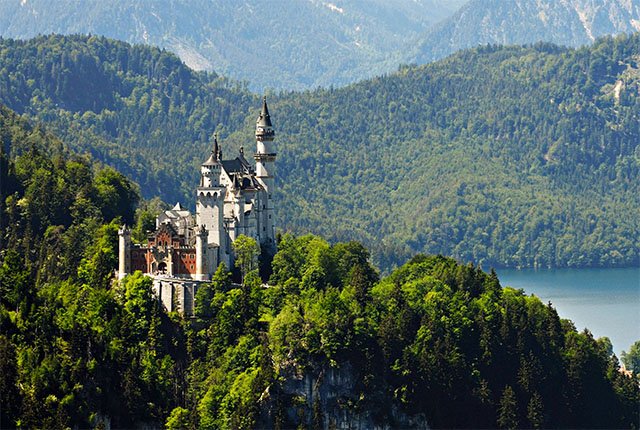 There are two ways to get there. One, you take the bus (or a train to Füssen followed by a bus to Hohenschwangau) and it drops you in Hohenschwangau, from where you can get your tickets to the castles and then walk up the hill. The other way is to book a guided tour. The convenient way, of course, is booking a guided tour that includes a ticket to visit the castles and your transportation from Munich.
That's all about what to see in this Munich itinerary. If you want to cover a few more highlights in the city, here is a great resource on more tourist attractions and places to visit in Munich.
Munich Travel Itinerary: Budget
Though it's true that it's one of the most expensive towns in Germany, you need not turn your wallet inside out to have a good time in Munich.
Here's a rough money classification for a 3-day Munich itinerary:
Day1: €39 for the bike tour + €10 for a beer and light snacks in English Garden during the bike tour + €15 for lunch and beer in Viktualienmarkt + €3 to climb St. Peter's tower + €10 for dinner in a Kebab shop [Roughly €67 plus accommodation + breakfast]
Day2:  €59 for renting the Vespa + €7 for the traditional sausage breakfast + €9 for a full tour at Nymphenburg Summer Palace + €15 for the lunch and beet at Hofbräuhaus [Roughly €90 plus accommodation + dinner]
Day3: €209 for skydiving + €40 for the transportation to Günzburg [Roughly €249 plus accommodation + all meals] OR for a guided tour to the castles of Hohenschwangau & Neuschwanstein from Munich, roughly €60 plus accommodation + all meals.
Where To Stay In Munich
Munich is one of the most visited destinations in Germany. Having said that, there's no dearth of places to sleep in the city. From budget backpackers to luxury seven stars, the town has something for everyone.
However, I can recommend 'Bold Hotels' where I ended up during my 3 days in Munich travel itinerary and loved them for everything. For a price of EUR 70, I got my own room, a balcony a small kitchen and a bathroom (with underfloor heating). Moreover, every detail matched the German standards.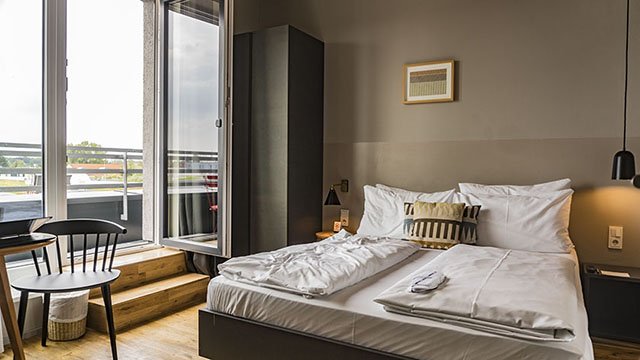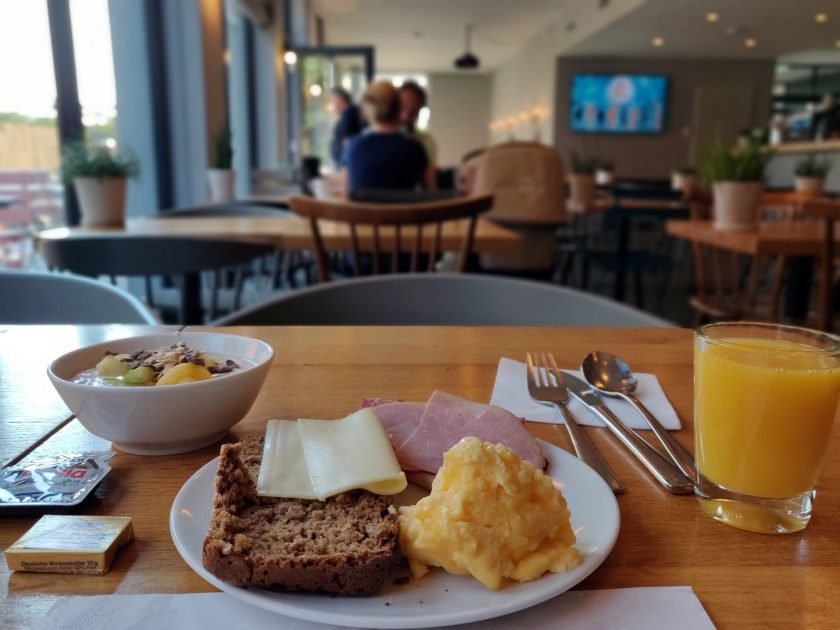 Their buffet breakfast was moreover a daily treat!
That is all from me in this blog.
If you are an Indian, travelling to Munich from India (just like I did) read these tips on how to plan a Europe trip from India. You may also be interested in reading these useful tips on how to apply for a Schengen visa in India.
If you think I have missed anything in this Munich Itinerary, and you have some useful suggestions on things to do in Munich, please share them in the comments below.
Disclaimer: My trip was sponsored by Germany Tourism. Though they paid for my travels, all suggestions are solely personal. I recommend and promote only what I like and find worth appreciating.