It is said in Hinduism, that no act can be more righteous and religiously pious than taking your parents on a pilgrimage to Char Dham. And I ended up living that statement, earlier in the year 2017, upon my mother's continuous request to take her across to the Char Dham — the four holy sites for Hindus: Yamunotri, Gangotri, Kedarnath, and Badrinath — in the Indian Himalayan state of Uttarakhand.
It happened when my mother kept requesting me to a point where any repeated denial felt like a hopeless try. The deal was, however, we were not going to book any of those lame Char Dham yatra tours that cover every experience possible — from fighting for the front seat in the tour-bus everyday, to sight-seeing more tourist places (that fall on route) than something religious, to sleeping in the smelly guesthouses ever — but nothing spiritually uplifting.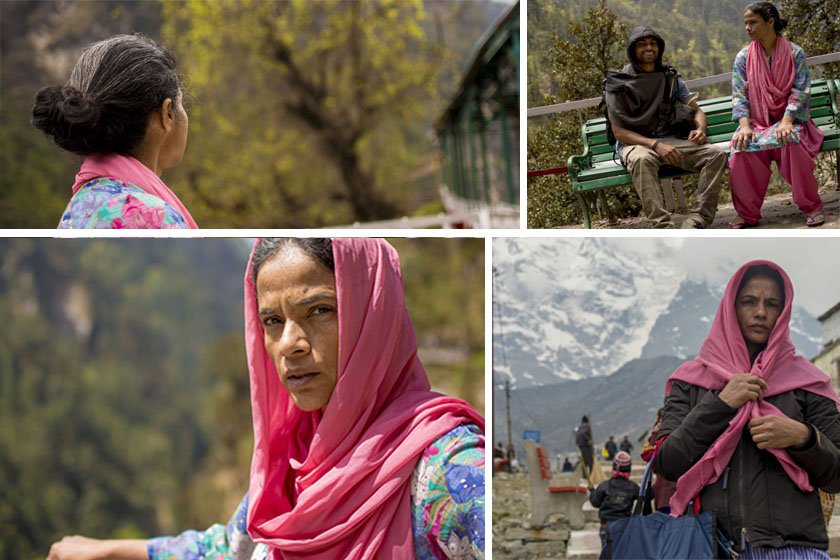 So taking no risk of that sort and regretting in the end, we agreed upon following my way — of literally backpacking to all the four sites of Char Dham. For a period of nearly 10 days, we experienced uncountable rickety public buses, waited long hours for shared taxis, worked and reworked on our itinerary (though still following the agenda of starting the pilgrimage with Yumnotri and ending at Badrinath) and booked our own hotels, while on the go.
And if you're planning something similar — of completing the Char Dham Yatra in one go, without booking a special tour, this travel guide is for you.
Following The Right Way

Not many people are privy to the fact that the Char Dham Yatra follows a pattern and end up visiting the four holy places the way they fancy. From what is believed, the pilgrims should first visit Yumnotri then Gangotri, then Kedarnath, and in the end, conclude their visit at Badrinath. Why so? Well, as my mother.
Things To Note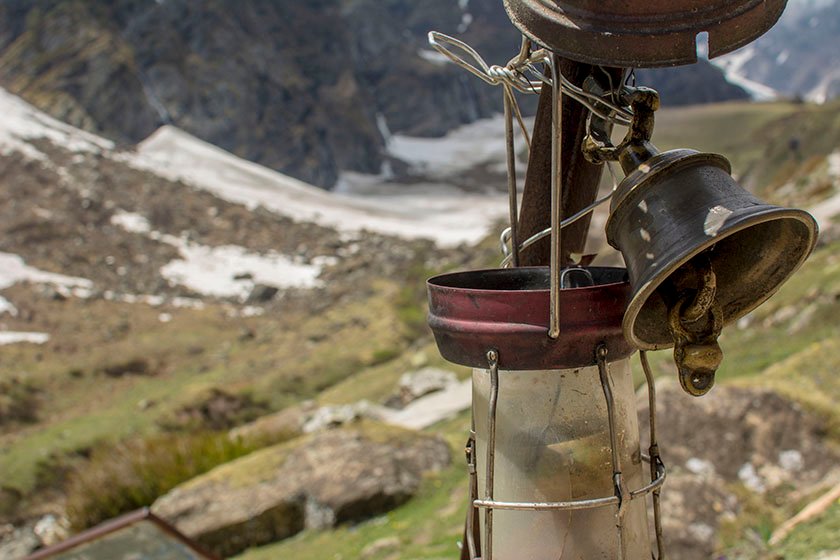 Please note that the temples at four Char Dham sites open only between a limited period of April to October/November, with every year having a different opening and closing date based on the Hindu tradition of parikrama or clockwise circumambulation. One can check the exact date of opening of Char Dham Yatra on the official Uttarakhand Tourism website.
Though people allowed to visit the four pilgrimage sites throughout the year (if the roads are not blocked already due to heavy snowfall in winter) the temples remain locked from outside. It is moreover quite impossible to find public bus connections once the Yatra has been officially announced as discontinued for the season!
A self-planned trip may take a few days extra, as you may end up spending a little more time in finding accommodation or waiting for public transport, but rest assured, there's going to be much more freedom and peace of mind throughout the journey. The entire trip may also just feel a lot cheaper than booking a per-pax, all paid for the tour — particularly if you're two or more people and hence sharing hotel rooms.
There will be enough regular buses and shared taxis moving along the route between the official opening time of the yatra. When the yatra is officially discontinued, finding transport can be a problem. So plan accordingly.
Understanding The Route
Despite the four sites of Yamunotri, Gangotri, Kedarnath and Badrinath being located pretty close to each other, the higher mountain regions here makes it pretty impossible to have any direct road connection between them — forcing travellers to take longer detours and thus travelling longer distances. Consider a full day drive (7-14 hours) from one destination to the other.
Day 1: Rishikesh To Janki Chatti
Morning buses from Rishikesh leave at the first light (around 4 AM) and take nearly 10 or 11 hours to reach Janki Chatti. Buses can be booked in advance at the bus station in Rishikesh or right on time. Those who have missed the bus should have no problem in finding shared taxis that may charge slightly extra. The route takes you from zero to a whopping 2,800m altitude above the sea level.
Please note that the road concludes at Janki Chatti from where you need to trek 5 km (and back) to Yamunotri. And since the trek may take around 4-5 hours and then another hour to enter the temple (if it's crowded) it's a good idea not to trek the same day and rather do it the following morning. There are enough budget hotels to stay at Janki Chatti. A few guest houses can also be found at Yamunotri, but in peak season, it may be possible that they're all fully booked.
Day 2: Trek To Yamunotri. And Back To Janki Chatti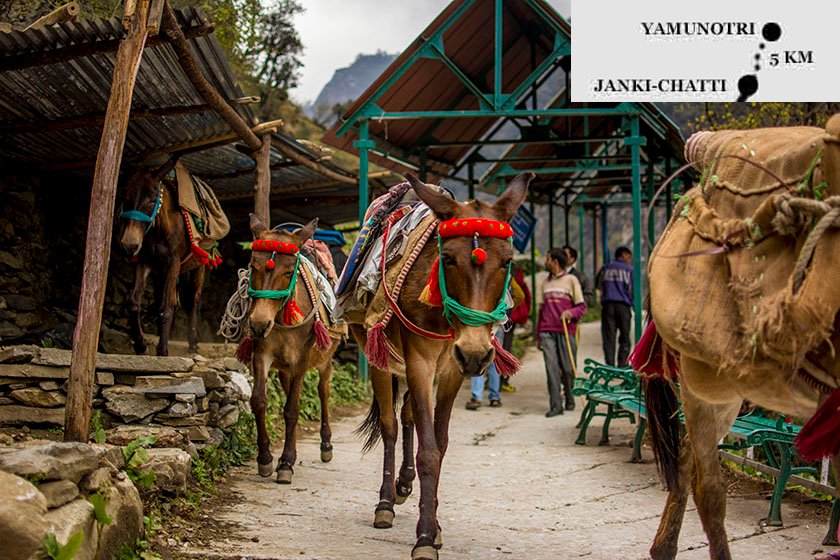 Yamunotri is the source of river Yamuna, which, according to Hindu belief, is considered pure and bathing in its waters is believed to absolve people of their sins.
The trail connecting Janki Chatti and Yamunotri is pretty much a wide concrete path, with almost no chance of someone losing it. A GMVN rest house lies a kilometre from the starting point to the left. The town ends after a kilometre and a half after which the route gets slightly steeper. There are three temples along the route and the first (Ram temple) lies to your right just after the town ends. You will be treated to a hot spring at Yamunotri.
Depending on how fast you walk and how busy the temple at Yamunotri was, it can take 4 to 5 (or even) hours to get back to Janki Chatti. Relax at Janki Chatti.
Day 3: Janki Chatti to Gangotri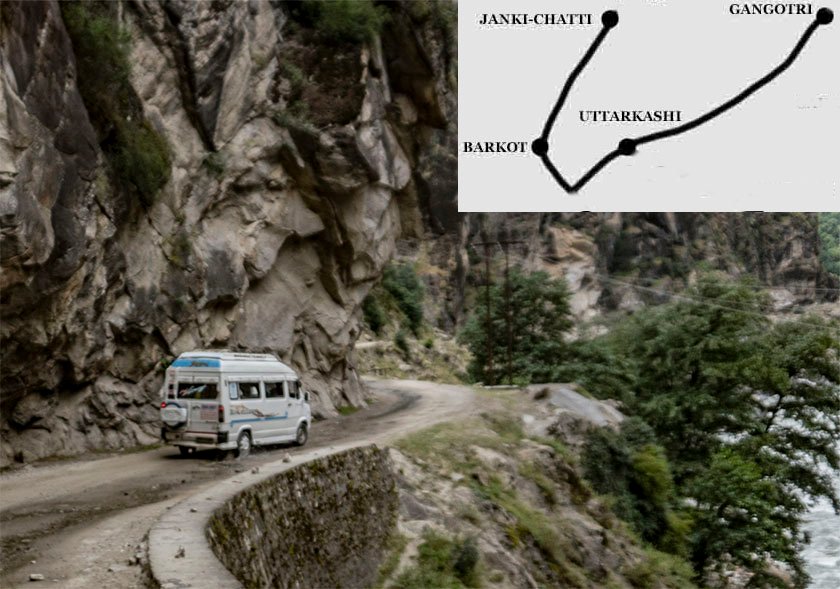 Janki Chatti to Gangotri can feel another long journey, though still not as brutal as the previous one. Even if you catch a bus at 6 or 7 in the morning, you should be fine reaching the town of Gangotri before it gets dark.
Now, the temple at Gangotri is located in the town of Gangotri itself, confusing many about whether or not to go all the way to Gomukh (the source of river Ganga) and only pay tribute at the temple in the town of Gangotri and leave. Trek to Gomukh, from Gangotri, takes at least two days and requires to complete an 18+18 km trail.
If you wish to skip the trek, skip Day 4 & Day 5 below.
Day 4: Gangotri To Bhojbasa
Trek to Gangotri to Gomukh takes two days, with the first destination being a flat valley named Bhojbasa. The trek to Bhojbasa — 14 km from Gangotri, starts at the front courtyard of the Gangotri temple — following a steep climb of around 100 steps which leaving you pretty much exhausted before you even start. But once you're done with it, there's only a gentle uphill climb throughout.
It may take 6 or 8 hours to complete the trek, depending upon the fitness level. Regular ongoing pilgrims will keep you on track. However, if you're visiting Char Dham when the chances of finding regular pilgrims are less, it's advised to hire a guide or walk in a group.
Bhojbasa has a GMVN government guesthouse or a much cheaper Lal Baba Ashram where you can stay for 250 Rupees a night, including your food and stay.
Day 5: Bhojbasas to Gomukh. And Back To Gangotri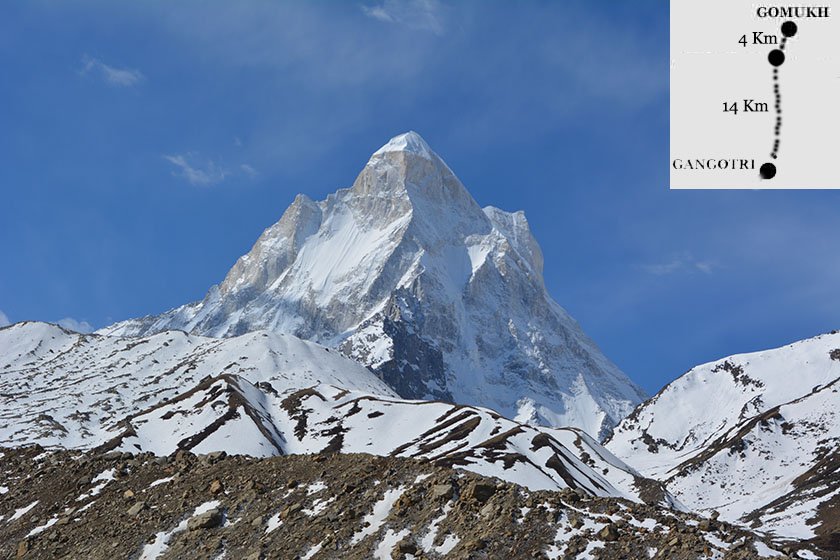 Since Bhojbasa has located 4 km from Gomukh, continue your journey early next day and reach Gomukh in an hour and a half. Gomukh is the source of river Ganga (or the Ganges) that completes your pilgrim to Gangotri.
Spend some time at Gomukh and walk back to Bhojbasa. Have another cup of tea at Bhojbasa if you fancy or continue your walk back to Gangotri. Since Bhojbasa to Gangotri is pretty much a gentle downhill walk, there should be no problem in completing in nearly 4 hours. Find a place in Gangotri and stay for the night.
Day 6: Gangotri To Gauri Kund. And A Pit Stop At Sonprayag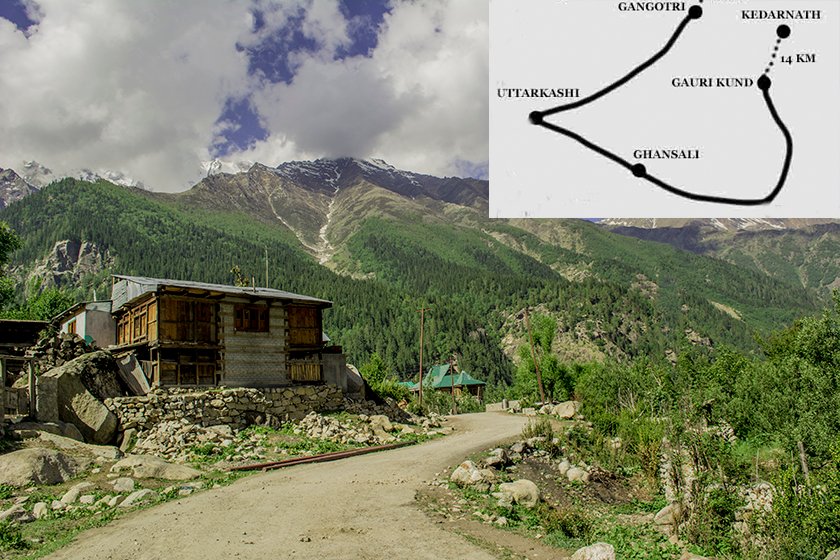 The route to Gangotri to Gauri Kund is the longest distance between any two Char Dham locations — a whopping 310 km and can take as long as 14 hours to complete it. The buses leave around 4, with the first light, until 7 after which there are no direct buses between the two locations and one may have to break the journey (Gangotri to Uttarkashi to Gauri Kund) and reach Gauri Kund if they apparently even could.
Gauri Kund is where the road concludes itself. From here, there's only a walkable trail.
Now, please note that for Kedarnath yatra you also have to obtain a medical fitness certificate. This certificate can be obtained from the medical centres at Sonprayag. They check your blood pressure and inquire about your medical history. If you couldn't prove yourself as medically fit to walk, you won't be allowed you to go to Kedarnath by trek. In this case, you will have to go to Kedarnath by helicopter. Your bus will drop you at Sonprayag, from where you'll be required to get the medical certificate and get a shared taxi to Gauri Kund (a 10-minute journey).
Day 7: Gauri Kund To Rambara
After the June'13 flood in Uttarakhand, people think that the trekking route from Gauri Kund to Kedarnath route is very risky and unsafe. But this is untrue, the trek has become safer now, perhaps as safe as the trek to Vaishno Devi — with around 8 ft to 10 ft wide trail and an iron railing on the edges.
Some people complete the trek from Gauri Kund to Kedarnath, and back in one day. But if you don't mind sparing an extra day, two days make for an easy and enjoyable walk to Kedarnath. Located around 11 km from Gauri Kund, Rambara has a GMVN tent accommodation, with fresh food and hot shower.
Day 8: Rambara To Kedarnath. And Back to Gauri Kund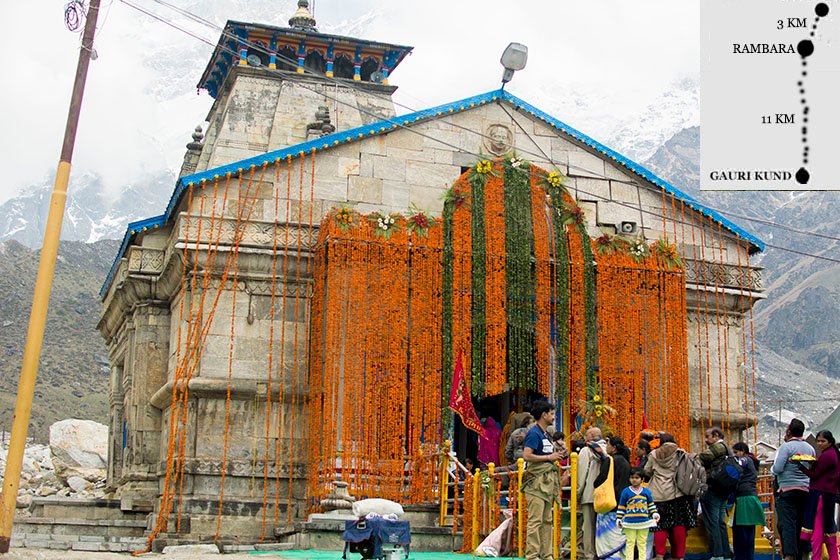 From Rambara, the site of Kedarnath is only a 3 km or an hour's walk away. As you reach Kedarnath, the first thing you notice is the big commercial helipad. Next, to the helipad, there are camps and cottages made by NIM for overnight stay of tourists, but since they go full during the season time, it's always a good idea to stay at Rambara, unless you have a booking.
It may moreover take up to two or three hours to get into the temple at Kedarnath, so start early.
Once done, walk back to Gauri Kund and stay there for the night. If you've time, you can also consider taking the shared taxi to Sonprayag (the town where you got off earlier to obtain the medical certificate) and stay in Sonprayag. This may make it easier for you to catch the morning bus to Badrinath the next day.
Day 9: Gauri Kund/Sonprayag to Badrinath
Gauri Kund/Sonprayag to Badrinath is a 300km long stretch and can take 10-12 hours to complete the journey. Buses leave from the same point in Sonprayag where you got off earlier to obtain the medical certificate and can be booked in advance to confirm a seat.
If you're planning to leave for Rishikesh and take the early morning bus, visit the temple in the night and book a bus ticket for the next day. Buses leave as early as 4 Am.
Practical Tips & Other Factual Mumbo-Jumbo
Consider paying 500-800 Rupees per person for every bus journey. A shared taxi, which is quicker, may charge 200-300 Rs extra than a bus.
You can find a twin sharing room for 500 or 600 Rupees at most places, except for the GMVN tent accommodation on the way to Kedarnath. They're quite expensive for a price of 800 Rupees per person in a 6-8 mixed-dorm tent.
Make sure to carry at least one photo ID card with you.
Avoid visiting Char Dham between May and June because of the peak tourist season.