Visiting Kamakhya Temple? In this travel blog, I will be sharing all the useful information you need to know – from how to travel there to where to stay to what is the best time to travel.
But before we get into the details, let's talk about my personal travel experience. Honestly speaking, I did not like it very much (you will read below why so).
If you are not interested in reading my experience, scroll down to a heading that says Hotels Near Kamakhya Temple. From there, and further below to the end of this travel blog, you will find useful tips to plan your visit.
Now, let's get started!
Kamakhya Temple
… my experience!
It was six in the morning, too early for the rest of the city to wake up and resume their daily chores. But those who came to visit the temple seemed all dedicated and staunched. Rising early and reserving a good place in its long, never-ending queues was the only solution to pay the 'goddess of Desire' a visit.
The many souvenir and prasad shops, spread as far as 400 meters outside its premises, were already up and running. Inside, many devotees indulged in their challenging gamut with pujaris, trying to negotiate a price for a personalised puja. Once they're done with it, what awaits is yet another task of buying a Kamakhya temple VIP pass, an express entry ticket that guarantees a quick tour at one of India's most sacred temples.
This is how I found it – dedicatedly staring into a financial abyss, experimenting with the country's admirable religious tolerance every minute. And yet it lures the devotees from as far afield as southern India or the far west: the richer flying all the way to Guwahati airport from their cities and then paying Rs 501 for the Kamakhya temple VIP pass
There are three types of entry tickets available, other than the VIP passes. This includes a general entry which comes without a cost but demands you to be in the queue as early as three in the morning, and yet doesn't guarantee that you'd be able to go inside its inner sanctum before it closes in the afternoon.
Then comes the Special and Direct entry for Rs101 and Rs501 per person, respectively. With hundreds of devotees pouring into the temple every hour and buying their preferred ticket, I wonder how much money the temple trust makes and where it all eventually ends up.
Depending upon the price of your ticket, you board a long, strong iron fenced walkway, crammed with people, which goes all the way to the sanctum sanctorum. The direct entry, however, entitles you to a comparatively small queue, promising you a quick tour.
---
It is because of such an atmosphere I do not enjoy visiting temples in India. I would rather visit a Buddhist monastery as I find them more calming. Even the most popular monasteries in India like Tawang Monastery (which happens to be India's biggest) and Namdroling Monastery (the biggest in south India) have more peace and humanity than temples in India. Correct me if I am wrong. Please share your thoughts on this in the comments below!
---
The temple – thanks to its authorities – looks all a little less sombre than a stock market on a Monday morning where chaos and confusion rule other than the prime motivation of money hoarding. But not everyone had the pocket to afford its biddings – particularly those with a religious bent of mind.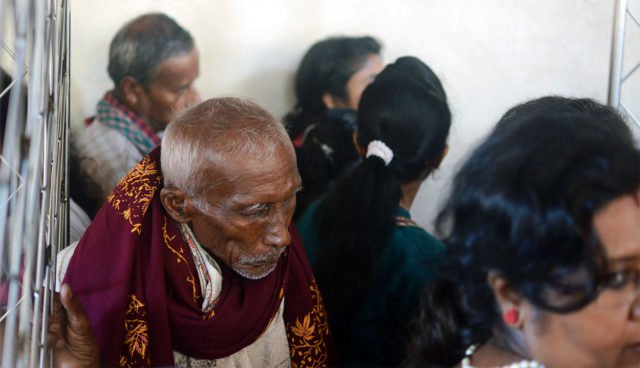 While I was waiting inside Kamakhya temple, in a long queue, I happened to speak to a 70-year-old man and his wife. They came all the way from Uttar Pradesh on an overnight train journey. They had been standing in the queue for the past three hours without a sip of water and had hardly walked any closer to the sanctum sanctorum.
I saw many people giving up on their luck and leaving the long awaiting queues after hours of waiting – most of whom belong to the free entry.
And outside the waiting areas, pujaris were continuously ranting and trying their luck to rip off devotees in the name of religion and belief – while taking brief and intelligent calls on their fancy iPhones.
Asceticism is really not what it used to be.
And how could it be? After all, we promise complete freedom to establish religious institutions and then let them manage their own affairs.
No wonder secularism has taken over and turned the system into tatters, turning the future of the country's religion all bleak.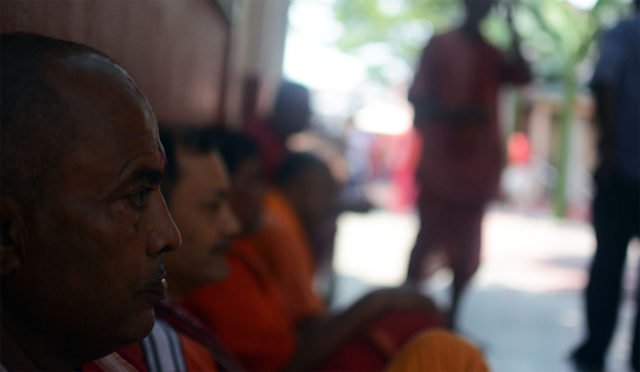 Hotels Near Kamakhya Temple
There are many places to choose from in and around Guwahati. During my visit, I stayed near the bus station but I don't really recommend it as the bus station was a little far.
So speaking of hotels near Kamakhya temple, here are a few names where I will recommend you to stay:
Swastik Inn | 0.8 km from the templs
Hospitality Inn | 1.8 km from the temple
Kiranshree Home | 3.2 km from the temple
Maa Sharda Guest House | 1.8 km from the temple
Please note that I have not stayed at any of them and do not recommend or endorse them. On the basis of their proximity, I have named these places.
Additionally, if you will just scan the area, you will find dozens of hotels near Kamakhya temple to choose from.
Because they're close to the temple, they may be charging a little more than they should. Having said that, if you have your own car/motorcycle, stay a little far and save yourself some money.
Tourist Places Near Kamakhya Temple
There is a lot to see and do in Guwahati. If you are a foodie, you will enjoy Assamese food since it's very cheap there. If you are not into food, here are some popular tourist places near Kamakhya temple to visit…
Bhubaneswari Temple
Umananda Temple
Chakreshwar Temple
Nehru Park
Assam State Museum
ISKCON Temple
Guwahati Planetarium
Vishwakarma Mandir
All these places are located in less than a 10km radius and you can visit them in a day (if quickly scanned).
If, however, you have a couple of days to explore and are looking not looking tourist places near Kamakhya temple but a little far from it, I can suggest you visit Bodoland in Assam. It is a new tourist destination in Assam in making that I happened to visit earlier in 2020 January. I certainly suggest you travel to Bodoland during your Assam holiday.
Best Time To Visit
If you are asking what season of the year then I would say that the best time to travel to Kamakhya temple is in winter. Any other time of the year – between March and November – is too hot and humid for Guwahati. I remember I travelled to Majuli river island in August and totally hated it because of all the sweat and heat.
Now, if your question of the best time to visit Kamakhya temple was in context what time of the day, then I would say 'early morning' of a weekday. During weekends, most people travel there, adding to the crowd. Also, most people visit during the day so if you will visit early morning, you can skip the crowd.
Other Frequently Asked Questions
How to get direct entry to Kamakhya temple?
As I mentioned above, there are a few different tickets that you can buy from the ticket counter (or from Pujaris). These tickets can help you a faster visit to the inner sanctum. Technically speaking, the VIP pass that costs 501 Rupees is a direct entry to Kamakhya temple, but since we are talking about Indian bureaucracy, nothing is guaranteed.
It all depends on how much crowd you have on the day of your visit. If the day you are visiting is very crowded (it often happens during weekends) you may have to pay a little more to a pujari and they can help you with direct entry to Kamakhya temple.
But then again, think of it morally and ponder whether such an action is justified. I mean we are talking about a temple here and not a museum.
Visiting temples is an effort of clearing your consciousness. Paying a bribe and using your money to get an express direct entry into Kamakhya temple, over others who cannot afford it, is, in my view, not only morally wrong but unreligious too.
So stop searching online about such unsolicited ways of a quick visit. Googling for the Kamakhya temple pujari contact number and how to get a direct entry into the temple is not just being honest with other pilgrims but with god too! Again, it is not a museum or regular tourist destination we are talking about here.
It's better to be even lazier, and search for the Kamakhya temple inside images than to visit the temple, use the power of money and be morally wrong.
A better thing to do is pay some money to a priest near the temple premise, give them prasad and ask them to offer your prayers on your behalf the next time they go inside.
Is it possible to take pictures inside Kamakhya Temple?
Just like most temples in India (including the popular Char Dham Badrinath Kedarnath Yamunotri Gangotri temples as I found) if you are looking for pictures of Kamakhya temple inside you can Google and see a lot of photos of the inner sanctum.
But since you are not allowed to take your phone or anything that has a camera on it inside Kamakhya temple (there are places outside the temple where you can submit your belonging. You get a ticket and they stay safe) the question of whether or not you are allowed to take pictures inside Kamakhya temple becomes automatically invalid.
In other words, no you cannot do so. You are not allowed to carry your phone or camera inside.
How to travel from Guwahati airport to Kamakhya Temple.
The best way to travel from Lokpriya Gopinath Guwahati airport to Kamakhya temple is by taking an Ola or a Uber. Though it is possible to take a bus as well, it is too much of a hassle. Having said that, I suggest you take an Uber or Ola cab directly from the airport premises.
I also took a cab from Guwahati airport to Kamakhya temple and it took me less than 50 minutes to get there. And this was during the peak hours of traffic on a Monday morning. The cab cost me around 500 Rupees, including all taxes and tolls. You can also do a carpool and save more money.
The distance from Guwahati airport to Kamakhya temple is less than 20 km.
Read more about other tourist destinations in Assam on the tourism website.