Planning a solo trip to Bangkok? Let me tell you what…. you are doing the right thing.
I stayed in Thailand for more than two weeks, travelling from north to south, and was a whirlwind experience. While I enjoyed most of its cities and towns and islands, nothing can compare my love for travelling in Bangkok. And I only imagine there will be more tributes to the city, especially when I will be back in India and have the chance to reminisce and write more.
I encourage everyone to try a solo trip to Bangkok, particularly those who're new to solo travelling. And it shouldn't require much persuasion, after all, the city has been titled as one of the world's best places to travel in the southeast Asia, for many years in a row, and there is a reason for it.
In fact, there are many reasons.
Before we go ahead with the article, let me share my 3 days Bangkok itinerary and cost of travelling in Thailand guide. These two travel blogs can set you in the right mood. Now, let's move forward…
Solo Trip to Bangkok
From world-class food to nature parks to party places, this city leads in everything. Though some people complain that the city is too noisy, I think my Indian dispositions helped me blend in fairly easily. In only a few hours after I landed there, someone offered me a lift and drop me at my Bangkok hostel because I happened to ask him the directions. And that is how easy it is to work things out here.
From budget backpackers to honeymooners, this place has something for everyone! And speaking of a solo trip to Bangkok, well that may just be a great idea!
Also, read this Bangkok with kids travel guide in case you are travelling with your family.
Bangkok Has Something For Everyone

I remember a friend once told me that she doesn't like solo backpacking "anymore" because on her very first trip she ended up at a place that wasn't meant for her, and it had her discouraged to travel solo for life. But that's not going to happen if you planned a solo trip to Bangkok. Because no what taste you have, this place won't disappoint you!
Whether you're into crazy night parties, culture, food or something else, the city will keep you entertained.
You can spend a month in here, living a different experience, seeing new places, every day and still not be able to cover all tourist highlights.
And it's not just this place, most places in Thailand – even mountain places like Pai where tourists are less frequent – are ideal for a solo trip. (Read my top things to do in Pai if you are planning to visit Pai).
Travelling In Bangkok Is Convenient
When it comes to a solo trip to Bangkok, it is super easy. In fact so easy that you actually feel that everything here is planned, or moreover designed to function, keeping a traveller's ease in mind.
Here you can find super cheap hostels, for less than USD 5 a night, and then right next door you can find a luxurious property charging you a whopping USD 10,000 per night. Such a range of options makes it accessible for every kind of traveller.
The city's public transport system makes it even better. From public buses to ferries, tuk-tuks to metered taxis, everything is in abundance, easy to find, and fairly priced. And if you manage to learn a few different bus routes – which take you from one corner of the city to another in under 20 Baht – you can save yourself a fortune.
There are many day trips worth exploring too. You can easily plan a solo trip from Bangkok to Amphawa or Bangkok to Ayutthaya. A day trip to Maeklong railway station is moreover worth a visit.
Bangkok is Safe
If compared to other Asian cities that come under the category of budget-cities-to-travel, Bangkok is safer. From being mugged to being ripped off, such atrocities are comparatively less likely to happen in Bangkok. Walk down a street in Bangkok, even at 2 in the night, and you will find the city just as much alive and safe as it were during the day-time.
A Solo Trip To Bangkok Is A Great Idea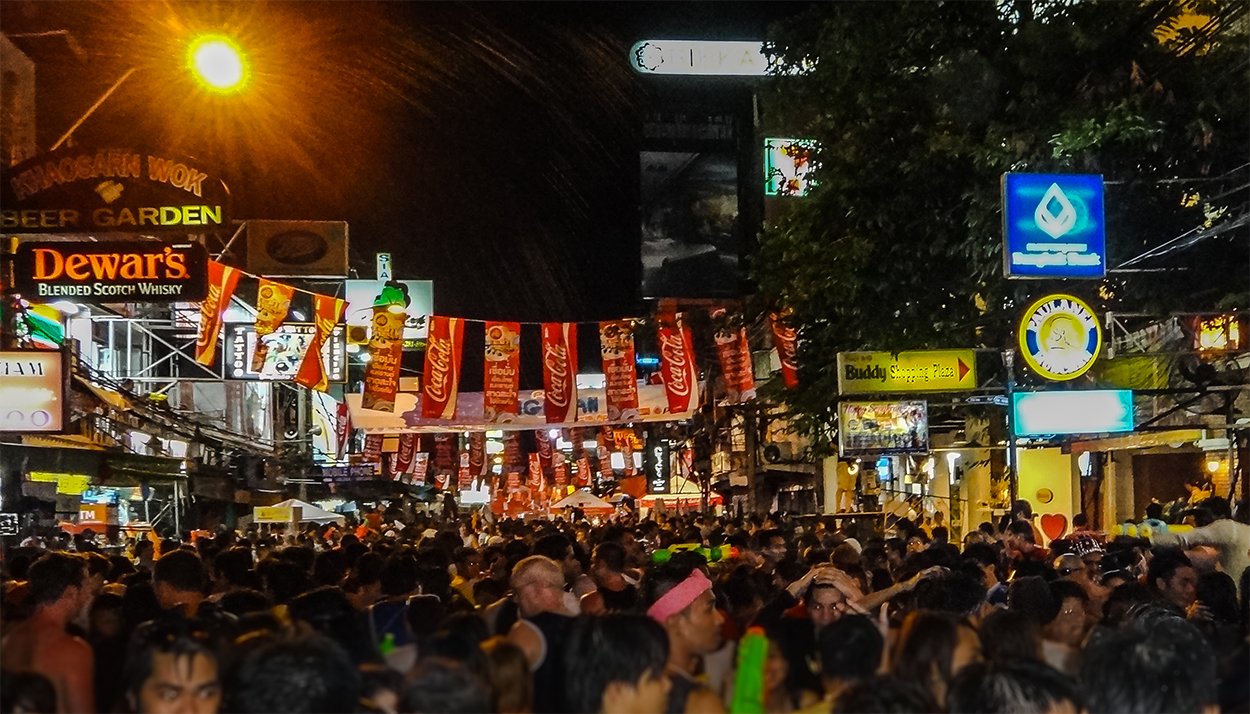 There is no denying the fact that while travelling Bangkok solo, you are never alone. The city is full of travellers. And if you end up at one the popular backpacking streets namely, Khao San Road or Sukhumvit Soi 11, among a few others – you will have no problem in making new friends.
Khao San Road is an ideal place to stay if you are on a solo trip to Bangkok. Beginning at the landmark The Brick Bar, as you walk down, with a beer in your hand, you find happy backpackers from all over the world eating Pad Thai on the street and looking for someone to talk to. Khao San Street is unlike any other street in the world. In fact, the entire Bangkok city is unlike any other city.
The Thailand visa on arrival moreover makes it easy for people to plan a trip to Bangkok whenever they want.
Thai People
Despite being a bustling city where life never stops, local people in Bangkok always seem much affable and welcoming.
They aren't friendly to a level that they will go out of their way to talk to anyone who walks past them because they respect other people's privacy. But if you will interact with them, they will be very happy to speak and help you out in any way they can. What shocked me, even more, was the fact that every time I asked a tuk-tuk driver about a bus route, they happily distributed me with all the information they had, despite knowing it will only take their customer away.
If you have any personal experiences about your solo trip to Bangkok, please share them in the comments below.
Continue planning your trip to Thailand with my Thailand Travel Guide.