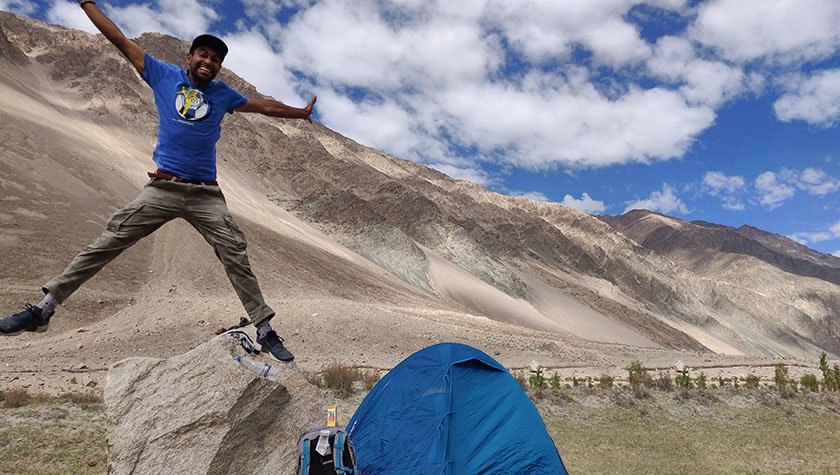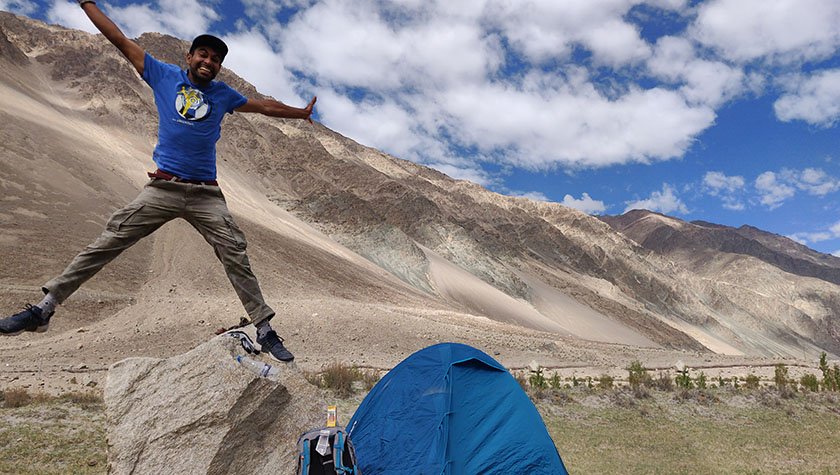 Located along the northern border of India, with a tributary of Indus-Shyok as its lifeline, Nubra Valley is unlike any other valley in Ladakh. Home to contrasting cultures, beautiful landscapes, and above all — the world's highest motorable road of KhardungLa Pass, Nubra Valley remains a popular highlight for travellers visiting Leh-Ladakh, particularly for motorbike enthusiasts.
Also Read: How To Best Travel From Delhi To Leh
I heard stories of Nubra Valley's beauty too from other fellow travellers (99% of whom happen to rent and ride a motorbike) before finally planning an itinerary myself, but with a little distinction. I was hoping to camp and hitchhike all the way and thus conclude the entire journey (from Leh-Nubra valley-Leh) for a price less than what hiring a motorbike for just 2-days costs — forget about fuel, accommodation, food and other expenses. So if you too are planning something similar, read this ideal (Camping+Hitchhiking) Budget Travel Guide for Nubra Valley:
But Before Anything, please note that I am not comparing the two experiences. Having your own motorbike (or any vehicle for that matter) is having more freedom and convenience, and being able to cover more places in lesser time. Hitchhiking and camping, on the other way, is a rough (though certainly FAR MORE ADVENTUROUS) experience.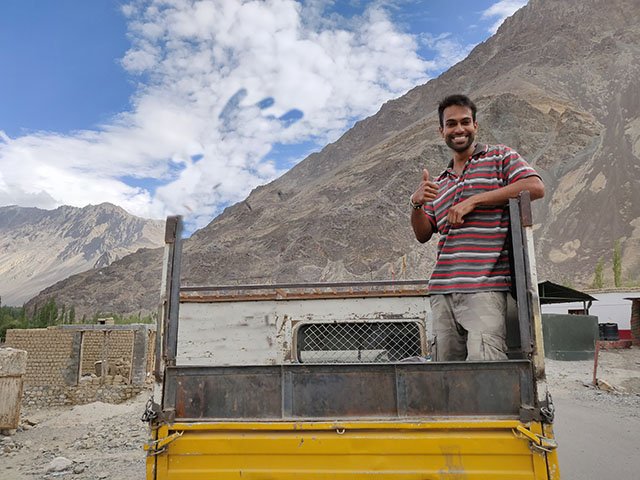 Nubra Valley Budget Travel Guide
Getting The Big Picture: Nubra Valley Route map
Once you cross KhardungLa and reach Khalsar, Nubra Valley divides into two roads running almost parallel to each other: with one route taking you to the village of Turtuk and the other to Warshi. Leh-Khalsar-Turtuk route is, however, more frequented and preferred among tourists.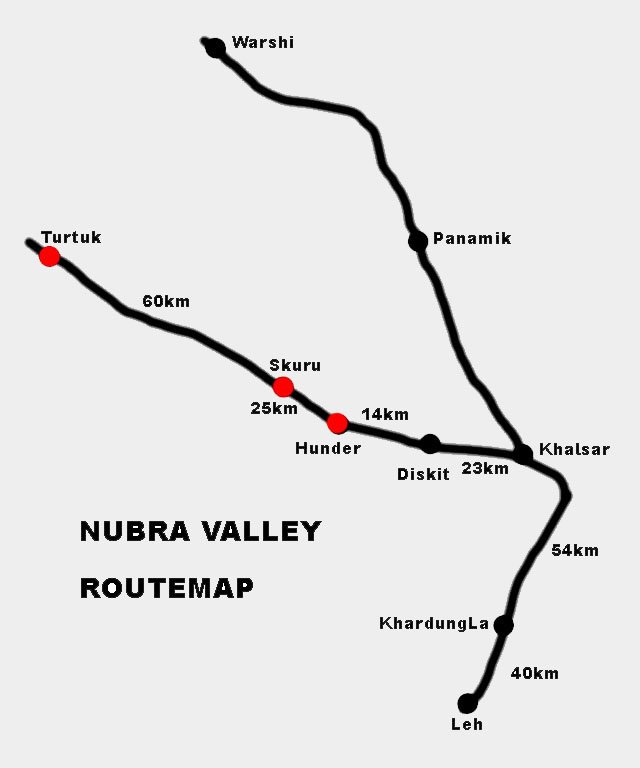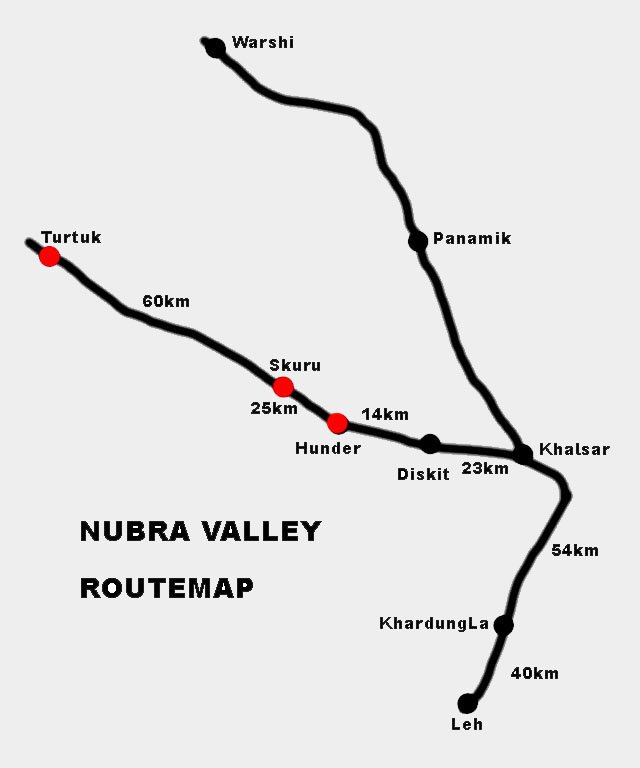 I did not cover Khalsar-Warsi route and did only Khalsar-Turtuk route in one bus ride and a number of interesting (and equally boring too) hitchhiking episodes.
My Journey To Nubra Valley
The journey started with a 240 Rupees bus ride (the only bus ride I had in the entire trip) that took me from Leh to Hunder and further to the village of Skuru in less than 8 hours. There were two reasons why I took the bus from Leh: (1) to escape from the madness of Leh as it's tough to hitchhike in India in big towns as people often frown upon hitchhikers if they know there are enough public buses available on the route. And (2) I wanted to escape KhardungLa (the world's highest motorable pass 'open to public') in comfort.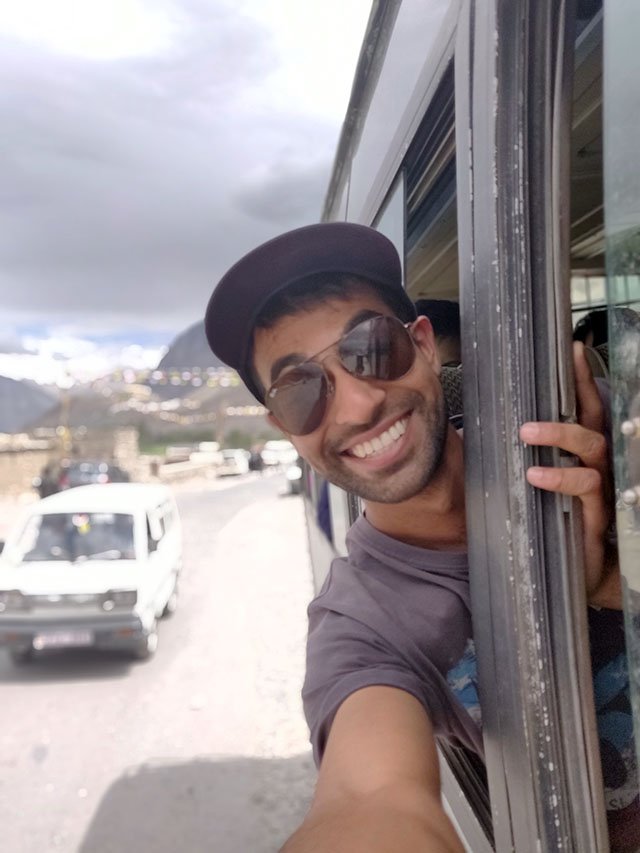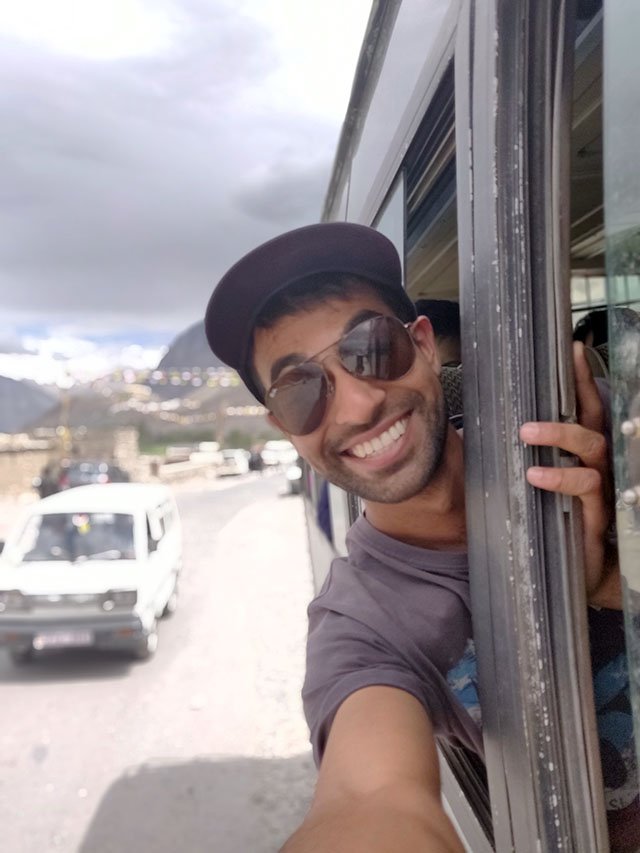 Tip: It's a daily bus service (except on Sundays) that starts from Leh at 7 in the morning and reaches Skuru around 2:30 in the afternoon. If you want to take the bus all the way to Turtuk, please note that there's another (daily) bus service (except for on Sundays, again) from Hunder to Turtuk that leaves Hunder at 2 in the afternoon. So two buses (one from Leh to Hunder and the other from Hunder to Tutuk) can take you all the way from Leh to Turktuk in just one day and in under 350 Rupees. Still pretty cheap!
The first campsite of the journey happened to be the town of Skuru, which is technically the last Buddhist town on the route but has no tourist facility except for a grocery store and a monastery (for the unfortunate stranded ones). There are enough green spaces in Skuru to camp for the night, and locals are not hesitant of strangers camping in their town (unlike in Turtuk).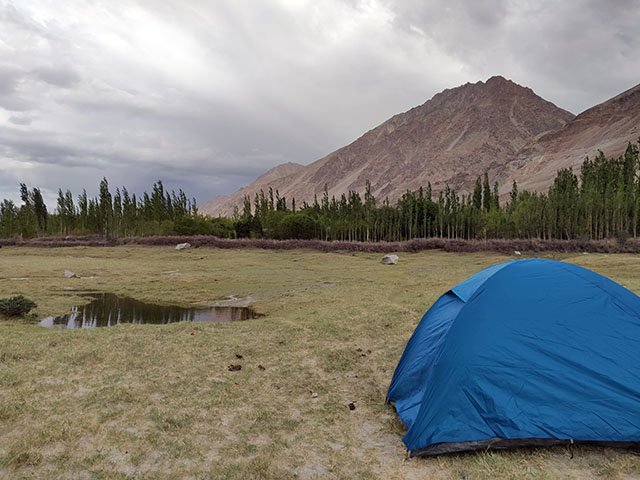 Next up was a 60km stretch from Skuru to Turtuk that went in a blink of an eye as I happened to go lucky and cover it in a single ride in an army truck. Remember, on this route, army people are fairly modest to hitchhikers (locals and travellers alike) and their frequent movement makes it easy to find a lift.
Turtuk, despite being one of the most aesthetically charming places I've come across in the Indian Himalayas thanks to the Indian Army who was responsible for the development of the town, turned out to be a big disappointment for me. Why? For quite a few reasons: from relentless begging by the kids to most of the families (who were not in the tourism business) being repulsive towards tourists. To my dismay, furthermore, locals didn't even allow camping on their premises which left me with no option but to stay in a homestay. Though the homestay (Ismail Homestay) turned out to be unbelievably cheaper at 400 Rupees per night including two meals, the fact that Turtuk, despite being one of the biggest towns in Nubra Valley, had no space for someone to go camping because local people wanted them to stay in the guest houses and hence pay money, quite unwelcoming.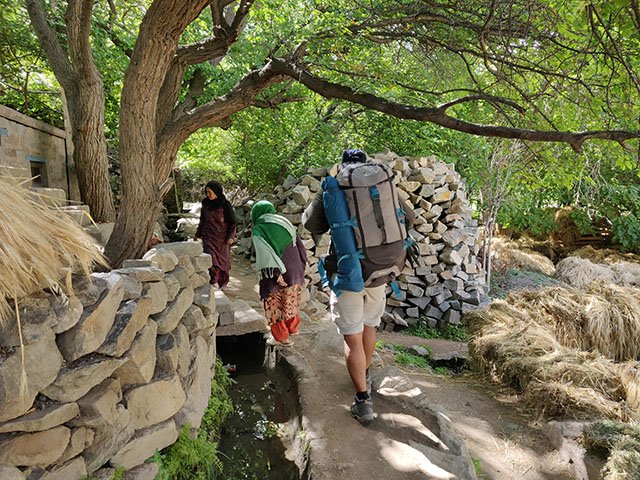 Next up was the most touristic highlight in Nubra Valley: the village of Hunder, popular for its sand-dunes and the camel safari. A nearly 90km of a stretch from Turtuk that I happened to cover in three different lifts, took me almost 5 hours. Hunder, too, had a few grassy patches for people wanting to camp and spend a night. There's an Army Canteen and a few low-cost Tibetan restaurants too near the bus pickup and drop point for those wanting cheaper food as most of the eating places in Hunder are high-priced.
How Much Did I Spend In 4 Days
Day1 (Leh to Skuru): 240 Rupees for the bus + 300 Rupees on meals | Camped for free | Total = 540 Rupees
Day2 (Skuru to Turtuk): 400 Rupees for accommodation plus 2 meals + 150 rupees for lunch | Travelled for free |  Total= 550 Rupees
Day 3 (Turtuk to Hunder): 340 Rupees on meals | Travelled and Camped for free | Total = 340 Rupees
Day 4 (Hunder to Leh): 300 Rupees on meals | Travelled for free | Total = 300 Rupees
The total cost of the journey:  1730 Rupees
Despite saving almost 100 percent on accommodation and staying in my tent for free, there were days when I had a chance to bathe and bathe in fresh glacier water.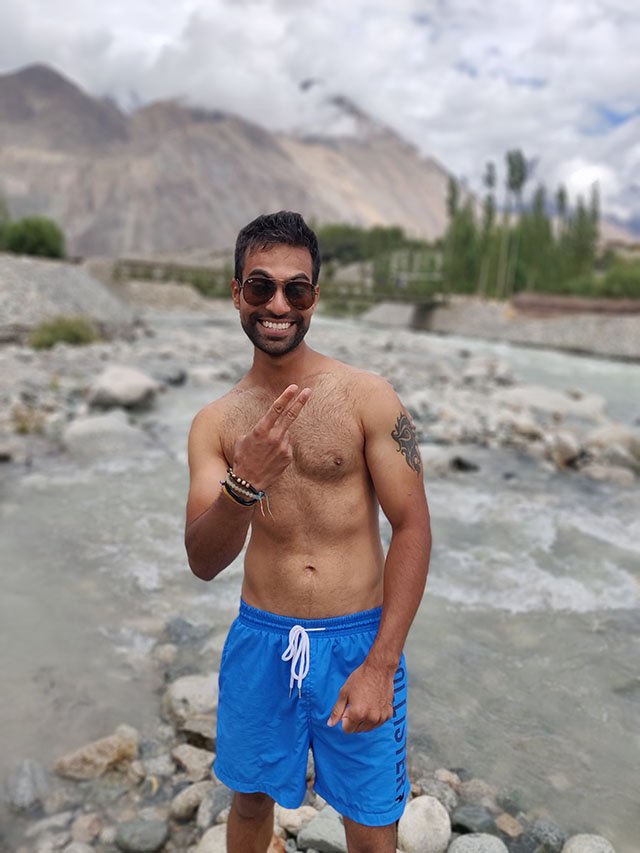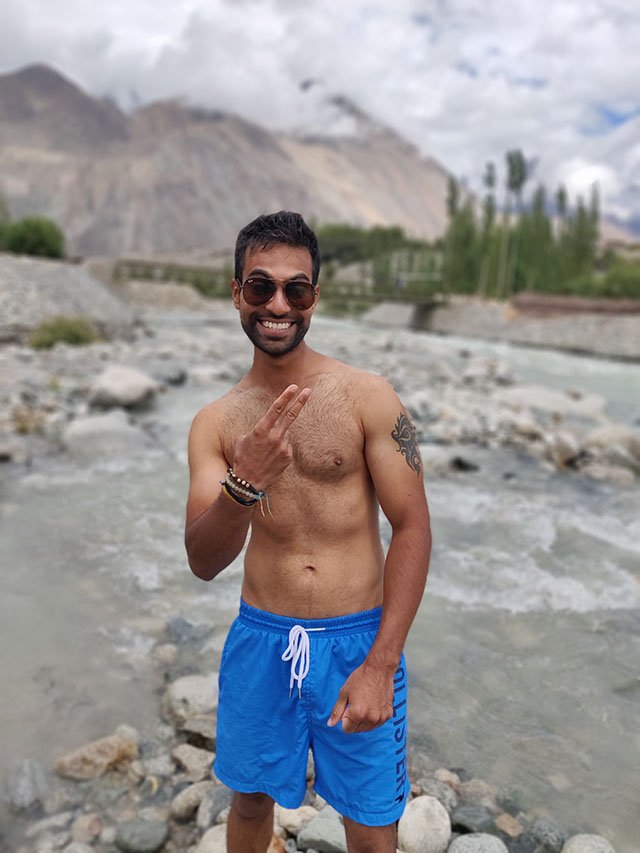 Army Trucks: Your Favorite Ally In Nubra Valley
Throughout my travels in, India I've never found army trucks offering lifts to people, but Nubra Valley turned out to be a little unusual, and one reason for it could be a friendly atmosphere in the valley, unlike in the bordering valleys of Kashmir. If I took 10 rides in total, 7 were in army trucks. Yes, they were indeed helpful!
Have you been to Nubra Valley too? How much did you spend during your journey?