Ayutthaya is one of Thailand's prominent cultural highlights and its close proximity to Bangkok, which allows tourists to do a day trip to Ayutthaya and return to Bangkok city, makes it a preferred tourist destination around Bangkok. Many tourists, however, also end up exploring Ayutthaya on their way to the northern tourist trail of Chiang Mai and Chiang Rai – just like I ended up doing.
While the temples in Ayutthaya have a rich historical significance and offer enough to learn about one of the greatest civilizations of mankind, to my guilt, I admit that I visited Ayutthaya to only do some photography.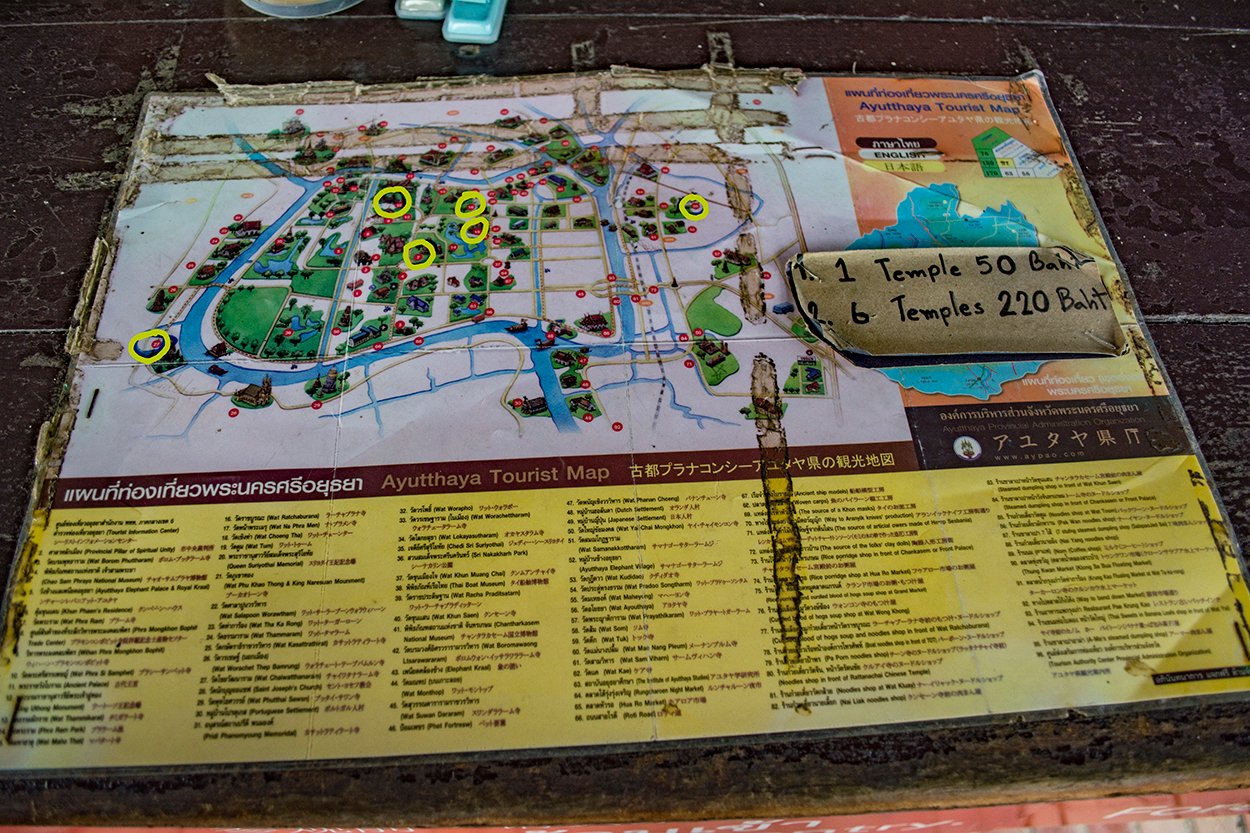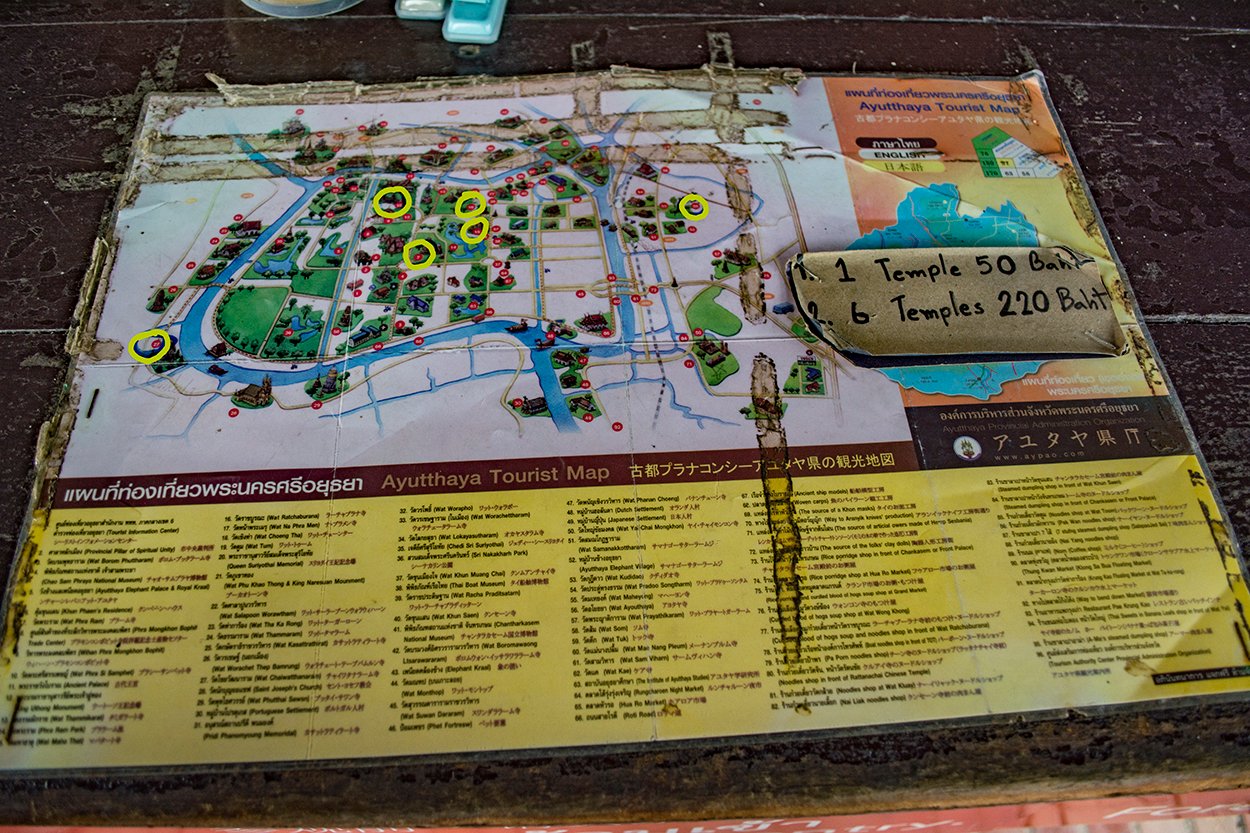 Introduction To Ayutthaya
Ayutthaya has a total of six UNESCO World Heritage Sites, in addition to a few ruin structures, ancient pagodas, and museums. To access the heritage sites, you are required to pay a fee. A one day pass for all the six UNESCO sites costs 220 Baht or 50 Baht for each visit. If you have a full day to yourself and ancient architecture interest you, I will recommend you a full day pass to all six sites as they all are quite different from each other.
The majority of the archaeological park is located in central Ayutthaya, which is basically a small river island. You can explore much of it on foot, but if you're planning to visit all the six heritage sites, either rent a bicycle or hire a tuk-tuk, because two of the six sites are located off the main island of Ayutthaya.
I, however, did the tour on a bicycle and visited only four out of the six temples, due to limited time. Here, a few quick snaps and a brief introduction to the four sites I had visited:
Wat Ratchaburana
Wat Ratchaburana was built in the 15th century as a cremation site for two royal brothers who killed each other for the throne. Sad! But what's even sadder is that the temple was left much-unnoticed right after the Ayutthaya period, and only become mainstream when looted in the 1950s. Much of the stolen goods were never found, except for 100,000 different artifacts, as well as gold weighing more than 100 kilograms.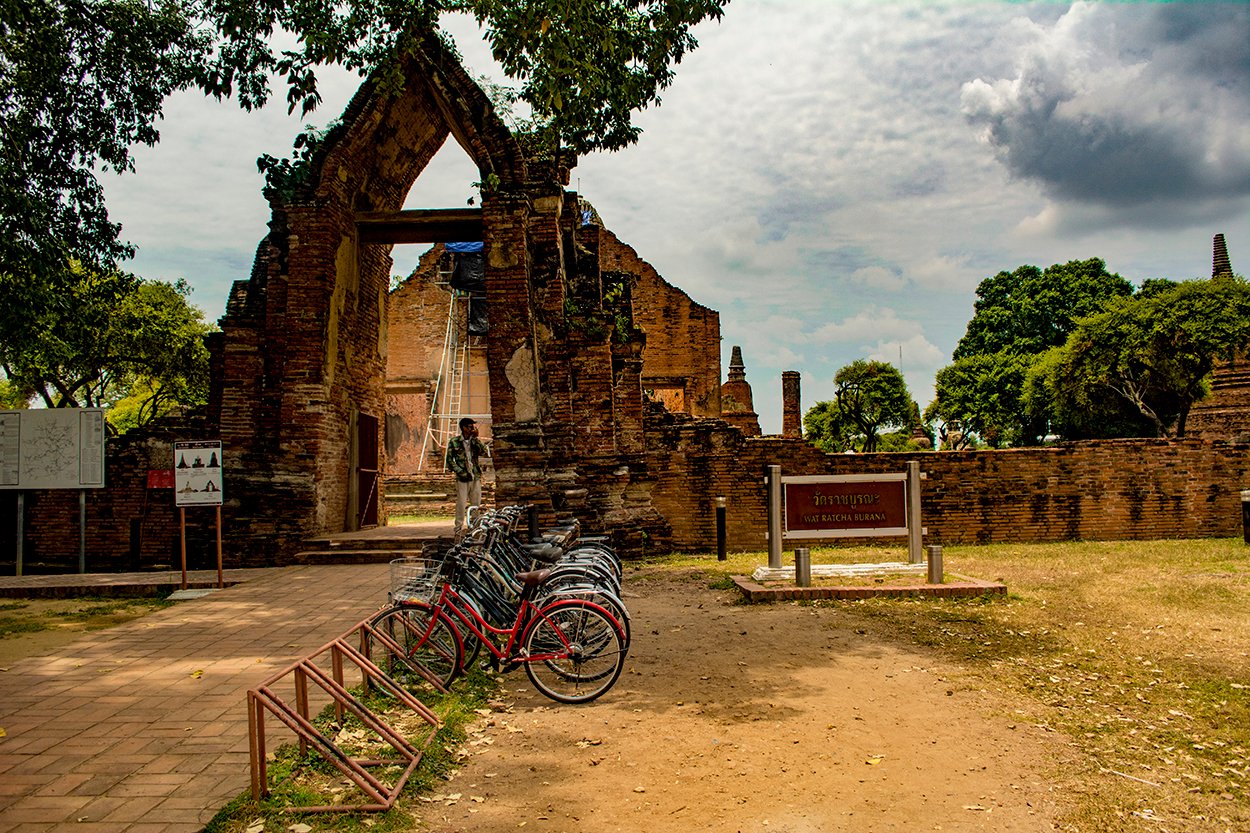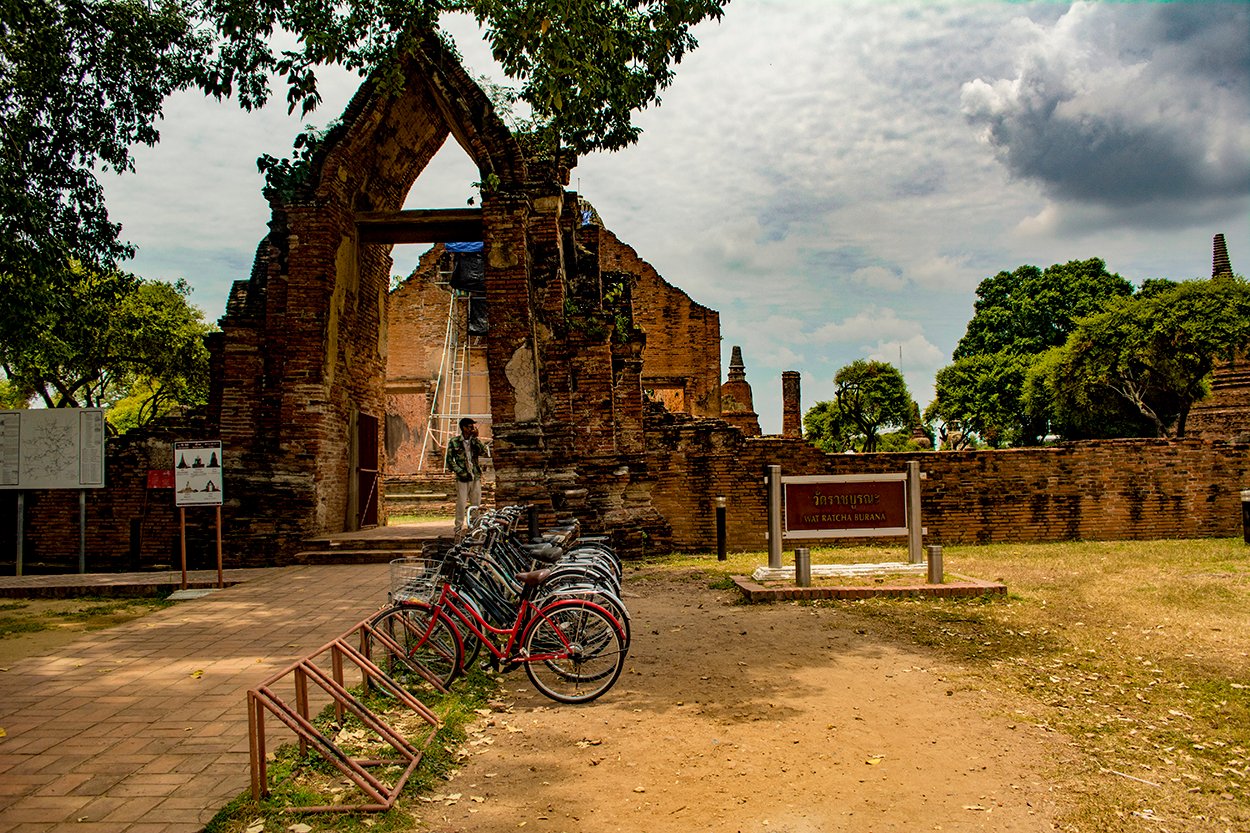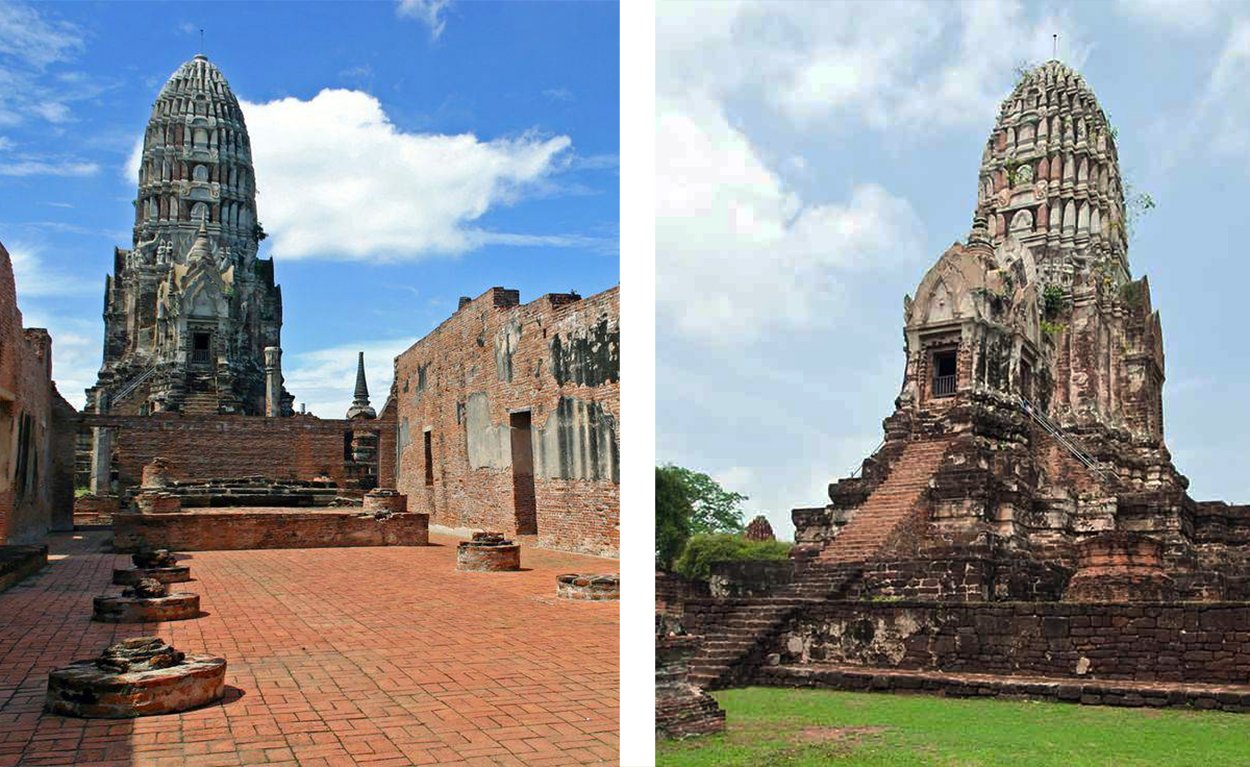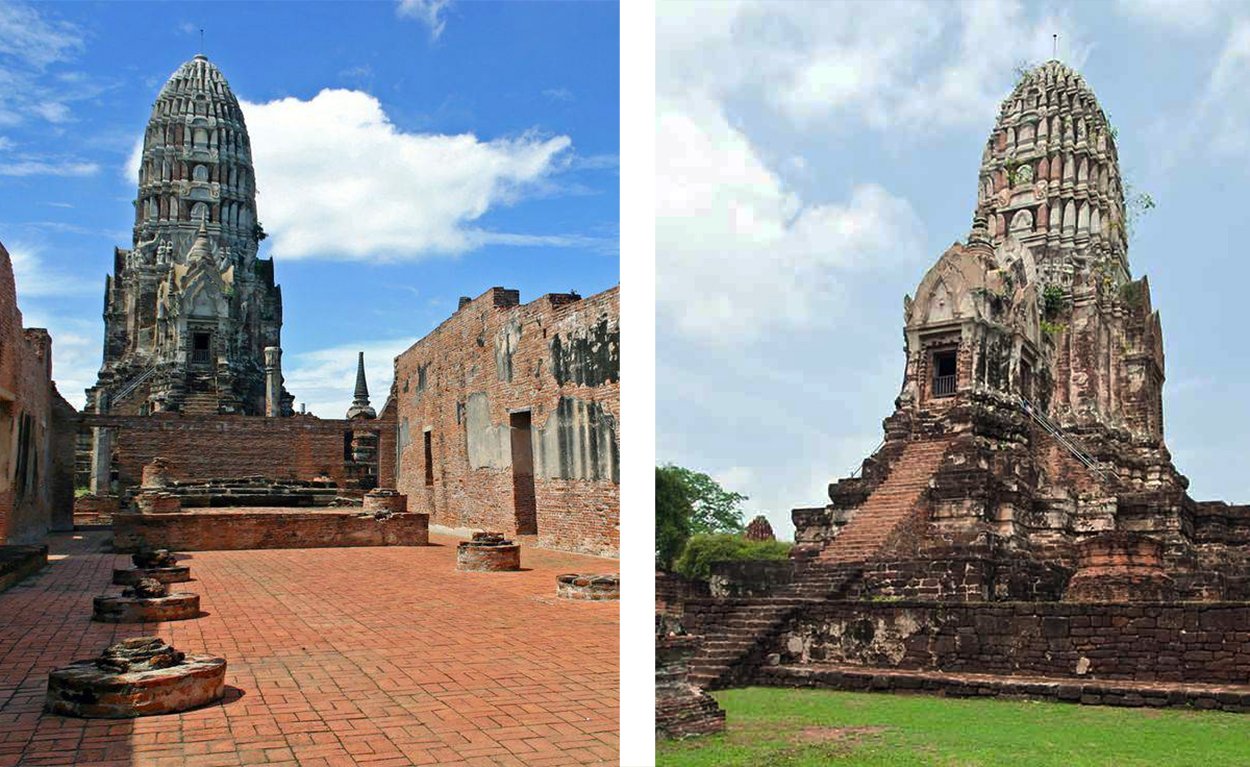 Wat Mahatat
A trip to Ayutthaya is incomplete without visiting the Buddha head nestled in the tree roots. The head was once a part of a sandstone Buddha image but when Ayutthaya was defeated by the Burmese army they destroyed the site, including the sandstone image of Buddha. The head fell to the ground where tree roots grew around it, gradually trapping it and making it (almost) a part of the tree.
Since it's almost inevitable to get a selfie with The Buddha's head, it is advised, and moreover cautioned, that you "do not stand over the Buddha's head".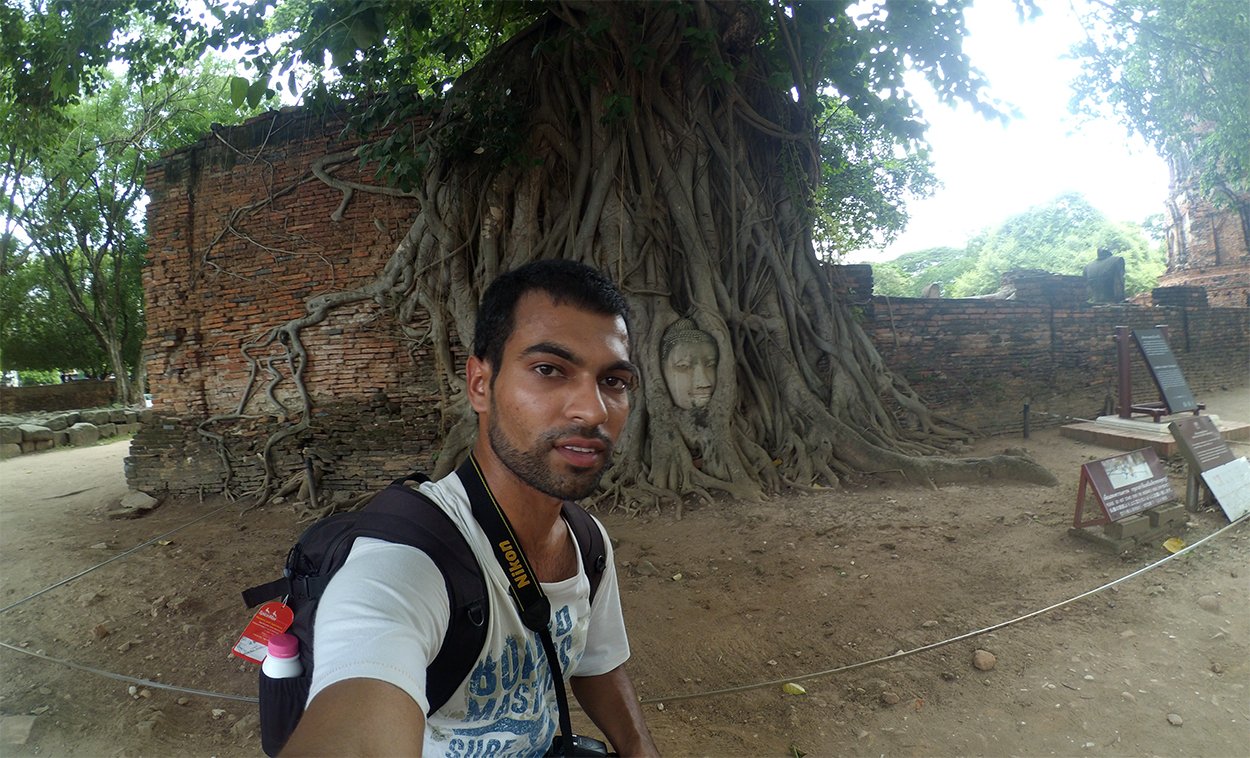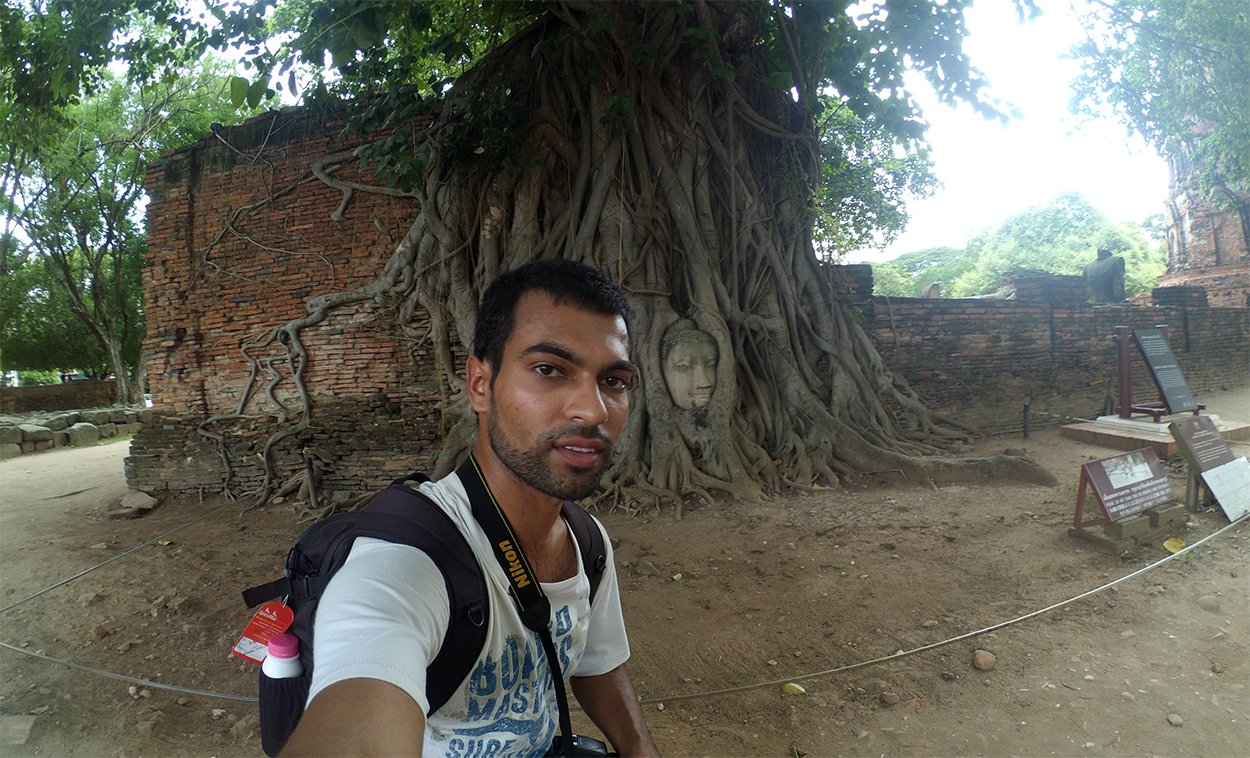 Where the Buddha's head is definitely the highlight of Wat Mahatat, the entire complex is no less charming. You can spend hours reading each brick which makes different structures an impossible artwork in itself. The many headless Buddhas sit next to elegant, towering stupas, moreover give the entire complex an almost eerie look.
Wat Phra Si Sanphet
Build during the middle period of Ayutthaya, Wat Phra Si Sanphet is considered as the most important temple of Ayutthaya and is situated within the Grand Palace ground.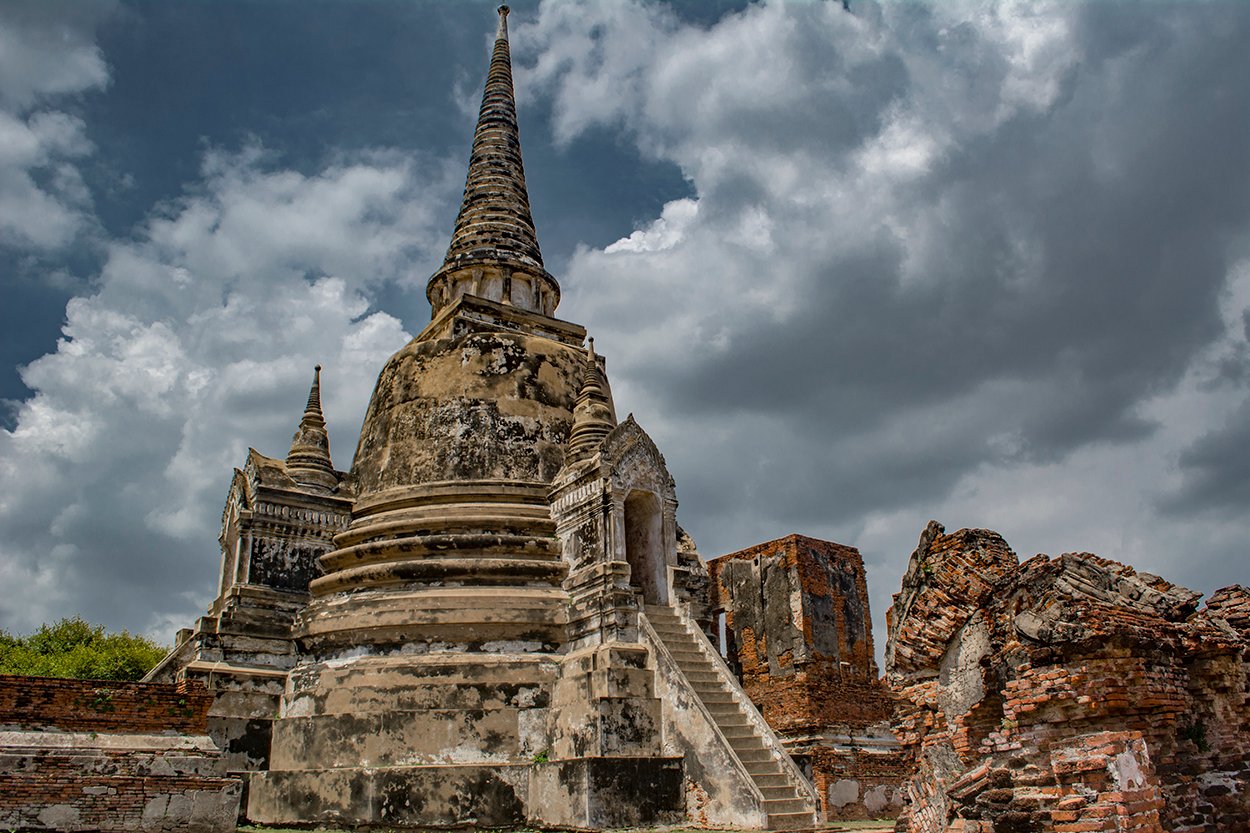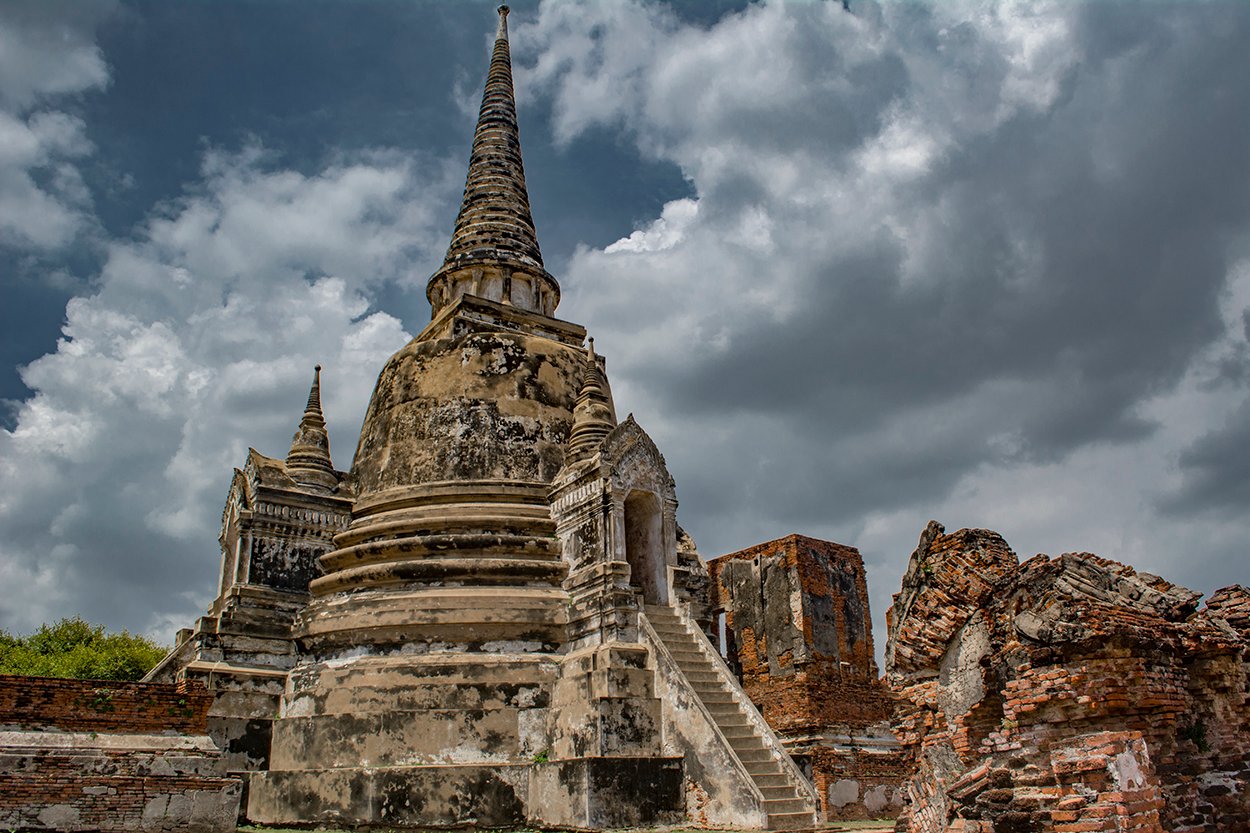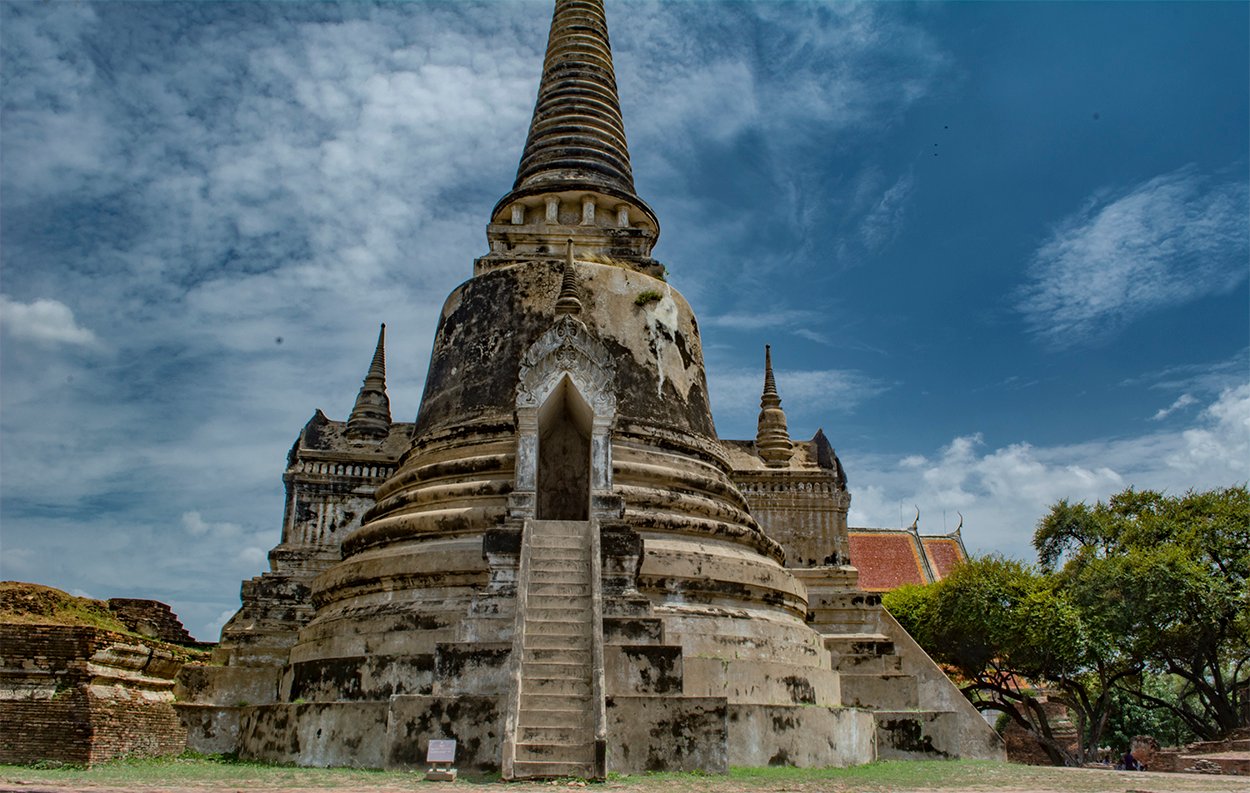 The three distinctive stupas of Wat Phra Si Sanphet is moreover the postcard image of Ayutthaya.
Tip: Most of the Wat Phra Si Sanphet can be seen from outside its walls, without stepping inside the temple premises. So unless you own the full day pass to all 6 archaeological sites, don't go in, and save yourself a 50 Baht bill.
Phra Mongkhon Bophit
Right next to Wat Phra Si Sanphet is the Wihaan Mongkhon Bophit home to one of Thailand's largest and most resilient Buddha statue. You can sit down here and see monks frequently visiting and paying their tribute to the giant gilded Buddha. A personal puja, for those interested, can moreover be availed here.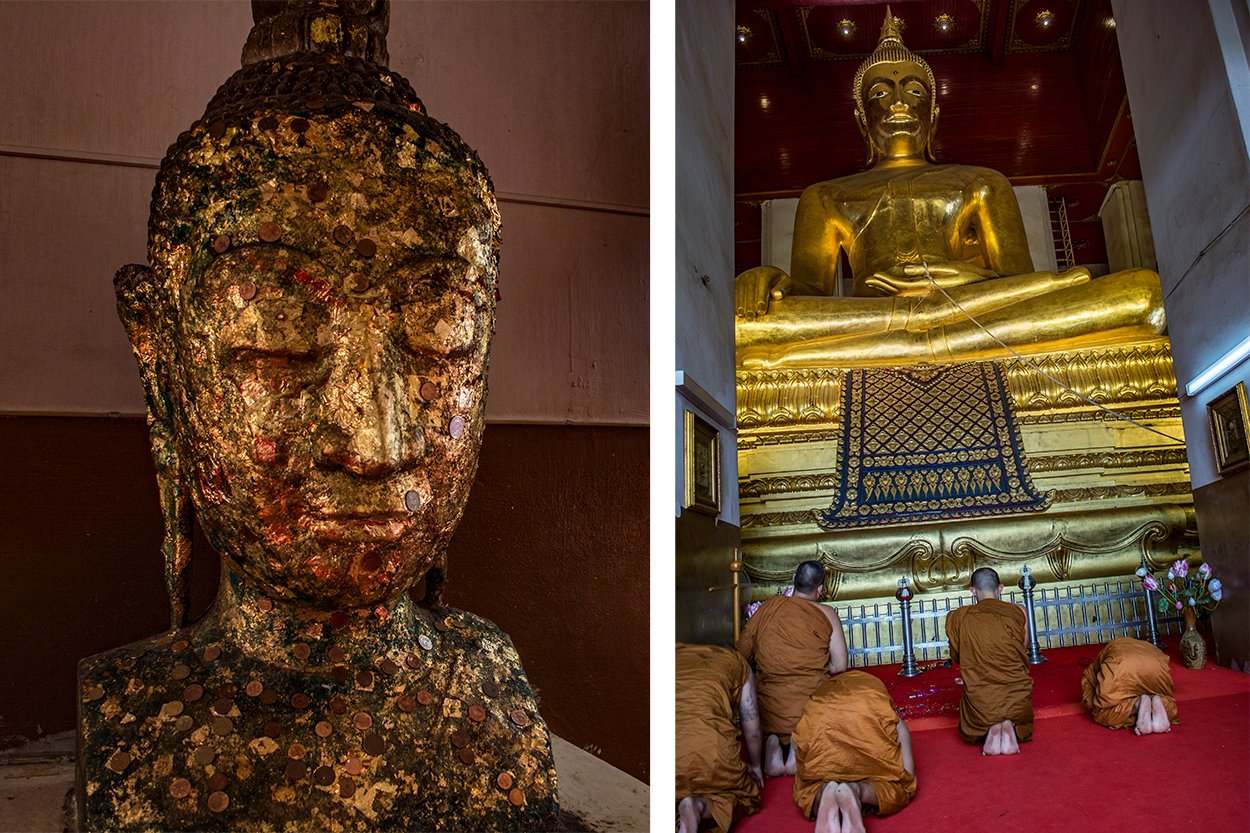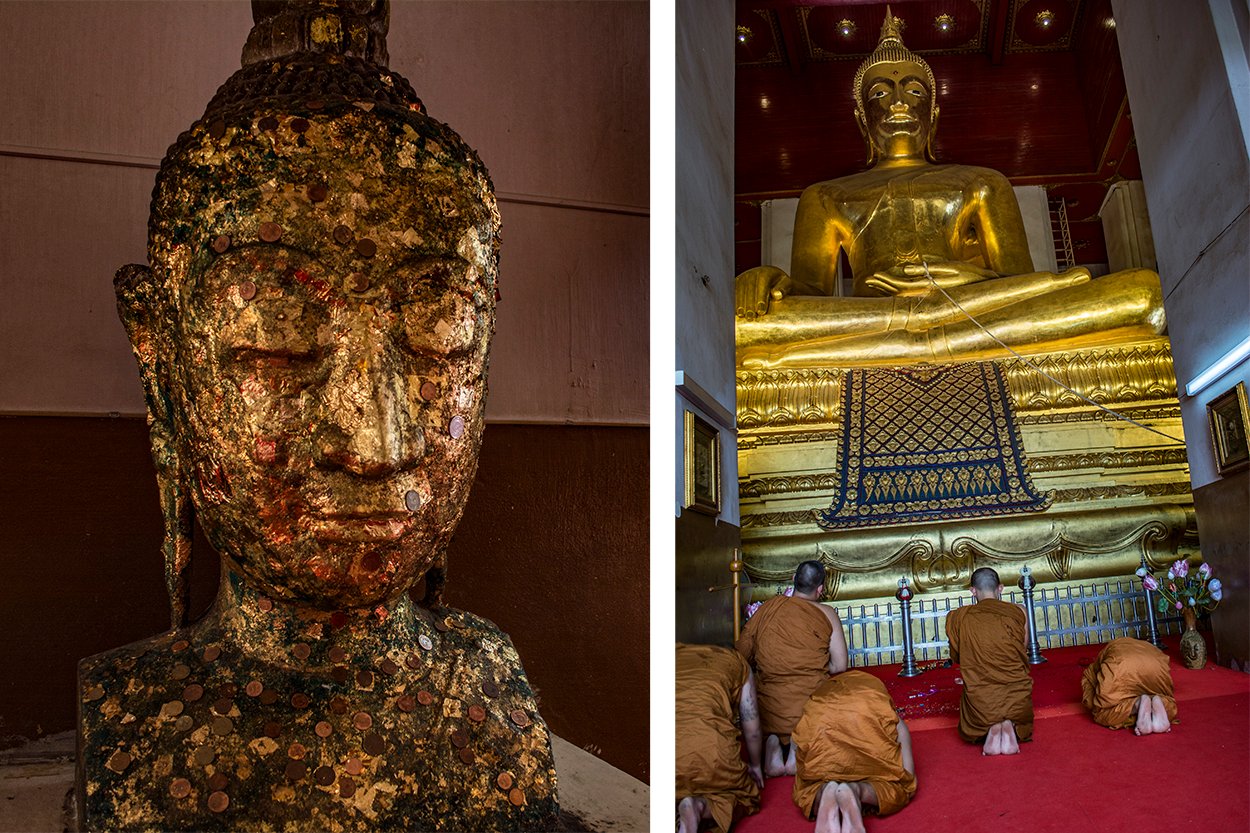 A few more shots from around the town…
Continue planning your trip to Thailand with my Thailand Travel Guide.