These 17 Hornbill Festival pictures are your complete doze of a virtual visit. Just watch these Hornbill festival photos and tell me if they weren't! But before that, a little introduction, perhaps…
Where the stories of Nagaland's immersive culture are unfortunately slowly dying today, the best way, at least for a tourist, to get closer to it, is by attending the 10-day carnival. It's by attending and clicking some Hornbill Festival pictures that one can feel Nagaland more closely.
Note: If you are planning to visit the Hornbill Festival, this is an ideal 3-Day Hornbill Festival Itinerary that you can follow. 
Celebrated every year, between 1 and 10 December, Hornbill Festival is where all Naga tribes (16 in total) come together and exhibit their wears, enact their daily life and re-create their energetic festivals at one place. That's hornbill festival for you.
And bringing The Hornbill Festival pictures, all at one place, here are top 17 photos I have clicked for you:
Hornbill Festival Pictures and Photos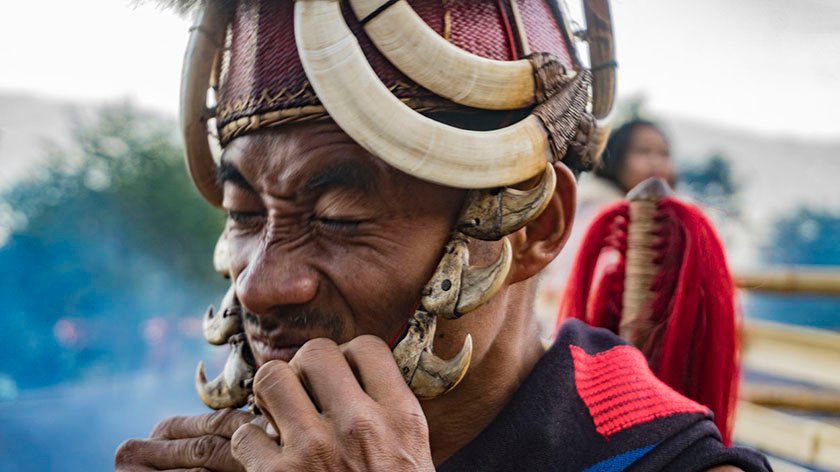 A tribesman from Khiamniungan tribe getting ready for a performance, as he puts on his helmet. Khiamniungan's traditional attire consists of bright red and bright deep blue coloured dresses, and the ornaments are made of cowries and conch shells
Despite most of the tribesmen performing at hornbill festival being unfamiliar to tourist behaviour, one thing that makes Hornbill Festival special is the friendliness of local Nagas towards the tourists. Just ask anyone what they're drinking, and they would all be happier to share a sip. Get your pictures clicked at Hornbill Festival, with some of the tribesmen is certainly a highlight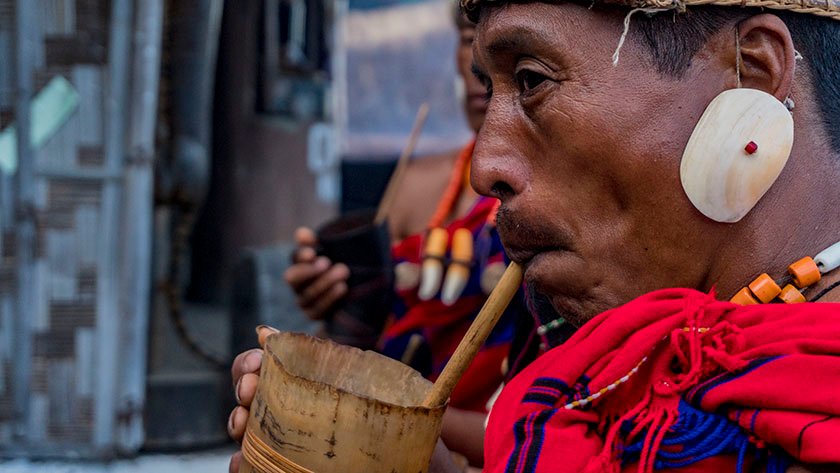 The tribesmen of Yimchungru tribe drinking the local rice millet beer from a bamboo cup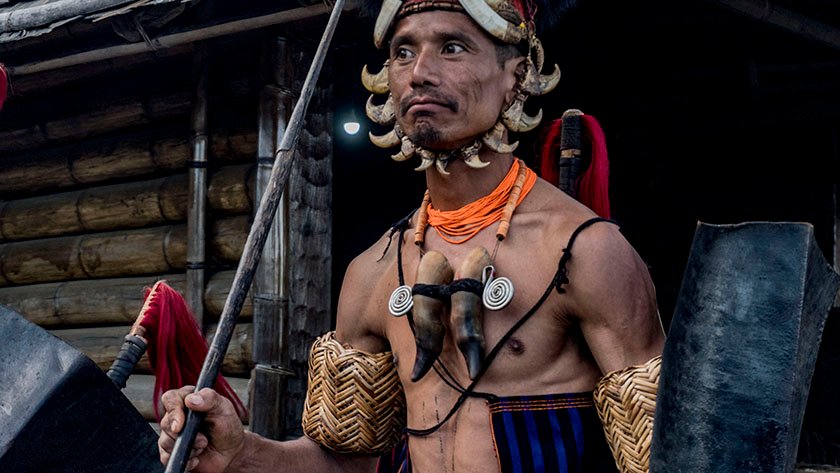 Like other Naga tribes, the origin of the Khiamniungans (before the British Raj days) is totally uncertain. The only source of information about their ancestors & oral traditions is in the form of folktales and myths. Today, the Khiamniungans occupy the easternmost part of India and northwestern part of Myanmar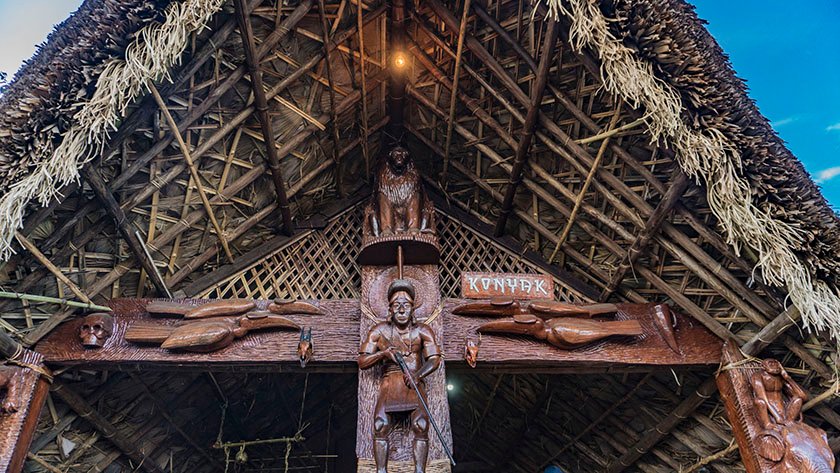 A traditional Morung of the popular Konyak tribe. Back in the days, the tribesmen would carve a nearly-possible image of their deceased family members on the wooden frames of doors and windows, as a memory — and that was the only way to remember them. Note: When it comes to clicking Hornbill Festival pictures, be known that you can access any area without any permission. No one minds. 
Other than traditional Naga Morungs and various performances, the festival of Hornbill also showcases various art exhibitions, for example, this: An exhibition on the Last of The Tattooed Headhunters of Nagaland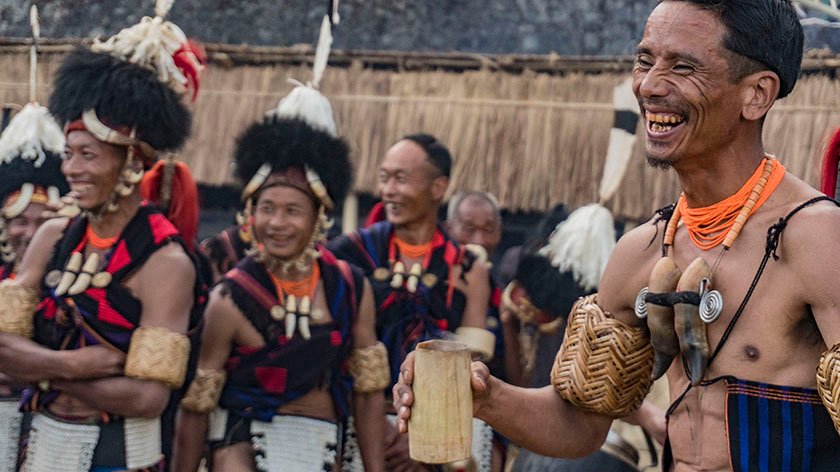 The tribesmen of the popular Kiamniungan tribe laughing and celebrating their victory after a tug-and-war match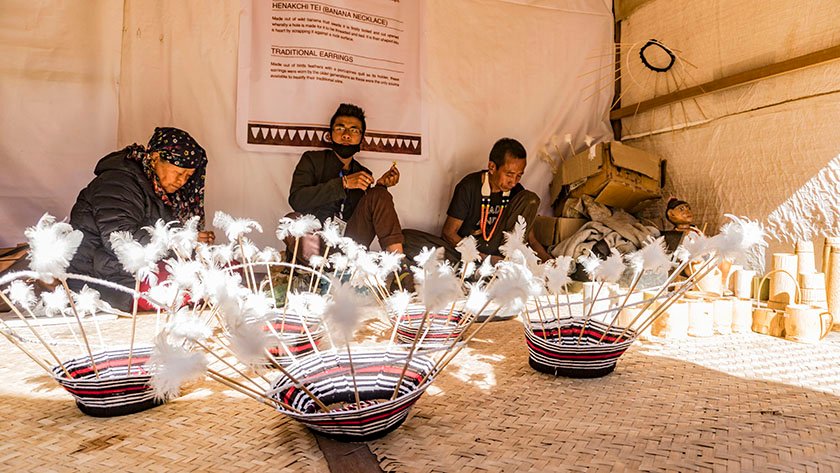 A display stall weaving and selling the traditional hats of Agami tribe living in and around the Kohima district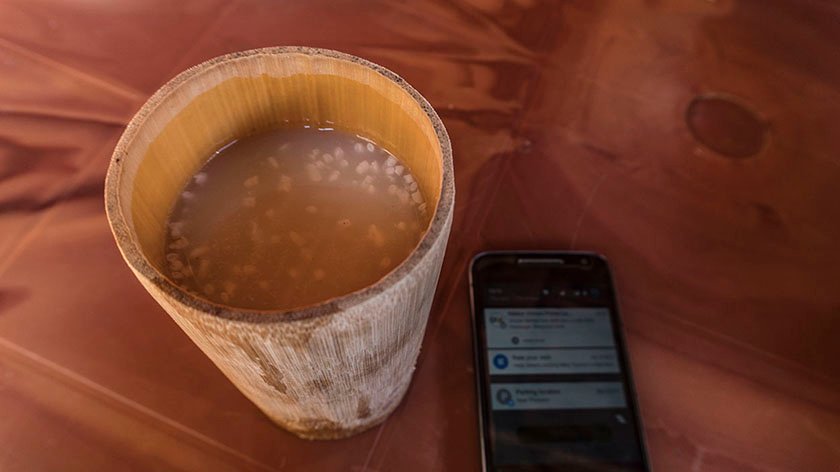 With different stalls offering "Zothu" and "Thutse" (local alcoholic beverages made of rice) and the authentic food of the all the sixteen major tribes of Nagaland, Kisama offers a plethora of options for foodies and the bibulous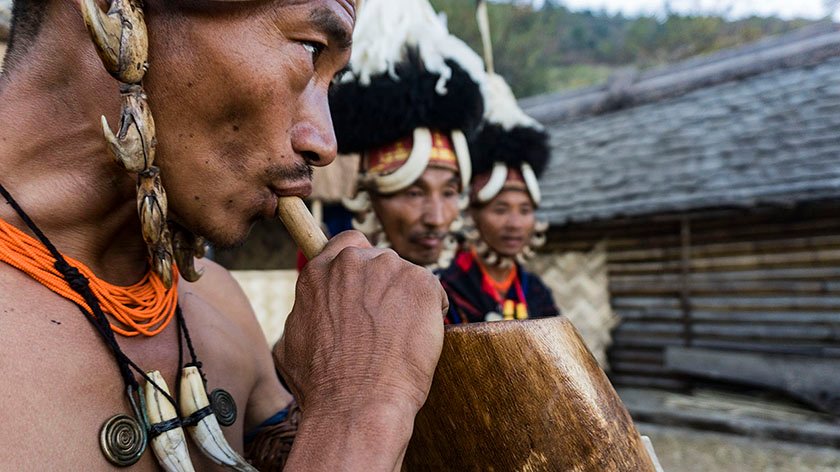 Where most food stalls in the Hornbill festival sell a diluted and much lighter version drinks for tourists, the tribesmen often go for something much stronger. Not sure if it was actually a drink or I was fooled, they call it the "ORS", and it tastes similar to how a neat Whiskey does
The Hornbill festival is a great way to meet the tribes, interact with them, visit their villages and be blown away by their charming hospitality and friendliness. And not be mention, all the fun of the festival, where you'll be participating in drinking, eating, singing, dancing and merrymaking. Again, if you want some best Hornbill Festival Photos, don't feel shy and go close to tribal people.
This remains my favourite photo of the Hornbill Festival: a powerful Khiamniungan tribesman posing for the camera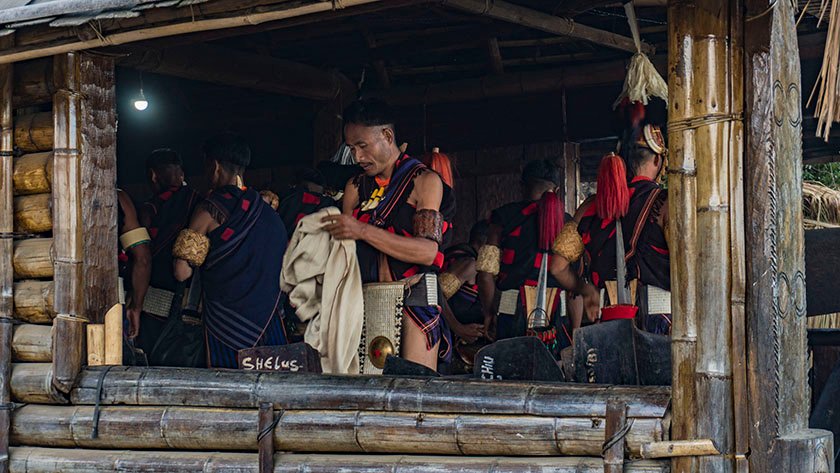 Each tribe at hornbill has their own dedicated traditional Morung, where they perform traditional dance and even sell local food. Don't feel shy about trespassing anywhere or clicking pictures as they dress-up (though with all the respect!)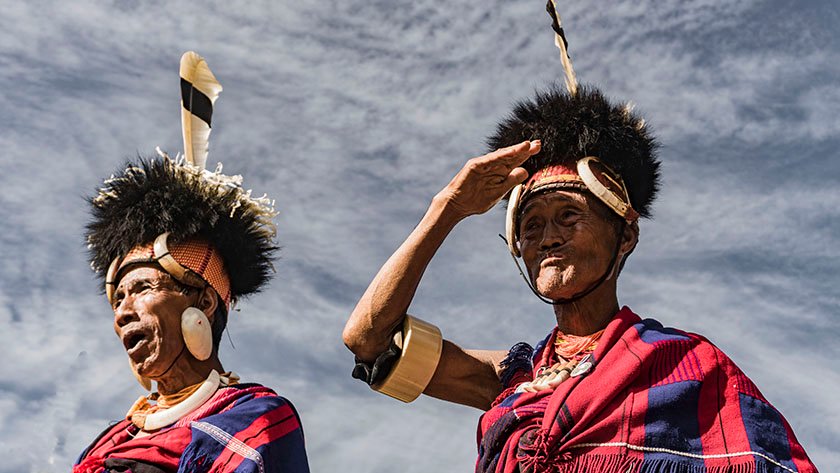 The most popular among all tribes remain the Konyaks — better known as the headhunters. Until as recently as 1969 the Konyak tribe had a reputation of being fierce warriors who often attacked nearby villages of other tribes and took great pride in taking the heads of opposing warriors as trophies to hang in the Morung. With each head a Konyak will take, his wife will carve a tattoo on his body. The more the tattoos, the better the reputation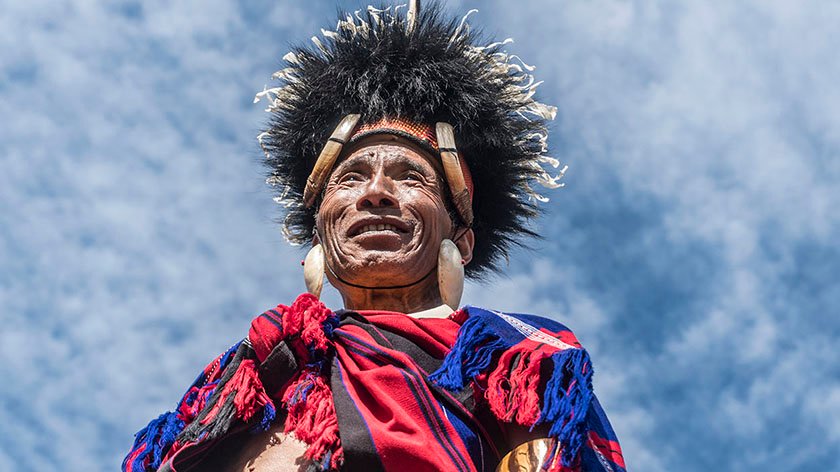 A proud Konyak standing tall, enjoying the traditional games at the Hornbill
 A tourist busy clicking Hornbill Festival photos as a group of tribesmen pose together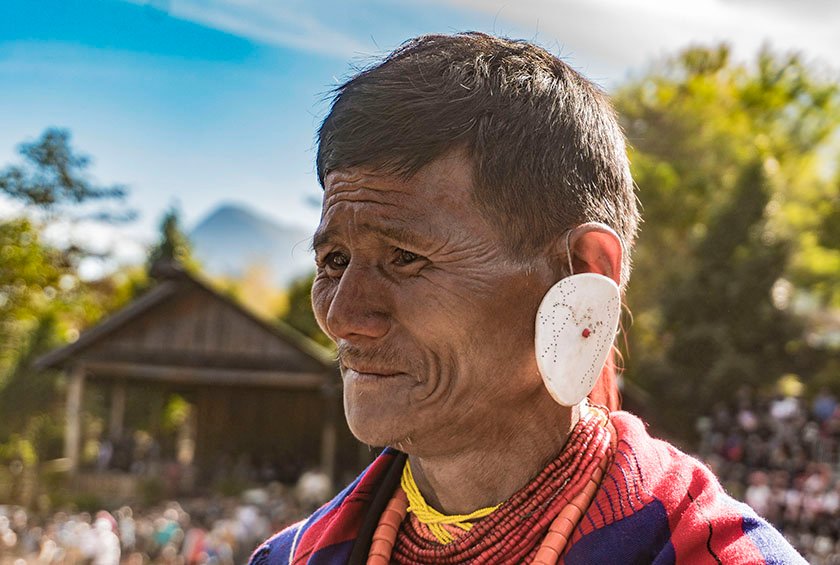 Yimchunger tribe is another major Naga tribe that dwells inside the Tuensang district in Nagaland and around the areas of Burma
---
Which of the above Hornbill Festival Photos was your favourites?
Also Read: Kumbh Mela Pictures