Before I start with my work from mountain experiences and learning and talk about some of the best locations to do so, I would like to recommend Footloose Camps 2.0 THE HOMESTAY located less than 2km from Manali for long stays. I own two places in Manali – FootlooseCamps Hamta and FootlooseCamps 2.0.
We particularly built FootlooseCamps 2.0 THE HOMESTAY for longstays where we have three attached bathrooms and we only take minimum 1-month stay bookings. Massive balconies are perfect for sitting outside and working remotely.
Since COVID-19 took the world by storm, many people left cities in order to work from the mountains.
And since most corporates changed their work culture allowing employees to function digitally, it even makes sense to do so.
Life in cities is maddening. In mountains, it's rather blissful.
Though I've been working location independently since 2016 (as a digital nomad) in the back of my heart I always wanted to rent a property somewhere in the Himalayas and make it my temporary workstation. But because regular freelance travel projects kept coming, I could never do so. I COULD NEVER SLOW DOWN & WORK FROM THE MOUNTAINS!!
After COVID-19, as the travel industry came to a standstill I found some time to do so too.
In December 2020, I leased an old Himachali House near Manali and shifted my base to the mountains.
View this post on Instagram
To be able to work from mountains is a luxury.
MENTAL BENEFITS
The idea that nature can improve mental health has been around for as long as we have regarded ourselves as human. And there's no denying the fact either.
Activities like gardening, exercising outdoors, playing with animals, or doing nothing but being in nature can:
improve our mood
help us feel relaxed
reduce feelings of stress
improve our physical health
improve confidence and self-esteem
… and a lot more!
If sea-bathing in seaside resorts can be an upper-class health fad, why can't work from mountains be a newage middle-class thing?
IT IS ECONOMICAL
How much does a single room in a shared property somewhere in South Delhi cost? 15 thousand Rupees.
How about something similar in a nice neighbourhood somewhere in Bangalore or Mumbai? Possibly double the price.
If you can find a property somewhere outside of the main tourist towns like Manali or Rishikesh or Dharamshala (not too far but just a  few km away in a residential area) you can find a 2bhk for less than 10,000 Rupees.
You can now rent this place for INR 25k for a month. It's a 2bhk fully-furnished house (near Manali) that comes with a basic kitchen setup to cook your food, hot water in the bathroom, and 1 double bed and 1 single bed. It can easily accommodate 3 people.

I help people find kitchen+room+bathroom setups in and around Manali. If you're looking for a place to rent for at least 3 months, please write to me on Instagram and I will help you find a place.

Alternatively, check out my backpacker hostel in Manali for short stays.
AN EXPERIENCE OF A LIFETIME
And then, living and working from the mountains is an experience of a lifetime.
From collecting firewood to cooking my food to working other things out, everything feels new and refreshing.
It is better than living in a tiny flat in a city anyday!
Tips For Finding Work From Mountains Locations
It has been a few months that I've been living my dream and from my experience, here are a few things to keep in mind…
Good phone connectivity. Even if you happen to install wifi at your place and thus get good internet connectivity, make sure you get a good phone network. Speaking of the Himalayan states, Himachal Pradesh has relatively better phone connectivity than Uttarakhand Ladakh and J&K.
Online delivery service. Since the delivery of goods purchased online is relatively limited in the mountains, ensure that the place you're renting comes under an online delivery network. If not, figure out a local address nearby. Even the most uninterested online shoppers start shopping online in the hills (and I'm saying so out of my experience) thanks to the poor availability of products in local markets.
Keep a private vehicle. Because public transportation in the mountains is comparatively poor and less frequent, it is best to keep a private vehicle to be able to make the most of your work from mountain experience. Weekends are meant to explore nearby destinations.
Learn cooking. If you don't know how to cook your own food, surviving in the hills will be a challenge, unless, of course, you're staying in a main tourist town like Almora or Shimla or Rishikesh. Even those places will have limited options to eat out.
Best Work From Mountains Locations In Uttarakhand
Almora
Almora has a noteworthy worktation culture coming up in the region thanks to the many homestays and co-living hostels in the region. The fact that it has good phone reception also plays a part. And let me repeat, unlike Himachal Pradesh, Uttarakhand has a history of bad phone networks across the state. 
So yea, when it comes to working from mountains in India, and that too from the mountains of Uttarakhand, Almora is one of the top favourable destinations.
I can recommend Shantiniketan Almora for those on a short budget. The property is run by two sisters who hailed from a city in North India, and started a backpacker's hostel. Since Coronavirus, many corporate employees have visited and enjoyed a long stay at the Shantiniketan. The property has a 6-bed dorm, 1 private room and an in-house kitchen. Good wifi and a coworking cabin make it an ideal place to be able to work from the mountains or work from home rather.
Those on a decent budget can check out The Himalayan Woods, located very close to Kesar Devi temple. Executive style private rooms, and enough open spaces with tables and chairs placed make it a great place for working from a hotel and being able to enjoy a few weeks of workation. I stayed at The Himalayan Woods during my Delhi to Munsiyari road trip.
I recommend you contact these hotels/hostels on their Instagram page for discounted long-stay or work-from-mountains packages.
Rishikesh
When it comes to travelling in Uttarakhand there's no denying that Rishikesh tops the first spot. Think of it as the centre of all tourist activity. From Victorian-style cottages to budget hostels, restaurants offering a la carte menus to roadside tapris, and adventure sports like Bunjee Jumping to Yoga retreats, this place has something for everyone.
And same goes for an experiential staycation. For temporarily moving to the mountains and working remotely, Rishikesh is indeed an ideal place. In Rishikesh, you will find a good phone network, enough wifi-enabled cafes and good accessibility (perhaps the best in the entire Uttarakhand).
Check out Zostel and Blue Jay for a hostel-like budget setting, or read this blogpost on other recommended hostels in Rishikesh for more suggestions.
If, however, you are looking for more like an apartment kind of setting, check out Aloha on the Ganges and Deecon Valley (can cost about 20,000 for a 2-bedroom flat). Both are located close to Lakshman Jhula in Tapovan. Such a place will give you a more rented home-like feel.
Lemon Tree Premier is another recommendation for those looking for a premium business-hotel kind of setting/ambience.
Disclaimer: Please note that the places mentioned here have been travelled and explored by me. It is not an advertisement. The mentioned places did not pay me to promote them.
I would also like to mention that I provide personal counselling FOR A FEE, OF COURSE, where I can help you find an ideal work from mountain location for you, somewhere in Himachal Pradesh or Uttarakhand or Ladakh. Please contact me on Instagram or email me at deveshjoshi1990@gmail.com and mention your requirement. I will charge a one-time fee of INR 3600.
Also Read: Himachal Pradesh Vs Uttarakhand WHICH PLACE IS BETTER?
Best Work From Mountains Locations In Himachal Pradesh
Manali
There are a lot of hotels and homestays around Manali offering long-stay packages for people wanting to work remotely.
As recommended at the beginning of this article, FootlooseCamps 2.0 THE HOMESTAY remains my top favorite location because I opened this site keeping longstays in mind. I have two guesthouses in Manali, FootlooseCamps Hamta Mudhouse which happens to be an experiential weekend getaway, and FootlooseCamps 2.0
We only take 1 month (or min 1 week) booking at FootlooseCamps 2.0, hence the recommendation.
Mid Orchard Manali is also a very good place for budget travellers. A friend of mine stayed there for 500 Rs a day that included all three meals and a bed in a 6 or 8-bed dormitory. If you're looking for a place in Old Manali, I can recommend Treenido that has a very similar workation package (minimum one week stay). The Hosteller, Manali is another good recommendation.
It is also possible to rent a 1 bhk around Manali. In fact, Manali is one of the best places to do so across Himachal Pradesh because of the number of properties available.
Starting Naggar (on old Kullu Manali-Highway) and Patlikuhl (on the new Kullu-Manali highway) there are a number of residential and commercial areas. Where Manali can feel a little crowded to some people, anywhere in the 5km radius won't.
Good phone network and availability of online services make Manali one of the best places to work from mountains across Himachal Pradesh.
Namaste Homestay, Naggar (20km from Manali)
Because I have personally stayed at this place for a month, I can highly recommend it for people looking for long stays.
They have two 2-bedroom + kitchen setups (in the form of a duplex). The kitchen is fully functioning with a gas cylinder and necessary crockery and tableware.
The two bedrooms (on each floor of the duplex) have an adjoining gallery that gives sweeping views of the snow-clad mountains (between December & July mostly).
Inside the two bedrooms, you get a workspace with a few tables and ground matrices. The flooring is of wooden or carpet with one bedroom access to the bathroom.
The best part about this place is that it's a homestay. The family stays inside the premises so if you are a bad cook, you can order food in-house at a very minimum cost. I ate meals for 50 Rupees here (depends on what you eat of course).
Anyway, each 2-bedroom+kitchen unit costs 30,000 Rupees a month, or 1800 Rupees per day. Usually, they rent it out for long stays but per-day booking is welcome too. You can find them on Instagram, or find me and message me. (Instagram link).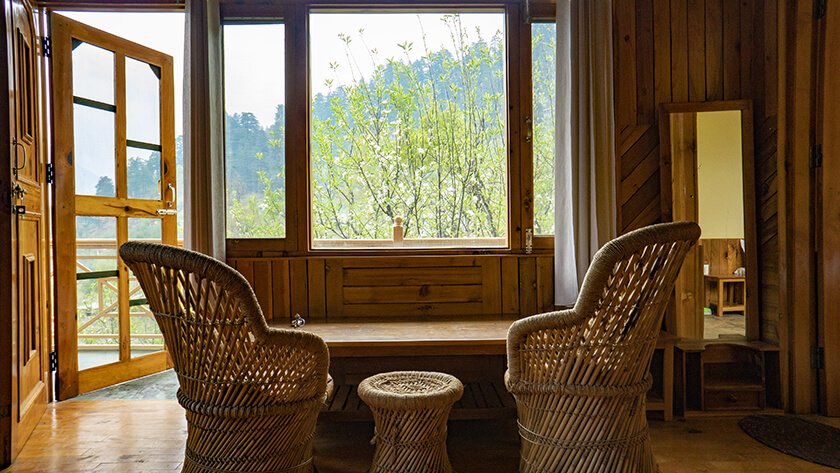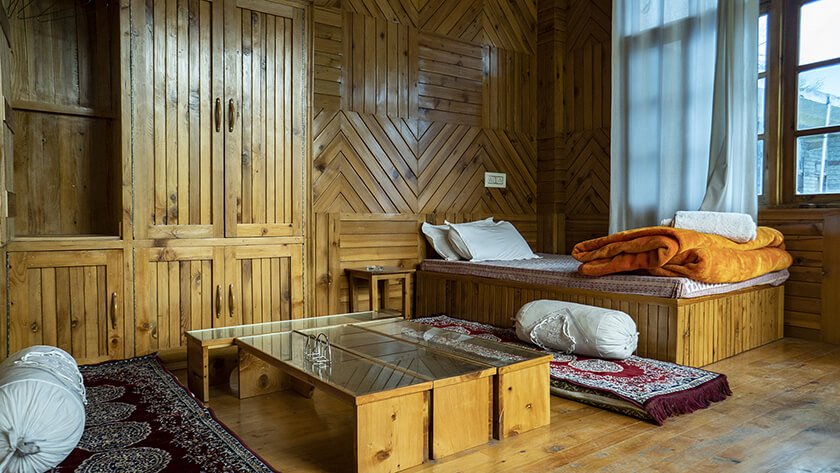 Dharamshala
The towns of Mcleodgunj (2km from Dharamshala) and Dharmkot (4km from Dharsmahala) make for another great location to work remotely. I can personally recommend The Bunker hostel run and managed by close friends. They have private rooms and dorm-beds both. Common sitting areas with high-speed wifi connection makes it ideal for a short workation experience.
Unlike Manali, there aren't many apartments available in and around Dharamshala but you can always choose a hostel or a hotel to do so. Again, the phone network is fairly good in Dharmshala.
Other work-from-mountains locations in Himachal Pradesh Pradesh include Bir, Shimla (and surrounding towns like Naldehra and Mashobra), Parvati Valley (near Kullu) and Jibhi (in Tirthan Valley).
Unlike Uttarakhand and Ladakh, Himachal Pradesh is more a better destination for digital nomads because of the better infrastructure.
In Ladakh
In Ladakh, Leh is the only town with a good phone network but given the poor accessibility and the current lockdown measures, it doesn't really suit digital nomads as a destination.
Do Hostels Offer A Good Workation Experience?
As long as you know how to work in a sharing space and not get distracted by a lot of people around, they do.
Hostels often have wifi available so finding high-speed internet is no problem either, given the speed isn't compromised.
Most hostels also have an in-house kitchen that allows you to cook. If not, they always have an in-house kitchen to order and not worry about food. Eat+Socialize+Work is pretty much sums up life in a backpacker hostel.
Where renting a property and living on your own comes with various struggles, the biggest of which remain managing food, in hostels, thanks to an in-house cafe, food is no problem.
If you are travelling solo, it makes sense to stay in a hostel. But if you are a group of 2 or more people, I suggest you rent an entire property and share the costs. Imagine renting a 3bhk for 16,000 Rupees and sharing it among 3 people. It will cost about 5000 Rupees a month per person. Sharing a property moreover means having the entire place for you.
Renting A Property For Working Remotely In Mountains?
It is possible to rent a one or two-bedroom flat/apartment too and have a home-like experience.
In tourist towns like Manali and Dharamshala, it is possible to find a 1bhk for around 20 thousand Rupees for a month. A little outside of the tourist town, say about 5km outside of Manali and you can find something similar for a little cheaper.
The 2bhk I've mentioned above, for example, that costs 16k for a month, is a big massive property with 2 liveable rooms, one store-room, a bathroom and a big open space outside. To make it better, it was all furnished include a hot shower, beds, a few storage boxes and a ready kitchen — in short, a sweet deal that needs some luck to find.
Again, I know a lot of such places, especially in or around Manali that I can help you find and rent out.
That's all in this blog on tips and suggestions relating to leaving the city life and relocating and working from the mountains. If you've more suggestions/inputs please leave a comment below.
Again, if you want me to help you find a place like mine, you can contact me on Instagram/Facebook (same name FOOTLOOSE DEV) or write to me an email at deveshjoshi1990@gmail.com