Before I go ahead, I want to announce that I now run 2 properties around Manali: FootlooseCamps Hamta (setup including a traditional Himachali Mudhouse and three luxury Geodesic Domes with Jacuzzi & infinity hot pool) and FootlooseCamps 2.0 The Homestay (with three attached bathrooms for long stays). Both places are located within 8km distance from Mall Road with views that 99% of hotels in Manali fail to offer. For booking, WhatsApp/Call 8800763430.
Check below, the Instagram Drone Shot for FootlooseCamps Hamta and a Youtube Video for FootlooseCamps 2.0 The Homestay…
View this post on Instagram
For booking, WhatsApp/Call 8800763430. Now, let's continue with the topic at hand…
---
Manali is certainly crowded, and old Manali is even more so. So if you are one of those people who still want to stay close to Old Manali, but looking for a peaceful neighbourhood, Kharma Valley is the place for you.
Located at 15 min trek away from the popular Lazy Dog Cafe in Old Manali, Kharma Valley offers a peaceful alternative to those staying in the crowded Old Manali.
I first heard about Kharma Valley in 2021 while searching for a location for FootlooseCamps. Back then, I happened to find Hamta Valley and my search was over. Among Kharma Valley, Naggar, Majach Village, Hallan, and Kasheri were a few other recommendations. I happened to explore most of them but never did I get a chance to visit Kharma Valley.
So here comes a chance to visit the long-lost lead as I took my motorcycle out one busy afternoon and forayed into the offbeat side of Old Manali.
Kharma Valley: An Introduction
Kharma Valley is one of the smallest valleys in Himachal Pradesh and in between flows the tiny Manalsu River. It is this river that divides Manali and Old Manali – call it the borderline between the two towns.
Also spelt as Karma Valley or Kherma, it is more or less the last point of Old Manali after which begins the unexplored forest and wildlife area that takes you deeper and deeper towards Hanuman Tibba and Bara Bhangal.
Local people also sometimes refer to Karma Valley as Disco Valley.
As you begin your trek from Old Manali towards the last point in Kharma Valley, you come across various Apple Orchards. Beautiful Manalsu River flows next to you on the left. There are, moreover, a few guesthouses and campsites as well that keep coming on your way.
I particularly loved the Hobbit Themed guesthouse that, during my visit in April 2023, was under construction.
Is Kharma Valley Worth Visiting/Staying Than Old Manali?
I understand for most people, Manali is only a weekend affair. If that's the case with you, I don't think this place should be in your top charts. There's nothing extraordinary about the place. Neither the riverside nor the amenities this place offers.
But yes, if you're in Manali for a long time, say a month or a few weeks, you can consider visiting Karma Valley. As far as staying in the valley is concerned, it is meant for those who are looking for IN THE MIDDLE OF NOWHERE kind of setting. Eg this guy we met from Great Britain who was a professional song artist…
If you are staying in Kharma Valley, think of it as an experience where you will only be experiencing the place you're staying. There are no cafes or other attractions but just pure nature to experience around. For cafes and markets, you will have to trek back to Old Manali.
Also, please note that food in Kharma Valley can be quite expensive than food in Old Manali, because of the inaccessibility of the place.
Conclusion
All in all, it's a nice place to relax and unwind. I would love to revisit, and perhaps open another site for FootlooseCamps. It matched the kind of setting we create for FootlooseCamps.
Kharma Valley must be on your travel list if you've seen most of Manali/Old Manali and you're looking for something new. Or, you've come to Manali to escape the crowds back home and experience pure nature and peace.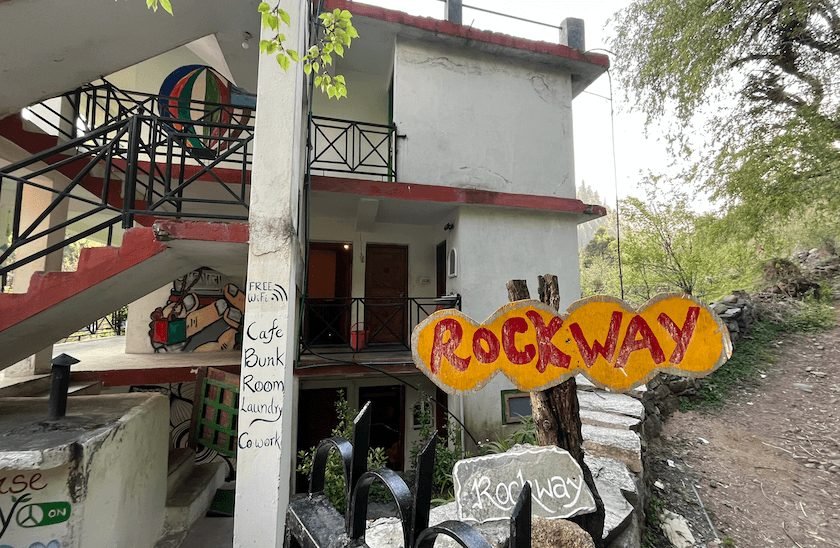 Other Offbeat Desinations Near Manali/Old Manali
I understand people who would search for a place like Kharma Valley are into offbeat travel.
If you are looking for offbeat destinations near Manali, I have a list of places for you. Please note that you need a private vehicle to access most of these places (taxis will be too costly). If you don't have a private car/bike, consider hiring one.
All the destinations mentioned below can be travelled to (and back to your place) in a day…
Kasheri Village: Village Kasheri and Nayalag offer two beautiful offbeat places to travel near Manali. On the way, lies the Pangan Nyingmapa Monastery.
Hallan Valley: Located between Manali and Naggar on Naggar Road, Hallan Valley (or Hallan 1, not Hallan 2, since there are two Hallan in Manali) is another must-see for nature lovers.
Hamta Valley: Ideal for winter sports, Hamta Valley is another emerging offbeat destination near Manali. Experience staying in Geodesic Domes here. Check FootlooseCamps Domes in Hamta with Jacuzzi and hot infinity pool. You cannot find a better view anywhere in the entire Manali than this place. Contact 8800763430 for booking.
Chichoga: If you want to see Manali town and Mall Road from the mountaintop and enjoy the unspoilt jungle, visit Chichoga village.
Fojal Valley: The second paragliding site in Manali, Fojal is another very less explored region in Manali.