As I left the dinner table and entered my room — a normal daily routine I was consciously repeating for the past couple of weeks, I wondered why it was so hard to wish THE FAMILY I was staying with, in Italy a 'pleasant sleep' tonight. But as I entered my room, and slammed the door behind me, I realized that there's nothing unusual in today's circumstances; I always feel the same when I leave something behind. Bidding farewell and saying final goodbyes have always been the toughest part of my life. They make my travels so much difficult, and a lot more unsettling.
I always thought that after travelling for some time, living more experiences, and bidding adieu to all the people I'll meet on the road, I will, somehow, and almost naturally, master the art of saying farewells without being driven by the moment.
But this time as I departed, I realised that I'm pathetically failing in it. I am still the same person who always cried his heart out as he left the known ones behind.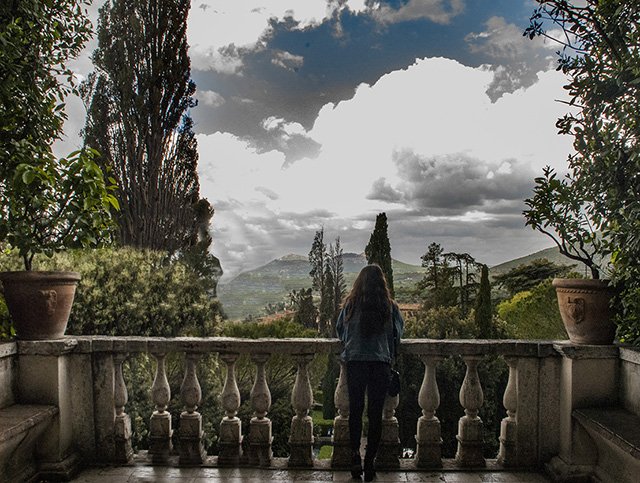 Though of course there's nothing wrong in reminiscing the fond memories of your friends, it's also important not to let that sentimentality cause you to lose your course. Yet almost always, saying goodbyes bring me to a point of ambiguity, that I always have to remind myself that I'd initially arrived here only to eventually leave.
I mean for a traveller, going away is, after all, just as significant and necessary in his life, as arriving at a new place.
The Last Dinner Together. The Last Morning Tea. And The Final Good-Bye!
So I pushed myself, yet again, and tried to ignore the brevity of the fact that I soon would no longer occupy space with them. Soon, I'd no longer be a part of their daily lives. I'd not be working in their garden or helping them buy groceries. Very soon, I'd be on the road again, continuing my European leather tramp.
So to only look stronger – as I waved the final goodbye, to each one of them, individually – I numbed myself to a degree that might have felt that I never cared about them. But I now wish that I could make use of the time and have told them how much I loved them and how much I'm going to miss them. But I couldn't!
So I hope they understood that I was only struggling to let go.
I hope they understood that I never wanted to say Goodbye, but that I'll See You Later!
My heart now swells with them behind trapped inside whom I will meet later through a certain song, a wafting smell, or a secret joke.