Planning a day trip to Lake Bled and the other highlights of Slovenia —  Predjama Castle and the cave or Postojna? This ideal day trip from Ljubljana guide is all you need!
Slovenia may appear like a tiny country sandwiched between stronger nations from all its directions, but speaking of the beauty it holds, there're no rivals. Throughout my 4-day travel in Slovenia, I was amazed by its diversity, and the experiences it had to offer. From serene lakes to gigantic cave parks to medieval towns — Slovenia had something for everyone.
But out of all the places of interest three highlights that complete your visit to Slovenia is: Lake Bled, Postojna Cave, and the Predjama Castle.
Located at only an hour's drive from Ljubljana, it is fairly easy to explore all three highlights in one day, given you are driving, because lake Bled is located in the opposite direction from that of Postojna Cave and Predjama Castle's. But those travelling alone and not wanting to rent a car, as was the case with me, can opt for one of the day trips available from Ljubljana.
First Half Of The Day: Lake Bled

Lake Bled is one of the most popular places to visit in Slovenia and is unarguably one of the most charming too. And in a country, so breathtakingly beautiful, that really is saying a lot!
The journey to Lake Bled (from Ljubljana) takes nearly 30-45 minutes and only requires you to follow a straight highway. Surrounded by lush green mountains, with periodic snow-capped ones, highways in Slovenia turned out to be most picturesque that I'd seen in any other part of Europe (alright Switzerland was an exception, particularly this scenic ride in Switzerland).
Located in the North West of Slovenia, on the edge of the Triglav National Park, Lake Bled is the only natural island in Slovenia. But that's not its original charm. The original charm, however, was the beauty so dramatic and unrealistic in its appearance that it reminds you of the Disney movies you have grown up watching.
Speaking of the unrealistic beauty, picture this: A fairytale medieval castle with a Roman-style tower, overlooking a serene lake, which sometimes appears green, and sometimes blue. Almost in the middle floats a small island, home to a church and a couple of al fresco cafés creating an enjoyable ambiance. The lake is moreover so calm and undisturbed that any movement in it is done either by a flap of a duck wing or the dip of a kayak paddle.
Upon reaching the location, inside the Triglav National Park, we first set off to explore the Bled Castle — one of the oldest establishments in Slovenia, dating back to 1011. Bled Castle was very famous during the 19th century when it was used as a sanatorium founded by Arnold Rikli. The rich and famous of that day flocked there for body therapies. Today, it's a popular destination for nature and bliss junkies.
Other than the great views of the lake (that we, unfortunately, missed, due to bad weather) what's worth visiting the castle is its blacksmith's shop and a winery, where you can fill your own wine bottle, seal and decorate it, and even get a certificate. The castle also holds a publishing house depicting how Slovenia got its first few letters printed back in the 16th century.
As we finished the castle visit, next on the list was a hand maneuvered boat ride to the Bled island and back.
Second Half Of The Day: Predjama Castle and Postojna Cave

The second half of the day required us to return to Ljubljana and then drive south for Predjama castle.
Built into the rock itself, the white walls of Predjama Castle feel like a stark statement on the surrounding landscape. Its romantic appeal is further emphasized by the idyllic River Lokva, which disappears into the underground world deep down below the castle. Today, Predjama castle might just be a spectacular tourist site and one of Slovenia's many photogenic vantage points, but centuries ago, it served as an impenetrable fortress.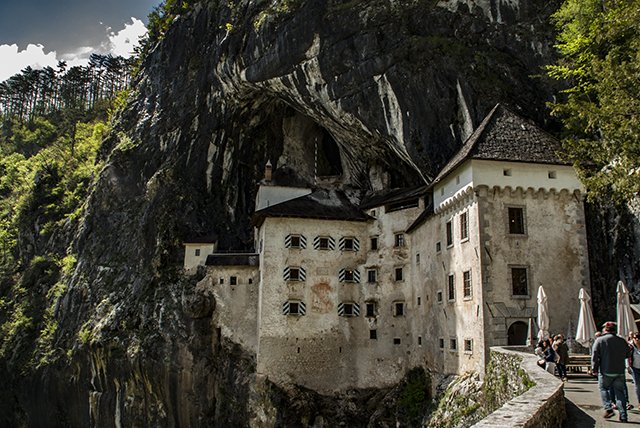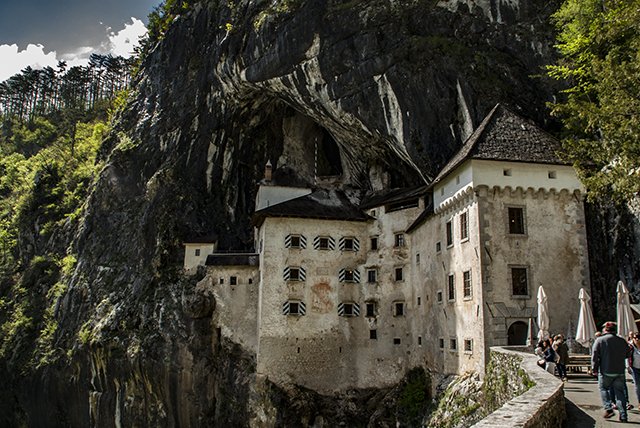 Built upon the foundations of the original medieval castle, the whitewashed walls we see today were put in place sometime around the 16th century. But the castle received a makeover a few centuries later, after being destroyed in a siege. As you wander through its drafty passages, you feel a place echoing with ghosts and memories. 
With a continuous feed of information, our guide led us to the top of the castle and through a network of bare rooms, while pausing at a corridor where the natural rock met the Renaissance façade. We were told about the many famous castle inhabitants, but among all, the story of knight Erazem of Predjama, who rebelled against the imperial autocracy in the 15th century was most fascinating. Nowadays Erazem is the main protagonist of numerous legends, which on the one hand glorify him as a passionate, handsome and noble knight, but also describe him as a bandit and a robber (the Robin Hood with a twist) on the other.
It took almost an hour to finish our tour in Predjama castle, before starting with the highlight of the day — exploring the cave park of Postojna!
Though I've been to a few caves in my life, and have walked, swam and even paddled a canoe inside them, and they were all pretty impressive, but the cave park of Postojna turned out to be most compelling. After all, Postojna cave is one of the world's largest karst monuments and one of the largest cave parks in Europe.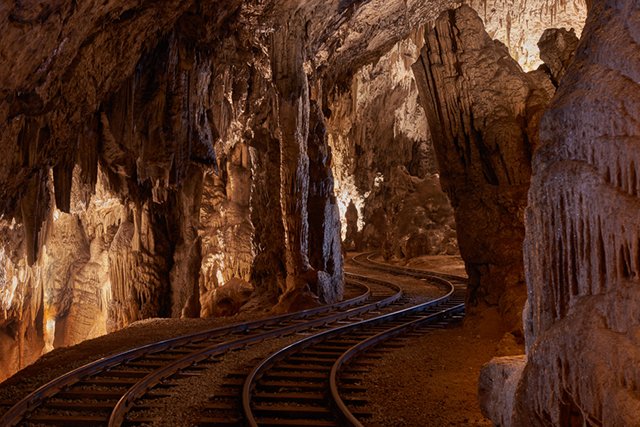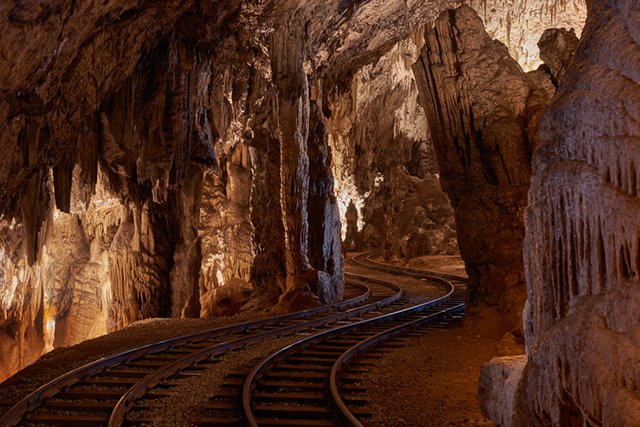 With its 21 km of passages (yes you read that correct, 21 km it was!) galleries and magnificent halls, the cave park of Postojna offers a unique experience of the underground world. The guided tour, which is offered in 15 different languages, takes about an hour and a half to finish, with two 20 minute train rides inside the cave and a half an hour walk.
The first signature of Postojna cave dates back to the 13th century, but it was only after the 19th century that any modification in the cave was done. In 1899 the world's first underground postal office was operated here inside Postojna. Today, it is Slovenia's biggest tourist attraction that has welcomed over 37 million people so far, and counting!
If you're staying in Ljubljana, don't miss checking out the epic Metelkova: Street Art & Graffiti District