'We spend our lives trying to become something. To prove ourselves worthy, and important. Until we stand still, one day, facing the mighty nature. It is moments like these when we truly realize, how petty, how insignificant – human condition actually is'
I found myself struggling with these boundless thoughts, regularly, during my solo bike expedition to Spiti Valley – a trip which made me believe, in just 9 days, that everything falls into place when you really want it to. Once you embrace the true spirit of the journey, it reveals itself to you.
A road trip to the world's one of the most isolated roads in Spiti Valley, is nonetheless a tough experience. You need to drive for long hours, look after your ride, calculate kilometres, and take many survival decisions. And doing it solo is somewhere at the next level. Perhaps that's what compelled me to try it out at first place. Now that I've I managed to complete the journey in 9 days and while camping each night, I thought why not share my experiences all in one place.
Is Solo Motorbiking In Spiti Valley Risky?
If you're driving under the safety of a group – it's not. Because then risking any technical issue or even a tyre puncture doesn't matter much. You've a group of people to look after it, and to look after you. But when alone and no mates to look after, it makes a difference!
But if you're driving a motorbike or a car, which is overall in shape, you should be fine. And don't just run after a Bullet. I did it on Pulsar 200, and it turned out to be a perfect partner. Unless you're riding a motorcycle which is over 180cc it should be good to carry a little luggage along with you. Just carry a few spare parts and your ride's toolkit, in case of any minor worn-outs.
Roads, on the other hand, keep changing throughout the year, so you cannot get 100% accurate information in any of the blogs unless it was written yesterday. But on a bright side, roads are getting better. To get a big picture, however, here's what to expect…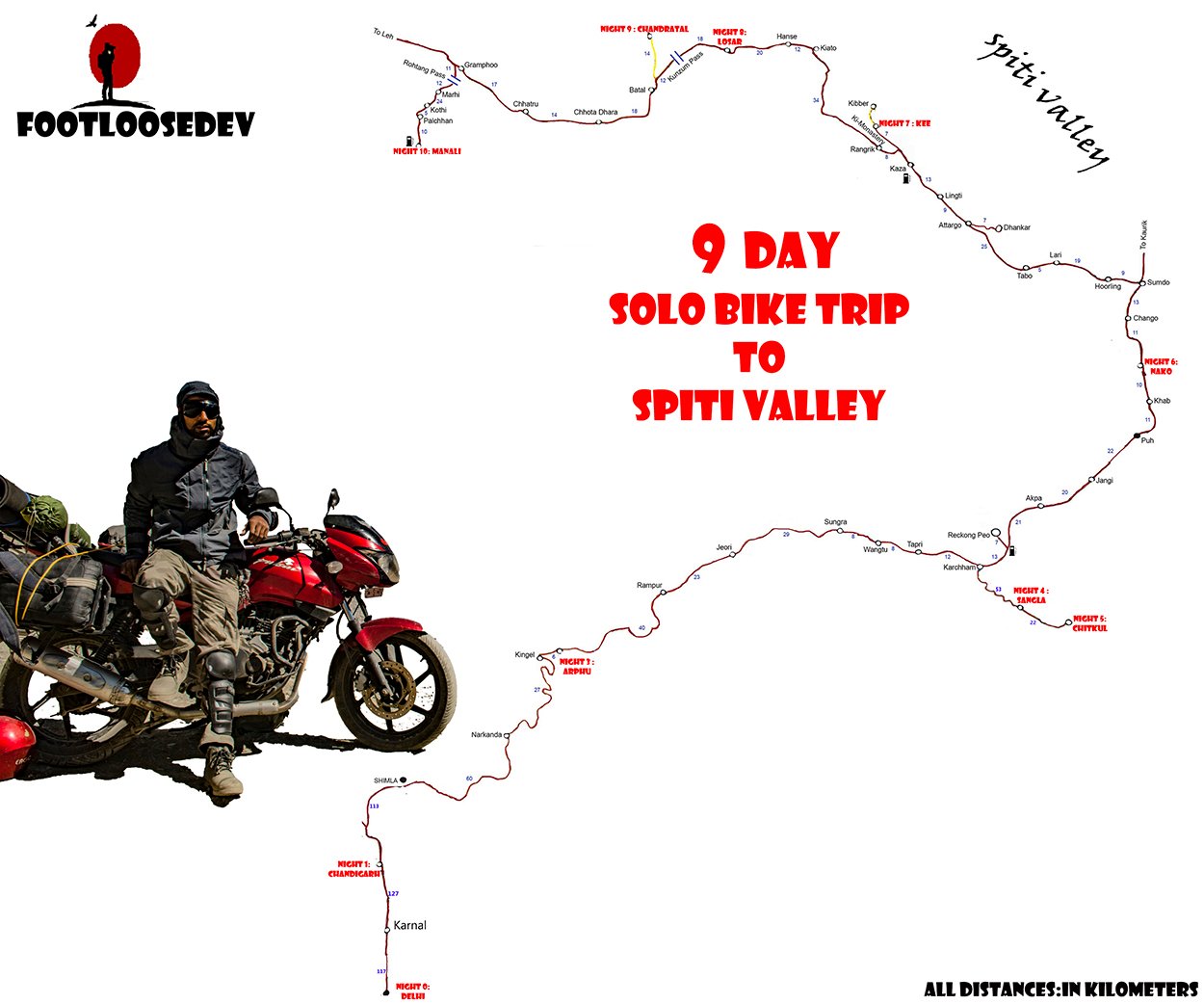 From Shimla to Wangdu (190Kms) the road stays pretty much in good condition throughout the year. From Wangtu, however, it becomes a long moody stretch, wearing an uninviting face for most of the time, to all the way to Nako (128Kms) and further ahead to Kaza (80Kms). From Kaza to Kunzum la (75Kms) – it seems no better than a dirt-track before it turns even nastier all the way to Gramphu (61kms). At Gramphu you merge with the happy traffic of Manali-Leh (65Kms) and the road becomes pretty good too afterwards.
Things To Carry Along For Spiti Valley Road Trip
Since luggage is most common among any kind of traveler, it would be great to always have a list of things to carry with yourself. It would certainly be extremely handy when the plans were abrupt and you decided to leave the next morning. I have therefore compiled a list of few important things that you must carry with you for a road trip to Spiti Valley. As long as you've them, and own a basic technical knowledge, you are good to go:
Medicine and First Aid Kit
Tool Kit
Clutch and Accelerator Wire; and a spare Handle for both
Rear Tube or Tubeless Puncture Kit
Air Pump
Clutch Pads
Fuel Availability In Spiti And How To Deal With It
If you're coming from Shimla, you'd find your last petrol station on the National highway near Rekong Peo. From here, to all the way to Kaza, which requires you to drive almost 200 Kms – if you're not going off the main road there are no petrol stations. From Kaza, to all the way to Manali, there are no petrol stations for a distance of 200 Kms – so have your wits about it.
For me, since I was on a Pulsar, carrying extra fuel was not required. My tank offered 18L capacity. For a Bullet and other bikes, with low mileage, and a smaller tank, you may need to carry a couple of jerkins along with you.
Now, if the odds are against and you still end up running out of fuel, then in that situation – take a lift to the nearest town and ask local people if you can buy some fuel. People in these areas sometimes keep a stock of spare fuel. And if the town has a BRO camp (Border Road Organisation, the organisation which builds the roads in these areas) then you will definitely find some fuel.
Is A Solo Road Trip In Spiti Valley Worth It?
It is said that safety is in numbers. But do you really want to be safe? If you do, you should possibly be warming your couch right now, drinking beers and swiping right on Tinder. But if you want to take the adventure quotient of your ride a notch above, from where it is right now, go solo. Sure a true "brotherhood experience" would be great, but solo riding is where the serious stuff comes to the surface.
With no support vehicle and no fellow riders to watch your back, one wrong step can result in potential failure. And that feeling makes your journey more adventurous. Here failing is strictly not an option. When you do not have the expertise of a mechanic at hand, or the luxury to have someone else ride your machine, during the time of fatigue – you soldier on. No matter what. And such an experience is far refreshing, and a lot more addictive!
Also Read: How To Plan Your Next Solo Bike Expedition To Spiti | My First Real Motorbiking Experience In Himalayas