My solo travel to Bhutan is one of the most highlighted journeys I have ever had.
For a period of nearly 20 days, I travelled over 5 cities, doing a big loop. I entered from Phuentsholing and exited from S. Jonghkhar to India.
And it is not just me for whom travelling solo in Bhutan was a highlight.
Not much is known of this country, and even less is heard about. And that's what makes it a place to discover!
Is It Possible To Solo Travel In Bhutan?
Many people find it hard to travel to Bhutan due to the country's high daily tariff (of USD 250 per day per person) and complicated visa requirements.
Fortunately, the USD 250 per day didn't apply to Indian tourists before 2020. We could cross the border anytime we want and explore the place.
Until 2020, backpacking in Bhutan was possible. One could even travel solo in Bhutan as I did.
But in 2020, Bhutan passed legislation to charge Indians, Bangladeshi and Maldivians a ₹1,200 fee for entering the country.
According to the news, the fee will implement in April 2020. How the new rule affects Indians, Bangladeshi and Maldivians to travel Bhutan as a backpacker is yet unknown. Also, owing to the coronavirus, the ruling is currently put on hold. Keep checking the Royal Bhutanese Embassy website for a recent update on this.
So yea, whether it is possible to solo travel in Bhutan (for Indians, Bangladeshi and Maldivians, just like I did during my trip before 2020) is vaguely unknown at the moment. We will have to wait and see. As Lonely Planet has said, Bhutan is all about low-volume and high-value tourism, and there's no denying the fact.
Why I Loved Travelling In Bhutan
Before I tell you why I loved solo travelling in Bhutan, let me share my entire Bhutan itinerary…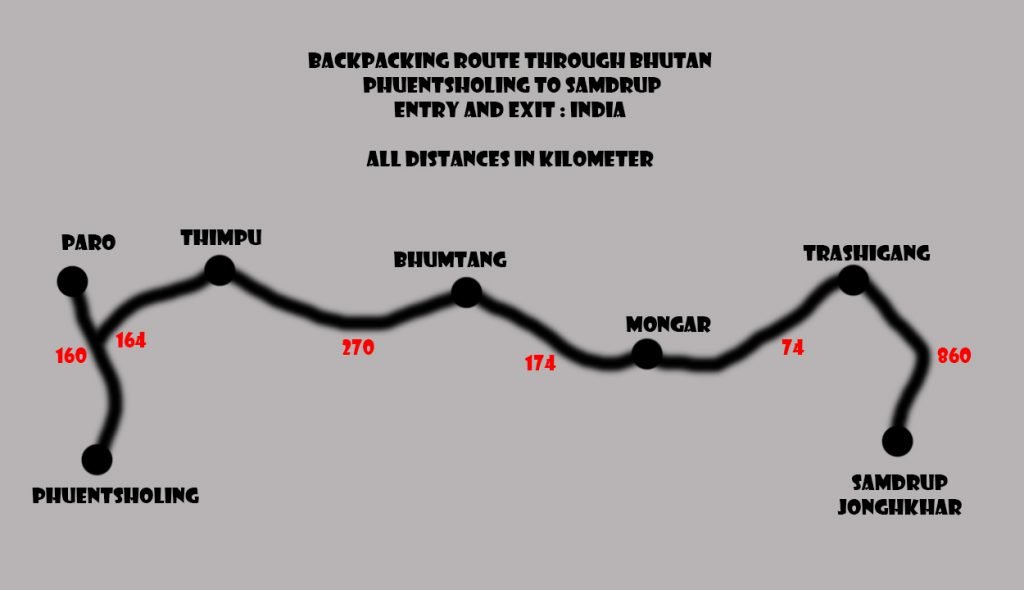 I travelled from Siliguri to Phuentsholing, covering all the major cities in Bhutan, before exiting from Samdrup Jonghkhar to India.
This took me almost 20 days. I travelled by bus and did solo backpacking in Bhutan.
Now, let's discuss the reasons why I loved travelling solo in Bhutan…
Well, of all the compelling reasons to visit Bhutan, the 'Restaurants Cum Bars' are one of them. They are a basic Bar like facility where you can enjoy 'Emma Dhatsi' and drink local beers and whiskeys at the same time.
For a start remember that they are in no shortage in any sense. If Bhutan has some 100,000 shops in total, at least 99,999 of them are these 'Restaurants cum Bars.'
And experiencing these bars is one reason why I want to solo travel in Bhutan again.
Also, read this Bhutan Travel Guide if you are planning a trip there. I have covered a great length of Bhutan travel tips in that blog.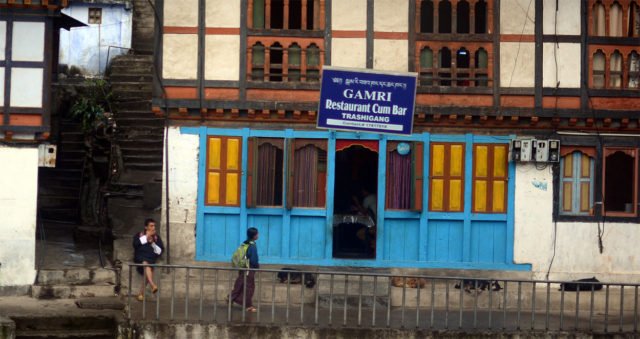 If you think Bhutanese people aren't friendly enough and do not speak to foreigners, try one of these places and ask anyone – literally anyone – "how is the new government doing in comparison to the earlier monarch's rule." They would first puff their cheeks, looking knowingly at each other, and blow out air as if to say, "Now that's a bit of a question" and then they will launch into a series of lively discussions among themselves.
Within minutes the discussions will plunge off into a level of detail that will leave you swivelling your head in bewilderment.
At this point, you are the only person not saying anything or nodding vigorously. As soon as the discussion finishes, you'll find yourself surrounded by friendly faces inviting you for tea in their house so that you can discuss the topic in more detail.
You will have no idea where that invitation came from, but yes, Bhutanese people love to invite guests – particularly if you're Indian. These invitations are yet another reason why I want to travel solo to Bhutan, again.
If you are travelling to Bhutan in a group, getting these invitations may be a little difficult, but not as a solo traveller.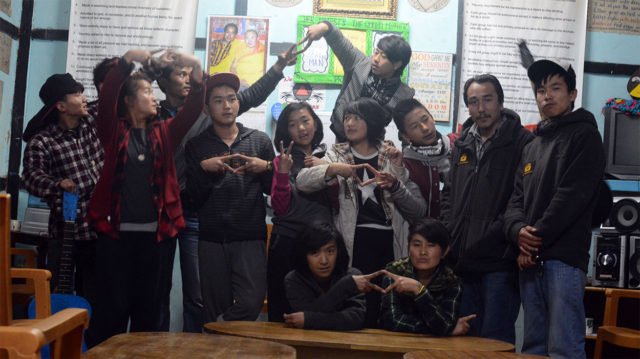 During my 20 days of solo travel in Bhutan, I was invited thrice, to spend a few days at someone's house.
Being invited by a local host to the place you travel to is always a great thing to happen and if this happens in Bhutan, it's even more awesome. I have been invited by locals to join them over chai or dinner at many places throughout my travels. This particularly happened while travelling the mountains like Darma Valley in India or while doing the Sandakphu trek, but the kind of experience I had in Bhutan was much better.
If that's not convincing enough, let's talk about the nightlife in Bhutan.
I never expected to have nightclubs in Bhutan.
To my surprise, even smaller towns, let alone Paro or Thimpu, had nightclubs.
The entertainment in these nightclubs in Bhutan includes traditional singing and dancing performances by in-house staff while patrons kick back with Druk Lager Premium Beers.
Exploring these nightclubs as you travel solo in Bhutan, is a lovely experience.
And last but not the least, the arresting beauty of this country is another reason why I want to solo travel to Bhutan.
There is so much unique and different to see there when it comes to landscape. And speaking of culture in religion in Bhutan, well that is a different topic altogether.
Other than travelling, you should seek happiness in Bhutan. After all, it is the only place where GDP is measured in happiness and not products.
That's all in this travel blog and my experience on why I loved solo travelling in Bhutan. If you have tried so too why not share your experience in the comments below?