Looking for the best helmets in India to buy online? In this blog, I have compiled products I personally own or have used on one of the occasions. Other than that, I have also added a list of top helmet brands you should know about.
If you're a new reader of this blog, let me tell you that I'm a full-time blogger and moto-vlogger (here's the link to my Youtube channel). I have tried quite a few riding products, so you can certainly belong to this list of best helmets in India.
I have concluded adventure rides across India including Shinkula Pass in Zanskar, the newly built Kailash Mansarovar Road to Lipulekh Pass, and the entire Spiti Valley circuit.
View this post on Instagram
Other than recommending products, and a list of top brands in India I have also included a few important things to keep in mind while buying something — whether online or offline.
And to make it easy for you to decide, I have classified this 'best helmets in India' list as per their price tag — because I know that PRICE MATTERS!
If you own a Jawa motorcycle (just like I do) you may also be interested in reading this blog on the best Jawa aftermarket accessories. Also, check this list of best riding jackets available online.
Now, let's get back to the topic at hand and discuss it…
Best Helmets In India
Under 2000 Rupees
The products mentioned below do not offer very good safety. They are made of light-weight material, thus not meant for touring. If you're looking for something value for money you can certainly buy them, but for longer rides, buy something featured under the "over 2000 Rupee' price tag, in the article below!
Studds Ninja Elite

With a single push flip-up mechanism, this is one of the budget flip-ups available in India. The name Studds moreover ensures a good quality ISI-approved product. They happen to be one of the top helmet brands in India for a lower price segment.
I would buy this product for short in-city rides that can serve as a full-face and an open-face at the same time. It also comes with a good ventilation system for added comfort while riding.
Vega ORD Offroad Helmet

At this price tag, this is one of the best helmets in India with an offroading look. It moreover comes with a double visor. As per the specification, it is ISI Certified with high impact ABS material shell, but honestly speaking, the quality of the product looks nothing more than decent. I would use it for local weekend rides, and not touring.
Steelbird SB-45 Flip Up Helmet

Again, a very good product at this price tag. Just like Studds Ninja (shared above) this Steelbird product also comes with a single-push flip-up mechanism. Unfortunately, there is no removable padding to wash the sponges in case it gets dirty, or stink due to sweat.
Steelbird SB-27 

This is one of the best open-face helmets available at this price-tag. It comes with multi-pore breathable padding that adds to comfort and hygiene. As per the description "the inside layer is hair-friendly" though what it mean is something debatable.
Three things I love about this product are:
Lightweight

Compact

Stylish (especially the visor)
Steelbird SBA-1 Mahavir

If you're looking for a pocket-friendly full-face helmet with graphics, look no further. The SBA-1 comes with a few more designs at a similar price so buy one that catches your fancy. The top qualities of this product include a reliable brand name, high-impact ABS material shell and breathable padding.
Under 5000 Rupees
Steelbird SBA-1 With Phone Connectivity

If you are thinking of buying one of the Bluetooth helmets in India but don't have a big budget, go for SBA-1 by Steelbird. It comes with internal speakers and AUX connectivity. I have personally used it and the audio quality is pretty decent if you're riding your motorcycle at 60kmph or below.
Steelbird SBA-2

What do I love the most about this product other than a reliable brand name and an ISI approved product?… An impressive graphic design.
Royal Enfield Full Face Helmet

Complementing Royal Enfield and other motorcycles, this is one of the best helmets in India for under 3000 Rupees. It comes with soft polyester and a knit-mesh liner ensuring added comfort and safety. Thanks to a matte finish, the outer layer is, moreover, scratch-resistant.
SMK Sirus Open Face

If you want an open-face that is not too expensive, go for this product by SMK. For those who don't know, SMK is one of the top helmet brands in India known for durability and safety. The external shell of SMK Sirus is aerodynamical, and moulded in EIRT (Energy Impact Resistant Thermoplastic).
Axor Rage RR3

It is ISI and DOT certified with a removable and washable lining, and that's what makes it one of the products available out there. Other than that, it comes with a high-impact ABS material shell and an aerodynamic spoiler at the back for extra stability at high speed.
SMK Stellar

An ECE 22-05 Certified (ECE stands for Economic Commission for Europe, meaning it is above the minimum safety level required for helmets to be sold in Europe) this product offers very high-quality safety as far as the outer shell is concerned. As I said above, SMK ensures a good and long-lasting product.
LS2 Full Face Helmet

This is, by far, the most budget-friendly graphic motorcycle helmet in India by LS2. Here's what I love about it the most, other than its impressive design…
Lightweight
Mirror-finish visor

European Certification: ECE 22-05 Certified
Under 10000 Rupees
SOL Black Copper 

Just like SMK, SOL is also one of the top helmet brands in India. Speaking of SOL Black Copper, it comes with 18 vents (10 intake vents and 8 exhaust vents), multiple shells for added safety, and a removable/washable interior. It is available in a few different graphics at the same price, so check online for your favorite design.
LS2 Stream Evo

Three things I love about this product the most:
ECE 22.05 certification
The UV Resistant, fog-resistant visor
Lightweight but very durable material
Royal Enfield Open-Face Helmet

Again, I don't recommend an open face for touring, if you still want one, this is one of the best open-face helmets in India that ensure good safety. It goes really well with classic-looking motorcycles, particularly the Royal Enfield bikes.
LS2 MX436

This dual visor ECE 22.05 Certified is one of the best motorcycle helmets in India for under 10000 Rupees for adventure riding and touring purposes. The visor is scratch-resistant, UV resistant, and the inner liner is made of removable, washable and breathable hypoallergenic material.
Under 15000 Rupees
1 Storm Full-Face Helmet

If you have a budget of 14k, look no further than this product by 1 Storm. What I love about it:
UV protected visor

AOT Approved ultra-lightweight and durable alloy shell

3-level top ventilation control and 5-position ventilation channel

Heavily cushioned and comfortable interior, that is also removable and washable
Greenstone Bluetooth Helmet

This is one of the best helmets in India for 15,000 Rupees price tag. Other than a Bluetooth feature, that, in fact, has a 3D sound, it comes with…
Brake/Indicator Lights

Smart Voice Assistance

Dual Mobile Connectivity
Top Helmet Brands In India
Now that we have discussed some of the best helmets you can buy online, let's discuss some of the top sellers too. The list includes a mix of national and international brands. Most of them have a strong online presence.
Please note that the following list does not follow any ranking order.
Axor
Axor helmets are more racing-inspired while keeping their price on the lower side of a budget. Most of their designs are more rounded shape with a wider front than sleek-faced. Their Apex series was the first to come in India with a removable spoiler at the back, and since then, many helmet companies in India, including Steelbird have followed the design. Their products are nice in quality (I won't say exceptional) and their prices are the best. Most Axors cost between 3000 to 6000 Rupees. I would recommend Axor to occasional tourers.
Vega
Headquartered in Belgaum, Vega is one of the top helmet brands in India that are not just selling in India but are originally Indian. They started operations in 1982 and by 2020 they've captured the market really well. Today, Vega sells its products not just in India but overseas as well. They make some of the most budget-friendly open-face and mid-ranged full-face.
Steelbird
When it comes to discussing best helmets in India, mentioning Steelbird is inevitable. They're the pioneers of landing their SBA series that offers something very similar that expensive Bluetooth helmets do — inbuilt speakers with AUX connectivity in just about 2000 Rupees. Steelbird caters to the needs of varied customer segments today. They have open-face, flip-up, motocross, offroading, or any other design you can think of.
Studds
Studds is one of the most popular helmet brands in India. The company began its operations in the early 1970s and in just 50 years they have become a market leader. They focus on a lot of lot on innovation and quality. Despite stylish designs, the price of most of their product remains low.
LS2
When it comes to buying LS2 things become rather challenging because the market today is full of duplicate LS2s. And that's because they're so popular — not just in India but worldwide. Most of their products cost a minimum of 3 or 4 thousand rupees. But what comes at that price is guaranteed safety and comfort. LS2 also makes motorcycle apparel by the way.
SMK
SMK is actually a premium line of headgear by Studds, and they happen to be one of the top three in terms of sales in India. Other two are Steelbird and Vega. Most SMK helmets start from 4000 Rupees and go all the way to 10,000 Rupees. Almost all their designs are patented dual visor along with attractive graphics. Other features include lockable air-vents, comfortable padding, aerodynamical design and more. Their products are long-lasting, and they are, hands-down, one of the top helmet brands in India.
SOL
SOL is an American brand that most riders in India don't know about. Their products feature good all-round visibility, with attractive colour schemes. Most of their designs are DOT-approved and offer a Motogp level safety. Some of their helmets have as many as 20 outer and inner air-vents for added comfort, particularly if you are riding in hot weather conditions as most places in India.
MT
Another top premium helmet brands in India, MT start from 4000 Rupees and go all the way to 20,000 Rupees. But what comes at that price tag is guaranteed safety and a lot of features. Most of their designs cater to racing needs. MT is originally Spanish.
Royal Enfield
Alongside the motorcycles, Royal Enfield also sells a range of motorcycle accessories and apparel. While I have never been a big fan of their bikes (except for the newly launched Interceptor) I quite like their motorcycle gear. Their riding gear, while neither as expensive nor as heavy as their motorcycles are, nonetheless, recommendable. I have also featured their Gloves in my best Riding Gloves In India article.
AGV
AGV has been in the market since 1947. They have a range of helmets under the following categories: Racing, Sports, Touring, and Urban. Most of their products also start from 10,000 Rupees to the sky is the limit.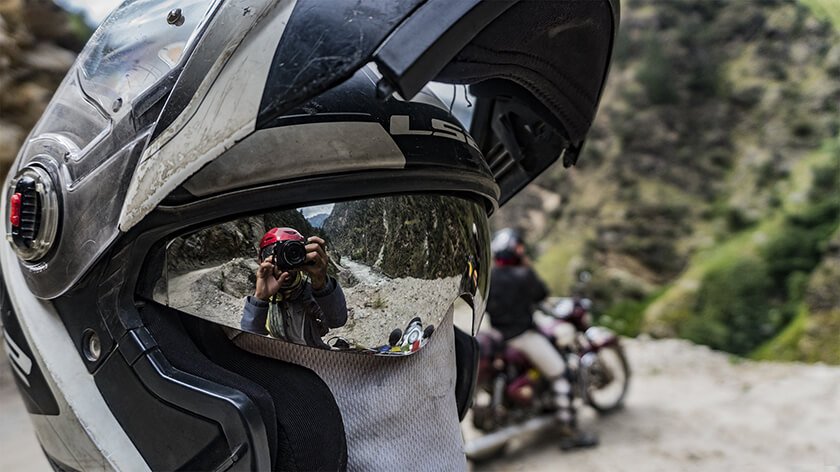 Types of Helmets
Sometimes, more than searching for best helmets in India, what's needed is researching about 'what kind' will best suit our journeys. Think of what your use is going to be? Is it touring? Or local rides? Would you be recording your journeys and thus install an internal microphone? Do you need a helmet with good aerodynamics?… so on and so forth!
Vaguely speaking, we have 5 types of helmets. All brands in India make these designs. So do your research on what kind of helmet you want, what brand you like the most and the basis of your budget, buy something that best suits your needs…
Full Face
They give you a full cover: from your head to chin to front (with a visor). A full-face one is suitable for all type of bikers. It is recommended to wear a full-face if you are going to ride on the highways and going touring.
Open Face
As the name suggests, they cover the top and back of the head but there is no chin bar. They can or cannot have a visor but the absence of a chin bar is what makes them open face. They are lightweight, however, compromise the safety aspect. Open face helmets look really good on classic retro-looking motorcycles, but as said above, they are not really safe! When it comes to best helmets in India, very few of them have an open face design.
Flip-Up
This kind has a flip-up chin-bar — meaning, they can be converted into an open face when needed and a full-face. The only downside of these helmets is that they are comparatively heavier because of the additional fitting.
Off-Road
Off-road ones are light-weight and designed for optimal protection. They may or may not have a vizor. Mostly, riders usually wear goggles if riding in dusty conditions. They are made keeping aerodynamics in mind.
Dual-Sport
Think of them as a hybrid between offroad and full-face helmets. Most dual-sport come with a visor.
That's all in the blog about best helmets in India, including some tips on how to choose one. If you have anything to add, please leave a comment below. If you have questions that need a quick answer, you can also contact me on Instagram.