Confidently balancing on my board, gliding down the slope with all the grace of a gazelle, I slid for a few metres before hopelessly landing on my chest. The last night's fresh snow was thankfully absorbing the hit every time I crashed. I never imagined snowboarding can be such a mind-invigorating experience. I realised, when I am on a snowboard, trying to balance and not fall, I enter into some kind of meditation mode. My mind turns thoughtless. No wonder, I was getting addicted to it!
A few weeks ago I found myself being intrigued by the idea of snowboarding while planning a trip to someplace quieter than Manali. But as I enquired more and watched a few videos online, I got a little scared, for I knew nothing about snowboarding, and the mountain ranges around Manali had some of the trickiest slopes in the entire Himalayas. Then I thought, this would mean learning something new at a place where not everyone tries to, and I bravely said to myself 'I am doing it'!
For the next few weeks, crashing, getting uncontrolled, and other hazards made me wince every time I thought about my decision. But To hell with it… I'd already promised a Yes to me and there was no chance I was going to back out.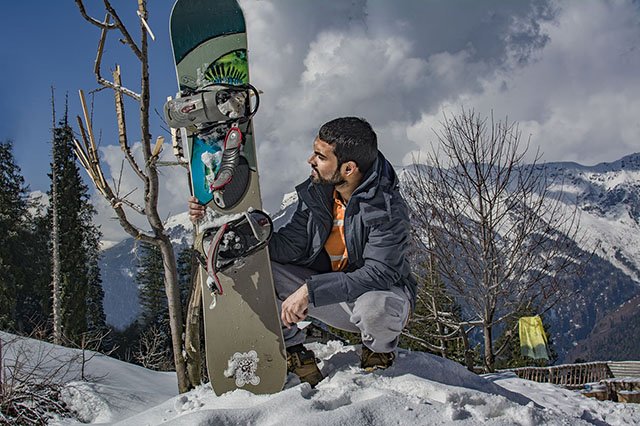 At nearly 2800 metres above the sea level (more than 700 metres higher than Manali), the village of Sethan looked like a perfect place for learning snowboarding, or skiing. Unlike the likes of nearby ski destinations, like Rohtang and Solang Valley, this is where one could practice while enjoying the exclusivity of nature.
During my 3-day stay in Sethan, I saw no more than a dozen tourists in the entire town. The place where I stayed – the only ski hotel in the village Sethan, and for long distances beyond – entertained 7 tourists, out of which only three (from the USA) came for skiing. The rest of the crowd (if you will call it a crowd!) was busy throwing snowballs and sipping coffee, leaving all the ski-slopes near the property at my disposal. And that will be the case with you too if you came to Sethan.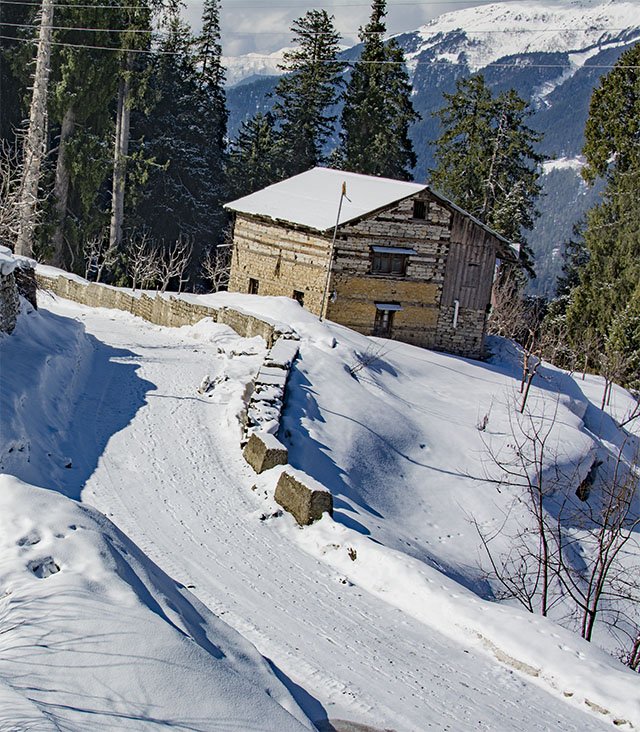 The journey to Sethan started from the town of Prini, some 3 kilometres south of Manali (towards Naggar). The route was itself visually stunning, if not somewhat unnerving.
We were welcomed with a heavy hailstorm, as soon as we started climbing uphill, and left Prini in oblivion. The hailstorm soon turned into snowflakes. In the month of March, and with temperature in New Delhi reaching over 30 I did not expect snowfall in the mountains, at least not anywhere near Manali.
But it turned out that for the next three days, as I stayed in Sethan, only more snowfall followed, covering not just the ground but the trees too, in the little flakes of white happiness!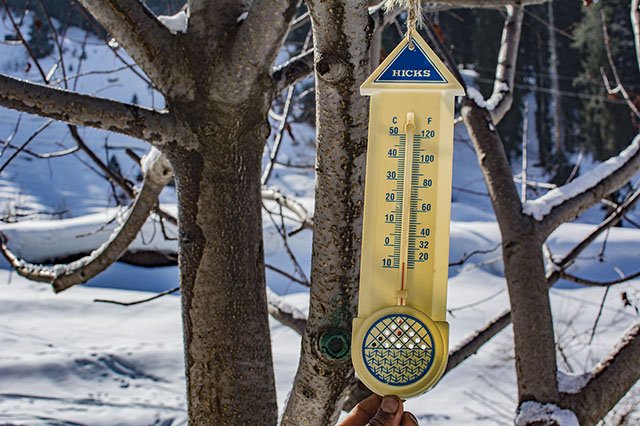 Before the first day's session, I quickly enquired my instructor about the difference between skiing and snowboarding. And I got an impression that I'd perhaps like snowboarding better.
It was because I found that putting your snowboarding gear is easier, and so was taking it off. My coach moreover sounded convinced that snowboarding is more fun – and he himself personally liked it. Driven by the circumstances and the compelling reasons, I decided to give snowboarding a go.
My instructor went through the basics — from putting a snowboard to how to slide, turn and stop. Next, I took it to tiny baby runs, a dozen or so times, under his supervision, until I was sure about handling it myself. And then my instructor left me on my own.
For the next few hours, and the following days, I was on my own, experimenting with the snowboard and learning as I pleased.
---
Unlike popular ski or snowboarding destinations in India, learning snowboarding was a different experience in Sethan, for in Sethan you have the exclusivity of being closer to nature and not bumping into other tourists looking hopeless with their ski.
It is moreover very cheap to try this sport here. For example, if you go to Gulmarg, during the ski season of December to March, you end up bleeding at least 2000 Rupees in just your accommodation, and adding to the price is your daily food intake, your ski or snowboarding equipment rent and other things. In Sethan, you can get a room for less than 500 Rupees, eat for less than 500 Rupees (a day), even renting a snowboard or a pair of skis is comparatively far cheaper.
Further Reading: Sethan Village, In Himachal Pradesh