Somewhere beyond the usually marked trail, Germany harbours a secret. A place where the morning sun glitters like gold, where half-timbered houses dot a timeless valley.  A town that happens to be one of those rare upbringings of time, where the romantic flair of the Middle Ages and Renaissance still exist. A town, which, with its less than 10k local Germans take you back in time, while keeping perfect harmony with the present.
I remember how while planning for my itinerary to spend a week in Bavaria, Rothenburg was high on my list. And to honestly admit, it wasn't because of its history or people, for I had no idea about any facts about Rothenburg whatsoever. It was the colorful Google Images of Rothenburg that happened to be my original fascination — the old town square, the many half-timbered houses, the medieval cobblestone streets, all of which set a very fairytale-like image of the town in my head.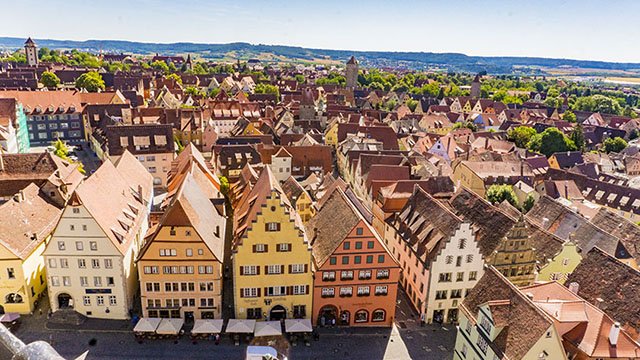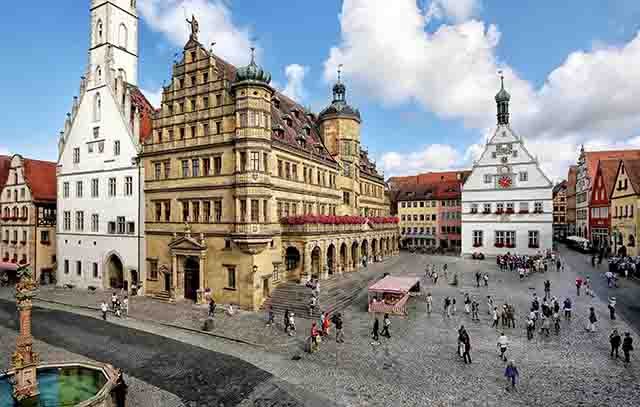 Of course, in an ideal world, Rothenburg is a kind of town where I would happily spend days, weeks, years or perhaps just get retired there and stay forever. But sometimes all we have is just a day. So here's an ideal Rothenburg travel guide on how to make the most of your day in Rothenburg. It talks about places to see, where to stay and how to get to Rothenburg — all derived from my personal experiences and discoveries.
Rothenburg, My Favorite In Germany
Of all the countries I've been to, outside of India, Germany remains the most visited for me. In the previous 18 months, I've visited Germany thrice. And beyond just the usual Berlin, Frankfurt and Munich trail, I've even been to some of the most unheard of countryside towns. But out of all of Germany, Rothenburg remains my favourite highlight.
I think Rothenburg has some kind of charm in its air. As you walk along its few intermingled streets you are taken back in time (particularly during the early morning hours when there are no tourists).
Other than an impressively restored architecture, dating back hundreds of years, its original protective wall from the 12th century still surrounds the entire town — just like it did back in days. Rothenburg, no wonder, is truly a fairy-tale town that brings alike the medieval fantasies.
What To See & Do In Rothenburg: Top Tourist Highlights
Walk Along Its Streets: One of the best things to do in Rothenburg is to simply stroll along its streets and admire the views. The town is small and easy to stroll on your own. However, you have a lot of options if you're looking for a bit more in-depth tour. You can take a group or private walk led by a guide from the Tourist Information office (Marktplatz 2), and/or go on the daily Night Watchman's Tour. Early mornings and evenings are the best time to take a walk and avoid other tourists but note the hours of any sights you want to visit along your stroll.
Eat A Schneeball: Rothenburg's signature pastry Schneeball (or a snowball in English) is certainly a must-try. Traditionally, they're made of strips of dough that are formed into a ball and deep-fried, before dusted with confectioner's sugar, hence the name Snowball. Snowballs were, moreover, traditionally cooked during the family gathering and community meetings.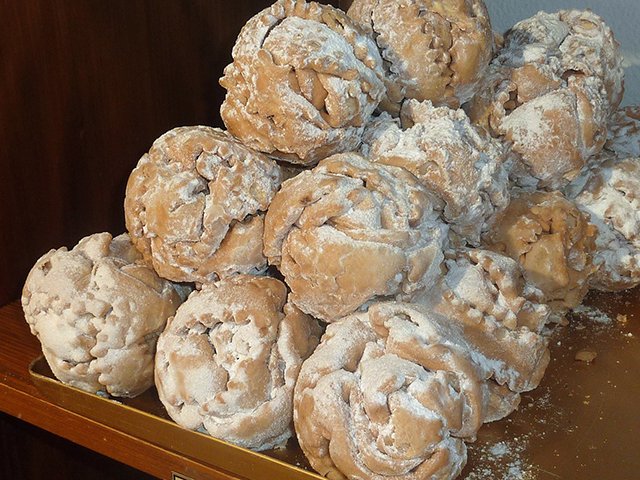 And where to eat them? Well, they're available pretty much in every bakery around the town. So just look for the nearest bakery to you and you shall find one.
Some bakeries even run group tours to show how to cook them.
Käthe Wohlfahrt Christmas Store: Though it's true that the most interesting time for anyone to be visiting Germany is Christmas, for Rothenburg, one doesn't need to wait for it. Because at Käthe Wohlfahrt Christmas Store, every evening is a Christmas evening.
Behind the store, lies the Christmas museum (not free but totally worth a few Euros) that walks you through tons of really interesting Christmas history.
Medieval Crime Museum: One of rarest of its kind, the crime museum, as the name suggests, is all about the gutwrenching and bloody details of how crime/punishment was handled back in the Medieval days. It goes into serious detail about what went down and boasts an impressive collection of artefacts (torture instruments included). Certainly, a must-not-miss if you can handle a bit of grimness. But rest assured, the tour will not make you sad when you will exit the museum.
The Plönlein: With an adorable half-timbered house, sandwiched by tall towers and cobblestoned streets, The Plönlein makes it for the most iconic view in Rothenburg ob der Tauber. This is moreover the picture you will find on most of the postcards of Rothenburg.
Tower Trail of The Old Town Wall: One of the biggest draws of Rothenburg ob der Tauber is its well-preserved walls where you can climb and walk around the city in a circle catching best views of the town inside and the countryside outside of the walls.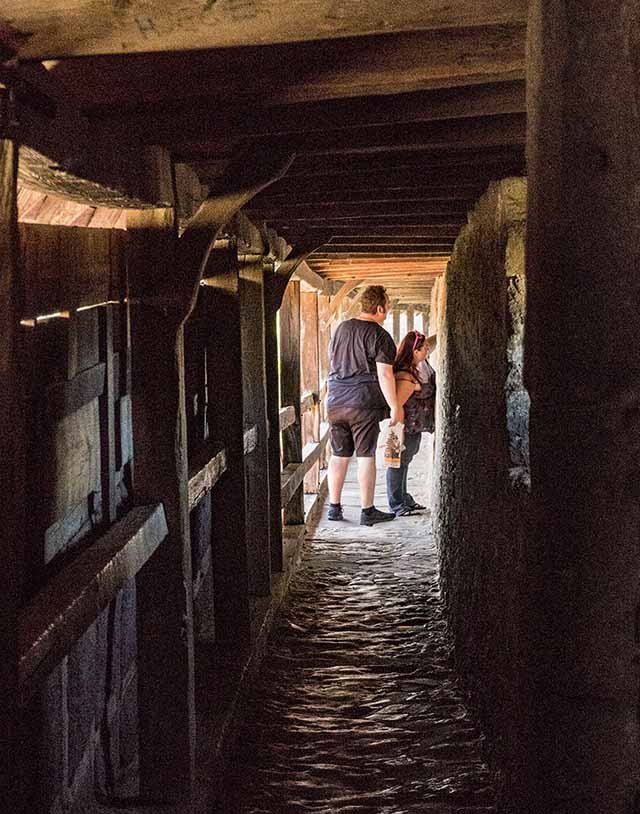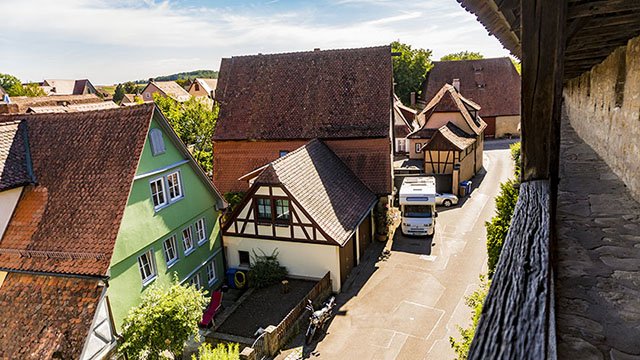 The town wall's many awesome towers and gates are moreover a great highlight to explore, most of which, you will automatically stumble upon as you walk through the city.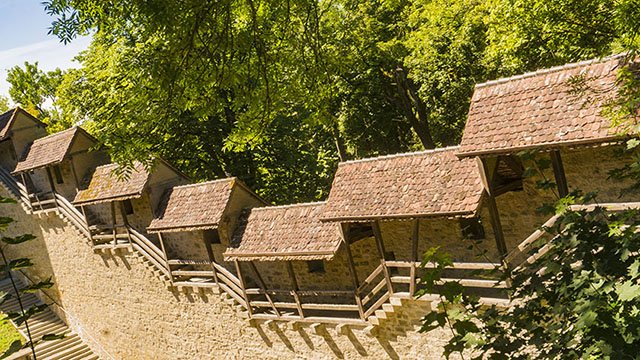 Remember, this 1.5-mile stroll atop the wall is at its most medieval before breakfast or at sunset.
Getting To Rothenburg
The simplest way is to visit Rothenburg ob der Tauber is of course with a group tour who takes care of all the transportation, but I won't suggest a day tour, as I highly recommend staying at least one night in the town. Still, if you're short with time and have already booked your stay at someplace else, day tours from Munich and Frankfurt are quite possible and there are a lot of tour agencies running day tours to Rothenburg.
BY CAR: From the Rothenburg ob der Tauber tourism website: "Take Highway A7 Würzburg – Ulm to Rothenburg. Take exit 108 "Rothenburg / Tauber" and follow the signposts for the town centre. Those driving to Rothenburg will be happy to know that it's allowed to drive anywhere inside the old town of Rothenburg, as long as your car fits in the road, though parking isn't too easy to come by in the old town as the streets are quite narrow, and mostly bustling with day-trippers.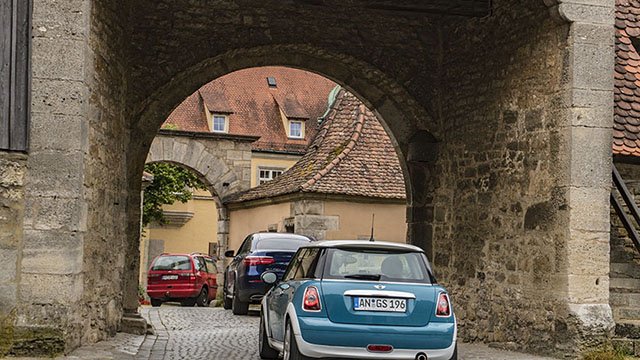 BY TRAIN: I visited Rothenburg in a train (from Munich to Rothenburg ob der Tauber train station). The station is located very close to the Old Town, so you can get there by foot in less than 10 minutes. The train journey takes 3-4 hours depending on which train you catch (from Munich as well as from Frankfurt).
Stay At Least One Night
During my one stay in Rothenburg, I saw waves upon waves of tourists flocking to the town but sadly for just a few hours. They would come in a group of 30 in a big tourist bus, quickly scan a few streets, a couple of attractions, and return to wherever they came from. Rothenburg, in all its charming glory, is quite popular among day trippers. But that's now how Rothenburg is supposed to be explored. The original charm of Rothenburg is in staying for at least one night and slowly absorbing its beauty.
The experience of walking the streets, or sitting in 150 years old cafe, after all the crowds have gone home is just unbeatable. Rothenburg is a kind of town that takes you back in time, and you need time to actually go back in time.
So plan at least one night, especially when there are a lot of inexpensive and cosy guesthouses to choose from in Rothenburg.
Where To Stay In Rothenburg
There are lots of adorable little hotels in Rothenburg. I stayed at Hotel Schranne, which is a converted 16th-century mansion with gorgeous decor. This is a great location that feels fancy but is well priced. I also recommend dining here. It's classic German food with an intimate and delicate flair. They serve dishes made with ingredients from local farmers, including local cheese and meat.
Update: I loved Rothenburg during my first visit so much that I happened to revisit in about 6 months. Read about my second visit to Rothenburg here… Revisiting Rothenburg Ob Der Tauber.
Have you been to Rothenburg? What did you like about the city the most? Spill in comments below!