"It's amazing how small life experiences leave an imprint on us,and force us to change our life one way or the other"
I found this statement more truer than ever, back in 2014, while I was travelling in the lofty and vainglorious mountains of Uttarakhand, and got bit by an unsettling travel bug. At that time I had no idea that I'd soon quit my job to travel. But I guess, as they say that life experiences aren't something to be denied, but to be celebrated, I think I just happened to celebrate my experiences so strenuously that it eventually became a way of life.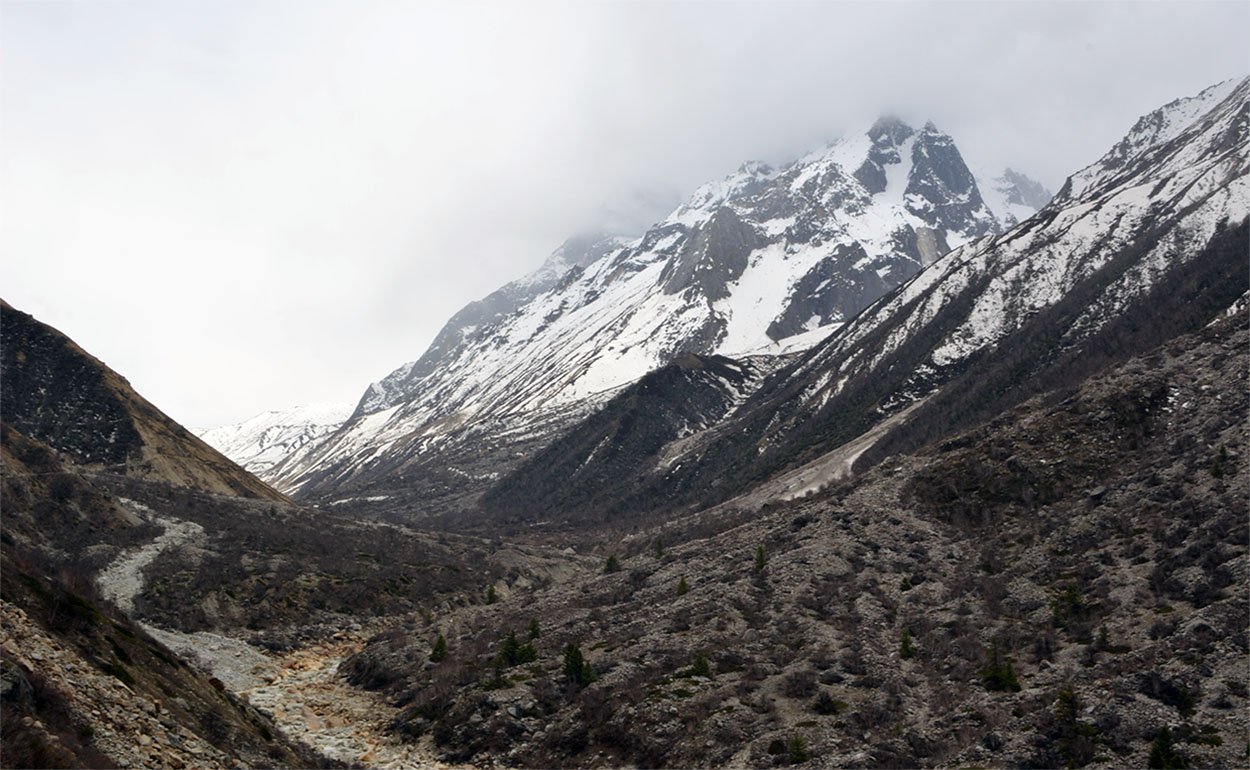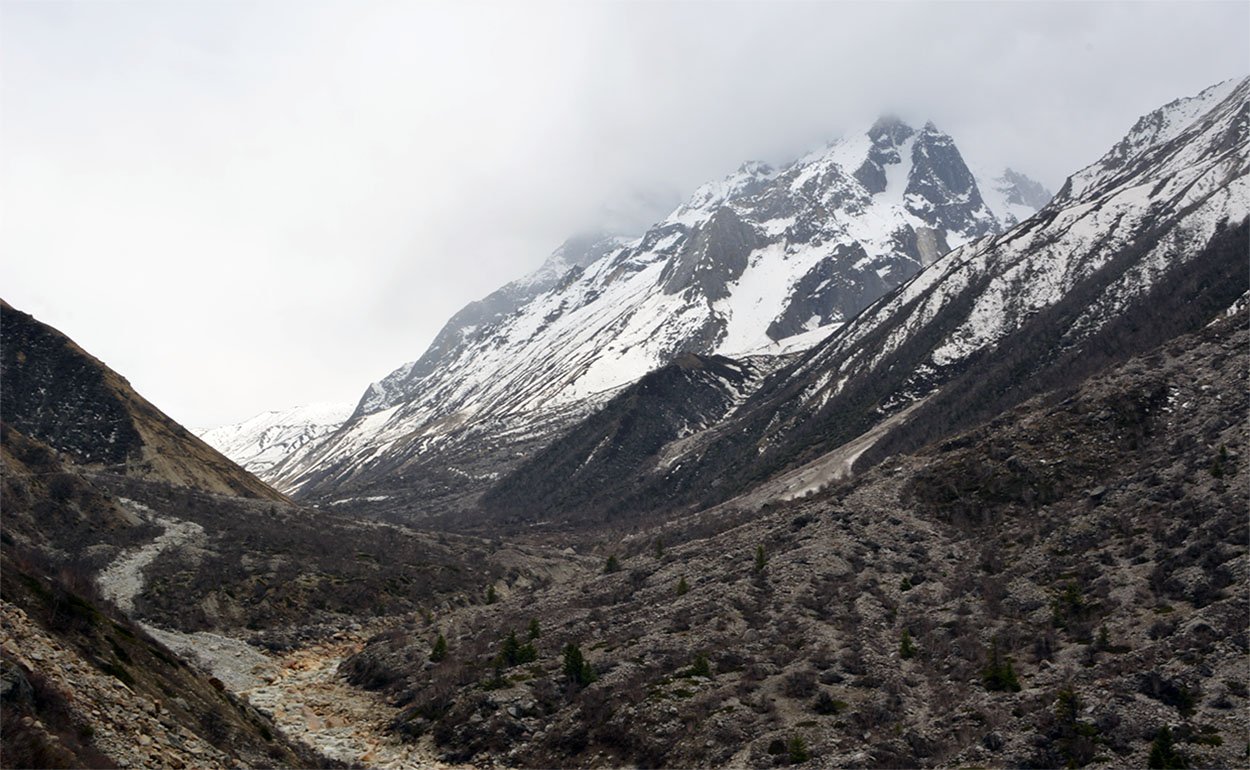 My first solo-travel experience took place in 2014. It was a 2-day trek in the snout of Gangotri Glacier to reach the place called Gomukh, from where Bhagirathi River originates. I was constantly feeling a certain springy keenness the day I started the trek. Though factually I was walking with a group of other hikers, whom I met in Gangotri, technically speaking I was on my own, as I hardly knew anybody else.
I'd never trekked before, and I was hopelessly out of form. And that feeling of un-surety, knowing whether or not you'd be able to walk, is quite foreboding. Moreover, I was wearing a pair of sneakers who were screaming hard of my clumsy incompetence.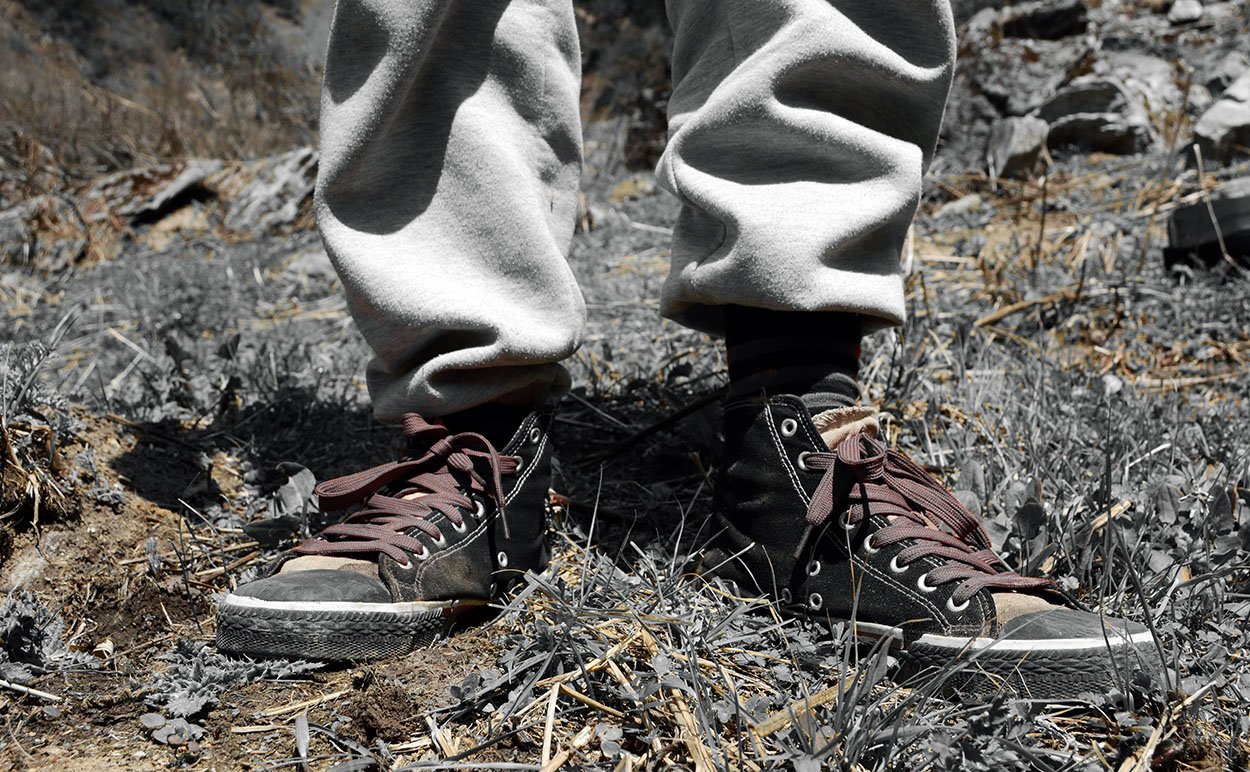 But what the heck! I came for this and I was going to do it!
All over India, particularly in New Delhi, people would be dragging themselves to work, at that moment. They'd be stuck in traffic jams, wreathed in exhaust smoke. But I was going for a walk in no man's land, where nature only ruled. I was more than ready for this than to go back.
The trek Gangotri Glacier basically goes all the way to Tapovan and follows the same route to Tapovan Nandanvan. But Tapovan Nandanvan trek was not meant for rookies like me.
Started from Gangotri, our next destination was Bhojbasa where we were going to halt for the night. The trek to Bhojbasa – 14 km from Gangotri, starts at the front courtyard of the Gangotri temple – followed by a steep climb of around 100 steps which leaves you pretty much exhausted before you even start. But once you're done with it, you are left with pretty much a very gentle uphill climb, something that makes you realize that trekking in the Himalayas is, after all, a happy and rewarding experience.
My first day of the trek was hell. First days on trekking always are, especially if you haven't done this before, or you're not physically ready. In about an hour, I realized that I was hopelessly out of form. My backpack, from which I had already left half of the things behind in Gangotri, still weighed too much. I never pushed myself so hard for anything for which I was so ill-prepared. Every step was like a struggle. But I pressed on. During the entire trek, I trudged for perhaps a few hundred feet up and down the hill, before taking a short break, bug-eyed, breathing hard, heart like in some sort of haste trying to find some life in it. I was falling behind and was surely panting harder than anyone else.
When you're walking with a group it generally happens that one or two people would start hobbling very soon and fall behind – in this case, it was me. In the start, the rest of the crew members waited for me to catch up, bitching every step of the way and looking innocently at me, condoling for my immediate uncertain future. But eventually, they gave up.
14 km seem little but they're not. Once you walk around half way your body starts giving up. Moreover, the very fact that you can still give up and walk back to a nearest comfy guesthouse, sleep in the bed and rest is just pure demotivation right in front of you. I mean you're not in the army and there's no pressure on you to keep walking like a poor, sad schmuck.
We walked almost the entire day and made quite a few halts, which were good chances for me to keep up with the rest of the group.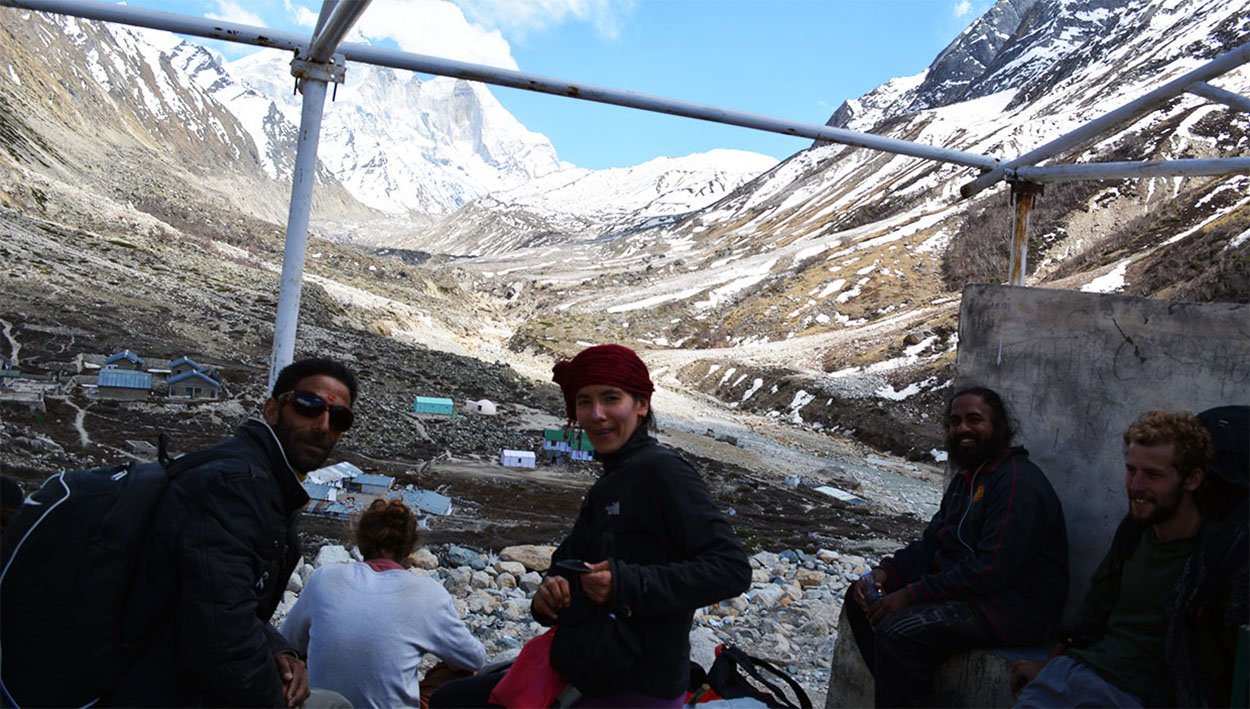 Exhausted, nearing my demise, we reached Bhojbasa just before the sunset. Bhojbasa has a couple of establishments for a halt on your way to Gomukh – Lalbaba's Ashram and GNMV's Guest House. Travelers can also pitch their own tent and pay a minimal fee of 50 Rupees a night. We stayed in Lalbaba's Ashram for around Rs250 per day, including accommodation and food – which was a pretty sweet deal.
Surrounded from everywhere with elegant mountains and Glacier, Bhojbasa is like an untouched beauty in the lap of the Himalayas, which takes all your tiredness away the minute you reach there. The snowfall in the night while you're heating yourself up around a bone-fire, as we experienced it, makes it even more awesome!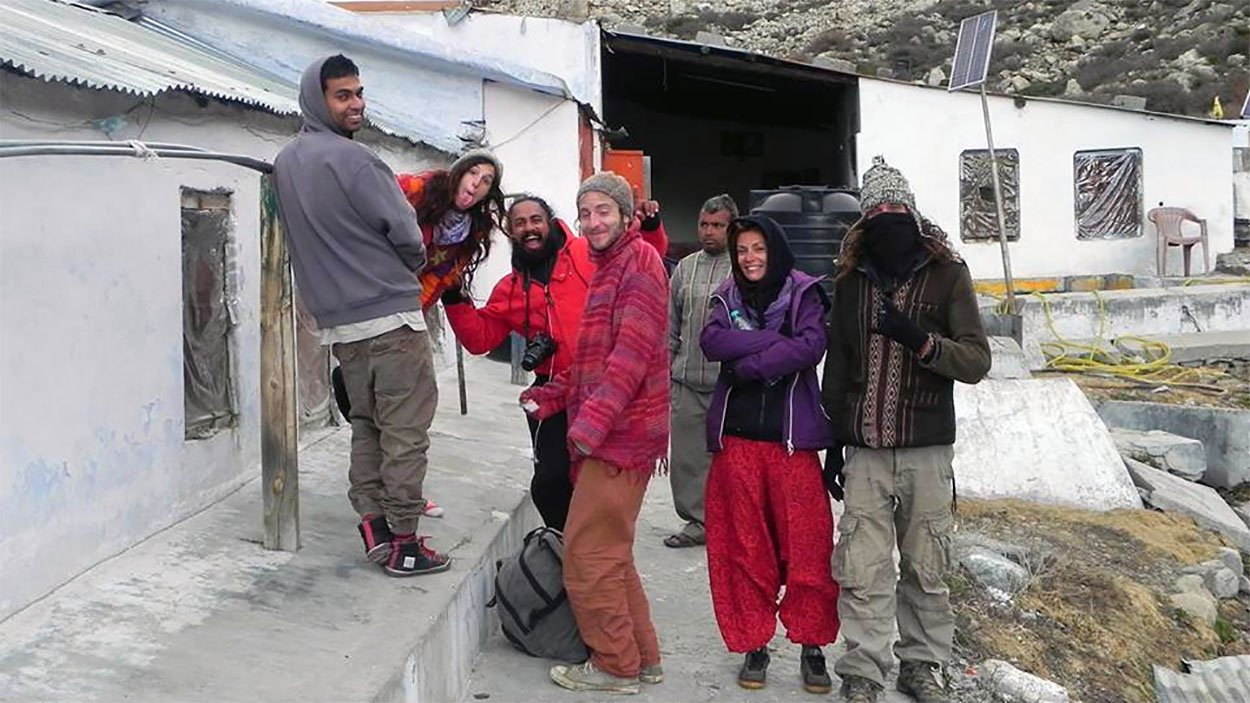 The next morning, when I left the comfortable coziness of my blanket at around 6:00 AM and peeked from the window I saw the sun being already popped out, filling the world with encouraging brightness. But as I stepped outside to check out the air, I found the cold startling, like a slap to the face. The wind was still bitter. The snow from the last night – like tiny spheres of polystyrene – was still chasing around the swirls. Well, that's what you expect from Bhojbasa.
After completing the get-ready ceremony and filling our hungry stomach with Porridge, we headed towards Gomukh. The sun was shining and the sky was a hearty blur, but everything at the ground level was either damp or wet – and the cold was unyielding.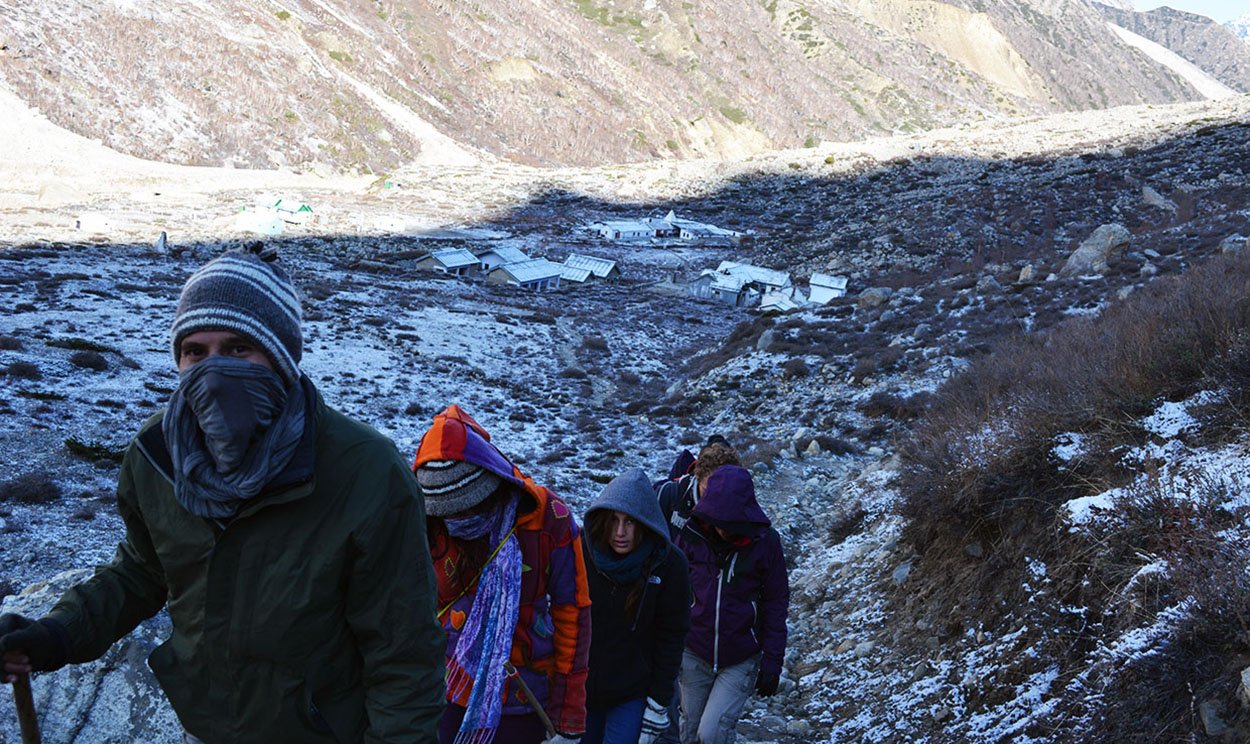 From Bhojbasa to Gomuk there is no definite trail, which leaves you to find your way through the glacial moraines and rocky boulders all by yourself. The Gomukh glacier is the source of Bhagirathi (Ganges). Due to its religious significance some people, who have balls of steel, even find the courage to take a dip in the bone-chilling water.
I was definitely not one of those. But somehow I managed to pull myself together and sprinkled Ganges water all over myself. I am sure I heard somewhere that it gets counted as taking a dip in the water – and I believed that – with all the absolute faith in me.
It takes around 3 hours to reach Gomukh from Bhojbasa and come back. We arrived Bhojbasa at about a couple of hours before noon. Without wasting any daylight we picked up our backpacks from the Ashram at Bhojbasa and headed back towards Gangotri. It was comparatively easy to walk back towards Gangotri because we majorly had to go downhill. But I still felt all weary and tired. I don't remember exactly how many times we stopped on our way to catch our breath, maybe because my feet were sucking all the Glucose in my body in assisting my slowness and thus my brain went on some temporary hibernation mode. But in about 4 to 5 hours the entire group made it to Gangotri.
At that time I had no idea that this 2-day journey – which I completely loathed at times – is going to inject me with a travel bug. A bug so troubling and sedating that it led me to quit my job and start travelling for god knows how long.
Stay tuned for more awesome journeys!
On my trip to Gomukh, I saw some of the most dreaded plastic waste material including plastic Coke bottles and instant noodle wrappers. At places, a huge pile of such non-biodegradable plastic waste was simply lying, god knows since how long. I request everyone reading this post – please don't pollute Himalayas because the very idea of waking up to the bright skies with spectacular views of the Himalayas and A RUBBISH DUMP lying next to you, is not very striking. It spoils the freaking view altogether.