Booked a Jawa 42 or a Jawa Classic? Wondering how's its mileage and performance? Read this detailed Jawa 42 owner review, and find your answers!
I understand, for a travel blogger, whose focus area always remained documenting people and cultures and destinations, writing a few simultaneous stories featuring a motorbike can sound a bit fishy. So, before you make any assumptions, first things first… I am not being paid to promote Jawa. And neither am I expecting some unsolicited favors by the company by doing so.
I have noticed there is fairly limited information about Jawa motorcycles on the internet at the moment, and since the company has reappeared in the Indian market after being discontinued a few decades ago, the craze is even bigger. By writing a few articles on Jawa, I am just bridging the information gap.
Since I have started making videos about my Jawa 42 experiences and learning (yes, I am vlogging too now, since last week) on My Youtube Channel, I have realized people are, in fact, craving for some first-hand owner information about Jawa motorbikes. In just about 10 days, I have crossed 3000 subscribers, with almost all my videos – as soon as they go live – getting a few hundred comments.
(Update: As of July 2019, I've crossed 14,000 followers. So a big cheers to all you lovely people who are following my journey! CLICK HERE to go to my Youtube channel!!)
How much mileage Jawa 42 offers? What accessories does the bike come with? How's the bike performance? How do I rate it? Should they buy one? Do I recommend it… they ask all kind of questions.
A long waiting time (due to an overwhelming number of bookings) and very few Jawa 42 and Jawa Classics on the road has, moreover, made the suspense bothersome. So here's an attempt of bridging the information gap (in the form of a more explanatory article) and bringing to you some first-hand Jawa 42 owner experiences.
Here's a quick video about removing the DB Killer from the exhaust and increasing the exhaust note to maximum…

Jawa 42: Mileage, Performance, And Everything Else In Between
Before we get into details, let's get into a bit of specification.
Jawa and Jawa 42 come with exactly identical technical specifications. Both are powered with a 4 Stroke, Single-Cylinder, Liquid Cooled, Spark Ignition, DOCH; and offer an impressive 28 N.m @5000 rpm of torque, guaranteeing a much quicker acceleration, compared to other competitors in the retro segment.
Here's an easy compilation of some other useful Technical Specifications & Dimensions:
Engine Oil Capacity (service fill): 1.25 Litre
Fuel System: Electronic Fuel Injection
Gear Box: Constant Mesh 6 Speed
Fuel Tank Capacity 13.2 Litre (3.0 Litre reserve)
Battery: 12V, (9Ah)
Weight: 179 Kg (with 90% Fuel, Tools, etc.)
Overall Length: 2071 mm
Overall Width: 833 mm
Overall Height: 1090 (Jawa) | 1065 (Jawa 42)
Minimum Ground Clearance: 165 mm
Seat Height: 765 mm
With that said, the company also claims that the above dimensions are subjective to change for further improvements.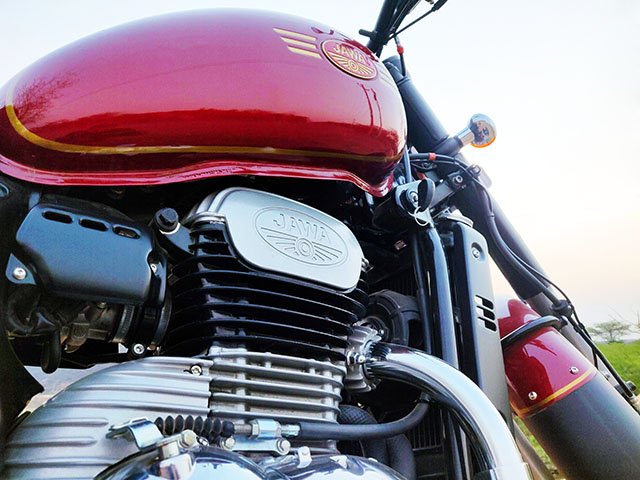 The Pride Behind Owning A Jawa
There is no denying the fact that both the Jawa models are designed to impress. Where Jawa is more retro and classic in its appearance, Jawa 42 is trendy and new-age (I prefer Jawa 42 to be honest!). And since it's not the first time for Jawa to sell its motorbikes in India, the company already has a powerful fan-base and a legacy associated with it. Having said that, there is a certain degree of pride associated with owning a Jawa.
It happens to me that every time I ride my Jawa 42 in my city, people notice. And their reactions, if nothing else, are assuring this motorbike is at least not letting me down because of its appearance. From its price to specifications to the waiting time, people inquire about all kind of questions. Many even shared stories about how they, or someone in their family, owned a Jawa back in the days and how eagerly they're waiting for market reaction to finally book a Jawa for themselves.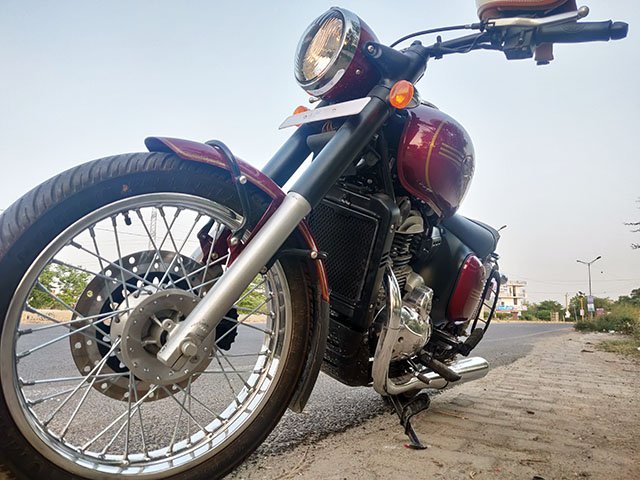 Jawa 42 Mileage
Though the company is claiming for Jawa and Jawa 42 to have a mileage of 37.5 kmpl when I tested the mileage on my Jawa 42 I got nearly 34 kmpl. The second mileage test, however, gave an improved result of 36 kmpl. Having said that, the mileage is improving, as it happens before the first service.
Update (July 2019): After my first service, I am getting an average of 42kmpl. I even did a mileage test in mountains and got an average of over 40kmpl which is pretty impressive. Here's a quick video of my mileage test in mountains:
Jawa classic will have an exact same mileage since Jawa and Jawa 42 are identical in all specifications.
Jawa 42 Heating Issues
For some reason, people have been noticing a bit of heating issue during a few minutes of demo ride. But Jawa 42 comes with a liquid cool engine, with a powerful radiator and coolant doing their work at the backend.
So rest assured, the heating mechanism has been well placed by the company and there should be no reason to be worried about it. Speaking of the heating mechanism, as soon as the engine temperature hits the mark of 98 degrees Fahrenheit, the radiator starts functioning its effort to cool it down to 92 degrees. There is moreover an overheating indication given in the odometer that signals RED ALERT as soon as the temperature hits a certain level.
I will be better able to comment on heating issues after the first service.
Update (July 2019): After the first service, and riding it for almost 3000km in the previous 3 months, I am pretty satisfied with the heating issue. The radiator works when it has to, the engine does not feel as if it's about to blast. Heating of the engine, after the first service, has certainly improved.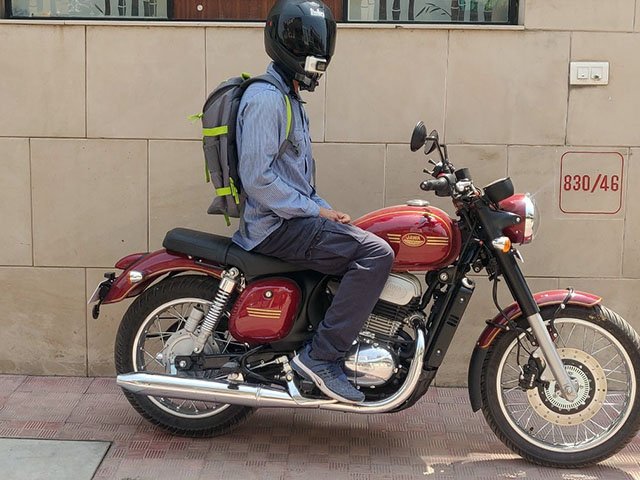 How Good Is The Handling
Thanks to a great riding posture, light-weighted body, and the overall design, Jawa 42 and Jawa offer great handling/maneuvering – especially if we compare them with their most common competitor Royal Enfield Classic 350.
A low seating (of 765mm) makes the riding posture more confident for me, as unlike with higher seating motorbikes (even if I compare it with my previous Bajaj Pulsar 200) it's not just my toes that touch the ground now but my entire feet do. This moreover makes taking U-turns exceptionally easy. Speaking of my height, I am 5'7". For people over 6 feet, Jawa 42 may feel a little tiny, but that is a minority in India.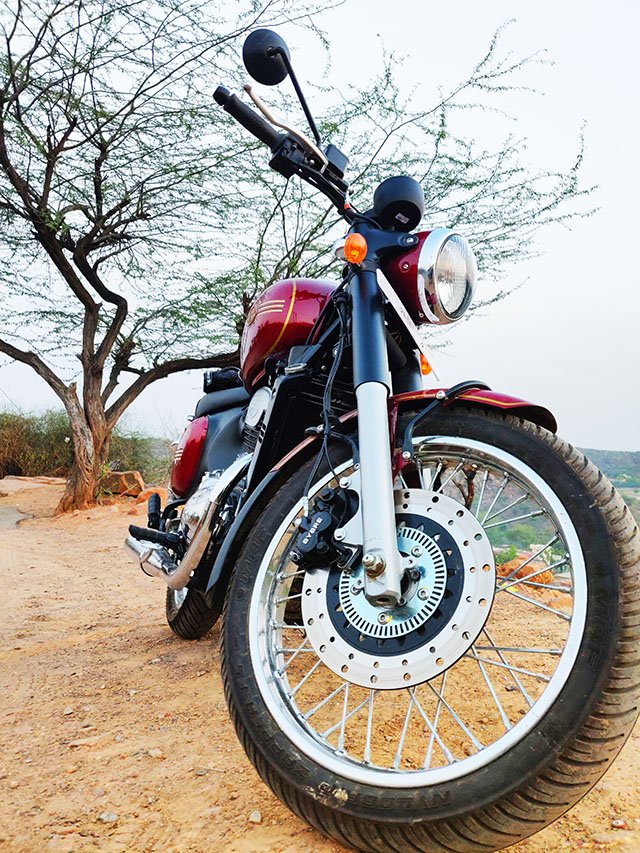 How Is Jawa 42's Ground Clearance?
To be honest, Jawa 42 does feel a little disappointing when it comes to its ground clearance, especially if we position it as an off-roader. For a street-tourer, however, Jawa 42's ground clearance should be okay.
It happened to me a few times that I scratched its exhausts on bumps (exceptionally bigger ones though) and regretted not slowing down a bit more.
However, if you compare Jawa with Royal Enfield Classic 350, you will be happy to know that Jawa and Jawa 42 offer better ground clearance than Royal Enfield Classic 350 (as per their user manuals).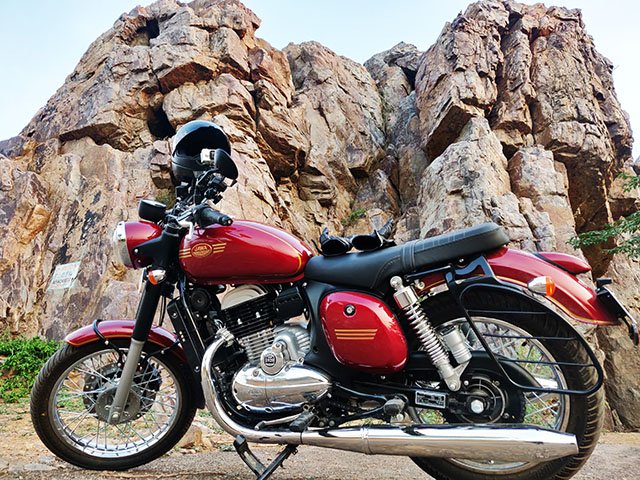 About Jawa 42's Service Interval
I am really happy that Jawa offers a good service interval of every 6000 km, allowing people like me to stay on the road and not worrying about servicing every few thousand kilometers.
Speaking of the numbers, the first service will be due at 1000 km, followed by a service interval of every 6000 km thereafter.
Also Read: Details About The Delivery Time & Company Fitted Accessories
About Company Fitted Accessories
This is where Jawa disappoints a little as they've really kept everything as an add-on accessory – a trick to take every little buck out of its customers. Even the essentials like crash guards and backrest are paid add-on accessories. Their rates aren't available at my Faridabad dealership at the moment. But as soon as they have more details to share I will update the information.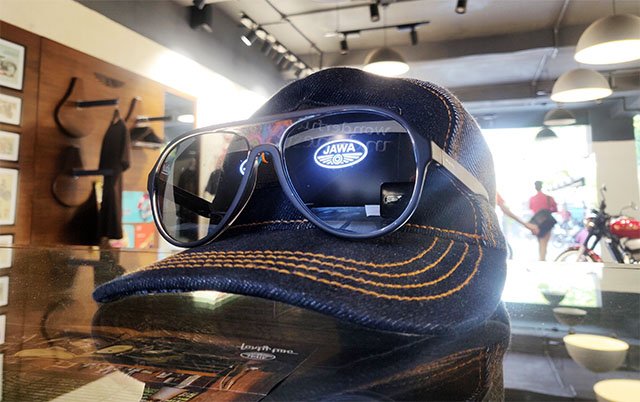 Jawa: An Urban Scrambler
Before anything, I would like to claim that my knowledge of motorcycles is still very limited. The technical jargon makes little to no sense to me, and I understand a machine with its feel and emotions. Having said that, though Jawa 42 can be well classified as a retro motorbike, I found it as a perfect urban scrambler – if only, of course, you install dual-purpose tires and install a higher exhaust (to improve the ground clearance).
Jawa 42's quick acceleration, impressive power, and a light-weight body make it a perfect street motorbike with great off-roading abilities. Unlike its most obvious competitor (Royal Enfield Classic 350) Jawa offers an impressive in-traffic-handling and maneuvering. And this remained a fairly significant reason why I chose Jawa over a Royal Enfield.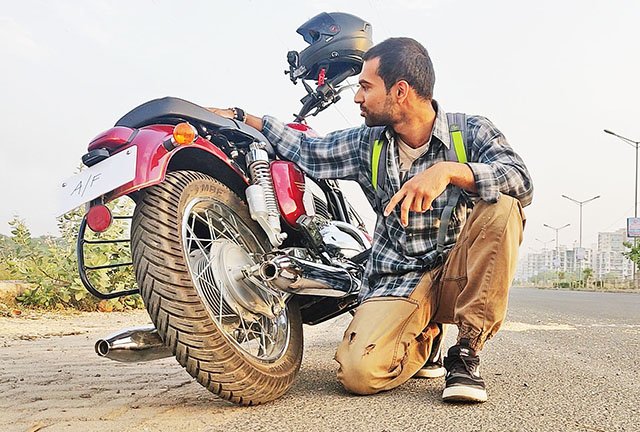 Do I Recommend It: The Conclusion
To cut things short: I am super happy with the performance of my Jawa 42 and I will certainly recommend it (if you're considering buying a Jawa at all). Until now, I have done nearly 500 km in Delhi and there seems no problem with my motorbike. Given its aesthetics and design, Jawa 42 offers good handling, making it easy to filter through traffic.
It offers all the new-age technology: a BS6 engine, Fuel Injection, liquid cooled, 6-speed gearbox and torque to challenge other competitors in the class. As said above, Jawa 42 attracts those who are looking for a retro motorbike with the perks of a scrambler. It is light-weight, easy to maneuver, quick, powerful, with looks to die for.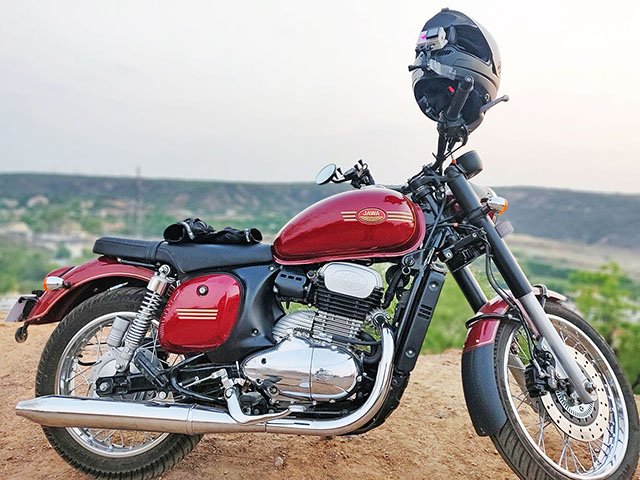 So knowing how my bike performs, coupled with all the things I like or dislike about Jawa, would I buy it again? Hell yes. A hundred times!
Do you own a Jawa or a Jawa 42? How has been your experience? Let's share in comments below!