Prague is one of those destinations that always seems to be in vogue. It's been on the tourist map for a long time, and the crowds show no signs of abating — particularly when it comes to women. And I understand the fascination. Prague is, after all, gorgeous; has a Vegas-style nightlife; and speaks about, from its all nooks and corners, nothing but a hint of romance.
But where on one side, the city is beautiful and vibrant, its well-preserved medieval architecture is abundant and rich in history. There is just so much to see and absorb in Prague that if you're staying here for only a few days, you're going to miss a lot, unless you plan better, so read ahead and find out how to see Prague in one day.
One Day Prague Travel Guide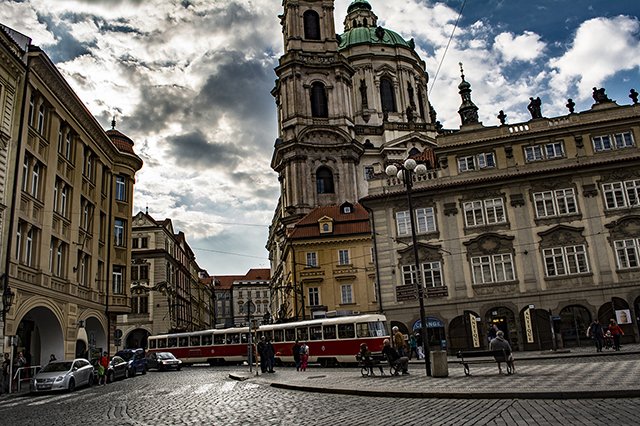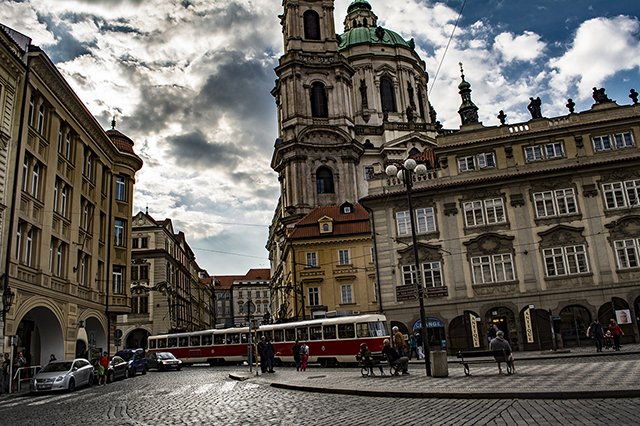 Since I stayed in Prague for only 3 days, out of which, I spent a day in the Bohemian and Saxon Switzerland Park, I was already short of time. So very carefully, I opted for a full-day guided tour around the city for I did not want to leave the city unsatisfied and complaining to myself "wish I'd given Prague some more time."
I used a tour company called Prague Bus Tours, for their full day (a little more than 7 hours) guided tour, to some of the highlights, including Prague Castle and Charles Bridge, before finally stopping for some traditional food in lunch, and then continuing further with the old town square and a wee boat ride across the river Vltava.
So let's talk about the tour one thing at a time…
Before Lunch: A Walk Through Prague's Tourist Dyad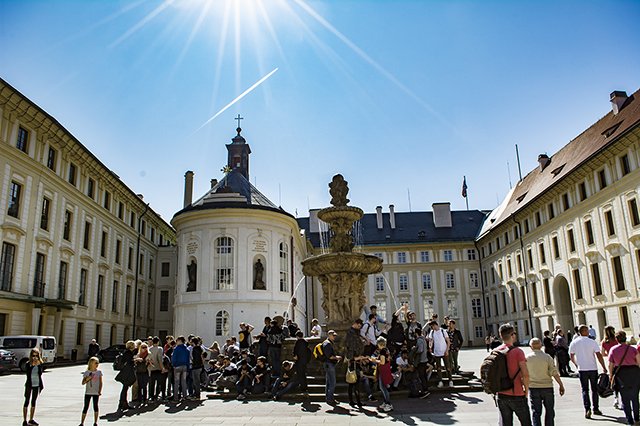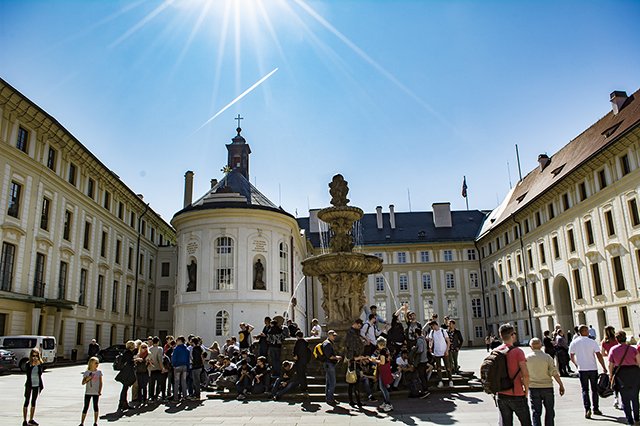 Prague Castle and Charles Bridge (and the Old Town Square, of course) are the highlights of any tourist trail in Prague. And that's exactly from where you should be starting your tour.
After quickly picking me from my hostel, we (me and 7 other German guests who were also a part of the tour) drove through the scenic ride up above the Prague Castle, from where we started our first half of the day. And first on the list was a walk inside the Prague Castle.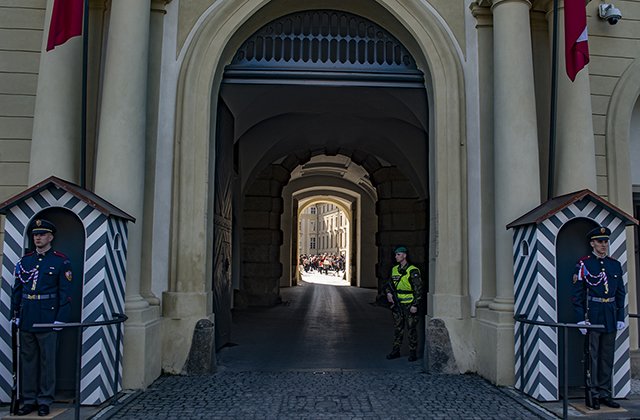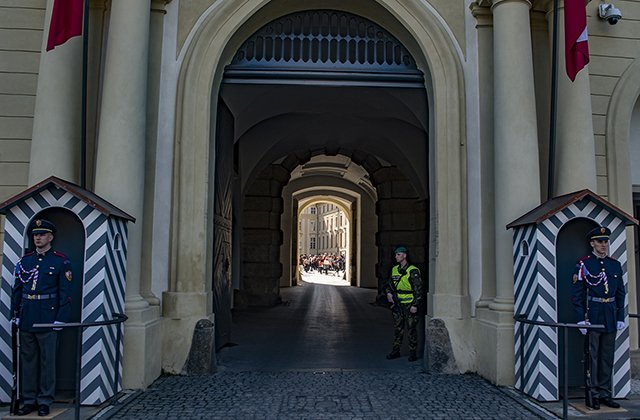 Reaching Prague Castle and getting inside, unless you've your own transport can be tough, or at least time-consuming, as you are required to take a tram (number 22) to the castle and then wait in a significantly longer queue to get your tickets. And that's exactly when paid guided tours to feel quite blissful.
We entered via the back-side, for we already had our tickets sorted, though the queue still took 10 to 15 to clear, it was at least not as annoying, as other queues (from the main entry) seemed. We went lucky to make it in time and catch a glimpse of the Changing the Guard ceremony.
After a quick stroll through a few areas of the castle, and a bit of information-feed and fun facts about Prague by our guide, we headed to the ever-impressive 10 centuries old St. Vitus Cathedral.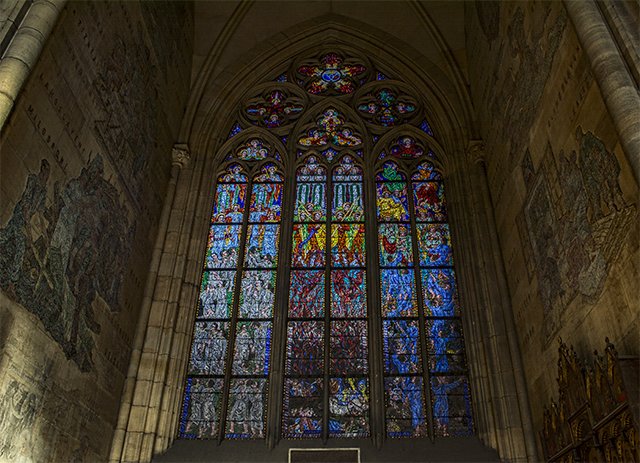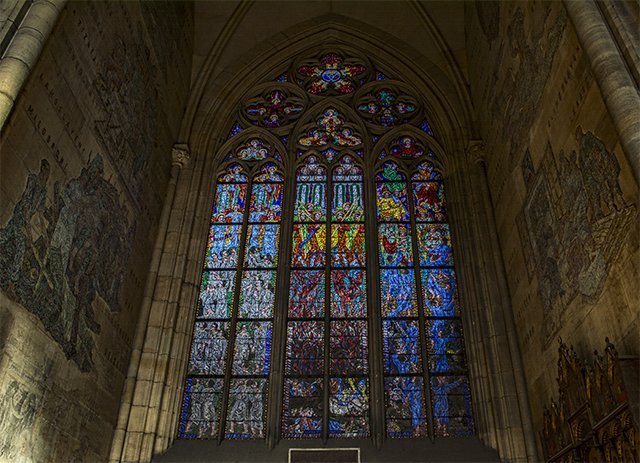 It was sad to know that such impressive architectural marvel faced the hardship of communal fights and an uncontrollable fire in the 16th century, during which most of the building got damaged. It was only after the 20th century that the Cathedral was completely restored and given shape, we are much familiar with, today.
Walking through the conduit of ever-impressive cobbled streets, next, we reached the popular Charles Bridge. Along the way, we learned from our guide that the Charles Bridge played a critical and strategic role in linking the castle to the rest of the town and until 1841 the Charles Bridge was the only link between the two halves of the city. The bridge was originally named as "Stone Bridge" or "Prague bridge" but was renamed later as the Charles Bridge (after Charles the fourth) in the 19th century as a tribute to the leader who transformed Prague into the imperial glory and greatness.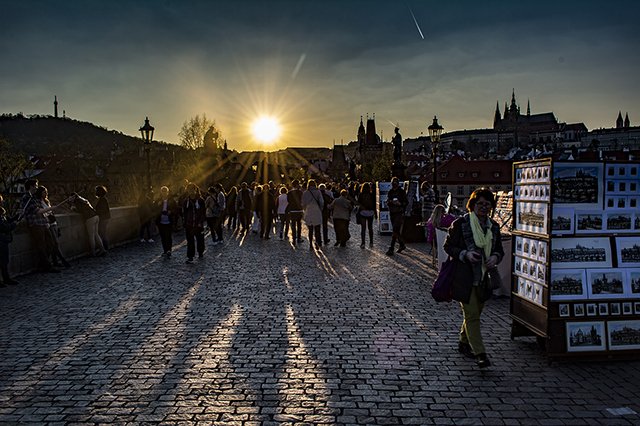 Every day thousands of tourists pass through this remarkable attraction in Prague, with some of them taking usual selfies, while others, opting for a more detailed self-portrait.
The Lunch
As much Prague is about history, a vibrant lifestyle, and fashion, food, and beer is also an equally important part of it. And to experience a bit of it and savour our taste-buds well, we ended up in a traditional Czech restaurant right opposite the old town square. Though the main course and a drink was included in the tour package, and we could have anything we wanted, I still left the decision to my guide, for, of course, she knew better about what a tourist must eat when he had no idea about the real Czech food. Yet not opting for something too traditional knowingly Czech food can be heavy, I decided to go for roasted chicken with potatoes and sauce, and it tasted just as delicious as it looks in the picture.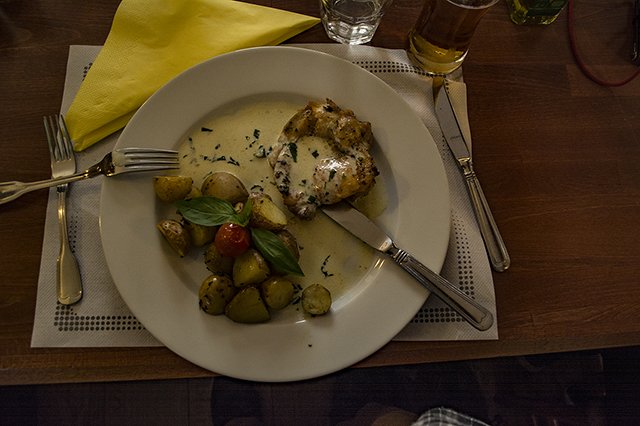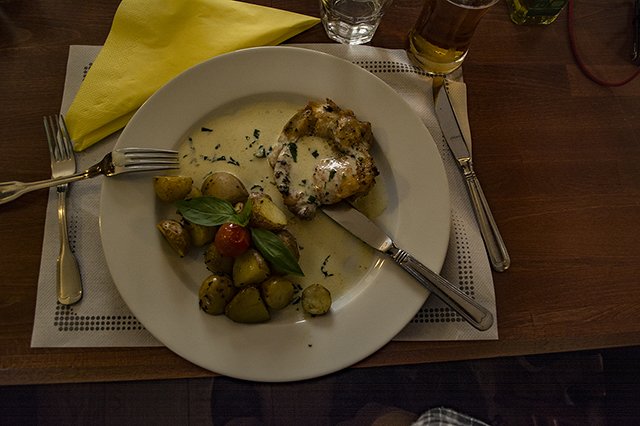 After Lunch: A Bit More History And The Blissful Cruise-ride
After having our bellies filled and satisfied, we get to the Old Town Square — the city's main marketplace since the 11th century.
The square, one of Europe's most beautiful, is surrounded with exquisite historical buildings, the most eye-catching of which are Old Town City Hall, Týn Cathedral, Astronomical Clock and St. Nicholas Church.
But among all the attractions at Old Town Square, the one that attracts most tourists and ends up in several thousand selfies every day, is the Astronomical Clock. This is where every hour, hundreds of tourists gather round, with a camera in their hand, heads peering up the tower, as they wait excitedly to see the astronomic clock welcome in a new hour.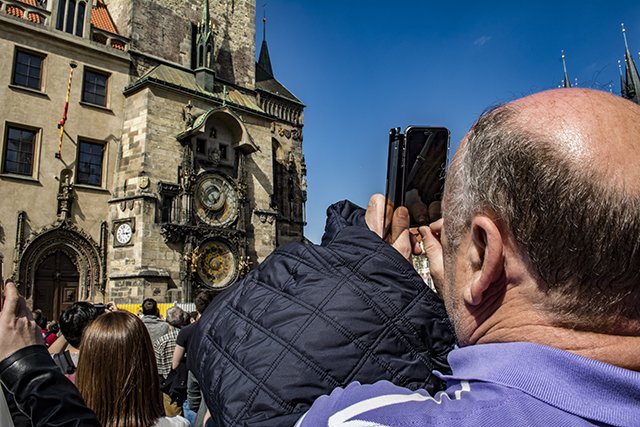 The clock chimes and the four figures flanking the clock set into motion. A window above the clock opens and the mechanical Walk of the Apostles begins. As a nice touch, after the clock's performance, a trumpet player heralds at the beginning of the next hour. It is said that the cock in the middle, with a smaller circle, symbolizes the short human life.
A few meters away the old square lies The Paris Street — Prague's most expensive street (with some 8000 Euros per-square-feet market value, if I heard it right) — renowned for its numerous high-end luxurious shops for apparel, watches, and jewelry. A quick look at the parked cars that range between Audi and BMW (with a rare Lamborghini shining almost blissfully) moreover gives you an idea that you're walking across a street rather unusual.
Bypassing the Paris Street, and on the other side of it was Náplavka Na Františku — the starting point of Prague Boat Ride that cruises along the beautiful Vltava river, with some more translation in English on board and beautiful views over the Prague city. The cruise lasted almost an hour and showed us almost all the things we covered during the day on foot — a perfect ending to and ever perfect day.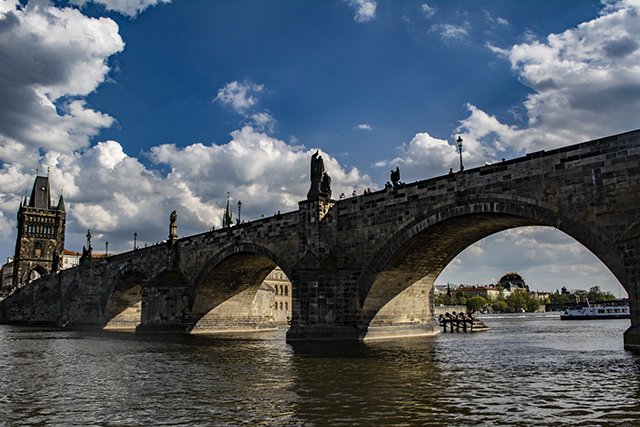 A bit about the factual mumbo-jumbo
I booked my tour with 'Prague Bus Tour', that offer several day tours in and around Prague.
If you're also looking for a convenient backpackers hostel, I can recommend Hotel Florenc for its convenient location. The hotel shares its boundary with the main bus station in the city, saving you any taxi fares as you arrive or leave the city.
For a 7 hour tour, including free pickup/drop from the hotel, lunch and the guide, it costs 52 Euros, or 47 if you book it online.
Though I am  not a big fan of our guided tours, and I know a lot of you people reading the story there aren't too, but if you've only a few days in a city like Prague, opting for one such experience not only saves time and feels convenient, but also helps you learn a bit about the place fairly quickly.
Have you been to Prague? How long did you stay for? What all places did you see?