For Indians travelling to Europe, Switzerland remains one of the favorite locations.
I remember when I planned for my first Europe trip, back in 2017, something similar happened. It was a 58-day backpacking trip in Europe and I chose Zurich as my starting point. I covered 8 countries in 7 days out of which most of my time was spent in Switzerland. From the frequented Zurich to the offbeat Basel, I tried to see as much of the country as I could.
Growing up watching Indian Bollywood movies shot in scenic Swiss Alps, or the romantic countryside, the decision was quite natural too.
Switzerland, for some reason, was not on my to-do list, it was on my first-to-do list.
So if you too have Switzerland on your bucket list and you're planning particularly in the winter, here are 7 must-visit places in Switzerland…
7 Must Visit Places In Switzerland In Winter
Bad Ragaz in the St. Gallen Rhine Valley
Winter is always more enjoyable with hot showers, cosy indoors and a lot of warmth around, and what better could it be than having a thermal bath around? So first on our list of experiences and places to visit in beautiful Switzerland winter is the thermal baths of Bad Ragaz.
Known as the Spa Town, Bad Ragaz, in the St. Gallen Rhine Valley offers thermal pools for visitors. The warm ((37°C) healing waters are sourced from the strange and not-so-accessible Tamina Gorge. Mark my word healing because it was discovered by the Benedictine monk, centuries ago, who quickly recognised the water's healing effects.
Today, Bad Ragaz offers three connected hotels to choose from, all with a different feel and vibe. So yea, if you want to enjoy luxury thermal pools in winter complimented with an Alpine view then this Swiss spa-town should be high on your list.
Glacier 3000
Located in Western Switzerland, in Ormont-Dessus, Glacier 3000, is a ski-resort.
After riding two gondolas up to the glacier, you'll find a variety of attractions, including a suspension bridge walk taking you to the 3000m viewpoint. For some thrills, you can ride the alpine coaster and sledge on snow at the Fun Park. Some activities include hiking, skiing, snowboarding, snow sledging, and more.
Families can enjoy an easy hike on the glacier, with big panorama views all around. Visitors can choose from easy to tough trails. It's a great day out for the family, adventure aficionados and solo travellers alike.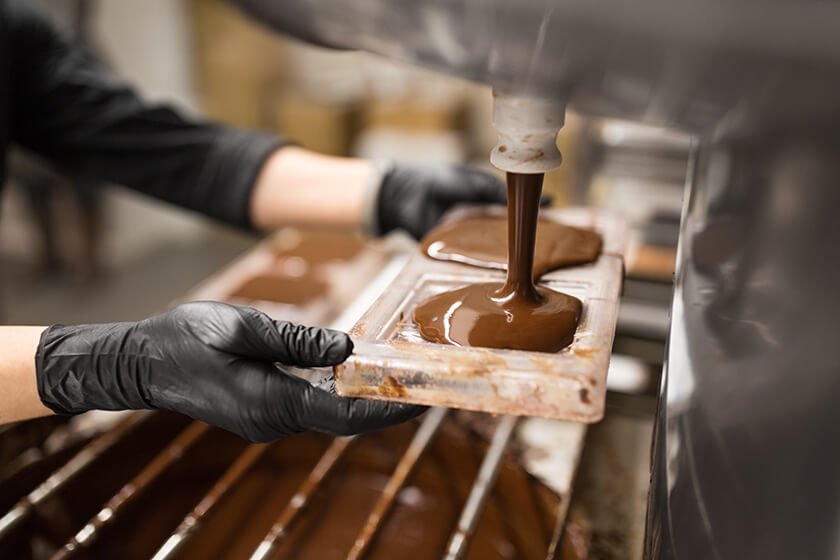 Chocolate And Cheese Factory
Since we all know the biggest source of price for Switzerland is chocolate and cheese, a visit to one of the Chocolate and Cheese factories is another highlight one should not miss during their trip to Switzerland.
Learn about how to manufacture cheese. All the cheese factory tours take you on a guided journey through the various steps of processing through which cheese is formed. Same for a chocolate factory tour.
Get acquainted with how the temperature is controlled, and how the right amount of churning is done – in addition to other secrets of the trade. Along with cheese, you will find other dairy products on offer.
Among all the options available, I can recommend the Aeschbach chocolate factory which also allows visitors to create and decorate their own chocolate bar.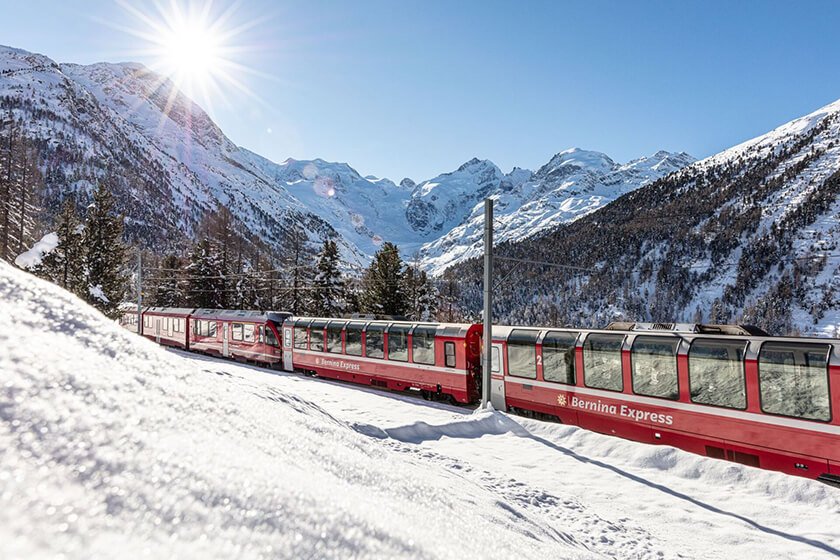 Rail Journey Through The Swiss Alps
Switzerland is known for being home to some of Europe's highest Railway lines, hence, a train journey in Switzerland, and through the Swiss Alps is definitely recommended. Particularly during winter. Jungfrau Railway, for example, which connects Kleine Scheidegg in the Bernese Oberland to the Jungfraujoch, is a must-have experience.
Another recommended train journey in the Swiss Alps is the Glacier Express. A window seat can guarantee you a superb panoramic view while travelling across 291 bridges and through 91 tunnels between St. Moritz and Zermatt.
The Glacier Cave At Mount Titlis
For those who don't know, Mount Titlis is located at 10,000 feet above sea level, in the Uri Alps of Switzerland. It is easily accessible from Zurich, via train and buses, and one can plan a trip on their own.
There are a few activities besides feeling awed sitting inside of a cable car and a revolving gondola to reach Mount Titlis. This includes a cliff walk, walking at Europe's highest suspension bridge, enjoying the ice flyer, and more.
And out of all of them, I particularly recommend walking through the glacier cave, where the ice appears to be lit up in different colours, and the temperature feels at least a few degrees below zero.
So yea, the Glacier Cave at Mount Titlis remain one of the best places to visit in Switzerland.
Take a skiing lesson in St Moritz
You travel to Switzerland in winter and do not take a ski lesson? Not possible. There are quite a few ski resorts in Switzerland to choose from – one for every budget and taste. But among all, I particularly recommend trying skiing in St Moritz.
Why so? Because it is one of the first ski resorts in the country and is considered one of the top luxury resorts in the world with various five-star hotels and restaurants to choose from. Additionally, it is St Moritz where two Winter Olympics have been held – in 1928 and 1948.
St Moritz incorporates nearly 90 ski pistes spread over a 350 km distance. For trying skiing and snowboarding, and experiencing the best of the Swiss lifestyle, there cannot be a better place than this.
Other towns known for skiing include Grindelwald, Zermatt and Gstaad.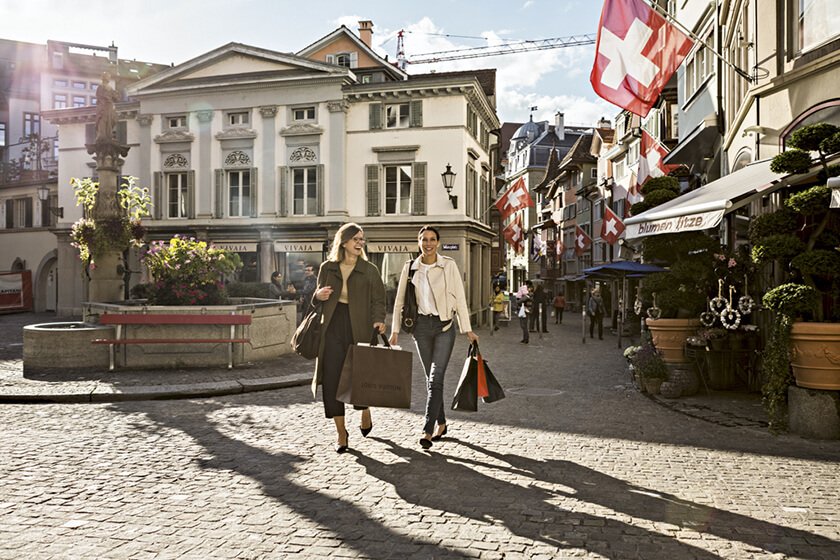 Shopping in Zurich
The last of our top Switzerland In Winter experiences remain shopping in Zurich.
From the finest chocolate, watches, and jewellery on the famous Bahnhofstrasse, to trendy and traditional stores in the Old Town each part of the city offers its own unique shopping experience.
Whether you are head over heels for high-end brands or you're a budget backpacker wanting nothing more than roaming about the streets and window-shop, Zurich is the place to be.
Five of the recommended neighbourhoods for shopping in Zurich include Seefeld, Bahnhofstrasse, Niederdorf, Kreis District 4&5, and the weekly markets of Bürkliplatz Flea and Rosenhof.
That's all in this blog on Must-Have Switzerland In Winter experiences. But before I conclude this article, I want to particularly recommend Veena World for planning a trip to Switzerland.
They offer customised packages, meaning, from the choice of hotel to the number of vacation days, to transfer vehicle and food, everything can be arranged by as per your needs. Their round-the-clock personal assistance ensures that despite travelling on your own, you have someone watching your back. So 'Chalo, Bag Bharo, Nikal Pado' and try Veena World. From Switzerland Honeymoon packages to other places to visit in Switzerland in Winter, Veena World has something for everyone.